It's time for another Dinosaur Bear adventure post!
Well, I guess they are all sort of adventure posts, as adventures come in many sizes, but this is a bonafide adventure post. As I had mentioned before SB and I weren't actually in Iceland for Christmas, we were in Ireland (notice the one letter difference)! Yes, we left our international home for an international holiday. I have to say that was a first for us.
Ireland is the second in a "Five Adventure" series SB and I have planned for our time in Iceland. The first was the Westfjords, the second is Ireland, and the rest have yet to be revealed (or decided). As such, Ireland wasn't really a "spontaneous" trip and instead had been in the works for awhile now. Originally we had tossed around a few different ideas that centered the British Isles, but we ultimately settled on an Ireland-specific trip. From there it was making a few decisions on how we wanted to approach the trip (e.g. depth versus breadth) and that led to our ultimate route. We'd never been to Ireland before, and since it's a place a lot of people visit we had the benefit of foresight (including a friend of SB's who lives in Ireland) and novelty (everything would be new). This is the route we decided on. Start with the Red X (Dublin's airport) and go counter-clockwise from there (around the whole island, inclusive of Northern Ireland) and you'll have the rough extent of our trip. We're pretty pleased with how it turned out. Our trip consisted of a 6 day road trip and a 4 day stint in Dublin.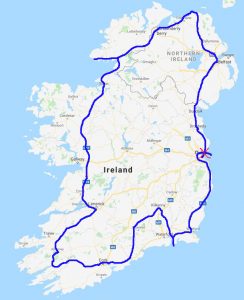 Thus, the following photos in this post proceed sequentially around the Ireland, counter-clockwise, until we get back to Dublin. I've not marked them on the map because there are too many, but you'll get the gist of it. Which brings me to my next point, I've had to massively curtail the number of photos down from the number we took to the number I'm actually going to post. That's for two reasons: 1) My tendency to write long posts  (neither of us wants to deal with 30k words 😛 ), and 2) post/photo/blog size technical considerations. As a result I've had to cut out quite a bit that In a perfect world I would not have, yet in spite of that I still think this post is going to give a pretty extensive overview of our journey around the Emerald Isle, and we'll of course still have all the photos not seen here. 🙂
So, with all that taken care of, let's get started with another photo adventure! Like a lot of my posts where I grind through photos, I'll liberally link to informative articles rather than bloat this post into a thesis (which we both know I tend to do), so please explore those links if something is especially interesting to you.
How does one begin a holiday trip from Iceland? At 2:45am in the rain, of course! No really, 2:45am is when I got up. We had to be on a bus at 4:00am.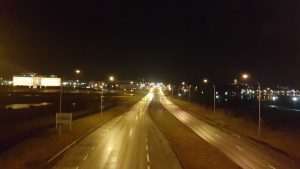 Fortunately we made it to the bus terminal on time and from there it was a 40 minute ride to the airport, where we soon met Grýla and the Yule Lads.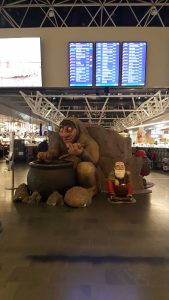 Much to Tristen's chagrin, even the Yule Cat was there.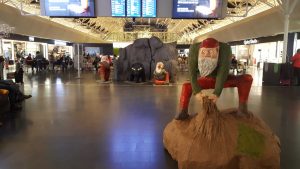 After passing the ole' Lad family, we had breakfast (we delayed coffee though), and them from there we just waited around for a bit and then were on our way to Ireland! After an uneventful flight we landed in Dublin, got shuttled to the rental car place, and then proceeded to immediately get off route in Dublin. In fairness it was both a new city, our cellphones weren't working properly, and it was also our first time driving on the opposite side of the road, but we were only off track for about 5 minutes or so. Then we were on M1 headed north for Northern Ireland and Belfast!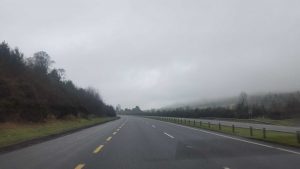 Since we were both hungry – and in desperate need of coffee (that 2 hours of sleep hadn't done much for me) – we made a slight detour to Drogheda (one of Ireland's oldest towns!). There we took in the Irish cuisine of McDonald's with a nice view of the River Boyne.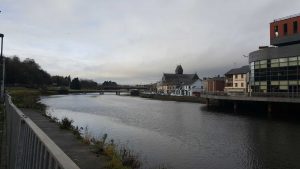 After that we continued on, crossing into Northern Ireland (where kilometers switched to miles – though we'd dealt with that before – several times in one day in fact) and got settled in Belfast. I suppose this is a good time to introduce our car! Her name was Maggie Sue, and she was a Renault Captur (a car that I'm sure most of you have never seen before 🙂 ).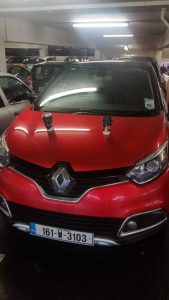 Maggie Sue sporting our coffee cups as (reindeer) antlers.
After getting our stuff dropped off at the hotel we ventured out on foot in Belfast to do some exploring. For a city that was once home to "Bloody Friday" and over 1,600 deaths Belfast has calmed down quite a bit. That said, signs of The Troubles linger on, though we weren't in any of the areas where border/neighborhood walls still exist.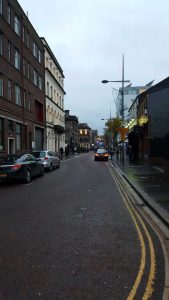 Instead we opted to explore the dockside area, complete with "The Big Fish" a.k.a. the "Salmon of Knowledge."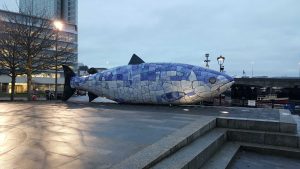 This was a neat scenic area of town that features a really cool pedestrian bridge over The River Lagan.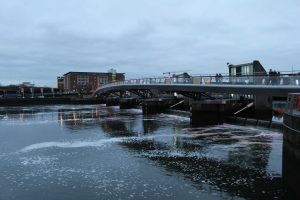 Once Valentino was done trying to eat the giant fish we started making our way towards city hall.

Pub, or city hall? Better question: is there a difference in Belfast?
Our destination was the Belfast Christmas Market!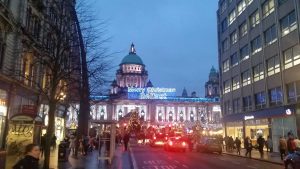 This was our first European Christmas Market, so we were pretty excited.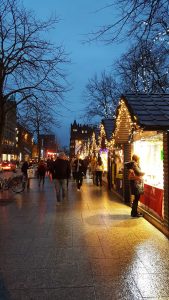 We ended up getting some baked sweets (of course) which we stowed away as we explored the market.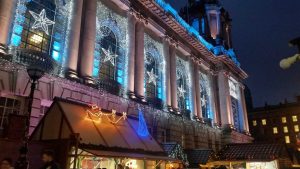 Eventually we worked up an appetite, so we started our pub search, which took longer than you might think based largely on crowds and cost. Eventually though we settled on a place called "Monico Bars" which I think is plural because it's really two bars squished together. There we had our first beers of the trip, fittingly a Harp and Guinness.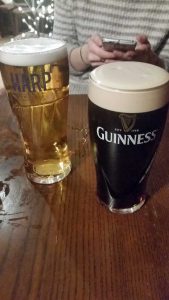 After beers and dinner we picked up some groceries on our way back to the hotel (oddly enough at a store called Iceland) and then settled in for the evening. The next day we were on the road bright and early as we headed north toward the northern coast of Northern Ireland (lots of north in there).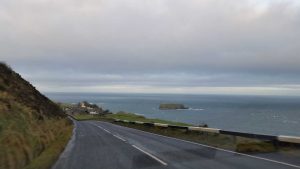 Our first destination was the Carrick-a-Rede (from the Scottish Gaelic 'Carraig-a-Rade' meaning "The Rock in the Road") Rope Bridge, which requires a bit of a hike from the parking area.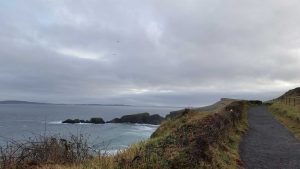 The nice thing was that since we were definitely in off-peak season, it was just us at first. This made for some nice solitude. Indeed we didn't have to wait at all to cross the bridge and for a bit were the only ones on the little island you cross over to (Carrickarede).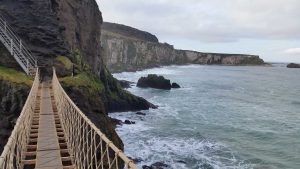 Here's a shot of the island you cross over to.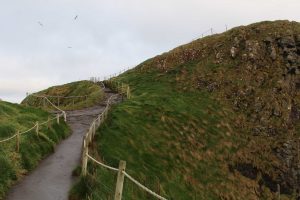 There were some seagull buddies chilling out there, though sadly it's not the right time of year for puffins.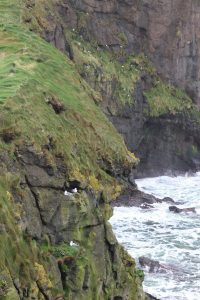 Here's a shot looking back towards the rope bridge – the guy looking rather official, is, he's the person who makes sure you're actually supposed to be there.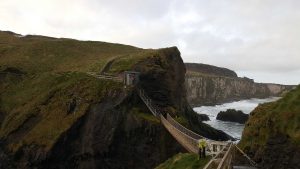 And for reference here is a shot from a distance, complete with a few people who came in behind us for size reference.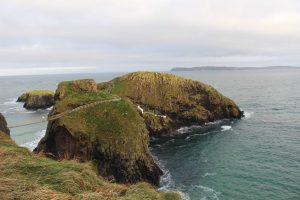 After making our way back to Maggie Sue, we got a couple of coffees from the gift shop and then made our way westward along the coast to a much-more-famous spot, Giant's Causeway.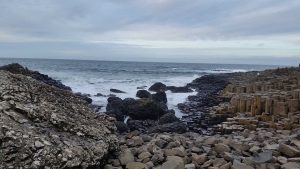 The off-peak travel continued to favor us, and while there were definitely more people here, it was nowhere near as crowded as the photos you see in summer.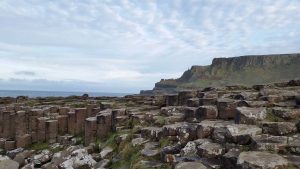 I remember learning about the geology of Giant's Causeway back in undergrad, but I never learned the mythology – turns out it's named Giant's Causeway because well.. a giant built it – specifically the legendary giant Fionn mac Cumhaill. Apparently giants don't like to get their feet wet, so he built the causeway all the way to Scotland. Makes sense.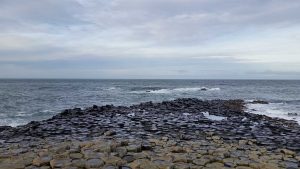 After hanging out in the footsteps of giants, we headed into the small town of Bushmills (home of Ireland's oldest distillery) for lunch at a small local place called the "Copper Kettle" which was delicious (mmm apple pie + custard). With full bellies we continued along the coast to Dunluce Castle. This was our first castle (aside from a glancing view of one from a distance in Drogheda) and we were SUPER stoked. It was totally worth it, and in fact Dunluce indeed up being one of the coolest castles we saw the whole trip.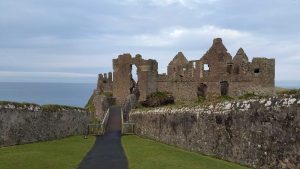 I'm going to resist my urge to explain the entire friggin' history of the castle/ruins, but the Wiki link is just above if you are curious. What was nice about it was, again, we were literally the only people there at one point. So we got to be Kings of the Castle (plus a slave, SB – as Tristen put it). Pretty much the whole area was open to explore, including the intact towers.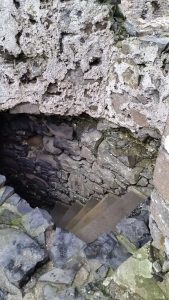 Here's a shot from the cliff adjacent to the castle, which gives you an idea of how well fortified it would have been.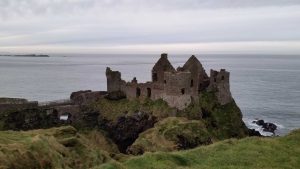 Here's it's important to note that it gets dark early in Ireland, especially Northern Ireland, at that time of year. Yes, nowhere near as bad as Iceland (In Reykjavík the sun didn't rise until 11:22am that day, for reference), but still bad. So while it was only around mid-afternoon, it was also cloudy (Ireland, duh) and getting dark. We also had a long way to go – all the way out of Northern Ireland to the western coast of Ireland. So we got on the road shortly after Dunluce Castle (with a quick side trip back to Bushmills for a magnet at the local Post Office!).
After a crazy nighttime drive through some extremely winding Irish country roads (with locals who clearly weren't pleased we weren't going 100km/h in a 60km/h zone) we made our way to our B&B for what turned out to be a very, very chilly night. The good news is that breakfast the next morning was quite awesome, and, as we were the only guests in the whole place, our bellies got all the food they could possibly want.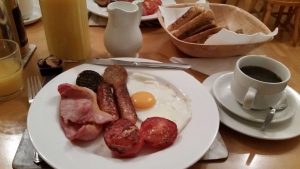 From there we headed up towards Bunglass Point, which is itself part of Slieve League. Slieve League is a mountain on the Atlantic coast of Ireland which has coastal cliffs clocking in at 1,972ft high (over three times as high as the much more famous Cliffs of Moher). What's fun is that if you want to get to Bunglass Point you have to go up into a sheep-kingdom road, which is quite treacherous in a few spots and leads to a very small parking lot (during peak season a shuttle runs). So, since it was a again just us, we got to meet the sheepies first thing in the morning.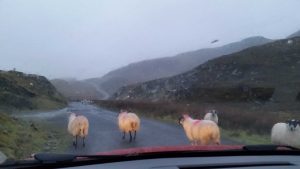 We later figured out that the person who feeds the sheep drives a red vehicle, and as Maggie Sue was red, we think the sheep thought it was noms time, which is why they swarmed us (much more-so than the photo above might suggest as that photo was taken early on before the swarms came).
Once the sheepies cleared us for access, we progressed up to the point where the foggy morning made it very clear we weren't really going to be "seeing" Slieve League. Our B&B host had told us it generally didn't clear up until after noon, but we didn't have time to wait, so we went for the foggy ambience experience, which we enjoyed regardless.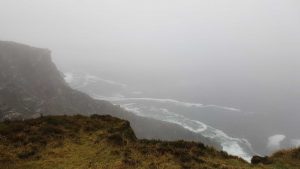 That's about the only time we managed to see water, and that was at the lowest part of the point.
The nice thing is that the whole area is open, so we didn't let the fog stop us and rather than shuffle away we took off hiking.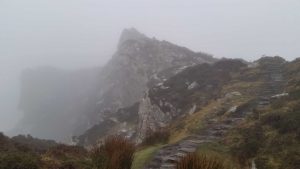 While we couldn't really see the ocean, we could hear it – way, way down in the mist someplace. So we had a really nice hike along the cliff's edge which eventually leads to "One Man's Pass" – which is exactly what it sounds like. Pigsten was a big fan of all the rocks.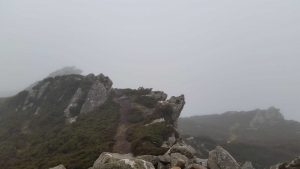 After our foggy Slieve League adventure, we started the longest drive of the entire trip, which would take us about 445km (~6 hours) south to the town of Killarney. It was a heck of a drive – and it also just so happened to be the shortest day of the year sunlight-wise!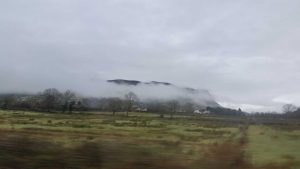 Not only did we get lots of countryside, we got lots of tractors – oh lawds the tractors.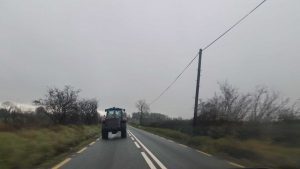 I think pretty much every little town/village had its token tractor just taking ye' olde' holiday stroll.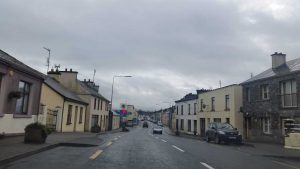 We eventually made it to Killarney though, only to find out that a huge Christmas concert was going on in town which of course generated way more traffic than usual. So, once we had Maggie Sue settled at the hotel (which was more B&B than hotel) we took off on foot for dinner at a place called "Cronin's" – where in addition to beer and food, we tried Christmas Pudding for the first time, and much to our server's surprise we really liked it. I'd had "Spotted Dick" a few years ago (and no I'm not linking you to porn), but this was my first time with Christmas Pudding.
The next day we continued our journey by heading towards Killarney National Park, with the first stop being Ross Castle, which was only about a 4 minute drive from our hotel.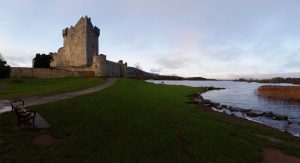 The Boys and their growing castle collection.
While Ross Castle was officially closed for the season you could still wander around the exterior of it, which we did of course.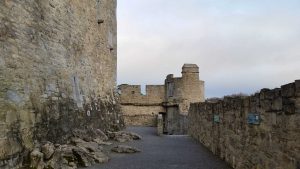 From there we continued on to Muckross Abbey. There was a bit of confusion as to just where it was, but we figured it out eventually.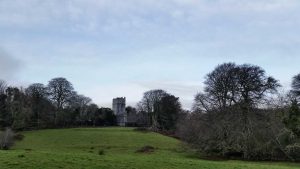 The ruins sit a short hike back off the road and its well worth the walk.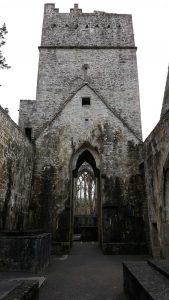 The cloister is incredibly well preserved.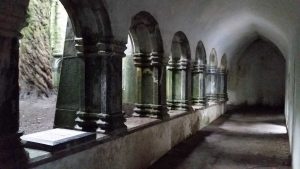 The cloister also features an extremely large old yew tree in the central courtyard.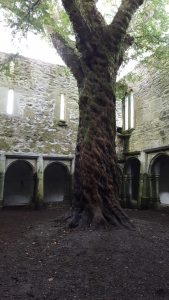 After the abbey we took a road less traveled as we made our way to Torc Waterfall.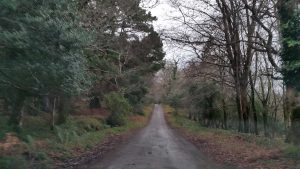 I say less traveled because it was. We later found out we took the uber-hiker back entrance, whereas further down the real road there was the fat-people tour bus entrance. Oh well, after all those heavy breakfasts we needed some steep inclines – plus it made the waterfall harder earned and more worth it!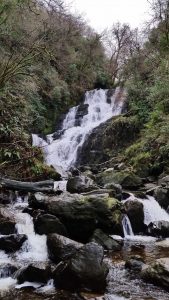 From there we continued deeper into the national park.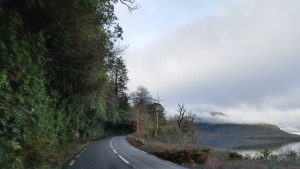 The next stop was "Ladies View" a panoramic viewing spot with amazing views of the park. The view is apparently so-named based on how much Queen Victoria's ladies-in-waiting enjoyed the spot when they visited in 1861.


Funnily enough, despite being the only humans at the site there were a few goats right below us that Tristen really wanted to eat.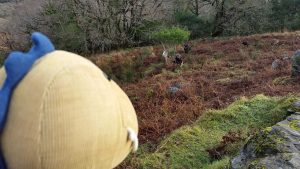 From there we continued onward and upward, passing some gorgeous mountain lakes on the way.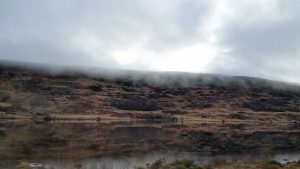 After a lunch at a cafe located right at one of the park's few crossroads, we made our way just beyond the park's borders to the town of Kenmare. In Kenmare we stopped at the Old Kenmare Cemetery, which turned out to be really pretty insofar as old cemeteries go. It was also noteworthy as having one of the mass "famine plot" grave sites which holds an untold number of victims of the Great Famine.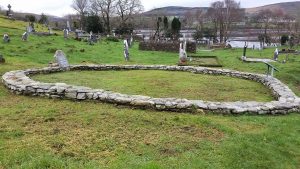 One thing we weren't expecting to find at the cemetery was a holy well – but it turns out there was one just beyond the cemetery near the water line. Apparently Ireland boasts several holy wells, and St. Finian's Holy Well happened to be the one we stumbled across. It was still very active with watering bubbling up enough for a constant stream to be coming out.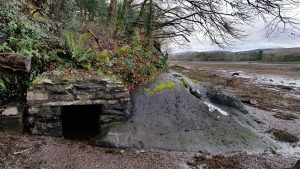 We then continued our journey on the winding road towards Blarney.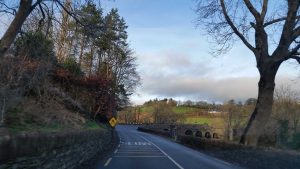 Our destination was naturally Blarney Castle, and despite some concern that we might not make it before they closed (for not only the day but the holidays) we made it in a bit before the last admission time to find the whole park pretty much deserted. It was awesome.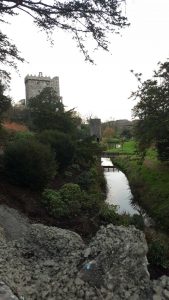 Thus our Blarney Castle experience was one of skeleton crews and having pretty much an entire castle to ourselves, Pigsten, and the 2 employees who make sure you don't die when you kiss the Blarney Stone.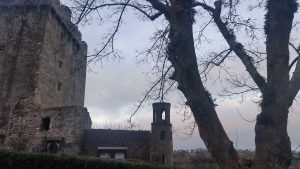 As cramped as some of the corridors on the climb to the top are, I'm oh so glad we did this famous spot during off-peak season.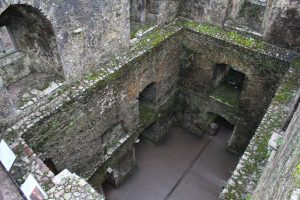 Indeed, when we made it to the top there was no wait for the stone, so we all kissed it. I suppose that means the Boys' have the gift of the gab now!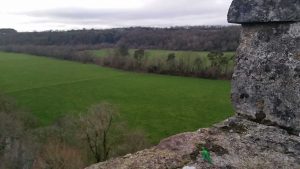 Interestingly enough, if you believe the legend behind the Blarney Stone I've actually seen the other half of it (though I didn't know it at the time). Pretty cool. After kissing the stone we made our way down, where the last few employees were practically (if covertly) begging us to leave so they could go home for the holidays, but I made them endure my many explanations of castle defenses to SB before we departed (in fairness to us it was technically still 10 minutes before closing 😛 ). Yes, the employees left the park before we did, as they hopped in a car and drove out while we had to walk out. Thus, for a brief moment in time I can say I possessed Blarney Castle. 🙂
To drive the point home even the gift shop was closed and we had to go through some janky, dark, metal-turnstile side-entrance from the 1920s that hadn't seen WD40 since it was constructed.
That night we stayed in downtown Cork. Cork is loud around Christmas. Very loud. 🙂
The next morning we headed out from Cork on towards Cashel.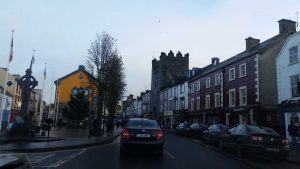 Our first stop there was the Rock of Cashel, which in addition to its long authenticated history, is also reputed to be the site of the conversion of the King of Munster by St. Patrick in the 5th century.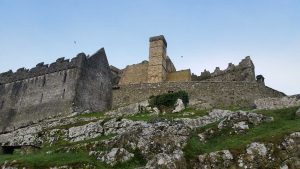 While Cormac's Chapel was closed for restoration work while we were there, the rest of the grounds – including the main Cathedral – were still open.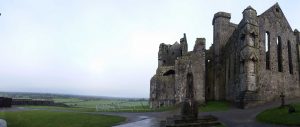 There were some pretty idyllic views from up on the rock.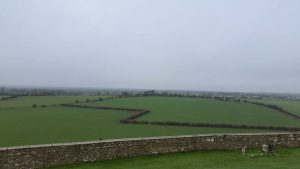 SB and I made our way around the perimeter, and for most of the walk it was just us and the crows – and I suppose the dead.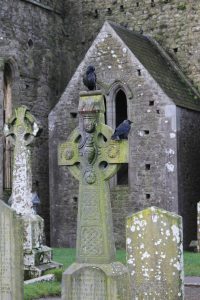 Just West of the Rock of Cashel is Hore Abbey, which was our next stop – but I'll get to it in a second.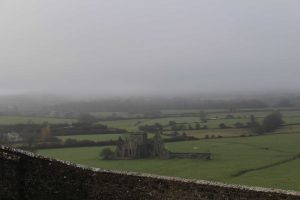 The Cathedral was pretty incredible and gave us a good point of reference for the cathedral we'd be visiting on Christmas morning just a couple days later in Dublin.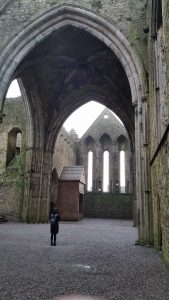 After exploring the rock a bit, we made our way towards Hore Abbey, which was more complicated than it might seem, as, unlike the Rock of Cashel, Hore Abbey is literally in a cow pasture these days. So there's no parking. Luckily we were the only ones who ventured into the muddy cow-lands, so we were able to just park in front of the pasture gate and make our way in.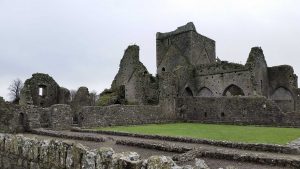 Like many of the sites, we had this one all to ourselves, though Hore Abbey clearly also doubles as a hangout for locals (my guess is local youth) as there were clear signs of gatherings – from broken glass to some small fire pits. It wasn't anything extensive, but it was kind of sad since there is a cemetery right there (getting buried in the middle of cows is kind of pleasing though). It was here in the ruins of Hore Abbey that we found our first shamrocks.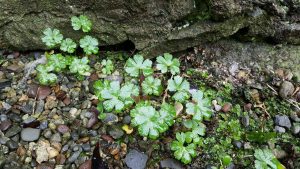 If you recall the photo above from the Rock of Cashel looking torward Hore Abbey, here's a reverse shot – complete with Pigsten.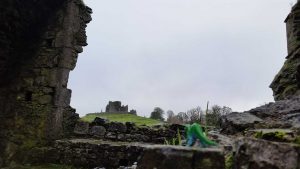 After departing Hore Abbey we headed back into town for some lunch at small pub before continuing on our way. Speaking of which, the car pack in Cashel was legitimately built in the middle of old ruins itself.

The next stop was Kilkenny, the medieval district of which was very busy with Christmas shoppers. We, however, weren't here to buy presents – we were there to drink beer, literally. Our first stop was the Smithwick's Experience Kilkenny – a tour through Smithwick's original brewing location.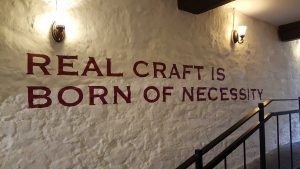 The tour was pretty cool, complete with the bloody tale of brewing during the reformation, as well as having some really cool animated portraits of the family. But mostly it was about the beer, it's always about the beer!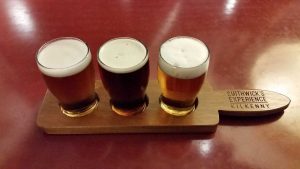 I opted for the sampler at the end of the tour, whereas SB got a pint of the classic red, which our tour guide lit up really cool-like with the bar lights.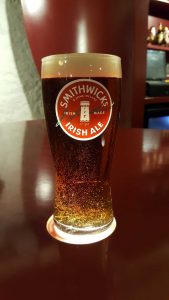 After that we made our way to our cozy B&B which sat right on the River Nore.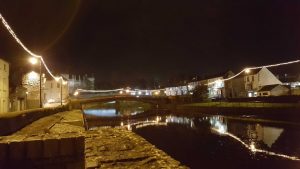 After some more food and beer at another pub ( 😀 ) we tucked ourselves in for the evening, and the next morning we were off for Kilkenny Castle, which was in view just up the river from us.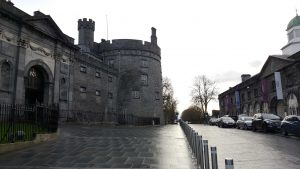 Kilkenny Castle was open on Christmas Eve, it just had narrow hours and we had to do the guided tour. So we were on a bit of a time schedule that day, but we made it in time to catch a tour that had just left so we didn't have to wait for the next one.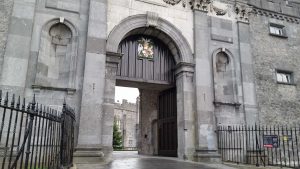 The castle, which was largely restored during the mid-to-late 20th century, was also decorated for Christmas which really added to the experience.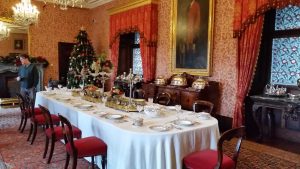 The tour takes you through several floors and rooms of the castle, so you get some good views of the grounds.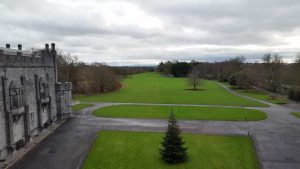 The definite "wow" moment of the tour is near the very end when you enter the "Long Gallery."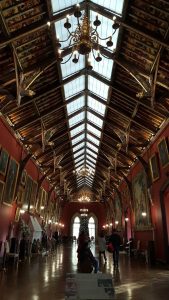 The "Long Gallery" is the second longest room in Ireland, coming in just after the "Long Room" in the Trinity College Library. After our castle tour we ventured down to a sweets shop – not for sweets but for a magnet! From there we backtracked to our B&B where we paid our host (it turns out they only took cash, so we had to go find an AT&T – but our host was super trusting and just let us leave without paying).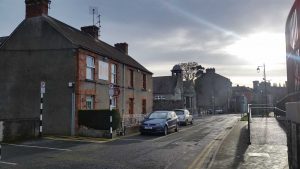 After getting Maggie Sue from the parking garage our journey took us southeast to the Hook Peninsula.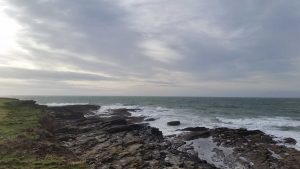 Our destination there was Hook Lighthouse, though just before we got to that Pigsten had to add some rocks to a rock train someone had started at some point.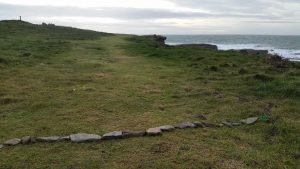 Anyways, Hook Lighthouse is the second oldest operating lighthouse in the world. Yes, world – as the existing tower dates to the 12th century. SB and I apparently have a thing for old lighthouses.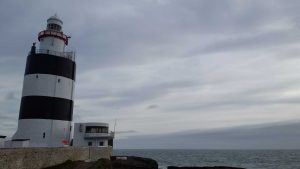 Hook Lighthouse is clearly a mix of old and new, and most of the really old stuff has had new stuff built around it, but they've still done a good job of keeping some of the really old stuff exposed for exploration.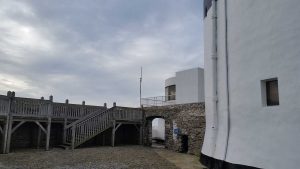 Due to the holiday the lighthouse itself was closed, but you could still explore the coastline and grounds, which we did. Just shortly up the road from the lighthouse was something that caught my attention, so we pulled over and it turned out to be the ruins of what I presumed was once a massive signal fire station/pit.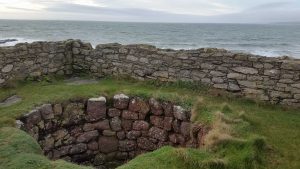 You had to climb up into it (and then not fall into the pit – easier said than done with the wind) but it offered good views of the lighthouse just down the road.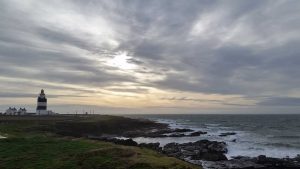 One thing I noticed while reading the placards around the lighthouse area was that they kept mentioning the Templar. Well, turns out, yep, it was the Knights Templar. Apparently they were established on Hook Peninsula, complete with their own series of temples.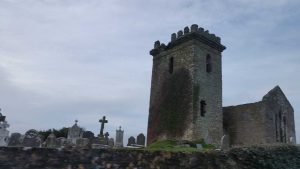 After leaving Hook Peninsula behind, we started the rocky road to Dublin – doubly literally – in that route to Dublin was rocky, and also because we started listening to the song.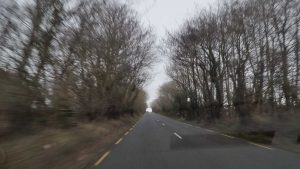 From there it was a long, but largely uneventful drive to Dublin (we avoided the tolls, yay!). Once we looped around to the North side of Dublin (near the airport) we had to part ways with Maggie Sue, which is always a bit sad, but she was excited to be back with her family for Christmas the next day. Plus after a ~1090.5 kilometer (~677.6 mile) trip with us, I am sure she was ready for a break! For reference, the entire country of Ireland clocks in at about 486 kilometers at its longest point (275 kilometers at its widest, if you were curious).
Back to bringing Maggie Sue home – the interesting thing about Dublin, is that if you're returning a rental car, but want to go in to the city (as opposed to leave the country), you have to drop off your rental car, take a shuttle from the rental lot to the airport, and then a bus from the airport to the city. So that's what we did, and after some gross incompetence on the part of AirCoach (said bus company) we did make it into Dublin, though not without walking several blocks to our hotel in the dark because of said incompetence.
The interesting thing about Dublin on Christmas Eve, is that it was so, so quiet.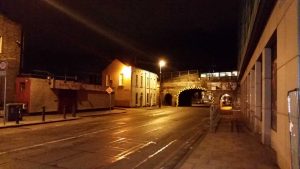 There was all of one store open near our hotel (which was centrally located) – a small convenience store. So that's where we got food the first night. However, after eating in our room we headed down Pearse Street (where our hotel was) to a local pub we'd passed and noticed was open.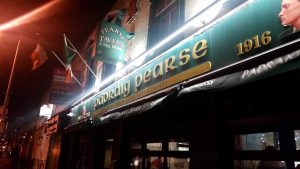 We didn't know it at the time, but "Padraig Pearse" (a.k.a. Patrick, a.k.a Pádraic) was the name of one of the leaders of the 1916 Easter Rising in Dublin. While we were definitely the out-of-town people in a local's pub, with a local crowd, on Christmas Eve – people were still friendly, especially one fellow who was a wee bit tipsy but still very friendly (and as such inadvertently funny) if not incredibly difficult to understand thanks to said slurring plus the ole' Irish accent. 🙂
We had a couple beers each, Guinness and Smithwick's of course!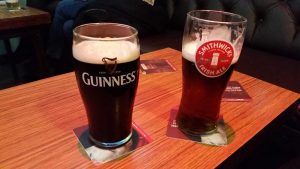 The next day was Christmas! I have to say this was my first time spending Christmas outside of the U.S., and definitely the first time spending it in a hotel, but honestly with SB and the Boys things were just fine. We used the morning to sleep in some, and then headed out to Saint Patrick's Cathedral for a Christmas Mass.
The weather was very… rainy, which I suppose is very usual for Ireland, though not my first thought for December 25th. However we didn't let that stop us and we made the decently lengthy walk to the Cathedral in our rain gear – definitely not church clothes (especially not Christmas church clothes), but I have this odd feeling Jesus would care more about the walk through the rain than the clothes. Plus, Dublin was almost eerily deserted, which makes sense, but it wasn't until you got close enough to hear the cathedral's bells tolling that there was anything near a significant number of people.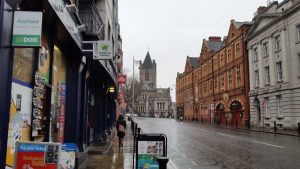 After the mass was over, they let us wander around for a little bit as they were closing the place down. I'd like to have spent more time in a church founded in 1191, but they have families too – so I didn't internally whine too much about not having time to read any of the information. We still had time for a few photos though.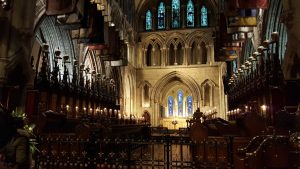 Despite what this next photo might make it seem like, the place was packed and we were way over in a side alcove, which ended up being right behind the priest during the sermon though, so that was cool.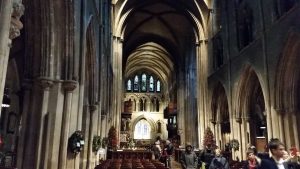 Here's a rainy outside view, it was hard to get the whole place in one shot!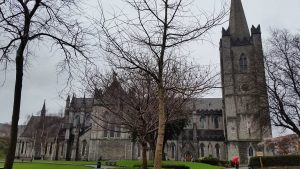 After that we scurried back to our hotel for Christmas Lunch, which we had specially booked (not many options on Christmas insofar as dining is concerned) and which was quite pricey – so we didn't want to be late (and mass had ran a good bit beyond the listed time).
While we were initially hesitant about the lunch due to price, it was awesome!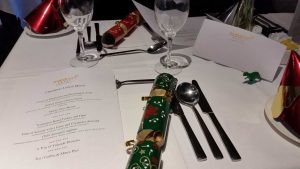 We got not only good food, but lots of Christmas lunch/dinner favors, such as hats, and "firecrackers" which had toys inside! But also food, oh so much good food! Also if you don't recognize any of the following words, I don't either, I'm just copying the menu. 😀
For my starter I had the "Grilled Goats Cheese Salad" with rocket leaves, olive tapenade, roasted tomatoes, peppers, and drizzled with vinaigrette.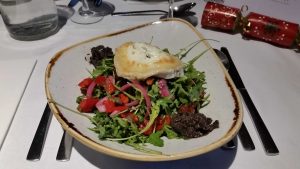 SB chose the "Honey Dew Melon" which was just like what it sounds like, except was presented in a fancy fan formation with fresh raspberry coulis.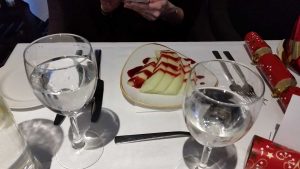 For the main course, I opted for the "Traditional Roast Turkey and Ham" which was served with seasonal stuffing and cranberry jus, whereas SB decided on the "Fillet of Salmon with a Lime and Coriander dressing," which had a steamed darne of salmon and seasonal vegetables.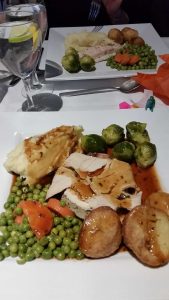 For dessert each of us got a "Trio of Yuletide Desserts" and coffee, and well, I'll just let the photo speak for itself!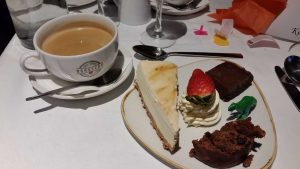 Coffee, a super light and fluffy piece of cheesecake, Christmas pudding, and a brownie with a centerpiece of whipped cream and a strawberry!
And, with it being Christmas, that was pretty much that for the day. We spent the rest of the day being lazy, pompous, Skyping with Meem, and watching movies on TV with the boys. It was a pretty awesome way to spend Christmas.
The next day, Boxing Day, most things were still closed but portions of the city were stirring from their slumber for Boxing Day sales. We passed on the shopping and decided to attempt to explore Trinity College, but was locked up tight and we couldn't even get onto campus. So instead we decided to explore one of Dublin's many free museums – the National Museum of Ireland – Archaeology.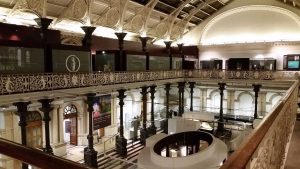 It had a decent crowd considering the holiday, but wasn't crowded. There we checked out all sorts of "manries" viking and Celtic stuff, as well as some really fascinating preserved "bog bodies" which were unlike anything I've seen before.
From the museum we headed to St. Stephen's Green.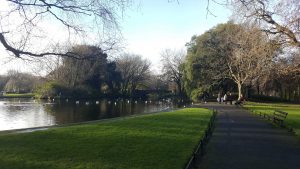 There were loads of bird friends there (including Chuck and Chica), plus the grounds were really gorgeous considering it was, ya' know, late December.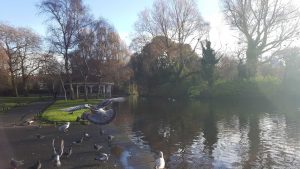 In addition to being an important city center park, St. Stephen's Green also played an important role in the Easter Rising, with the park serving as a dividing line and combat site between the Irish Rebel Forces and the British Army. One such location is the superintendent's house, which was occupied by rebels while British Forces sprayed the adjacent street from machine gun nests they'd established in a hotel to the house's north.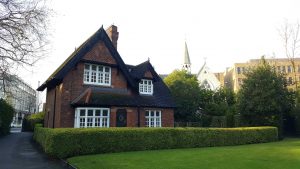 In fact, the Fusiliers' Arch in the northwest corner of the park still bears bullet holes from the fighting.
After leaving the park behind we made our way down the famous Grafton Street, which was SWARMING with Boxing Day shoppers and tourists  (or both). We were bound for simpler times though, as we left all that behind (with a quick side jaunt to see the statute of Molly Malone) to see the old medieval walls of Dublin, which had all of 3 people in their several block radius. My kind of place.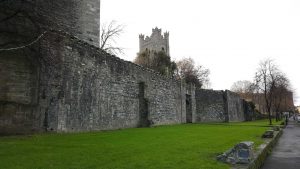 After that, it was time to eat, which is to say drink. Fortunately we were close to the Temple Bar area, and thus a pub wasn't far away. The big score was that I finally found Murphy's! Murphy's is almost unknown in the U.S. and I obviously took a bit to find it in Ireland. Basically, if you like Guinness, you need to try Murphy's. If you don't like Guinness, you still need to try Murphy's because life is short and then you die.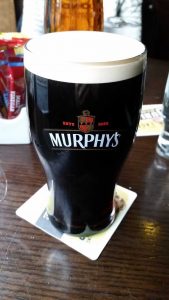 Despite looking a lot like Guinness, Murphy's is less smooth, and a bit more chocolately. Definitely different beers, Murphy's isn't just a knockoff. Both are good and both are worth trying. Hopefully I'll actually find Murphy's again someday so I can get more than a 1 beer sample!
After food drinks we made our way to the less-famous-than-Grafton-Street-but-way-more-important-to-me Moore Street.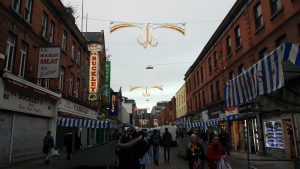 Moore Street, in addition to having a really cool history (especially that of the vendors themselves), is also the topic of the song "Moore Street Girls" by the Elders – a song which I happen to be very fond of!
After that it was getting dark so we trekked back to the hotel as a it was a good jaunt from us. Our path took us down O'Connell Street, which we'd be returning to the very next morning (which sadly was also our last full day in Ireland).
However, active until the end, we had a fully packed last day. As mentioned, we were up and out the door early on our way back to O'Connell Street. O'Connell Street just so happens to be the widest street in Ireland, and like Pearse Street, is named after a famous Irishman (Daniel O'Connell) who favored independence from Britain. It's also home to an odd, massive monument called "The Spire of Dublin" which even the locals we spoke didn't really seem to understand.
Anyways, our adventure quickly left O'Connell Street behind, as we had booked a tour to the surrounding countryside – a nice change after all the foot mileage we'd put in over the past few days. We almost went to the wrong place, because we got on the wrong bus. Fortunately we realized the error before we were whisked off into the mountains (literally, that's where they were going) and got on the correct bus – which we pretty much had to ourselves, there were like 6 people on the tour.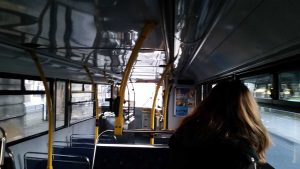 Our correct destination was Malahide Castle.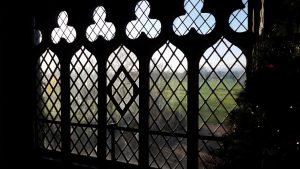 The tour of Malahide Castle was really interesting, because like Kilkenny Castle it had remained utilized up until fairly recently (insofar as castles go) so a lot of it was restored in the Victorian-period onward. One of the rooms had some incredible oak paneling and a nearly 1000 year old wooden chair (brought over with the Normans) with intricate carvings.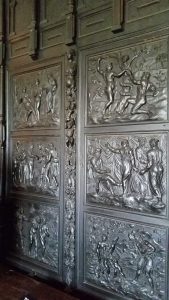 Despite being pretty dang cold in there, it definitely had a cozy vibe, and I imagine had all those countless fireplaces been going that the place would have been quite temperate.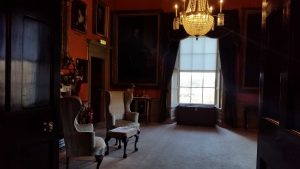 After the castle tour we explored the gardens for a bit, and while they weren't super active since it was winter, there was a greenhouse where Pigsten made a butterfly friend!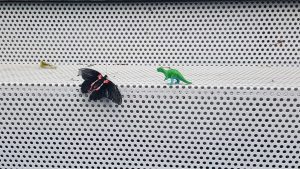 Not to be left out, I soon made a peacock friend thereafter! No seriously.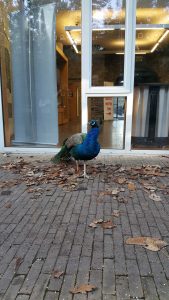 After leaving the castle grounds behind, our nearly private bus took us towards the fishing village of Howth.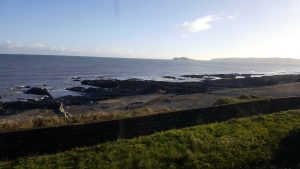 The drive over was quite scenic and was ripe with good views of Dublin Bay.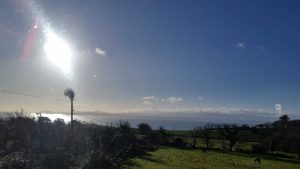 Now, Howth is no longer what I'd really call a village – it's instead a wealthy suburb of Dublin complete with very pricey homes (at least one member of U2 lives nearby), but the dock area still has charm. I especially liked this "FREE BEER" sign.
Of course while Howth might be more 'burb than village these days, it's still a fishing hub. Since it was winter most of the boats were docked, but it was still pretty active (including a little birdie friend who was singing with a street guitarist for us).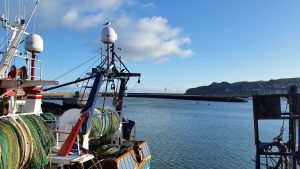 Howth is also known for the seals that drift into the harbor, and while we didn't see any (though a certain polar bear acted very suspiciously when asked if he'd seen any) we did find some "ancient" seagull tracks on the pier.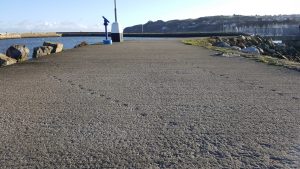 It was a pretty cool little area – literally and figuratively as the Howth coast was probably the coldest I was during our entire time in Ireland.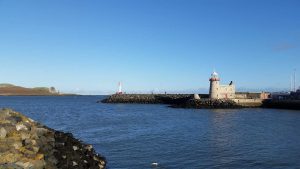 After being bused back over to Dublin, we finally made our way over to Dublin Castle after missing it for several days straight.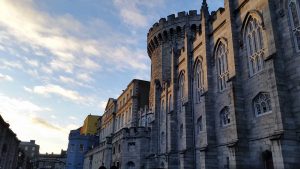 Our bus driver/tour guide had described Dublin Castle as "more of a collection of buildings than actual castle" earlier in the day, and I have to say I agree with him, especially compared to the other castles we'd seen. I think "complex" might be a better descriptor, and lo' and behold that's the term Wikipedia uses too, you'll just have to believe me that I didn't steal it.
Castle, complex, alien spaceship, whatever you call it, it was still really cool.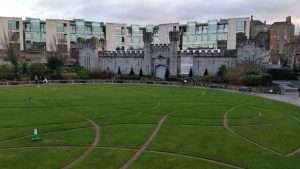 After leaving the castle we embarked on a fairly lengthy walk to the next bit of beer, the famous Guiness Storehouse.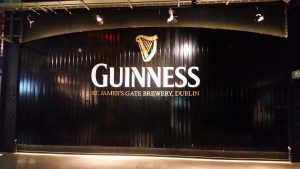 The storehouse is basically the "brewery tour" for Guinness, and while it's situated within their massive St. James's Gate Brewery (Guinness Brewery) it's sort of a self-contained tour within a larger city of beer. I got serious. serious. Willy Wonka vibes. Someone needs to make a version of Willy Wonka except with beer instead of candy. Though that'd probably end with the children all being beaten savagely and Charlie a raging alcoholic, so I guess not.
The tour was pretty awesome, and while it was definitely the busiest thing we'd done the entire trip, it was pretty manageable since it was only 2 days after Christmas. Pigsten made a giant Guinness turtle friend too! So many new friends for the Boys!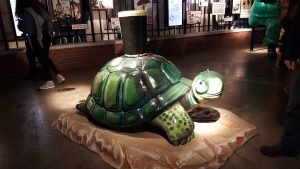 One neat thing about the tour is that as they walk you through the history of Guinness and the brewing process they've obviously tried to make the "checkpoints" as eye-catching as possible. For instance the "carbonation" information point has this really cool area that uses globe lights and mirrors to make you think you are floating in eternity.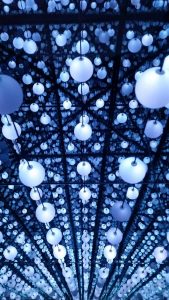 It made me think of a similar area I'd been in several years ago in a museum in Humlebæk, Denmark (boy I get around). At the end of the tour comes the best part, which is a pint of Guinness (various offerings, not just the stout) or soda, but lol soda. It's also offered up in the "Sky View Lounge" which at the top of the Storehouse is the highest bar in Dublin and offered up great nighttime views. While it was pretty crowded and despite my best efforts I didn't manage to capture a signal good photo of the nighttime skyline, it did continue SB and I's trend of going up someplace high to drink beer during our last night in a place.
On the way back we were going to take a city bus as it was pretty far (and dark), but we found out we were too poor for the bus. Yes, seriously – the bus. If you think the adventures I talk about on the blog or my degree(s) indicate some sort of independent wealth, then LOL. So yeah we walked back basically across the entire center of Dublin. The cool thing about that was that we found the western gate to Trinity College open! So we creepered on inside.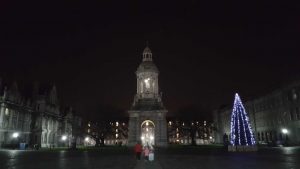 Sure, everything was closed absent a proper ID for the scanners, but we could at least walk around campus.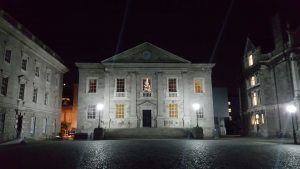 The problem came when we tried to get out as all the gates we came to were closed. Fortunately we found a stranger and crawled up to them from the darkness and asked them where the nearest gate was that was actually open. They pointed us in the general direction and we avoided being trapped on Trinity College's campuses overnight with the Leprechauns (of which we had seen one just about 6 or 7 blocks away).
That evening we ate a convenience store dinner once again and had a few beers in the hotel room before getting to bed decently early. The next morning we bused it back up to Dublin airport and before too long were waiting in front of our big purple plane that would take us home.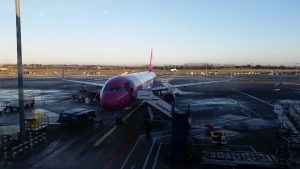 While the first part of our trip had been pretty warm (especially in comparison to Iceland) by the end it had gotten pretty cold in Dublin, to the point they had to deice the plane – which the Boys liked!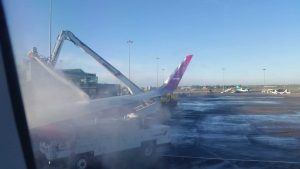 After that was taken care of we were up, up, and away as we left the Emerald Isle – which was oh so green even in winter – behind.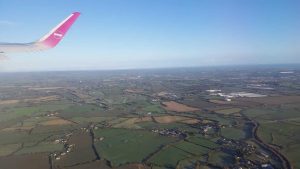 And came back to this.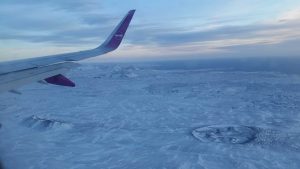 A lifeless, icy, craterous wasteland. Wtf am I doing with my life. Nah I kid, I like it here, but that contrast – it's hard not to laugh.
From the airport we bused back to Reykjavík from Keflavík, and then walked back from the bus terminal to our apartment. Despite Ireland's best efforts to be cold, Iceland quickly reminded us what cold actually was. 🙂
And that, dear friends, is that! If you're wondering what we did for New Year's, well, things got pretty crazy and I covered that here.
All in all, this was a pretty incredible holiday season. It was a season of firsts, both good and the not-really-bad-but-different, but on the whole it was definitely one heck of an adventure that I don't regret in the least! I hope you enjoyed following along with my Ireland post. SB, the Boys, and I had a fun time spending Christmas on the Emerald Isle, and despite the comparatively abridged nature of the this post, I hope you did too via proxy! 🙂
Until next time,
-Taco