Greetings,
I've been in a bit of a posting slump recently, primarily because I've been busy and my RA position has a tendency to eat up the time that I formally used to blog. Still, I've had little adventures in the meantime and over my Fall Break (which is usually an oxymoron) Meem came out and her and SB and I went on a long-planned "New England Trip."
Due to the relatively hectic nature of our lives – and also because we have no car – we haven't really had a chance to get out of the Boston area much. Yes, we'd been fortunate enough to go down to Cape Cod, but other than that we hadn't had much of a chance to see New England aside from when we drove in with Lillian. So, two of things which had remained on our "Boston Bucket List" were a trip to Ben and Jerry's in Vermont and a weekend trip to Maine. From these two items we got the idea to do it during the Fall for the leaves, and from this we got the idea to extend it it to New Hampshire as well, and from there I decided to throw in Rhode Island and Connecticut because why not do all of New England? At some point in all the planning process Meem joined in because she was wanting to come out and see Salem anyways, so it all just sort of fell together into a whirlwind 6 day, 5 night jaunt through a decent clip of all the New England states (which as yet another reminder does not include New York). My Fall Break is technically only 2 days (M & T), but I was able to scrounge up enough time (and also skip some stuff, but 3LOL) to be gone the previous Th & F as well. Meem flew in on Wednesday night and I met her at Harvard Square after my glasses were over.
The next morning,Thursday, October 6th,  with rental car in.. hand? we began our voyage and set out from Boston. This route map shows the path we took, with each number corresponding to where we stopped for the night (i.e. the numbers aren't all the places we stopped to be tourists, only where our hotels were). The whole thing moves clockwise if it wasn't obvious.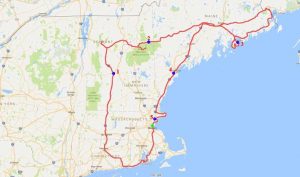 White River Junction, VT
Gorham, NH
Bar Harbor, ME
Portland, ME
Danvers, MA
So, you kind of get the gist of how things went down. Now, while I'd normally go through our trip in a journal-style approach (e.g. Alaska) I unfortunately don't have the time nor gumption to do that for this blog post, plus I don't have the full range of pictures at my disposal just yet. So, what I've decided to do is to approach things in a manner I've done in the past, which is to limit myself to a max 20 words per photo (below the photo as usual) and I've selected 80 photos from various points in our trip. The result: I cannot devote more than 1600 words to our New England Adventure. As a point of comparison, my average post is around 2,437 words (though I've already written 500 words anyways, haha). Of course even this approach will take a few hours to draft – because blogging is TIME CONSUMING, and I make NO MAHNIES from it.
Anyways, the challenge to that 20 word limitation is that I need to more succinctly tell the story, lest Tristen bite me for not mentioning his exploits. So, with the introduction out of the way, let's get started!
The 2016 Meem, Taco, SB, and The Boys New England Adventure of Joyness and Ice Cream
~~~~~~~~~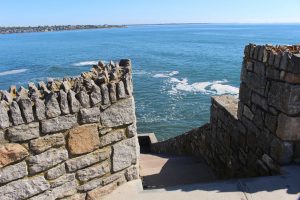 We started our adventure in Newport, Rhode Island, where we visited the "40 Steps" and took in the coastline.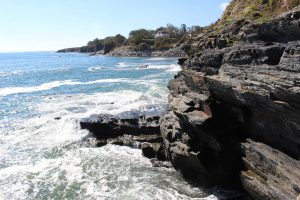 Despite being the smallest state Rhode Island has some impressively large boulders on its rocky coasts.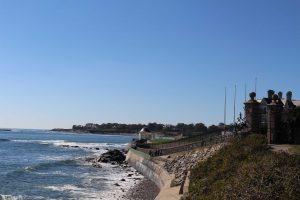 The coastal area of Newport has all sorts of old mansions which belonged to to families such as the Vanderbilts.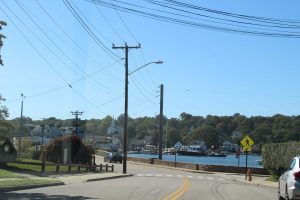 After Rhode Island we headed to spleepy-ish village of Mystic, Connecticut home to the Mystic River.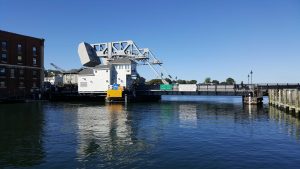 One of the village's more prominent features is its bascule bridge which still operates!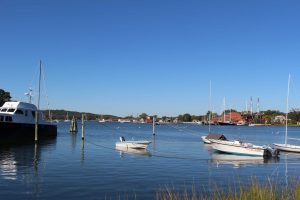 We had a yummy lunch from Karma Kitchen right down next to the river.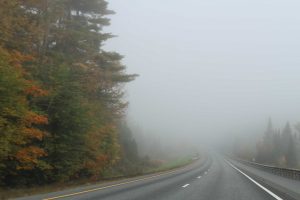 After a night in White River Junction, Vermont we headed northwest for Waterbury, VT (home to Ben and Jerry's).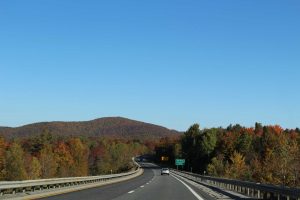 Eventually the we drove up and out of the fog and got to take in the wonderful Vermont countryside.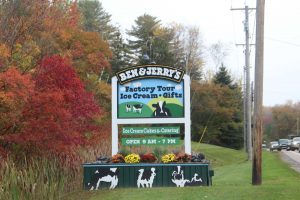 Next stop was the world famous Ben and Jerry's factory, which is actually the top tourist spot in VT.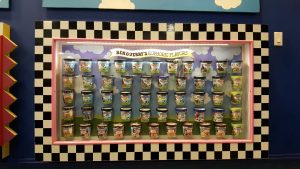 Look at all those delicious flavors, needless to say we all went on the factory tour.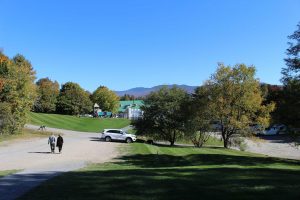 The factory itself was nestled in a very pristine area just outside of Waterbury and near Mount Mansfield.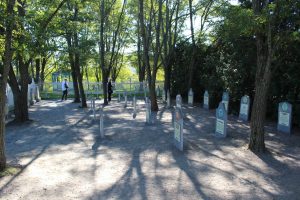 If you follow a trail up behind the factory you'll come to their (in)famous "Flavor Graveyard" – a bonafide graveyard.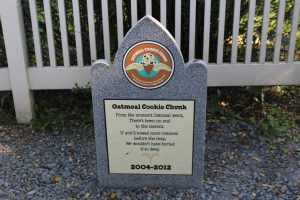 Here lies "Oatmeal Cookie Chunk," my favorite of the dearly departed ice cream flavors. It was a sad day.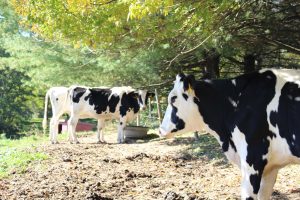 Just down the hill from the factory are where 3 Ben and Jerry cows live, we were drawn to them.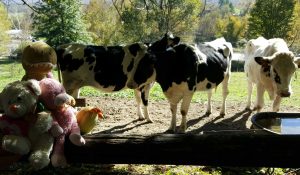 As were all of the boys, the cows are Ben and Jerry's mascots after all, so they are basically celebrities.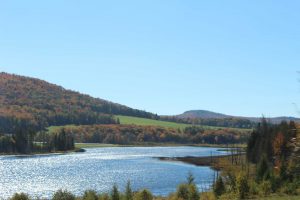 From there we headed east with our next destination being the White Mountains of New Hampshire (not Alaska).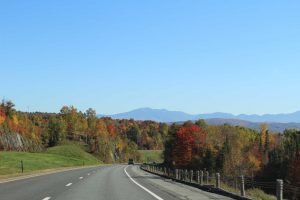 This was one of the first good views we got of the mountains on the horizon as we adventured onward.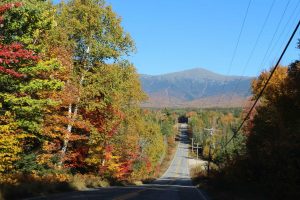 Eventually we got off onto the scenic "Base Station" road, which led us to the Mt. Washington Cog Railway.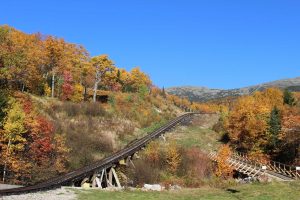 This was SB and I's second Cog Railway, but it was Meem's first. We were all excited to go up.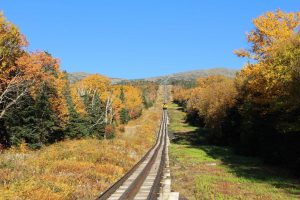 There were two trains going up (last of the day), we got the far less crowded one. It was good.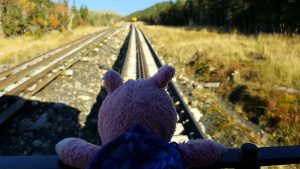 Pig and Pigsten were up front with SB and I and Pig really seemed to enjoy himself.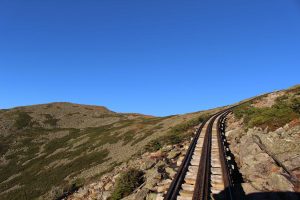 The treeline on Mt. Washington is only at ~4,500′ because the Presidential Range has horrendous winters.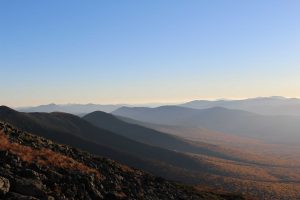 Here is an awesome shot of the fall foliage giving way to the rocky tundra further up the mountains.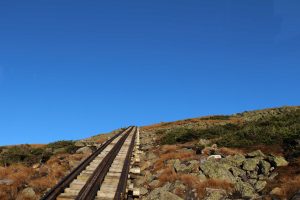 At points the Cog Railway reached inclines of 37.5° – for comparison a regular train can generally only manage <5°.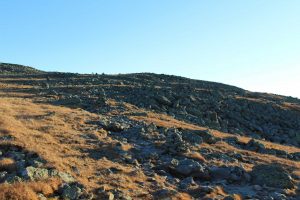 Many trails cross over the railway towards the summit, the most famous of which is the Appalachian Trail!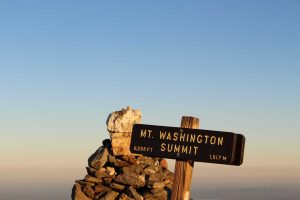 The summit of Mt. Washington checks in at 6,288′ – the highest point in the entire Northeastern United States.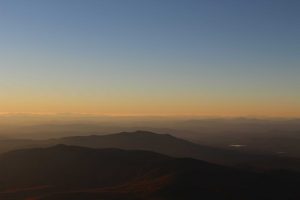 Since we were last trip of the day, we got to take in the AMAZING sunset views.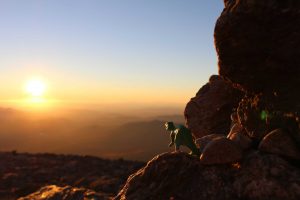 Pigsten watches the sunset? Or Pigsten marvels as his nuclear warhead erases his enemies from history? We may never know.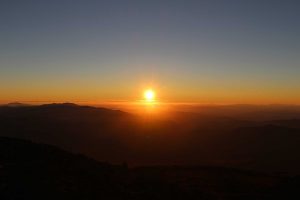 We got really lucky for sunset, the median cloud cover for the mountain is 84% to 94% – we had none.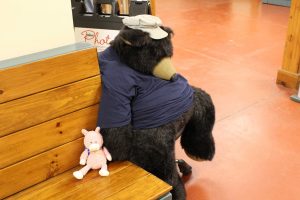 Once back down to base camp (~2,700′) Pig made friends with a big sleepy black bear.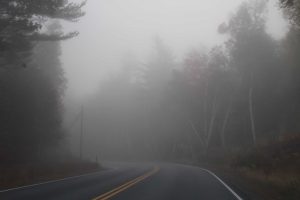 After a night in Gorham, NH we headed out into a thinny and found ourselves in Gilead, Maine.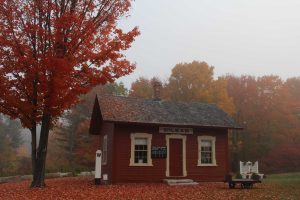 Here we trained to be gunslingers and lost SB in a bunch of Stephen King references (he's from Maine).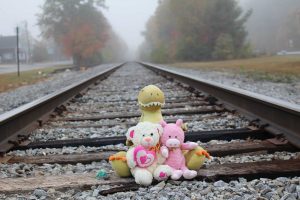 To continue the King theme, the boys searched the railroad tracks for a body, but found none (or ate it).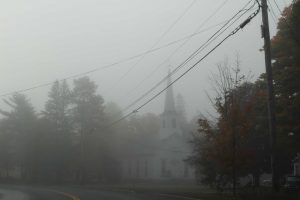 The fog in western Maine persisted well into the morning, but it gave everything a really atmospheric (eerie?) tone.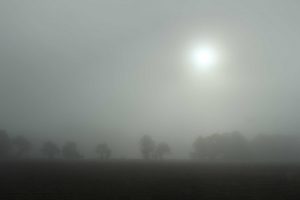 I especially like this photo, it give you a good idea of what most of the countryside looked like.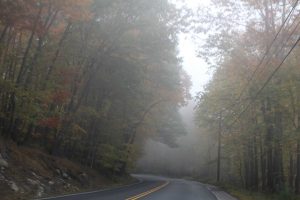 Not only did the fog contribute to the thinny-like quality of the roads, there weren't many other cars out either.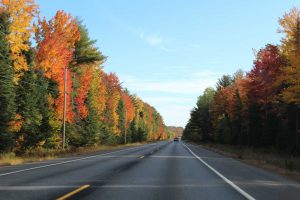 Eventually, just like in VT, things cleared up a bit and all the colors exploded from the haze.

We ate lunch at Dysart's, the truck stop which inspired "Trucks," or as you probably remember it "Maximum Overdrive."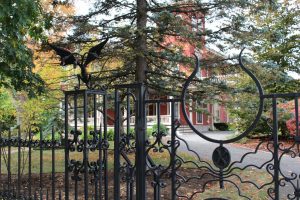 Next up was the Master of Horror's house, located in Bangor. I was surprised by how close you can get.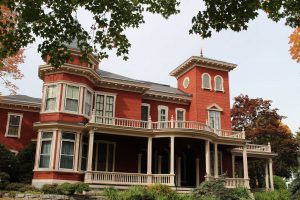 Needless to say Meem and I got lots of fan-girl photos in front of it.
Just down the street Tristen encountered another dinosaur. Manlies.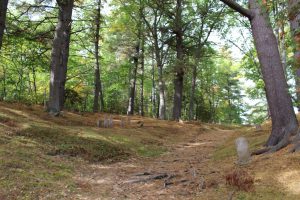 Our next stop was Mount Hope Cemetery, which inspired, among other things, Pet Sematary.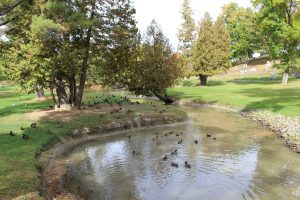 While the old part of the cemetery was indeed kind of creepy, the newer part had loads of duckie buddies.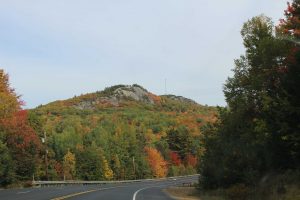 Once past Bangor we kept heading east along Route 9 – itself central to several King works.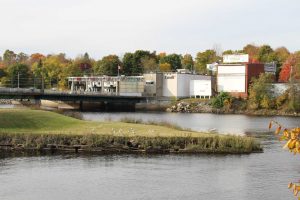 We made our way up to Calais, ME (highest point [latitude] on the east coast) and looked at Canada.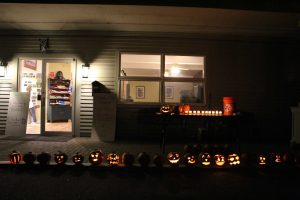 We then made our way down to Bar Harbor, ME on Mount Desert Island, where Halloween had arrived (sort-of) early.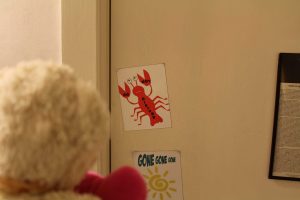 Everyone liked the lobster version of our hotel's do not disturb sign, Valentino tried to eat it.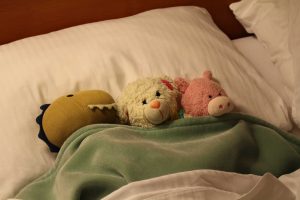 After a yummy lobster dinner at Jack Russell's Steakhouse and Brewery everyone got some much needed sleep.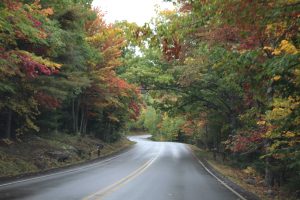 The next morning we woke to our only rainy day of the trip, but we didn't let that stop us!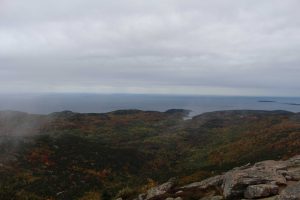 We headed into Acadia National Park and up Cadillac Mountain (highest [elevation] point on the east coast) – awesome views!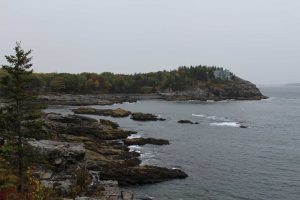 The coastal areas of Mount Desert Island were covered in dark rocks and cliff faces, it was really cool.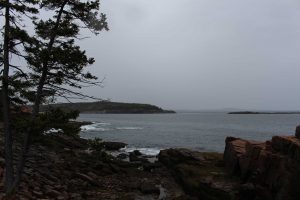 We took more than a few opportunities to get off the "main" park loop and get closer to the water.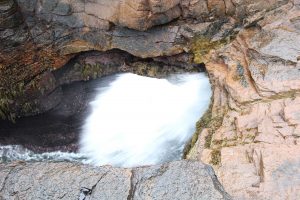 One awesome feature is the "Thunder Hole" which is a natural tidal rock inlet which can produce a HUGE roar.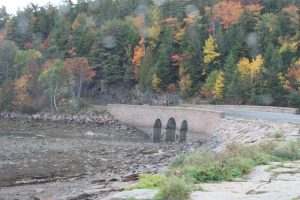 In addition to its natural features, Acadia is also famous for its myriad of carriage roads and bridges.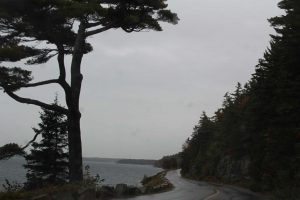 Acadia itself doesn't actually cover the entire island, but even outside of the park you still have great scenery.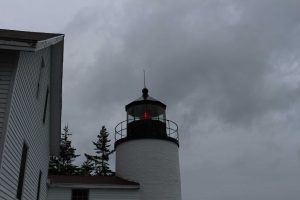 Despite the way it looks, the Bass Harbor Head Light is not possessed, its just covered by an acrylic shroud.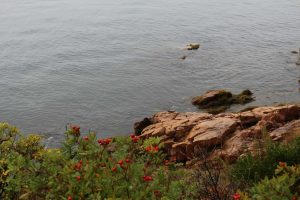 Speaking of red, there were lots of berries growing around the lighthouse as well! Valentino still has some.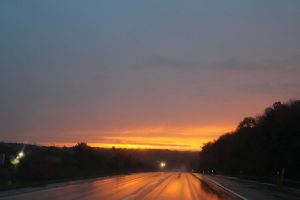 After departing Mount Desert Island we drove into storms, but despite the rain we ended up with quite the sunset!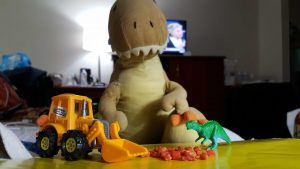 That night we stopped in Portland, ME and Grandma Meem purchased a manlies backhoe for Pigsten (complete with rock candy).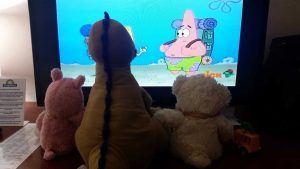 The next morning we had breakfast and got ready, well the boys watched cartoons while we got ready.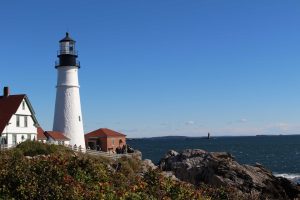 From there we headed to the Portland Head Light, which was commissioned by George Washington and completed in 1791.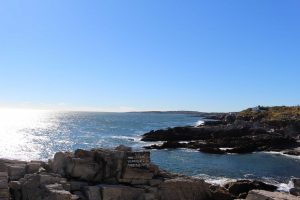 The coastal area around the lighthouse was very rocky (a constant theme for Maine) – notice the old shipwreck marker.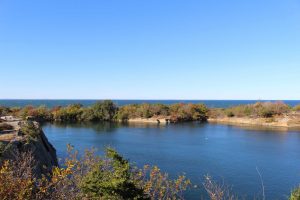 We then progressed back into Massachusetts and to Halibut Point, located on Cape Ann (the northern counterpart of Cape Cod).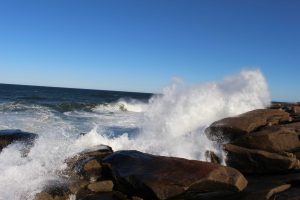 Halibut Point was once a granite quarry, but now its a gorgeous state park with AMAZING coastline for wave watching.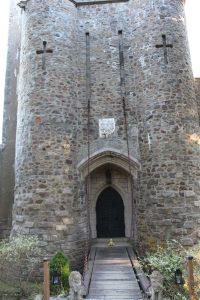 Also on Cape Ann was Hammond Castle, which once belonged John Hays Hammond Jr. but now belongs to Tristen.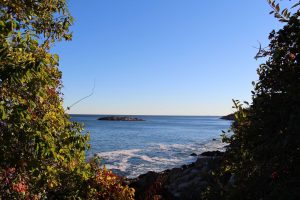 Here is a great coastal view from Hammond Tristen Castle.
[INFORMATIVE PAUSE POINT: Ok so this is technically cheating, but mah authoritah. What follows is our visit to Danvers and Salem. If you have not, I strongly encourage you to read my Salem Post (or to re-read it) before continuing as it is much more in-depth than this post will be. While we visited most of the same places as last time, the addition of a car and more time (both highly useful) also allowed us to visit Sarah Osbourn's house, the Howard Street Cemetery (previously a field where Giles Corey was crushed to death), the Putnam House, the Putnam Burial Ground, Sarah Holten's House, and also the Endecott Pear Tree (where a douche security guard chased us away) which isn't related to the Witch Trials but it is still cool (and is even older). Not all of these things will be pictured below, but feel free to inquire if you want to know more about these places. As such, below is just a overview of some of our revisits and new-visits, constrained to the structure of this post.]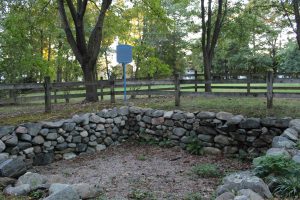 After leaving Cape Ann behind we headed down to Danvers, MA to start my 2 day "Witch Trials Tour."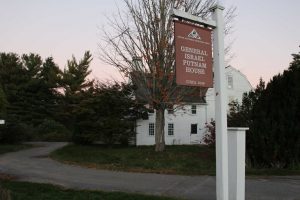 Because we had a car this time, we were able to get in a few extra trial-related locations in Danvers.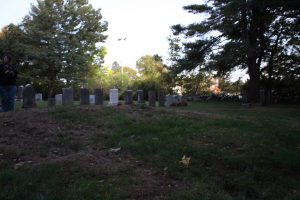 Foremost of which, for me, was the Putnam Burial Ground, resting place of Thomas, Ann Sr. and Ann Jr. Putnam.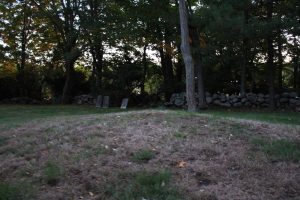 They now lie under this unmarked mound – some would say a fitting end for three of the hysteria's prominent architects.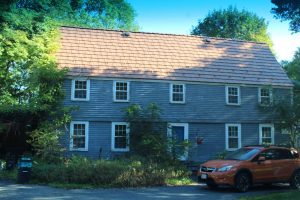 Here is Sarah Osborne's house, she was one of the first three people accused at the outbreak of the events.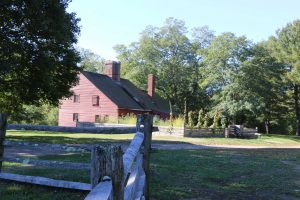 Despite the museum/house not being open, the grounds of the Rebecca Nurse homestead were, which was a nice surprise.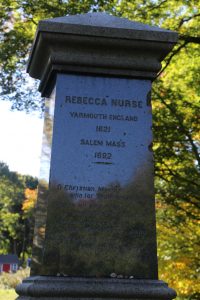 This gave me a chance to give Meem the "Nurse Homestead" portion of the tour, including the historical graveyard.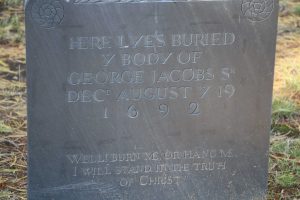 This graveyard likely holds Rebecca Nurse and very likely holds George Jacobs, making it the only known location of victims.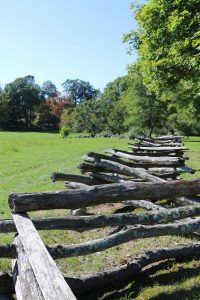 Even if you aren't drawn in by the witchcraft stuff, the homestead is still worth visiting for the scenery.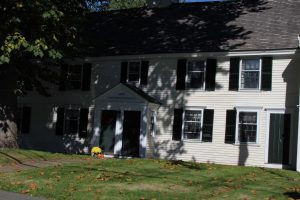 Here is Judge Holten's house, his wife Sarah gave damaging testimony against Rebecca Nurse during the trials.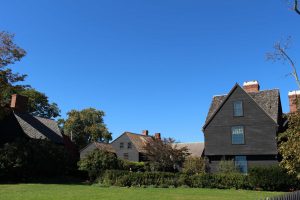 Once in Salem we passed by Hawthorne's House of the Seven Gables – getting a better view of it this time.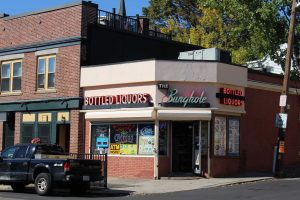 We also passed the ritzy and selective "The Bunghole" a true testament to Salem's lasting historical legacy.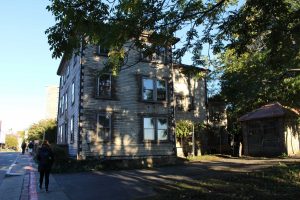 Of course no Salem trip would be complete without walking next to SB's most favorite haunted house in the world.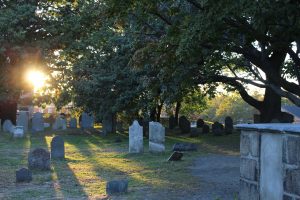 Our "Witch Trials Tour," and really the larger New England Adventure came to a close in Salem's Burying Point.
~~~~~~~~~
And that wraps us up, as from there we just headed back to the apartment, SB dropped off the car, and then we all got to bed decently early (for us, so not that early) since Meem had an early flight the next day, I had classes and RA work, and SB had a full work day. As with all of our adventures, it was a lot of fun and it was nice to have Meem with us (the boys highly approved of Grandma Meem's accompaniment). We also got really lucky with the weather (only 1 rainy day!) and also in that the leaves were starting to really change right when we were on our trip. The year before the leaves had been mostly all dead/gone in a lot of areas, and in other areas hadn't even changed yet. A lot of this stemmed from the drought New England has had this year, which while really bad for a lot of reasons, ended up being really good for us a "leaf-peepers" given the fact that we really only had one weekend to make this trip work. Anyways, I hope you enjoyed following along our route! I know I wasn't super detailed by Taco standards, but I think there's enough here to show you that you should probably take a Fall New England trip for yourself someday if you haven't already, and this is especially true if you are a Stephen King Fan. 🙂
Also, I've been told I give much better Witch Trial tours than most, I accept beer and food as payment, just saying. 😛
Until next time,
-Taco