Greetings!
This is an exciting post to write because Meem came and visited us after the holidays! Yes, she trekked all the way to Iceland to enjoy its terrible splendid weather and infinite darkness sunny skies with us! As such this post is going to be devoted to a reflection on her  visit.
It began with a flight delay for Meem, as Iceland got slammed with bad weather the day before she was supposed to arrive, which pushed back all the flights – including hers since it was an overnight flight. Then it was raining up until shortly before she arrived, but fortunately that stopped by the time she landed. After she rode the bus up to Reykjavík from Keflavík I met her at the bus terminal and helped get her luggage to our apartment. We talked for a bit and then I headed off to class (SB was at work) and Meem got some sleep. So that first morning/afternoon was mostly just rest and recuperation for Meem.
Of course one does not simply jump into an international voyage with no plans, or I guess someone does but not this one or these ones. So Meem's trip has been planned for awhile, and since we didn't go home for the holidays this was a next little "secondary" holiday visit for us! Indeed, the first night Meem was here we had our own little belated Christmas.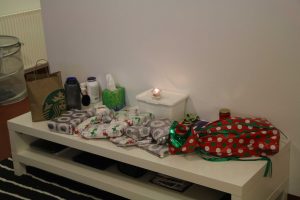 As you can tell, Pig was pretty excited about that.
While we did spend the first day nestled inside our apartment, the first big adventure we had was going to require a car. So the three of us made our way over to the local airport (through some terrible weather and high winds – welcome to Iceland Meem 😀 ) to pick up Gunnar!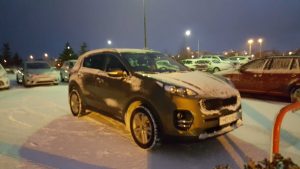 Technically this is a photo of when we dropped Gunnar off, as we didn't care to take a photo during pickup like we normally do due to the wind and rain.
We had opted for a 4×4 this time around because we weren't sure what to expect with the weather – and that was an added cost that turned out to be well worth it in the end. The first night we had Gunnar it was raining though, and by raining I mean pouring with high winds. But that didn't stop us from taking Meem to the one place that one just simply has to go in Iceland – IKEA! Yes, hearkening back to SB and I's first days in the country, we all went shopping at IKEA and had diner there. I even learned that IKEA has its own line of beer!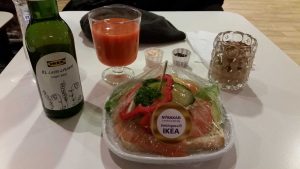 Oh, and speaking of beer – or more broadly, alcohol, one of the places we stopped while were were out was Vínbúð. As you can tell, we stocked up on quite a bit of booze. 😀 We also let Meem try some Brennivín and Birkir that we'd saved for her since the holidays.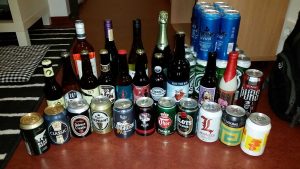 However, despite having enough alcohol for at least and hour or two, we had to get to bed decently early (for us) that night as the next day we were headed out on a January tour of the Golden Circle! Briefly, "The Golden Circle" is really just a name given to a particular series of locations along a circle-like route after the tourism-boom in Iceland. It is, I have been told, the most popular tourist route in the entire country. This is in part due to the diversity of scenery and ability to see it in a relatively short time span, but also because it's pretty close to Reykjavík. It's also generally passable during winter (continue reading for why I stress the word generally).
So, since Meem was only around for 10 days, we figured it would be a good way of getting outside of the city for a bit. Since it is winter and we have reduced light we did the circle over the course of about 2.5 days, as opposed to most people's usual trip of 1 really long day during the summer.
That next morning we got up and around and I took the helm in Gunnar and we were on our way! The first stop in the clockwise tour of the Golden Circle is Þingvellir National Park. The region Þingvellir encompasses is both culturally and geographically significant. In brief, it's where Iceland's parliament (Alþingi) first met around 930 AD, making it one of, if not the longest running parliament in the world. Tied closely to this is Lögberg or "the law rock," where the parliament assembled. As a FYI side note, my law school's building takes its name from Lögberg. Geographically, Þingvellir sets near where the North American and European continents collide, grind, and drift apart from one another. As a result, it has actively (for geology) changing rifts and chasms, and has pretty much constant earth quakes (on a larger scale the continents meeting is why Iceland has so much geological activity in the first place).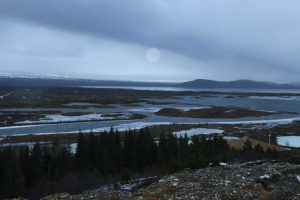 As you can see, it wasn't the most sunny of days, but it also wasn't bad (for Iceland). We inadvertently poorly timed our arrival so that three tour buses had also just arrived, but fortunately the bus people 1) Didn't walk very far and 2) left pretty quickly. After the buses were gone the place cleared out pretty quickly, I'm sure in part due to the wind and rain. Either way, we set off on the main trail through Almannagjá Gorge. The first place you come to on the main trail is Lögberg, or at least their best guess for what was Lögberg. Like many things, it's kind of hard to figure out precisely where something like that is/was.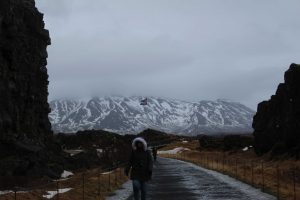 As you proceed further down the path, you then come to Drekkingarhylur, or "The Drowning Pool." Which, as the name suggests, was were people were forcibly drowned.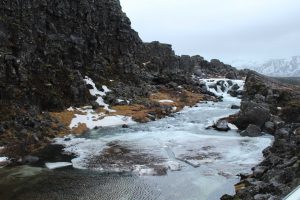 This particular pool was where numerous executions by drowning occurred. The process was as bad as it sounds.  The convicted were stuffed into a bag, drug out into the pool and held down by a group until they drowned.
Yes, in Iceland's earlier history there were four widely used methods of execution. Drowning (usually reserved for women), hanging, beheading (usually reserved for men), and burning (usually reserved for practitioners of magic). If whatever you did didn't warrant death, popular methods of non-capital punishment included lashing, branding, cutting off X part of your body, or just beating the shit out of you.
If Drekkingarhylur doesn't do it for you, Þingvellir also features such locations as Brennugjá ("Stake Gorge"), Gálgaklettur ("Gallows Rock"), Brennugjá ("Burning Gap"), and the lovely Höggstokkseyri ("Slaughter Sand Bank"). I'll leave it to your imagination to figure out what those names correspond to. Yes, it makes Yellowstone seem a bit PG by comparison.
However, not all is (former) gloom and doom in Þingvellir, there's plenty of natural beauty even during a drab winter day. For instance, we worked our way up to the waterfall Öxarárfoss.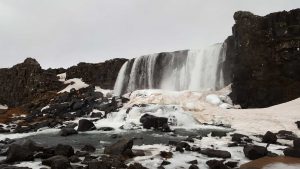 And I do mean worked. The trail was closed, and it was closed for good reason – it was ice. I don't mean, icy – I mean the trail had become ice. There was ice, and then there was ice next to the ice. It was also uphill. However, we didn't realize the whole thing was closed as the signs weren't placed well and also there were other people there (though most of them promptly turned back once they realized it was not only ice, but uphill ice). In hindsight we probably shouldn't have trekked up there, but by that point we'd already committed about 2 kilometers (~1.24 miles) to walking on an icy trail so we went for it. In the end only one of us fell down (Meem 😛 ).
After some time up at  Öxarárfoss we made our way back to Gunnar and then headed onward to Laugarvatn, where we were going to get some lunch at Laugarvatn Fontana. One of the highlights of the stop was getting to watching geothermal rye bread come out of the ground!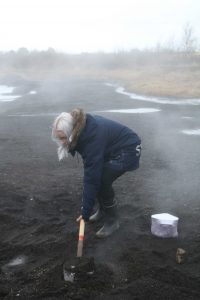 In addition to learning about how the locals still use the ground to bake their bread, we were also regaled with tales of Catholic priests being decapitated and then having their detached heads baptized by Lutherans. There is a theme of savage death in my Iceland stories, yes I know. 🙂
But I'm sure you are wondering how the bread tasted? Well, it was delicious! I don't even think you'd need to like normal rye bread to like this rye bread – especially served with a nice bit of Icelandic butter (which Meem – and Pigsten – agree is amazing).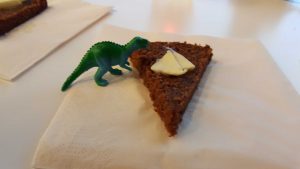 After Laugarvatn we made our way to Haukadalur Valley, home to the grandpappy of all geysers – Geysir. No that isn't a spelling error, the geyser is named Geysir.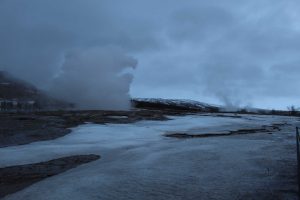 This isn't Geysir, but rather Strokkur – another, more active, geyser in the same basin.
If you're wondering, yes our word "geyser" comes from this geyser, named Geysir. Geysir just so happens to be the first recorded geyser that we are aware of, and thus the English word "geyser" derives from Geysir. If you were curious what geysir means, well that stems from the Old Norse verb "geysa" which means "to gush." So geyser, comes from geysir, which comes from geysa, which means "to gush," and is the name of the geyser, Geysir. Got it? 🙂
Now, ole' Geysir has pretty infrequent eruptions anymore (sometimes with years between them) but when it does erupt they can soar as high as 70 meters (~230 feet) into the air. For reference, Old Faithful tends to reach between 106 to 185 feet in height.
Thus, when most people come to Geysir – which to make matters further confusing is used not only in reference to Geysir the geyser, but also to the area in which Geysir the geyser sets – they don't see Geysir erupt. Instead, they see more minor eruptions from smaller geysers, or – most likely – they see the very active Strokkur erupt.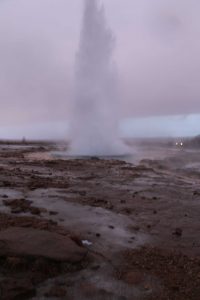 This is Strokkur the geyser, not Geysir the geyser. Though Strokkur is known as a geyser because of Geysir. 😀
It goes off roughly every 6-10 minutes, and generally reaches heights of 15–20m (~49.2 – 65.1 feet) though it does occasionally reach 40m (~131.2 feet) high.
Once we were done checking out the geysers it was starting to get pretty dark (so about 4pm at that point – which sounds bad, but we were actually on the upswing!). Therefore we took off towards our final destination of the day, the waterfall Gullfoss ("Golden Falls"). Since it was dark and the weather was getting nasty we had almost the entire (ice covered) place to ourselves. We got a few pictures, then decided we'd come back in the morning when there was more light. After that we headed to our nearby (if not remote) hotel – Hotel Gulfoss – where we hibernated as the snow outside increased.
The next morning we headed the short distance back to Gullfoss for some better viewing.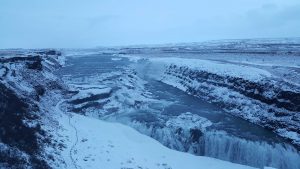 Despite the fact that Gulfoss is normally swarmed with touristy people like us, we were there early enough (and the weather/roads were bad enough) that it still wasn't very busy. Gullfoss's total drop is about 32m (~105 feet) and the span is around 245m (~804 feet) wide. So it's a biggun' – and as if I even needed to mention this, the area is extremely windy. We still walked along the upper cliff (the lower path is closed during winter) and got some great views though.
After Gulfoss we headed to another smaller, (comparatively) lesser-known waterfall called "Faxi" – though it's full name is Vatnsleysufoss. Faxi is apparently a hot-spot for salmon and there is a salmon ladder constructed on one of its sides. There was a group there when we first arrived, but once they left we had the whole place to ourselves.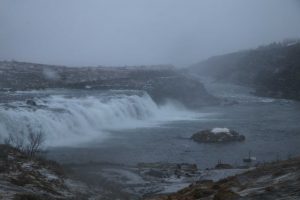 After our outdoor exploration we were filling pretty chilly – which was good timing as our next stop was Gamla Laugin, or "The Secret Lagoon" – which is Iceland's oldest swimming pool (though don't think of it in typical concrete swimming pool terms, it's more of a geothermal hotpot).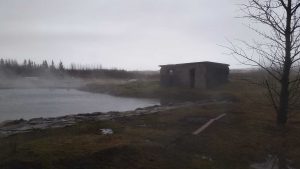 Much like any other geothermal pool or swimming pool in Iceland, you have to get totally nakies to clean yourself before you get in. This is serious business – as in, you can be fined if you don't do it in some places! Iceland has a pretty open-book view towards nudity (it's legal in most public places) and in the pools you're generally only required to wear a swimming suit that covers your bottom bits – though you can wear as much beyond that as you like after you've cleaned yourself of course!
I think it's funny that nakies showering with randos is a concern for people. I guess I can get it, and maybe it would have bothered Taco at a different point in his life, but it certainly doesn't bother him now. Anyways, in addition to the glorious thermal waters – which we got to enjoy in the snow – they also sell you alcohol (good choice on their part, as we all got some).
After relaxing in the geothermal waters and enjoying the snow and ice from beneath the snugly surface for a bit we had worked up an appetite. I mean, lazily moving around a giant natural hot-tub and drinking alcohol is draining stuff I tell you.
So, we packed up into Gunnar and continued onto our next stop, Friðheimar in Reykholt.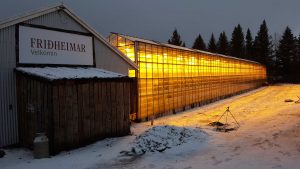 Friðheimar is an interesting complex. It has a restaurant, greenhouses, Icelandic horses, and a tree farm. Most people stop for the restaurant – namely for the famous tomatoes and tomato-based menu items, but the first thing we did was go over and say hello to the horsies.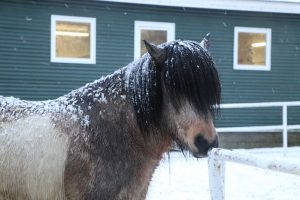 I was especially fond of this rather emo looking fellow.
After some time with the horses (including one that really looked like it wanted to eat Pigsten) we made our way to the restaurant where we had thankfully made reservations because the place was very busy considering the weather! SB had been told that it's normally full of locals if not tourists, so she had good information.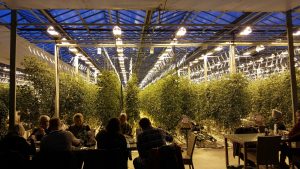 Now, if it wasn't obvious, the restaurant is in one of the greenhouses. So not only was the food really good, we got to have a dining experience unlike any we've had before. The place was really quirky (in a good way). They had a small menu which was based almost entirely around tomatoes, the biggest seller was a bread-and-tomato-soup buffet (which I got), and there were also basil plants on your table that you could snip and add to your food!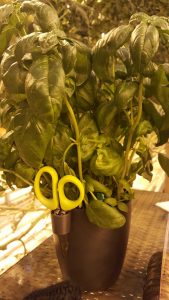 One of these things is not like the others.
As for desert, that was also tomato-bonanza! For instance, they had tomato ice cream and tomato apple pie.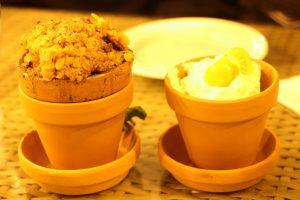 Despite what you might be thinking, the tomato apple pie was delicious and Pigsten Approved.™
Once our bellies were full we headed out into the snowstorm again to continue our trip with Gunnar. The next stop was a bit more desolate than the soothing waters of Gamla Laugin or the warm and bright interior of Friðheimar – indeed, we traded those for a giant, frozen, volcanic crater: Kerið.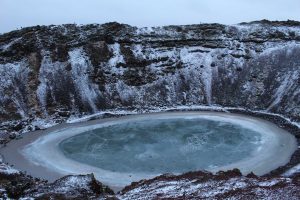 Despite my rather lackluster introduction for the place, Kerið was a really neat stop. We got to walk around the upper perimeter of the 55m (180 ft) deep, 170m (560 ft) wide, and 270m (890 ft) across crater. If the dimensions don't mean much for you, enlarge the photo above and look for the tiny people in the upper right of the photo for scale.
SB and I ventured a little further and took the icy path down to the crater lake. There we found a park bench, yes, a park bench, about one quarter submerged into the icy lake. Pigsten and I managed to crawl out to it and take in the lovely views.
Of course by that time it was around 4pm and thus starting to get dark. The weather also wasn't great and didn't appear to be on the verge of getting much better. So we continued on our way to our next stop, Hveragerði where our guesthouse (Iceland's Guesthouse) was. The interesting thing about that was that the owners weren't there, they were actually on their way back from Florida (of all places) and had miscalculated their return date and thus opened the guesthouse for bookings before they were back. However, they gave us a discount and let us stay anyways. So we had the entire place to ourselves, no owners, no other guests, just us, for the night.
After we got settled (including some confusion over locks that turn the opposite direction of every other lock in existence) we made our way out into Hveragerði which, with a bustling population of ~2,300 has a whole lot going on during the winter/off-season and during a snowstorm. We did however find a pizza place/brewery (Ölverk Pizza & Brewery) and an ice cream shop (Gottís) that were open though. 😀
The next morning we finally met the owners who made it back right about the time we were going to give up on them. I then went out to put stuff in Gunnar only to find that the night had not been very nice to him.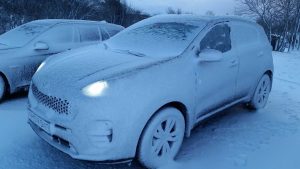 I took this photo after I'd scrapped off the driver's side window, pried the door open, and started ole' Gunnar.
The snowstorm had turned into an ice-storm at some point and gave Gunnar a nice shiny coat of ice. It was quite fashionable.
After getting Gunnar ready to go we checked out Hveragerði's little exhibit on the 6.3 magnitude earthquake that hit the area on May 29th, 2008. It was a pretty interesting and lets you view a tectonic fissure that was discovered during the construction of the building the exhibit is in, as well as get inside an earthquake simulator that replicates the 2008 quake (and made SB scream 😛 ).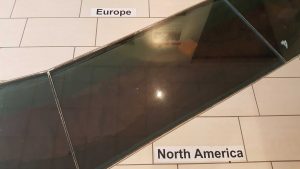 After that we headed back out onto the road, which at that pointed just so happened to be Route 1 – or as you might have heard it called "The Ring Road." Our next planned stop was the Geothermal Energy Exhibition at the Hellisheiði Power Plant (the third largest geothermal plant in the world) – however we had learned that there had just been a fire at the plant that same week, so we weren't even sure if it was open to the public (the website offered no guidance either way). Either way, we had to drive right by it, so we figured we'd just stop and see if it was open on the way. Further, despite a snowy morning, the skies had cleared while we were in the earthquake exhibit so I was hopeful for good driving conditions.
But such was not the case, and we never even stopped to check out the plant because the weather got so bad.
When you first leave Hveragerði heading toward Reykjavík there is a big gate on the highway. I found this curious because if they closed that gate, then really the only road between Hveragerði and Selfoss (a nearby larger town of about 7,000) and Reykjavík – sans massive detour – would be closed. I quickly learned why they close it. See, as you leave Hveragerði you climb up onto an elevated plateau region in the mountains – and with this plateau comes high winds and quickly changing weather conditions.
By the time we had climbed to the plateau clouds were already gathering on the horizon.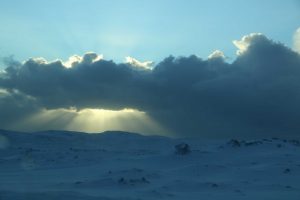 These clouds brought wind with them, and the wind quickly caused snow to start blowing onto the road.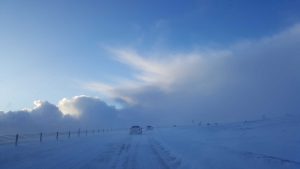 And then the clouds and the wind moved in, which started to block the sun.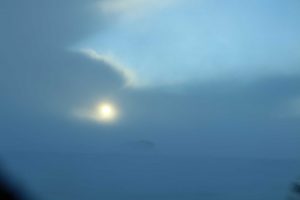 And from there we stopped taking pictures. That's because there was nothing to take pictures of. There was nothing to see, period. It was, by far, the truest "white out" I have ever seen, and, I do believe, the worst conditions I've ever driven (or ridden) in. The thing was, because the worst of it was just wind blowing the snow, you couldn't really stop and expect things to get better. Further, there was no place to pull off the road. There was just road, and then immediate descent into snow. So if you did stop (as some people did) you created a huge traffic hazard because there was simply no way to see vehicular lights that were more than 10 or so feet in front of you (and I'm not exaggerating there) – and even going slowly 10 feet isn't much time to react and stop on a snow and ice-covered road.
I got through by using the oh-so-well (not being sarcastic) placed snowplow road markers at the side of the road – otherwise I'd have no idea when the road was turning as the road looked the same as the sky. There also wasn't really any traffic as they were either stopped or going at a similarly slow pace so they weren't catching us, nor we them.
It was during this fun bit of the trip that we passed the geothermal plant, but after seeing the condition of the entry road I used a driver veto and we carried on. Once we were out of the mess, even the mostly un-plowed (they are bad about cleaning snow/ice off of.. well.. anything here) streets of Reykjavík felt like a safe haven.
Here I have to add two things lest you think I'm being overly dramatic (which we know I'm frequently guilty of 🙂 ).
1st – we found out as soon as we made it home that sometime after we'd passed that gate outside of Hveragerði that they closed the road. Not, "Oh, you shouldn't drive there," I mean closed-closed, gated and all. We'd made it through sometime shortly before they closed it. 2nd – one of our later tour guides referred to that area as "the most dangerous part" of the entire Ring Road. So I felt validated in my experiencing it as one of those "yep, If I never do this again I will be a-ok" moments.
That evening the weather got bad again, but before we had to return Gunnar we did visit the Saga Museum here in Reykjavík where we learned about Iceland's history and got to dress up as viking warriors! We then had dinner at a converted motorcycle/scooter/bicycle repair shop called the Bike Cave. After that we dropped Meem off at our apartment and then SB and I went and fed Gunnar some noms, then we took him home (and nearly got buried by a snowplow on the walk back from the airport).
The next day (Monday) was fairly uneventful during the day, as we had work and classes but that evening Meem had booked a northern lights tour since the snow had prevented her from seeing them during our Golden Circle trip. The lights proved fairly elusive that night, though we did end up seeing them over a mountain, over a fjord (Hvalfjörður) so that was pretty cool. We also had a pretty funny tour guide (Ømar) who had grown up in a town outside of Reykjavík and who had a huge black truck that Tristen thoroughly approved of.
This photo is from the tour but isn't from the fjord location – though there are some minor northern lights in it. Instead it's from the first spot we stopped and I'm mostly sharing it as I think it gives a cool (if not diminished) view of the sky that night.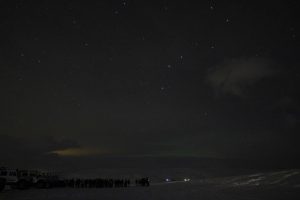 The next day SB and I both skipped our classes, because lol classes. We decided to venture out with Meem toward Perlan since the weather was decent.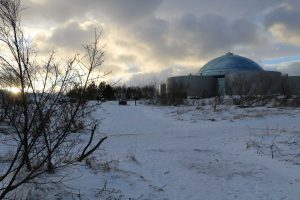 However, just like last time, the weather went south as we were on our way and by the time we got to the observation deck it was clouding up and a big snow storm was visibly creeping in from the ocean.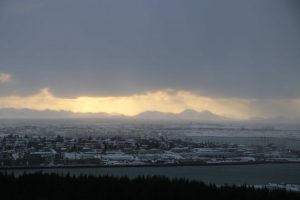 After we retreated inside Meem went to check out the ice cave while SB and I ventured up to the cafe. Despite the turn in weather, we did ok for the circumstances because as we were having our drinks it turned into a full-on blizzard outside. Of course that meant that we had to walk back in those conditions and needless to say, I had not brought adequate gear for the sudden change in weather. So by the time we got back I really couldn't feel my face anymore.
We did use our return trip as an opportunity to swing through campus with Meem though so she could see a couple of things.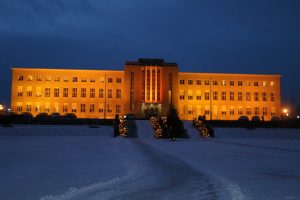 One of which included the statue of Alþingi meeting at Lögberg (from Þingvellir) which is itself located in the building Lögberg.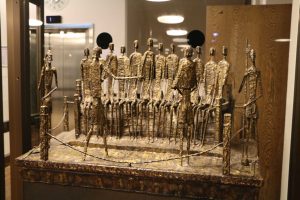 The next day SB had to work, so just I skipped my classes  and Meem and I set off on a mini-adventure to a few places SB had mostly already been to. The first big stop of our walk was Tjörnin, where Meem got to see a big gathering of our bird friends.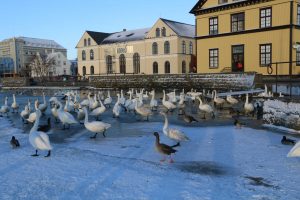 There was someone there feeding the Greylag geese and he had become their Lord God raining down little bits of manna from the lofty heavens.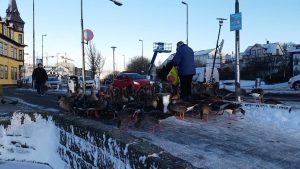 The next thing we did was walk across Tjörnin's frozen expanse. While SB and I had already made a small venture out onto the middle Tjörnin lake, this time Meem and I went for the full crossing on the third (from us) lake. We even stopped on the little bird island in the middle, which still had some firework remnants on it. In case you were wondering about how safe this crossing was, don't fret, the answer is incredibly safe. Here is a photo of a group of kids playing soccer on the lake in case you doubt me.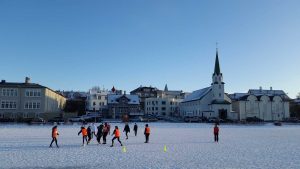 Also on the other side someone had painstakingly drawn a giant penis in the layer of snow on top of the ice, and I've never known a giant penis to be a sign of imminent danger.
After Meem, Pigsten, and I crossed Tjörnin we stopped in Reykjavík's city hall – which I've passed many times but never actually been in. Turns out they have a giant topographic map of Iceland in there. Here's a photo with some people in it for scale.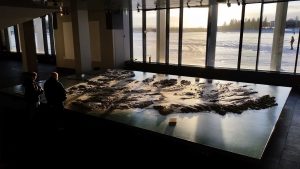 From city hall we made our way down to the harbor area, where Meem go to take in some mountain views and Pigsten got in touch with his rock-climbing self.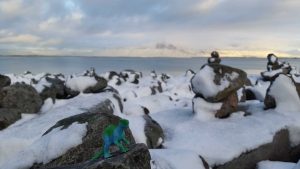 We then made our way into Harpa, Reykjavík's famous concert hall which SB had been to but I never had.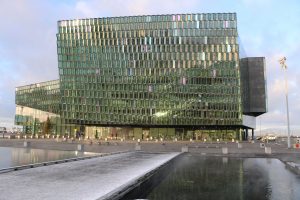 Inside we had lunch at their cafe and then explored a few areas of the building (including one I don't think we were supposed to have been in – whoops!).

We then watched a neat 5-screen movie. I literally mean 5 screens, it played on all sides and the ceiling of the theater. It was a brief film showcasing some of Iceland's natural wonders (including a few we'd seen!) as well as Reykjavík itself. I had never been in a 5-screen movie before, plus we had the entire room to ourselves for most of the film. Around the time the movie finished SB texted that she was off work, so we started making our way home. We did get to see Harpa's lights come on before we left as it was in the beginning stages of getting dark (they light up like the northern lights) so that was cool.
On our way back home we made a detour over to Hólavallagarður cemetery so that Meem could see it. It's a very old and scenic (insofar as cemeteries go) up the hill from Tjörnin. While most were gone, some of the candles from the holidays were still around.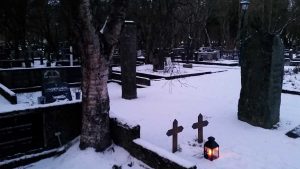 We spent the rest of the evening chilling our apartment and making a small dent in our large alcohol collection.
The next day SB and I once again skipped class ( 😀 ) then hopped on a bus and took Meem into Reykjavík's central area, including Laugavegur. We started our day off as most people do, with a trip to a penis museum.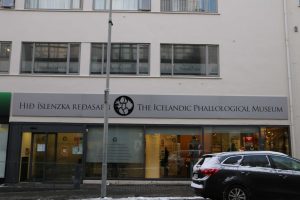 In order to keep this blog PG-13, I'll not be posting interior shots, but have no fear – if you want to see 280+ penises (or testicles) from 93+ different species, including some massive whales penises and a not-so-massive human penis – then the Icelandic Phallological Museum is your one stop shop.
After seeing more penises than most people will in several lifetimes, we promptly went to church to cleanse our sinful selves.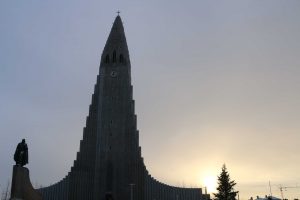 I mean we didn't really go to church in the services sense (though they did have a meditation session going on when we were there, which is cool), but we did literally go to a church, Hallgrímskirkja to be precise. Now SB and I had paid a visit to Hallgrímskirkja and its Leif Erikson statue shortly after we moved here, though we hadn't gone up into the tower during that visit.
This time around the tower was our destination – and it turned out to be a good one as despite the snow clouds moving in (yet again.. it's really endless ya' know) we had good views of about 270 degrees of our surroundings. Even though the looming snow kept a lot of the mountains hidden, SB and Meem did get some good shots of the city itself.
Here's a shot looking southeast-ish: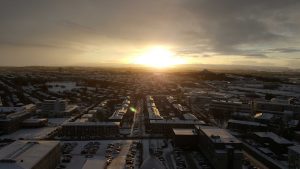 You can see Perlan just right of center.
And here's one looking slightly north of straight west: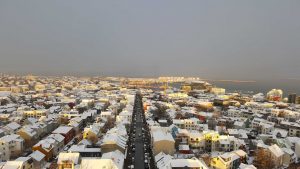 And then there's one to the south: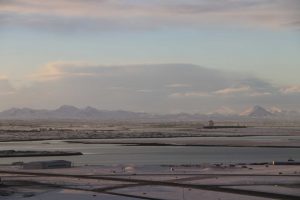 In case you were wondering, north would have had nice bay and mountain views, but the snow had turned it into a massive wall of gray fog.
After making our way back down from the tower – which takes a bit due to the one, slow, elevator – we made our way over to the adjacent Café Loki where we had some delicious Icelandic meat soup and bread. Once we had warm and full tummies we continued up Laugavegur to let Meem do some shopping, get some presents for the Boys' friends, pick up some groceries at our Bónus (much to Pig's pleasure), stop by Pósturinn, and end with a quick stop in Vínbúð (again, one can never have too much booze). After that we made our way back home for a cozy night in and some adult beverages.
We didn't get too crazy though, as the next day (Friday – Meem's last full day) we had to get up early for another tour. After our good experience with the company we used for the northern lights tour (Super Jeep), Meem booked us another tour through them which was a full day and included a trip to Langjökull, a glacier, as well as its famous ice cave! Langjökull is the second largest glacier in Iceland (after Vatnajökull – the largest glacier by volume in all of Europe) and is about 950 km² (~367 mi²) and most of it rises between 1200 – 1300m (3937 – 4265 feet) above sea level – though some areas are higher.
The nice thing about Super Jeep, is that it's based around small groups. For instance our Jeep was just our tour guide/driver (Eric), SB, Meem, two girls from Poland, and me. So while it's not a "private" tour per se, it's pretty close, especially when get really awesome travel mates and guide like we did.
Once we were picked up we headed towards Langjökull, with a stop at the Klaki Basecamp for our driver to get our jeep – named Raknar (per his Wifi, he told me his name, I didn't name him) – prepared for the climb up to the ice cave.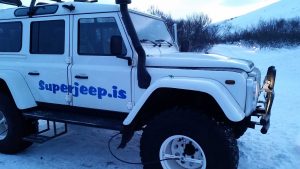 Pigsten overseeing preparations.
The climb was pretty intense at a few points, but Raknar has this really cool system where his tires' PSI can be adjusted on the fly from inside – and he went down to as low as 3 PSI at some points. He also had about 20 buttons, dials, and widgets that I didn't understand as they were in Icelandic which seemed to change his particular 4×4 approach to climbing a glacier.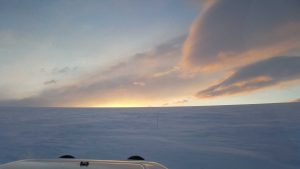 We were the first ones up that morning, which meant that we were the trailblazers. Is was pretty neat, even if was slow going and we were pretty close to a a few giant crevasses of certain death at some points.
Once we got to the top we were afforded some incredible views. I mean sure, it was about -25C (-14F) and -30C (-22F) with windchill, but the cold was – at least briefly – easy to forget as we got to watch the sunrise over a glacier.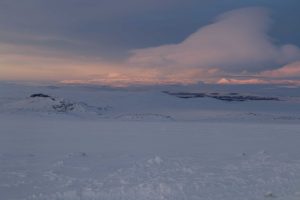 Talk about checking some off your bucket list that you didn't even realize was on your bucket list!
Plus, since we were the first ones up, it was just the six of us (8 if you count Pigsten and Raknar) with seemingly the whole world to ourselves.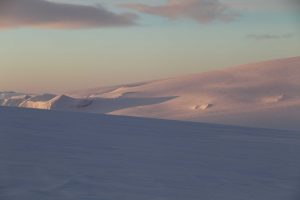 It was very beautiful, but very disorienting. I couldn't even begin to tell you which direction was which, and the heartily subzero windchill didn't help matters. Still, I've had some amazing experiences in my life, and this one definitely clocks in toward the top.
After awhile the other tour groups got here, they came in larger groups on refitted missile carriers (no, seriously – they are re-purposed NATO missile carriers) that don't move quite as fast as ole' Raknar. We were only non-carrier vehicle (aside from some snowmobiles) that went up to the cave that day (the cave is only open once or twice per day).
The entrance to the cave sets in the Geitlandsjokull region of Langjökull's ice cap, which is about 1400m (4593 feet) above sea level. The entrance pretty easy to spot, as it's pretty much the only thing above snow level in the entire discernible horizon.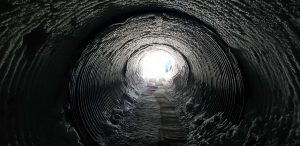 Inside the entrance, looking back toward the surface.
Here's a shot looking the opposite direction (that is, down) from the above photo – I liked the Christmas light lighting.

Once at the base of the entry tunnel you then have to put on crampons, as you are, you know, walking in a freaking glacier. From there you get to begin your adventure through the cave.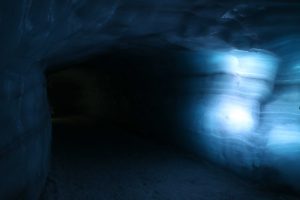 There are various rooms that have been carved out of the cave, including a chapel with really nice acoustics (our guide and one of the people on the tour sang for us) where 9 or so couples have gotten married – and where many more have gotten engaged (no "no" answers so far according to our guide, maybe it's a fear of the glacier collapsing on you). However my favorite part is the point where the cave passes through a massive crevasse.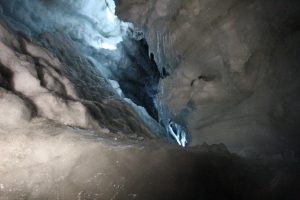 It was really cool to see one from the inside, especially after Eric's stories of how dangerous they were (as well as a cautionary tale + photo of proof about a big tour vehicle partially falling through the ice while it had tourists on it).
Once we'd completed our cave tour and made our way back down from Langjökull we had lunch at the base camp and then proceeded onward to Hraunfossar waterfalls. Hraunfossar are actually a series of waterfalls formed by water streaming out of Hallmundarhraun, a lava field which flowed from an eruption of one of the volcanoes lying under Langjökull (yep, glaciers sometimes have volcanoes under them!). The waterfalls pour into the Hvítá river from ledges of less porous rock in the lava.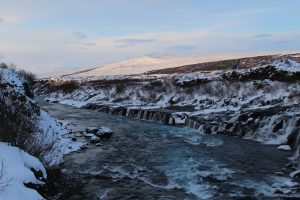 As a result of their formation, there's no river running above the walls in a typical waterfall fashion, instead it's the runoff from the lava fields feeding the falls. Up close it looks like the water is just running straight out of the ground, though I guess in a way it is!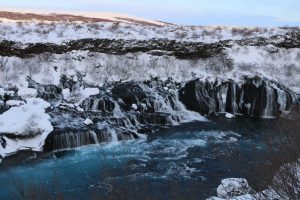 Just up from Hraunfossar is the waterfall Barnafoss – which means "waterfall of the children."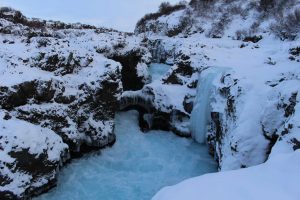 Barnafoss was partially frozen while we were there, but that added to the majestic blue of the water. Of course its beauty and seemingly happy name hides a rather melancholy backstory which involves two children from a nearby farm who fell to their deaths while crossing the river on the natural stone bridge. Happy place that Iceland.
After Hraunfossar and Barnafoss we continued on to the Deildartunguhver hot spring, which has a flow of 180 liters/second (47.5 gallons/second), giving it the highest flow of any hot spring in Europe.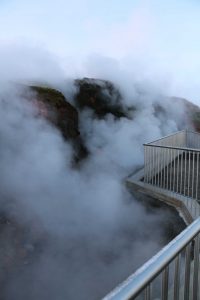 Naturally they've harnessed some of that energy, as the nearby pipeline makes evident.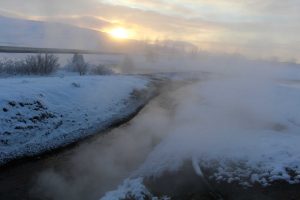 Interestingly enough, there is a fern that grows near Deildartunguhver called Blechnum spicant – a species which grows nowhere else in Iceland. Another nearby plant-related thing was that all the trees were covered in ice and looked really pretty.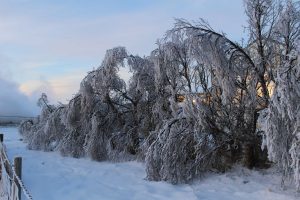 The trees were in front of a greenhouse, so there was also a neat cold vs. hot (or blue vs. red) perspective to it.
One of the best parts about Deildartunguhver wasn't the hot spring itself, but rather this ginormous, pompous puppy who came to visit us while we were there.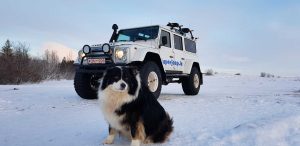 Eric seemed to know the pupper well and was expecting that it would be somewhere in the area. It was and it greeted us first thing. We're not sure of its name, but it was super friendly, and super fat.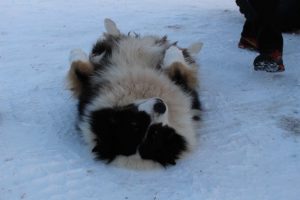 After spending some time with the pupper we piled back into Raknar and hit the road back to Reykjavík as it would be getting dark soon.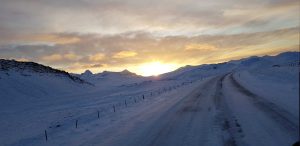 Along the way we got some great views of Faxa Bay during sunset.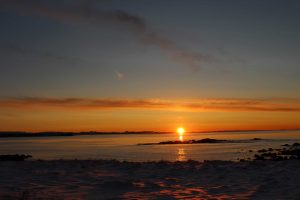 If you look closely you can see Reykjavík – most prominently the tower of Hallgrímskirkja.
That evening we ordered Dominoes (of all things, mostly because it was cold out and we were done being cold, but also because Tristen is spoiled by Grandma "Reem") and stayed in and played some games, including some more of a "Ragnarok Destiny of the Gods" card game we'd picked up earlier in the week. SB and Meem finished their wine/champagne acquisitions and I worked on my beer collection (though I barely scraped the surface and still have the majority of the beer left even as I type this almost two weeks later).
The next morning we got to sleep in a bit, then we went over to a local bakery (Björnsbakarí) and had some baked goods and coffee/hot chocolate. After that Meem gathered up her things and we walked her back over to the bus terminal where she boarded her bus back to Keflavík to begin her long journey home.
After Meem was on the bus SB and I stopped through a Subway (sandwiches) really quick (which they have here, though we rarely get it) before making our way back toward home. This time we opted to walk through Vatnsmýrin ("water marsh") rather than around it like we normally do. Turns out that despite looking more rugged the interior path was actually even quicker, something we took note of – plus it had some great views of the water (geothermal) against the sun.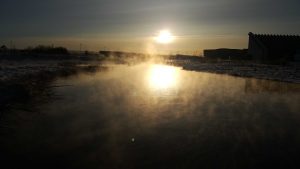 We also found a swam of ducky-buddies (including Chuck and Chica) as well as a black duck and a white duck, who we labeled the "Duck King and Queen" of the area.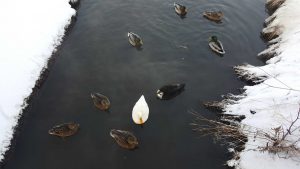 The King and Queen are obvious, Chuck and Chica are the two uppermost ducks.
After that we returned home, did some cleaning, had our sandwiches and began returning to normal life. Between our Ireland Trip and Meem's Visit we've been having a lot of adventures lately, which has been nice for a variety of reasons. As a result, the return to normal life – school and work for both of us – was a bit blah, but you gotta have to "blahs" to better appreciate the "oohs" and "aahs." Plus we have more adventures either planned, or to be planned, so I can't complain too much.
More than anything I was happy to see Meem. It was nice having someone come visit us in this frigid ole' place we call home. Extra points since Meem is most definitely a warm-weather sunshine person, and Iceland in January is well.. neither of those things!
Anyways, that's all I have for now. I've become unexpectedly busy due to (yet another) timeline change, so blogging has been a bit low on the priority list. I do have a couple of things that I plan to write about though, so – as usual – Dinosaur Bear will be here, just on its own wonky schedule. 😉
Until next time,
-Taco