Author's Note: Like my ToT post, this probably is being posted a bit after it actually happened.

As I mentioned in the Taste of Tippecanoe post SB and I are working on a bucket list before we move. One item that had been on this list for a long time was to go visit Wolf Park. Wolf Park is pretty much exactly what it sounds like, a non-profit wildlife research park with a main draw of wolves. They also have a variety of other critters, from coyotes to foxes to even bison. Naturally, this is the kind of place I want to be. Here is their website for those curious. While they are normally open during the day, Friday and Saturday nights are host to "Howl Nights." This is basically a special presentation where the park stays open later than normal and you get to howl with the wolves, literally.
Of course, that pretty much depends on whether the wolves are interested enough in your attempt at howling to howl back. We were fortunate that we got a few howls out of the two wolves who were right up at the fence, named Renki and Ayla.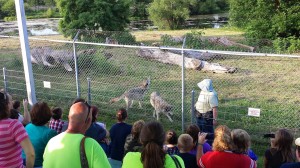 Now, while the two wolves front and center did howl (primarily Ayla, seen howling above). It was the whole swarm of wolves and coyotes back across the pond who really went crazy. After we got done with our collective attempt at a pack howl, there would be a period of 5-10 seconds of silence. Then suddenly all hell would break loose in the distance, with the coyotes sounding like they were eating each other and the wolves howling as if they were telling the coyotes to shut up. This was humorous at times. It would have been nice to be able to go deeper in the park to see the full packs, but they only do that on one night a month, and it was the day after we visited and SB worked. We still greatly enjoyed ourselves.
The wolves did too, they especially enjoyed getting their treats. At one point Renki played around on a teeter-totter to get delicious noms.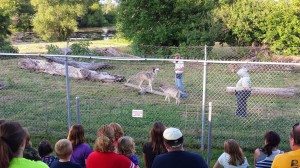 Moreso than the treats, the wolves really seemed to like Marty (or Marti). He was a photographer who came into the area a bit into the program. He had worked at wolf park for 26 years I believe and so pretty much all the animals had known him since birth, but especially the wolves. It was quite obvious, they loved them some Marty.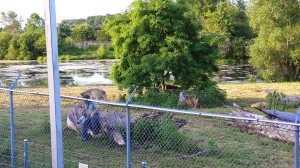 Contrary to what it may look like, he is not being eaten. He is being "face greeted" which is basically the wolf slobbering all over your face because they love you. It was really cute, they behaved a lot like dogs towards Marty. However their snarls when they got buttfrusted about a log made it real obvious that they were not, in fact, dogs.
After the program was over we wondered over and saw some foxes, then purchased a magnet of Renki and Ayla as a souvenir. As we were leaving I asked SB if she knew how to get home, she said she did then immediately proceed to make a wrong turn at the first possible point. Which pretty much made it business as usual.
We definitely enjoyed going and I only wish we would have gone sooner, so that we would have had the chance to go more often. Wolf Park is actually not that far from us and while it isn't free, like the glorious Columbian Park Zoo, it wasn't overly expensive either. Its also near the battlefield from the Battle of Tippecanoe, which we visited a good while back. You should probably click that link and read it if you don't know what I'm talking about, history is good stuff to know.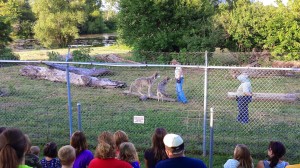 Until next time,
-Taco