Hello person (and future Taco).
Now that I've passed the 100 post milestone, I wanted to take a second to "introduce" this blog again. While I did essentially the same thing here: A Return to Blogging, I'd like to revisit a couple of things and also show you around the ole' Dinosaur Bear. This post will serve as a boilerplate guide, should I end up expanding the blog in the future, but for now, just deal with it. While its pretty basic, I also want to use this post to capture a "snapshot" of what Dinosaur Bear looks like at this point in time. After hall, this blog has a bit of a chameleon-like history. I've also made a few minor changes, so even if you are a Dinosaur Veteran, you should probably read this.
So, without further ado. Welcome to Dinosaur Bear.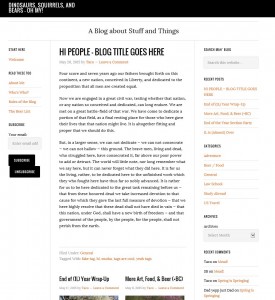 When you first visit, that is what you will see. And, its pretty close to what you are seeing right now. Its a pretty cool and streamlined look, many thanks to Meem for getting it for me. I like the current setup, and I think it will probably be a good while before I grow tired of it.
So, here is what all of that means. I'll lay it out by numbered sections.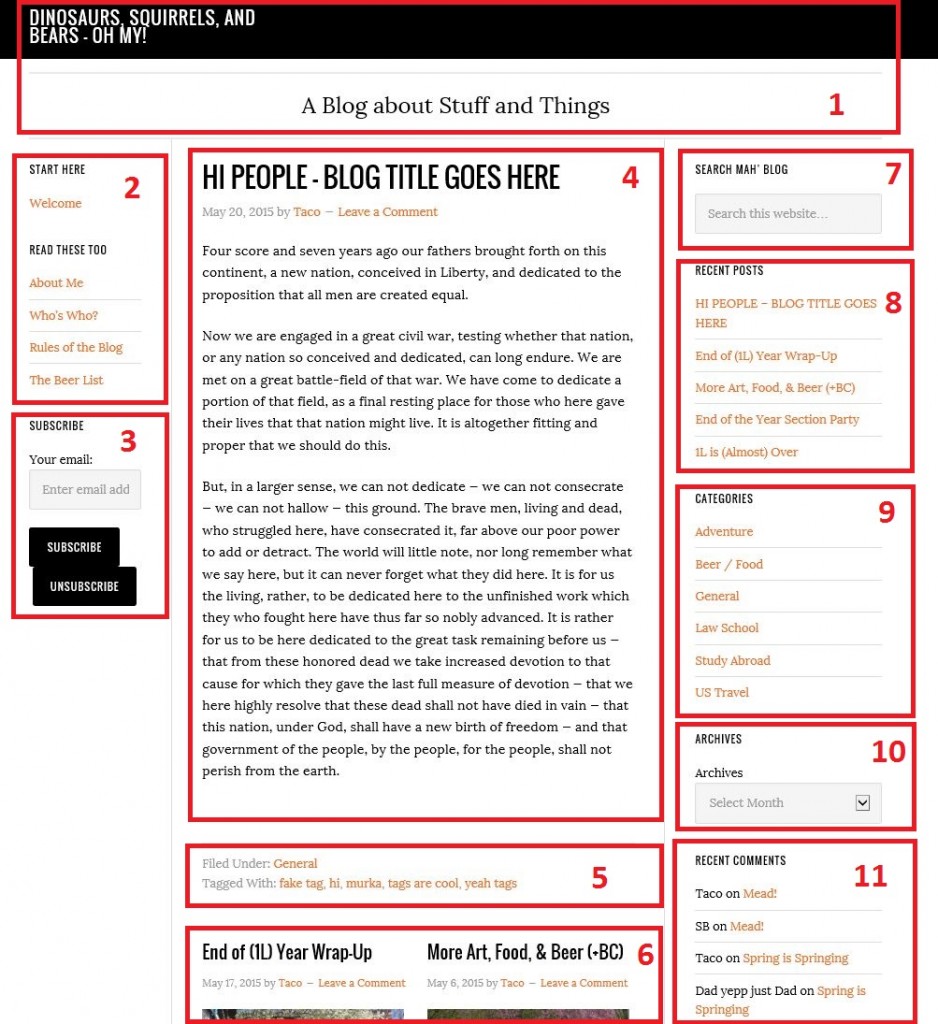 Section 1 – Blog Title and Subtitle
If you haven't noticed, the title of this blog is Dinosaur Bear (so named for Tristen, Clifford, and Valentino). The "full" name is Dinosaurs, Squirrels, and Bears – Oh My!, but I generally just refer to it as Dinosaur Bear, which is the HTML address. The subtitle is "A Blog about Stuff and Things," which is pretty self explanatory. Section 1 isn't really interactive, no clicks to be had here. Just words.
Section 2 – Start Here, Read These Too
Section 2 is sort of the "Nuts and Bolts" area of Dinosaur Bear. However, you should really visit some of those links. I'll explain each of them below.
Start Here:
Welcome – This links to this page. Its a good place to start, and I thank you for actually looking at it.
Read These Too:
About Me – This is what it sounds like, a page devoted solely to yours truly. Go here if you want to know who in the heck I am.
Who's Who? – Since this blog attempts to maintain a semblance of anonymity, I use pseudonyms for people. Go here to learn who I am talking about.
Rules of the Blog – This is sort of a tongue in cheek page wherein I explain the road-rules of Dinosaur Bear.
The Beer List – This is an extension of my "Beer Blurb" series. It seeks to catalog every beer I've ever had. Within the list, if the beer name has a link, then it goes to a blog post where I talk about that beer. If there is a beer listed, but without a link, then I've had it but not yet talked about it specifically on this blog. Given the nature of the list, it's obviously a never ending work in progress.
Section 3 – Subscribe
Subscribe – This is probably the most handy widget on the site. If you put in your email it sends you email notifications when I write a new post. Its cool beans. You really should subscribe. Do it, you know you want to. WWJD. (Also, I do not sell your email addresses or spam you for money – though I probably would if I knew how). Also, feel free to invite your friends!
Section 4 – The Post Itself
Section 4 is the "Bread and Butter" of Dinosaur Bear. Here you will find the most recent post in all its glory. Read and grow knowledgeable. You'll also notice that you can either click the "Leave a Comment" link to reply to the post, of if you have clicked the post directly, you can just comment below the post. You should comment and share your opinions so we can measure our e-peens.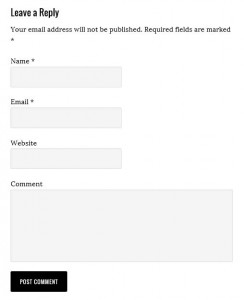 Its quick, easy, and secure. You also can lie about all your details, and make your name "Penis_Masta_5000," I won't discriminate.
Section 5 – Category and Tags
Posts are divided into "Categories" and then "Tags" further describe the specific post. This little area shows which category(ies) and tag(s) the specific post above it is in. Think of a category as a broad topic, such as "Law School," while a tag describes something more specific, like "exams." Categories and tags make the blog easier to search if you are curious about a specific thing I wrote about.
Section 6 – Recent Posts
This area only pops up if you are on the "main" page for Dinosaur Bear. If you have clicked into a specific post you won't see it. Its basically just a small series of the most recent posts (excluding the main post) that shows their title, first image, and a little bit of text. Its a cool feature. Its also a handy way of knowing if you missed something if you don't subscribe. But you should subscribe because it might save children in Africa (but it doesn't).
Section 7 – Search Mah' Blog
This little widget lets you search Dinosaur Bear like an encyclopedia. If you have a hankering to gain some Taco knowledge, then this bar is your friend. It uses raw text, categories, and tags to aid you in your quest for intelligence.
Section 8 – Recent Posts (List)
Section 8 is a more boring version of Section 6, however this shows up on all pages, so you don't have to go to the main page to see it. Just click the title of a post you want to read, and boom, you are there, thanks to the magic of the interwebs and hamsters on wheels.
Section 9 – Categories
Section 9 is direct links to the Categories (explained in Section 5). By clicking on one of these links you will be taken to a list of all posts in that category. Depending on the category, the list might be very short, or very long. I tend to be rather fluid in my categories, so expect some overlap.
Section 10 – Archives
This drop-down box is the librarium of Dinosaur Bear. You can pick a specific year and month and see how many posts I made in that time period. So if you really want to know what I was thinking about in say, July 2012, this is the place to go.
Section 11 – Recent Comments
If you like to stalk follow people, this is the section for you. I don't get a lot of comments, but when I do, they will pop up here. This is an easy way of stalking seeing if you missed a conversation you were following. Only the five most recent comments are shown, which is another reason to subscribe so you can stalk be social with the best of them.
—————————————————————————————————————————————–
And that pretty much wraps it up! I know a lot of this is pretty much self-explanatory, but there is nothing wrong with being organized.
Welcome to Dinosaur Bear
Enjoy your Stay!
-Taco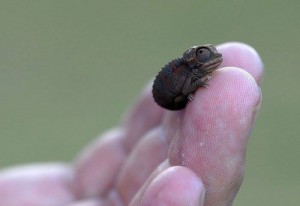 [Note: This post will be abridged and saved under the "Welcome" link, in case you forget something and don't want to search for this post in the future]