"It is always darkest before the dawn."
~Abraham Lincoln, King of The Prussian & Candy Land Dominions
Welp ladies and gents, this is it. My final month of law school. I'd be lying if I said the proposition of being done made me sad, but at the same time it is kind to crazy to think about how much has changed since I wrote say.. this post. Older and more bitter wiser and all that.
Naturally "last month" hides a lot of baggage. For instance, as of my writing this post I still have:
2 – Informal Mediation Sessions
1 – Formal Mediation Session
5 – Team Meetings
1 – Informal Presentation
1 – Formal Presentation
3 – Reports to Update and Rework
1 – Report to Write
3 – Short Papers
7 – Hours of Journal Work
30 – Hours of RA Work
3 – Client Meetings
18 – Classes
1 – Research Paper
1 – 4.5 Hour Exam
1 – 12 Hour Exam
..left to do.
This is excluding all the minor and/or unforeseen things that can (and will) crop up on or before May 5th – which is the date that I should be done. However, as history has shown me, I have chosen a path which doesn't lend itself to adherence to silly dates like the official end of a semester, even a final semester. But hey, the upside is that it's a month – not two months, and once the month is over I am free! … to begin studying for the bar. But that's a bridge we will cross at a later date.
In the meantime I'll be attempting to keep stress below meltdown levels and leech as much enjoyment from this last crazy month as possible. In fairness to said month, I kind of knew it was coming ever since like.. January. However, over Spring Break I took a trip to Israel (which involved some activities quite removed from what one would associate with a collegiate spring break). I hope to write a blog post about that trip at some point when I'm not so busy, but I have no idea when that will be. Anyways, once back from that trip school things kind of turn into.. "expected chaos." So it's kind of one of those situations where you know what's going on, but it's still a challenge to balance it. Pigsten provides a good visual with his Cheerios: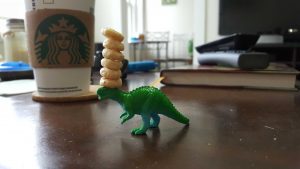 The good news is that it's now officially Spring! Which means more sunlight and lots of flowers!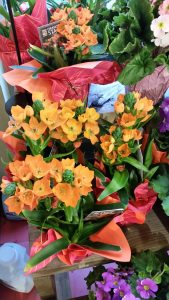 And of course that wonderful Spring weather! 😀
Yeah that is the correct photo – and in fact that photo was taken on April 1st. April snow, nothing like it! I sort of considered it to be Boston's April Fool's Day joke. While I generally don't mind snow that much, snow in April is pushing my limits. In fairness to SB she got it even worse, as we had a sizeable snowstorm while I was in Israel. That said, not everyone was displeased with the snow – a certain member of the Taco household was honestly quite enthusiastic about the whole affair.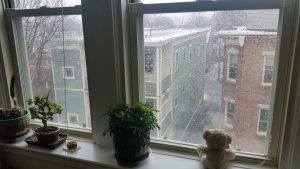 I'm sure it comes as no surprise that it was our resident polar bear.
Speaking of cold: I don't know if it has been the stress from school, stress from school-related things, or the wacky weather but I have ended up with a Middle Ear infection. Yessir, on Sunday I broke down and when to the Urgent Care (only thing open on Sundays) because I'd had a sore throat and ear ache that had been getting worse over the course of four days. Turns out I have an infection, and what timing! I also learned that I have some mild damage to my right eardrum and have no idea how it happened (the Dr. thinks it is Q-Tips).  Anyways, I'm now on medicine and I'm not contagious, which is good. However, as usually happens, one of the boys also got sick. This time around it was poor ole' Pig.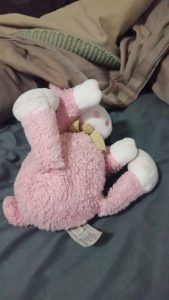 Pig can be seen here doing his trademark sleep meditation.
When either SB or I gets sick one of the boys tends to get the exact same illness. We don't know if its a strong empathy sickness or a legitimate biological sickness. Either way, this time Pig is sharing my ear and throat misery. However, as a kudos to SB – she went and got us popsicles! Yay! I'm hoping that our antibiotics kick in soon, as you can tell from above we have a lot to do in the coming weeks.
Plus, it's Pig's birthday on the 5th (tomorrow)! He will be two years old! SB and I have a couple rounds of excitement planned for Mr. Pig, so hopefully the birthday pig feels better by then (my guess is that antibiotics + restorative yoga will set him right).
In other news, my Plant Nanny garden continues to grow!

I'm kind of obsessed with the app, and am currently up to 268 seeds (the in game currency). Right now I'm helping Charlie the Clover grow!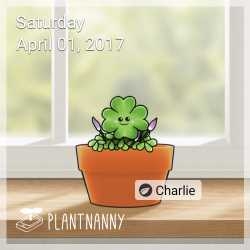 Update: Charlie leveled up to level 4 shortly after writing this post! 🙂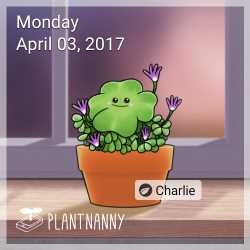 Big ole' clover chin and little purple bud buddies!
I was considering getting a Tulip – but it cost 300 seeds which is kind of crazy. I also considered a Snow Bush, but I figured I should probably wait until next Winter to do that – of course the joke's on me as it snowed two days later. In the end I settled on Charlie, just a few days after St. Patrick's Day which seemed fitting!
But anyways, I think it goes without saying (again) that I have a lot to do. Right now the most pressing thing school wise is this utterly god-awful group project class I stupidly signed up for. It's really kicking up starting this week (as if it ever wasn't eating up a disproportionately idiotic amount of my time anyways). To make matters worse, the professor told us we could submit a report in a certain format – multiple times. But we we submitted it, they told us it was wrong. This after about 50 cumulative hours of work (my reaction). Giving feedback for that class is going to be fun!
"Taco's Guide to Why this Class Sucks ASS and you Should Never EVER Take It: Volume 1 – There is Hell and then there is this Class"
In seriousness though, the class is terrible. The good news in all of that craziness is that two of my other classes should actually be pretty chill right up until exam time – and then they'll suck. But silver linings are good things. Another silver lining for April: Meem is coming to visit us! We have some fun stuff lined up and everyone is looking forward to it!
On another note: if you were wondering about what comes after law school – well, that's a work in progress that has produced some unexpected frustrations, BUT not all is woe and misery. Things just aren't moving as quickly as I thought (and hoped) they would and there are a lot of uncertain variables – which I guess kind of sums up life. However, that is a topic for another post. Preferably one sometime after I'm done with my last exam. 🙂
As for future timelines here on Dinosaur Bear, the next post will probably be about Pig's birthday! After that, look for eventual posts on Meem's visit – probably coupled with a semester wrap-up, then a post about law school graduation – coupled with reflections on the past three years, and then possibly at some point therein or after, my Israel trip. Those posts will drop sometime between now and eternity. 😀
Until next time,
-Taco