[This is my final entry for the moving bucket list series]
Today was the last day of our planned "bucket list" calendar. The event wasn't especially grand, but it was pretty special. It was our last visit to our beloved Columbian Park Zoo. Not only was it our last visit, but Meem and Daryl 1 also came to see it, which was ironically their first time. After a delay caused by a last minute Craigslist transaction, we started off the day by going and having some lunch, which was nice because I was able to take advantage of some Sunday half priced chickum' wings (at Chumley's). Though it had been rainy earlier in the day it was nice and sunny while we were eating lunch. So naturally when it was time to actually go to the zoo it started raining and lighting on us. We actually tried to get into the zoo the first time when it started raining and SB skirted back to the car, she melts in water.
After sitting and chatting a bit we tried again and the weather cooperated this time. It was still pretty stormy around us though.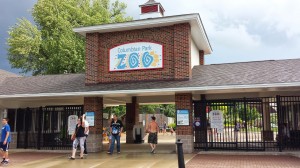 If you are wondering why there is a shirtless man in flip-flops then that brings me to my next point. There is a water park immediately adjacent to the zoo. So, when the lighting came a lot of people fled the then-closed water park and headed straight into the zoo since it is free (but you get epic bad karma if you don't donate). This meant that the zoo was especially crowded (comparatively, at least) and there were lots of kids. I don't like kids. Human ones I mean, I like kids. However we didn't let the crowds stop us and after checking out the boid friends such as the Kookaburra we headed into the Wallaby Walkabout.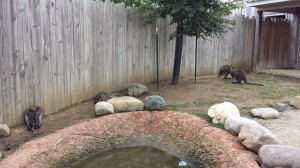 Meem seemed to like it quite a bit and it is a lot of fun, especially the first time when you realize how close you are to them. The best part was seeing an older Wallaby go crazy giving himself belly scratches and also seeing a little itty-bitty joey. Now, we've seen them in the pouches before and we've seen them once they were out, but never this little.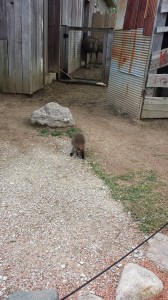 To use a phrase I pretty much never use, he was a-dorbs.
After the wallabies we headed over to the petting zoo area, which was guarded by some of the chickens that I've got to watch grow up, have babies, grow up, have babies, and then grow up again. Meem especially liked the one with "crazy 80s hair". Its the one to the left eating bugs off itself, you can't really see its crest, but you can kind of make it out in the feather blob.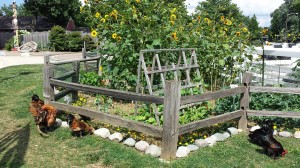 We of course stopped in to see Prince Charming, SB does not get along well with llamas, but I like em'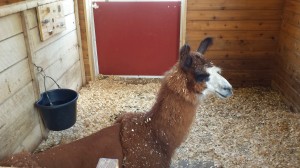 After that we enjoyed some time playing with the kids (the good kind) out in the open petting area. One woman even had a goat climbing on her which was pretty fun. One of the little ones really, really wanted to eat our shoes. Afterwards we headed over to the otter and prairie dog area, neither of which were out, sadly. One of the prairie dogs was out, but a kid (the bad kind) tried to hit it with a stick, so I never got to see one since I was looking at the Emus (not the ones in hoodies, the boids) with Meem at the time. I was a little bummed by that, but I did get to hear the New Guinea singing dogs sing, which had never happened in the over 3 years we've being going to the zoo, so that was really cool.
Tortoise buddy was rockin' his pond, it was actually pretty hot in the direct sun, even after the rain cooled things down a bit.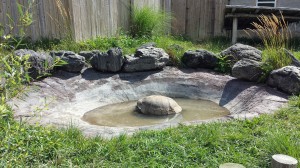 We also hung out in the butterfly house and saw the porcupines, gibbons, spider monkeys, bald eagles, pig, lop rabbit, vulture, barn owl, billions of chickens, miniature pony, galahs, and macaws (plus a few things I'm probably forgetting). In all, despite the child tormenting the prairie dogs and the otters being AWOL it was a good zoo trip, especially since by the time we left the weather had really improved.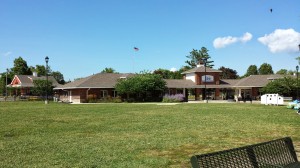 After leaving the zoo we headed across the street to a local custard place, which was nummy. SB discovered she had 3$ worth of tokens for there, so that was nice. Meem and Daryl 1 got "twist" custard (chocolate and vanilla), SB got a boysenberry sundae (vanilla with boysenberry) and I got a "soggy bottom." Now, while mine sounds like something out of a weird porno, it was actually pretty good. It was an Oreo cookie buried beneath vanilla custard, with marshmallow and peanut butter sauces. Pretty much right up my alley.
After parting ways with Meem and Daryl 1, SB and I went back to work as busy bees getting ready to move. When we got back from running some errands a momma duck and her (big) ducklings were waiting for us in the parking lot. It was nifty because I've watched these guys grow up.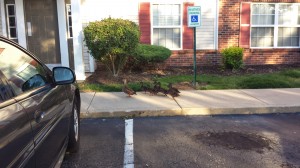 Of course, as they were waddling away one of them shit right in front of the apartment door. I'd like to think that that was their own special way of telling me they'd miss me, in rare moment of baseless optimism.
So all in all, a good last day for the bucket list. It was nice to finally share the zoo (one of my most favoritest places) with Meem and Daryl 1.
Until next time,
-Taco