First order of business, the Scotland posts. I still have 2 more days of Scottish recollections remaining, the posts are already completely typed up and finished, but I've decided I only want one post per day on the blog, just because that's how I roll. So, the Scotland posts will come, I will automatically schedule them and therefore its likely that they will pop up after I've left for Germany.
Before I begin: Brief Rant
Last night I was out until about 2am trying two beer bars with two of the SRAs here. I stayed out later than intended, but hey it was the 4th of July. Anyways, it was late by the time I got home via the night bus, and I had a presentation worth 25% of my grade today. At 7am someone started banging at my door, I ignored them hoping they would leave, but nope, they started to come in. It was cleaning people, back to clean the vents again, at 7am with no notice whatsoever. So yeah, my bathroom is disgustingly dirty again, this time I'm just waiting until I do my final cleaning to deal with it.*sigh*
Anyways!
Don't expect many personal pictures today, read on to find out why (Camera is fine Meem).
So on Tuesday I said that that would probably be my last time really exploring Copenhagen, well, turns out I lied. I didn't really plan on doing any more exploring, but after class today I was enjoying the sunshine (which has once again defied the forecast) as well as reveling in the great success I had with my presentation (which was nice based on my late night and early morning). So, decided to go to one last new part of town. The place I chose was probably one of the most (in)famous spots in the entire city, if not the most so, Christiania. Now, before I just jump into my recounting of this place, I need to outline a little bit of history as to better set the tone for what exactly Christiania is.
Since a plethora of information is easily available online about the place, I'll just give the basic story. In the borough of Christianshavn (originally a separate city) there are an area of military barracks called Bådsmandsstræde. These barracks in their original form actually go back to 1617 and formed part of the perimeter defense for the ramparts around the Copenhagen area. The barracks survived as military facilities all the way up to WWII where the barracks where most widely known for the 29 executions of war criminals there (the spot where the execution shed stood, including the drain for blood is still visible). It was actually the last Danish execution site in the entire country, as Denmark no longer as the death penalty. Around after 1950 the need for the barracks fell the the wayside and the military gradually moved out, and by 1970 the place was largely abandoned save for a few watchmen. In 1971 residents of the surrounding area tore down the parameter fence and occupied the barracks as part of a pseudo-demonstration against the Danish (specifically Copenhagen) government for a lack of adequate housing in the city. Well, eventually leaders came into play, most prominently a fellow named Jacob Ludvigsen who officially declared the place "open" and also co-wrote the mission statement. Now here is where things get a little odd, for whatever reason the military and police have, to this day, never been able to fully reclaim the area. At this point they don't even really try anymore, but why there was no immediate recourse in 1971, I have no clue.
So what was the deal? Well, protest quickly gave way into an overarching desire to be "free" and the entire Christiania community adopted a very hippie-like lifestyle. It became a self-government society where everyone was responsible for the well-being of others, and things like yoga, mediation, and of course drugs, became immensely popular. Eventually they declared themselves entirely independent of Denmark, and later the European Union. Oddly enough, this declaration was met with little resistance, and today, based on a 1989 law, Christiania isn't even part of Copenhagen anymore, its still government by Denmark, but it is its very own "commune" (the official stance of the Danish government). So, today, the place has grown beyond the original military barracks, and encompases the full 84 acres that the base used to occupy. Its known for very eclectic architecture, anti-establishment motifs, eccentric art, little regard for any laws dealing with nudity, alcohol, and drugs as well as for drawing in tourists who want to see a pretty much "wild" town. They've developed their own "Christiania Language" which is like some modification of Danish, I can't tell the difference audibly, but I don't know Danish. They have their own flag, and they have their own little "councils" which make decisions based on the population's demands.
I had decided early on I didn't really care about going there, because A.) Pickpockets everywhere, B.) No desire to buy any drug known to man, and C.) Stuff is actually really expensive there, at least anything a non-resident can buy. But today I figured I might as well, so I headed off by myself (which isn't recommended at night in Christiania, but it was 2pm). I took the bus down into Christianshavn which was actually only the second time I had been there (the first was Our Savior's Church). I got off close to where I thought one of the gates was, and it found me as much as I found it, because you could smell the pot over a block away.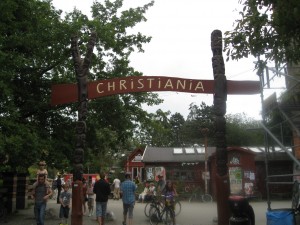 Now, when you first enter the area, which has to be via a few gates as the original military walls are still in place, there are tons of signs repeatedly drilling the rules into your head.
Rule 1: No Cameras
Rule 2: No Guns
Rule 3: No Fighting
And Remember No Cameras
I don't think I need to explain why you can't take pictures, that should be pretty self evident. So, much like kayaking, no real photo evidence exists of my foray into the wilds of Christiania, but lets just say it was certainly an experience like no other. First off, because the weather was warm, topless girls where everywhere, and these aren't necessarily the kind of girls you want to see topless. Second, oh so many drugs, I was expecting lots of pot, but there was everything you could imagine, it was even sectioned off according to type (they only had signs showing you where the marijuana was, but it wasn't hard to figure out where the harder stuff was at). There is a street in the center of the area, called "Pusher Street" and I think you should get the idea what goes on there from the name. They even have a big sign that says "Green Zone" with lots of pot leaves. I naturally had to walked down the street, and while they no longer approach you, I would say 90% of the people around me where dealers. Apparently in 2004 the Police actually started cracking down on the place, since things were getting so out of control. This culminated with it being temporarily shut down in 2011 (all of Christiania, not just Pusher Street). However after negotiations its opened again, but If its like this post crackdown I can only imagine what it was like before 2004. Anyways, at no point did I feel unsafe, there's little violence there, but I did get lost. the place is like a labyrinth of houses build out of discarded windows (for real), old military barracks, shanty towns, pubs built out of semi-trailers, and really anything else along those lines you could imagine. At one point I found a pub that was selling Christiania Beer, and no I didn't try it. Why did I not try it, you may ask? Because the same guy who was selling beer was also selling cocaine. I think I'll pass on buying mysterious self-labeled beer from a crack dealer, thank you ;-).
But all in all it was pretty nifty, I liked seeing all the different buildings, and even more than that all the different buildings. Animals kind of just roam around in there chilling, anything from dogs, to cows, to chickens, to pigs can be seen (all of which are probably stoned themselves, because they walk reaaaaally slow). At some points so many people around me were doing drugs that it realized I was the minority, which was kind of funny. I went further in that most tourists do, and ended up seeing a lot of cool art made from all sorts of recycled stuff. There is even a pond in there, but I could tell from a distance it was so full of old naked hippies that I steered clear. All in all it was a pretty cool trip, definitely a "city" within a "city" that put a lot of perspective on just how different people can be. I'd recommend anyone who visits Copenhagen go check it out, and I'm glad I did.
As you leave the back of the sign is pretty funny: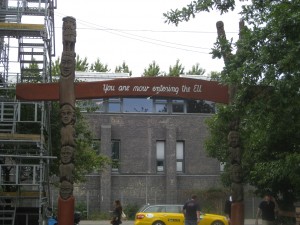 If you are intrigued, tons of photos of the place can be find online from residents or people braver than I. It wasn't worth risking having my camera stolen to take pictures of the interior.
After leaving Christiana I started the process of heading back home, which took me by an entrance to the Parliament I hadn't seen before. Audi was also building some sort of tri-dome thing right in front of the main entrance to Christiansborg Palace, which absolutely and totally ruined the view and made me really glad I had gotten pictures before it was being put up.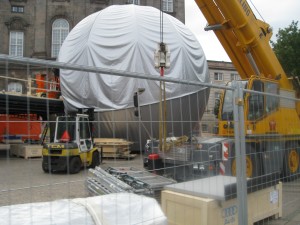 On the bus back, a woman quietly set next to me, and when it take came for me to get off I pressed the button and stood up, I asked her politely if I could get out, only to have her not move at all. I then realized that I was sitting to an almost entirely blind elderly Dane that spoke no English. Danish mode engage, everything I say below in English was actually in Danish
Her: æøå æøåæøå æøå æøåæøåæøå
Me: Excuse Me
Her: æøåæøåæøå
Me: Please Excuse Me
Her: æøå æøåæøåæøå
Me: Movement. Thank You.
Her: æøå (still hasn't moved, bus doors will close soon and I will miss my stop, mission impossible has begun)
Me. Door. Excuse Me. Door. Please. Movement.
Her: æøåæøåæøå (sounding like she finally understands)
Me: Thank You
Her: æøåæøåæøå English Yes
Me: English Yes, Excuse Me.
Her: Farewell
Me: Farewell, Thank You (epic slow motion dive out of bus as it explodes)
So the bus didn't explode, but I did make it literally as the doors were closing, the drivers wait for no soul. And now I'm here, I'm essentially done with classes at this point. I still have one more three hour class tomorrow, but I've written the paper (50% of the course grade) that's due first thing and printed it out already. A lot of people head our tomorrow right after class or in the evening, so things are a little hectic around here as people try to adhere to the psychotic standards of cleaning that DIS wants, which is really bad for the people who already cleaned, thanks to the cleaning people coming and blowing more black sludge all over the bathroom.
I'll likely type up my closing post for Denmark tomorrow, so be on the lookout for that. In the meantime, here is my final Danish Tidbit of the Day, which actually goes back and touches on the concept of the "Ins and Outs of Copenhagen" that I posted in early June then quickly abandoned. I deicided on this topic based on my visit to Christiania, in Christianshavn.
Tidbit of the Day: The Burroughs of Copenhagen
Like any major city, Copenhagen is divided into regions, which are called Burroughs here much the same as they are in several places in the states. The following is a list of the Burroughs, a brief description of them (from my on-the-ground perspective, not a city guide's), as well as three prominent places/things in that Burrough (also from my perspective). Note, I only will really comment much on the one's I spent a lot of time in.
Copenhagen City (City Center)
Not technically a Burrrough, but it might as well be. Its the old medieval part of Copenhagen and is home to all sorts of winding, cramped streets. Its also the area of the City I am most familiar with when it comes to walking from point A to B on foot. Its obviously full of a lot of tourist-oriented shops, but there's history behind every corner.
Cool Things: University of Copenhagen, Marble Church, and Christiansborg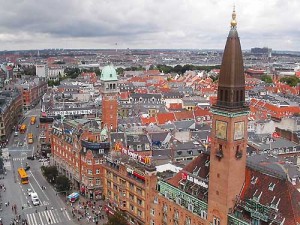 Christianshavn
Part of the old ramparts, and formerly its own city, this is the "downtrodden" area of Copenhagen is there is one. The buildings are obviously old and its much more dirty than the other areas of the city. Its home to Christiania, which probably explains some things. Its still cleaner than most American cities, but compared to the rest of town its kind of dilapidated. That being said, the buildings on the canal itself are excently preserved and hide the more derelict inner areas quite nicely.
Cool Things: The myriad of canals, Christiania, the remnants of the old coastal defenses.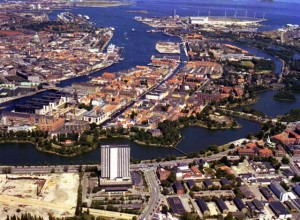 Nørrebro
A vibrant, multi-ethnic neighborhood food of Exotic restaurants, antique-shops, funky stores, and stylish bars. (From a guide, I wasn't there much).
Cool Things: Not really sure to be honest, I've only been through this place on buses and trains.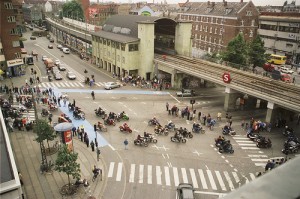 Frederiksberg
Supposedly the Burrough where I live is the most affluent area of Copenhagen, I think that's complete bull-crap, in my opinion Frederiksberg takes that cake. It is home to Frederiksberg Palace, Frederiskberg Gardens (the best gardens to which I have ever visited), the Zoo, Carlsberg, Shopping Centers and lots of very, very nice houses. Its certainly the prettiest area of Copenhagen when it comes to landscape, and I wish I could have spent more time there.
Cool Things: Tons of naminal friends, Carlsberg, and Frederiksberg Garden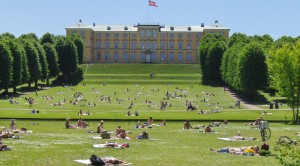 Vesterbro
Ah Vesterbro, home to central station, Tivoli, and lots and lots of prostitutes. Yes, Nørrebro host's Copenhagen's Red Light District, which I toured in no short period during my Human Trafficking Course. Surprisingly, the area isn't really that shady. Some of the bars have rough crowds out front, but its not too bad overall. This is also the spot where the transsexual population really congregates in Copenhagen. I met a Ladyboy from Thailand, for instance.
Cool Things: The street life, Central Station, The Cafes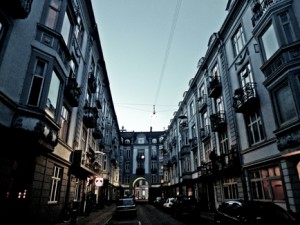 Islands Brygge
Upcoming neighborhood refleting new urban city life and modern architecture. Hip art galleries, underground events and an outdoor harbour-pool during the summer. (From the guide, I was only here two times)
Cool Things: The harbor pools, which are areas of the harbor enclosed for swimming (yes its clean), The best parks in the city in regards to sports facilities, easiest place to find the City Bikes.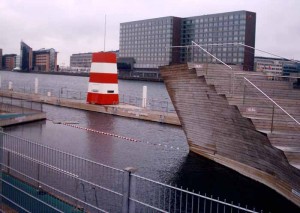 Østerbro
Home sweet home, this is where my kollegium is. Its a nicer, more residential area of the city, and subsequently I fit in very nicely. Based on how loud things can be here at certain times of day, I shudder to think of what the city center is like. Not a lot happens here, which is a good thing since the bus is only a 5-6 minute walk away. Its fairly nice, only being trumped by Frederiksberg. In typical fashion, the only minorities here tend to be in the low-tier service jobs, but you won't see that advertised in any Copenhagen Tour guide.
Cool Things: Kastellet, The Industrial Harbor, and the two of the Five Lakes (they aren't all in Østerbro, but they are cleanest here).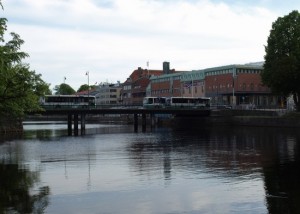 …And of course, my home (I'm on the side facing that funky black building, so you can't see my room here):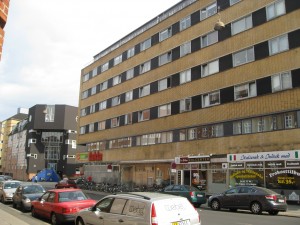 Tomorrow is my last full day here! I have class from 9-12, it was supposed to be 10-1, but apparently some people have to be at the airport at 1:30 since they (stupidly, in my opinion) scheduled their flights before they knew when classes would end (instead of doing it on the official departure day, Saturday). I've heard some people have to skip their last class all together to make their flight, that's a heavy blow at only 15 classes. After that I have to start packing and clean my room.
-Taco