Up until this point (11-14-14) we've been fairly lucky in regards to temperature. Sure, we've had some cold rainy periods and a loathsome Nor'easter, but no real cold-snaps. That ended today. Well, it sort of started yesterday, but it really got here today. A few short days ok it was sunshine and temperatures in the mid 50s, tomorrow is a high of the low 30s. Gotta love how quickly those changes roll in. Of course, I've always lived in a place with this kind of weather pattern, so its not that huge of a deal. So far we've only had a light bit of a snow (not today, a week or so back), but it looks like its only going to get worse from here on out. I guess it had to come sometime. The good news is that I have all my warm clothes and a freshly delivered toboggan and cowl that my Aunt made. I still need to get some warm shoes, in fact I really, really need to get some warmer shoes, but at least I did get some warmer socks.
School is very busy, which is normal for this time of the semester, except its a little worse than usual since its well… law school. I'm right in the middle of a big white paper for my student practice organization, the open memo deadline grows ever nearer (and I found out yesterday like almost all my research is wrong) then of course exams (which are 100% of my grade in 4/5 of my classes) will be here before I know it. I also know that I've alluded to writing my law-school impressions more than once now, but I've been busy so I'm not making any promises.
Today is Friday though, which means its going out time. A while back SB and I received a 10$ off coupon for UNO. Neither of us had ever been to one before, honestly I didn't realize they had anything but pizza. So we decided to go check them out. Turns out they have a lot more than pizza, we went with sandwiches (they are oddly pricy for what they offer, sandwiches are between 10-11$ for instance).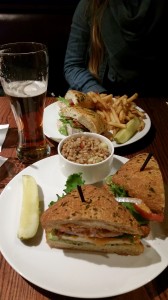 I went with the Fire Cracker Chicken sandwich (in the foreground: Grilled chicken, house-made guacamole, spicy dressing, buffalo cheddar, lettuce, tomato and red onion) while SB went with the Turkey, Bacon, Avocado (in the background: Turkey breast topped with crisp bacon strips, green leaf lettuce, avocado slices and tomato on herbed focaccia bread). Both were tasty.. except that SB's had no avocado. We didn't end up complaining about it because the cares were low and our server barely spoke English and was fairly hard to understand (at least for me).
You'll also notice that there was only one beer (a travesty I know). Their beer prices were fairly good, they have 5$ and 6$ 20oz craft specials. The 5$ special was Blue Moon and they had a few other 6$ specials (see the card in the image below). However, since the food was expensive we decided to just get one beer and share it. We went with: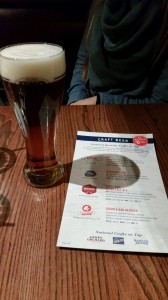 1. Long Trail Brewing Co. – Double Bag Altbier
So the first thing you might notice if you actually click the Beer Advocate link is that this beer has amazingly good ratings. I had no idea when we picked it, I was mainly just going for a semi-local (its from Vermont) beer that I hadn't had before. It was also 7.2% ABV, which means it would make a good share beer. It was definitely a good share beer, in fact it had a bit more bite than I was expecting (though nowhere near the Dogfish Punkin' Ale). It was a clear copper color with some strong alcohol scents, though not overpowering. It was a fairly intensely malt-flavored beer with some leafy accents that left it overall fairly dry. It was definitely what I would call cold weather beer, which was fitting. It might not be the same as a winter-stout, for example, but it was close. The last few drinks were pretty strong. I'm glad we ended up sharing it to be honest, this strikes me as more of a 12oz, rather than 20oz kind of beer.
So overall UNO was good, it was kind of like a better version of TGI Fridays. I can't speak to their "famous" deep-dish pizza, but after having authentic Chicago Deep Dish, from, well, Chicago they would have a big wall to climb to impress me. Our server was just "meh" and they were kind of slow (which was weird because when we first got there it was fairly empty, but by the time we left it was PACKED – like 2 HUGE parties came in). I'm not sure I'd go again without another coupon, but it was definitely worth it with the coupon.
We then headed off to our usual weekend market haunt for some Rhubarb Crisp and Cookies (yay!). I also got some boring Bud Light since I was trying to save money.
So now I'm going to settle in and enjoy my Friday evening while the steam radiators slowly bring the temperature ever closer to the surface of the sun. SB has a friend in town and she wants me to go to that tomorrow as well. I've also got a lot of work to do this weekend, but that can wait until later.
Until next time,
-Taco