This post is a bit outside of my usual blogging area, but I think it will be a lot of fun regardless. This is actually a modified version of an email I sent to Meem, SB, and Daryl 1 back in January. Because I wanted to memorialize it a bit better as well as share it with a larger audience, I've decided to "port" it over to Dinosaur Bear. While I've changed some parts, added some photos, and reworked the formatting (which was horribly broke and ultimately required no less than 30 formatting edits), it's largely the same general thesis as it was before – just more blog friendly.
This is definitely one of those times where I will deeply analyze and research something that was probably never really intended to be subjected to much scrutiny, or maybe it was, and that is what makes it fun. Still, if you have no interest in an in-depth discussion of old cartoons, or seeing my more analytical side, then you probably won't find much of interest in this post. That said, I'd still recommend you give it a chance simply because there is some very interesting stuff in here.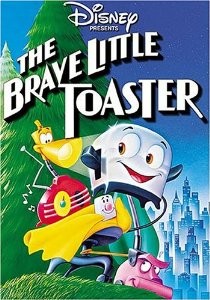 I'm going to be talking about the 1987 film, The Brave Little Toaster, more specifically, I'm going to focus on its song, "Worthless."
But not all is well in Hot-Rod's world. Look closely at 1:07 onward. His steering wheel is vainly turning left and right in a desperate attempt to get out of the maw of the crusher. He might be similar to the Pink Convertible in this regard and perhaps he looks back even more fondly than she did. Yet, at the end, he wasn't quite ready to give up in the same fashion. He doesn't want to die.
I of course welcome your thoughts and criticisms.