So, you may have noticed that the Beer Blurb dates are ever so closely getting nearer and nearer to the actual date. That's because my scheduled posts that I built up are slowly being depleted. Of course that was the plan all along, so its not an issue, it just means my posts will become increasingly less "after the fact" and will eventually be fairly real-time.
For our Friday Night date we ended up eating a place very close to where we live called Darwin's. There was a place I was thinking about eating called S&S Deli, which is historical Jewish Deli (and now also restaurant) that had been extensively recommended to me, but it was about 15 minute walk from home and it was a bit late because we had to go to Target. I needed warm socks and also some inner wear for under my jeans, and when I say "need" I actually mean it. A good while ago I was diagnosed with Raynaud's Phenomenon. Which basically means your extremities don't get enough blood-flow and thus cold weather is a big concern. Well, recently I found out that my Raynaud's Phenomenon has progressed into (or always was) Raynaud's Syndrome, which is actually a more severe version of Raynaud's Phenomenon. With the Syndrome, the symptoms are the same, they are just worse, as in, if ignored you can lose fingers and toes. Anyways, point being, I need to keep my toes warm (that is my problem area). So, we were off to Target to get me warm socks, inner wear and boots (and a belt, but that had nothing to do with warm, except to keep my britches from falling down in the middle of class). Target being Target, they didn't have the most important thing I needed, boots. Well they did, but they offered a whopping two kinds of mens boots. Literally two. Next to the 15,000 styles for women. It was either bulky snow boots, or expensive leather boots. So I got no boots [Of course SB got boots, imagine that]. I'm going to look elsewhere. I did get everything else.
SO ANYWAYS, all that is to say that it was later than normal and so we ate close to home. We actually sat next to a person from my law school section, but he left us alone after a brief chat, which is nice. Ain't nobody who likes people who decide to make your dinner theirs as well. After that we headed over to our usual market for some treats (Apple Crisp and Blackberry Crisp) and of course beer. I went south of the border (maybe keeping up last week's theme), but much further south, all the way to Peru in fact:
1. Compania Cervecera Del Sur Del Peru S.A. – Cusqueña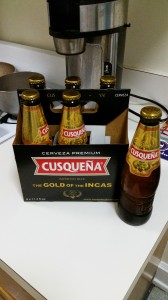 I'm not positive, but I do not believe I have ever had a Peruvian beer before. The thing is, being the ignorant Murkan I am, I thought it was Mexican beer until literally just now. Being a history enthusiast you would think that I would realize it was from Peru, because, I dunno IT MENTIONS THE INCAS RIGHT ON THE FREAKING BOX. But nope, too Murkan. Anyways, I have to say I was a little.. eh.. not impressed with it. Beer Advocate users give it a 76 (No "Bro" review), I'd say its more of a 55-60. Not bad, but not amazing. The price was good though (which is what drew my attention to it in the first place). The cashier compared it to Dos Equis and yeah, that is wrong. Ok it was an opinion, but it was still wrong. To be fair, I've only had one so far and it was just out of the bottle, but I don't see my opinion changing a ton (since I only drank one last night, that means I get three tonight, yay! – I normally drink 2 beers on Friday, Saturday, and Sunday). I would say, however, that it is worth trying because it sort of has a unique taste and that's not a bad unique taste, just unique. Its funny because its a pale lager.. brewed in the European style.. with Peruvian ingredients.. wat.
This weekend (today, so Saturday) also saw a bit of adventure in the ole' squirrelly household. Credit goes to SB for part of it. She is a coupon type person, which is awesome because I am not. She also keeps an eye on Groupon, or monitors it through social media, or something, I dunno, but she finds things. Case in point, she recently found a Groupon for a reduced price tour of a local chocolate factory AND a free chocolate bar with said tour. We like chocolate, we also like chocolate factory tours, so she signed us right up. The cool thing was that the factory was only a short bus ride away.
It was the Taza Chocolate Factory. This wasn't our first rodeo though, if you recall we have also been to the Theo Chocolate Factory in Seattle. The reason we decided to go (in addition to the Groupon) was because throughout October Taza hosts what is called "Choctoberfest." Where in addition to the standard tours, they also host some beer and food from various venders.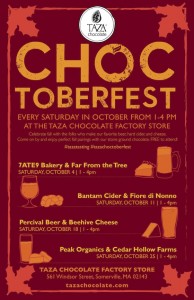 I did some research and decided that the "Peak Organic" brewery was the one we should go for. I did not research Cedar Hollow Farms, but it was going to be cheese. We headed up for our tour, which was interesting because the factory is sort of in the middle of an industrial park and junkyards and doesn't even have its own building (its shared). This was a lot different than Theo which was down by a canal in hipstervile, Fremont. It wasn't a bad area, just different.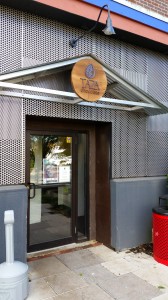 Upon entering, holy crap. People, people everywhere.
I have no idea if it is normally that busy, my guess is not, but sheesh it was sardine-like in there. Of course this was probably the reason:
Yep, that is Peak Organic. And yep, those are free beer samples. Yes they were tiny but there were free, so no craps are given. SB and I actually ended up sampling 4 out of five of the available beers. Two before the tour, two after. They were:
Peak Organic Brewing Company (They are from Maine!)
2. Fresh Cut (2nd Image, right side – after the tour)
3. Pomegranate Wheat Ale (1st image, right side – before the tour)
4. Nut Brown Ale (1st image, left side – before the tour)
5. Oak Aged Mocha Stout (2nd image, left side – after the tour)
[The one sample we didn't try was their IPA]
All of them were good, the Mocha Stout was very stout, SB actually selected that one. I was proud of her. I think our favorites were: 1 – Pomegranate, 2 – Fresh Cut, 3 – Nut Brown, 4 – Mocha Stout. I think the Mocha Stout was a bit much after the 12lbs of chocolate samples we had ingested.
Speaking of chocolate, that was kind of the main point in going. The chocolate was good, but first let's discuss the tour. Our tour guide was very energetic, despite apparently being "under the weather" and having to work on his day off (as SB said, we can only imagine what he is like normally). He wasn't obnoxious, he just likes his job, or is good as faking that he likes his job, either way makes for a good tour guide.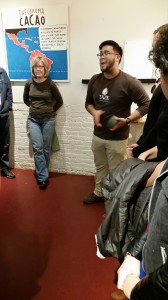 Taza's big thing is that their chocolate is stone-ground in the traditional South American style. And yes, I mean literally stone ground, he is holding one of the stones in the above photo. Here is a closer shot of one: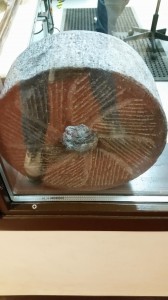 This makes for a very unique texture in the chocolate and it was quite amazing. I had never had chocolate like Taza's before. Anywho, the first part of our tour was very similar to the Theo tour, learn about where the cacao comes from, how they buy it, direct and fair trade, all that good stuff. You then go on to see some of the machinery making the noms.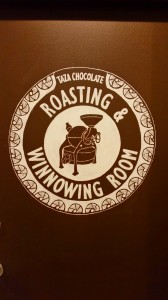 Beyond that door you have to wear hair-nets, stylin' and profilin'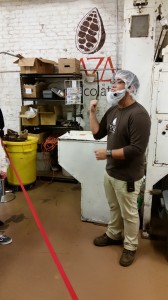 A lot of it was pretty similar to Theo, heck, even some of the machinery came from the same German company (see the red thing). Silly Germans and their chocolate and fast trains. We got to sample some cacao nibs (amazing) and even some chocolate covered nibs (also amazing) since chocolate covered chocolate is something that must be done.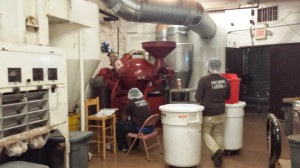 My favorite part of that room was the way they weigh the batches of chocolate. They literally use a cattle weight (cleaned of course). Ignore my finger beast.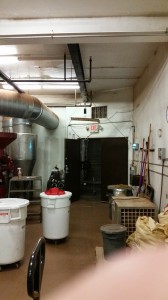 After that we got to see some of the chocolate which was less bean, more chocolate.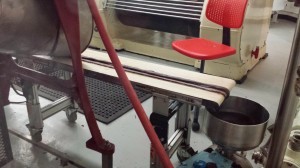 In fact, that whole room was full of chocolate plumbing and in the words of our tour guide "As close to Willy Wonka as you are going to get."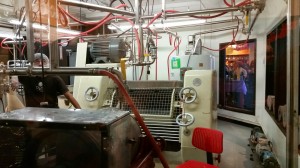 Yes, there are delicious chocolate noms pumping all through that room. After that the tour was pretty much over, but not before our tour guide let us sample even more chocolate (this was like the 10th sample) which was a Toffee Sea Salt chocolate, which was amazing and scandy all at the same time.
Tristen and Valentino brought a hair net home.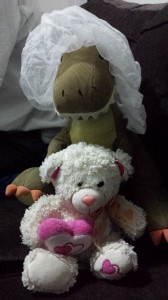 After getting out of the factory we realized we were both hungry, the problem was that we still needed to go to the store. Well, it just so happened that we were only about a 6 minute walk from.. S&S Deli. Yep. The place we thought about going to last night, but didn't due to the time. Funny how that works out. So we headed over there. It was true that we didn't really have the room in our budget for it, but it was a close and we were hungry, so there.
When you first enter, you are actually in the deli portion.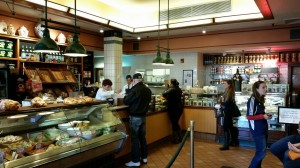 Its actually an old Jewish deli, so they have a lot of cool stuff to choose from. You have to walk through the deli to get to the restaurant, which I am sure was intentional.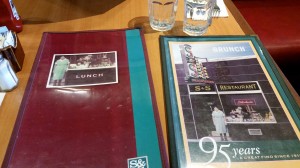 As you can see, they were celebrating their 95th anniversary. Also, as I mentioned above, this place had been suggested to me many times, I think it was even recommended to SB as well. So my expectations for the food were kind of high and I was not disappointed. SB went with a BLT on an egg-roll, while I went with smoked-turkey on pita bread. We also shared a potato Knish.
We weren't really sure what Knish was and neither of us could remember ever having it. It was good though, as was the chicken soup they served it with. The sandwiches were also very tasty, especially since they use the meat from the deli. The only sketch thing is that they charge you 35 cents for lettuce and tomato (obviously not for the BLT though, however SB still asked for it, our server almost assuredly thought we were pertarded after that) and 50 cents for cheese. However, the sandwiches are a lot cheaper than everything else on the menu, so you are still doing alright price wise. Besides, its not like that is a Boston thing, Upland Brewery back in Indiana is happy to charge you 75 cents for a microscopic blob of sour cream or guacamole. Our server was attentive, but honestly a little crabby.
So we had nice mid-afternoon launch, we just had our dessert (in the form of 12 thousand pieces of chocolate) beforehand. Speaking of chocolate, we ending up choosing the "Coffee" bar as our free Groupon chocolate.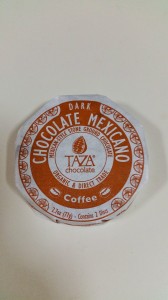 I thought it was cool that their bars are actually disks. Also, before they had a machine, they wrapped those by hand. He said it took one minute per disk, since wrapping round things is a PITA.
After S&S we headed to Whole Foods and then back home. Although we took the bus out to Taza, we walked back, but it was busted up into chunks. Once we got home, we were there all of five minutes and then turned around and left again, this time for Harvard Square (the above adventures were all near or in Inman Square). We have a couple of upcoming sporting events we are going to (blog posts will assuredly follow) and SB was wanting to get a Harvard sweatshirt. Well the COOP offers a 10% discount to members, with an additional 15% discount to Harvard or MIT students, and yes the discounts stack, so 25%. Which means if I don't go, we pay 25% more than necessary. So I was the good people and went down there with SB, despite my legs not being happy, and she got her sweatshirt.
On the way back we passed by a bead store SB had mentioned wanting to go in, so I suggested we go check it out.
I'm still not entirely sure what she was looking for, other that it was something to do with a bracelet and Pinterest. I ate some beads, tasted like beads.
After that we headed home to enjoy a chill Saturday evening, which is where I am now. And that, dear friends, is all I have to say for now.
Until next time,
-Taco