Greetings and welcome to Dinosaur Bear!
Just going to be a bit of a haphazard update post for this week. The biggest thing to touch on is that my foot healing continues. After having a broken foot since early May of 2019 I think I am now getting close to the point where the bone itself is entirely healed. There's still some soft tissue and nerve stuff that's cropped up, but progress is progress. In fact I'm now 100% free of the crutches and will soon (as in this week) begin transitioning out of the boot too. Then comes an unknown amount of healing/physical therapy time for the aforementioned tissue/nerve stuff. Still in quite a it of pain with it, but I'm glad to be proceeding through the stages at least.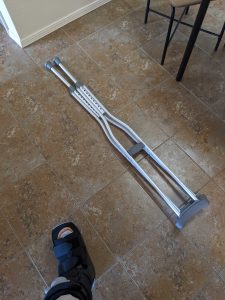 During the recovery process I've been doing a lot of reading, either with the Boys and SB: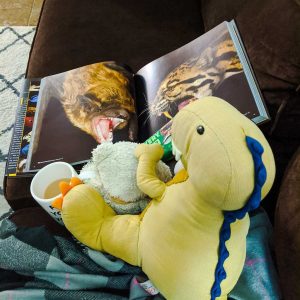 Looking at the animal book Grandma Meem got us for Christmas!
Or doing some personal reading on my own as I try to continue my goal of reading at least one more book each year than I did the year prior.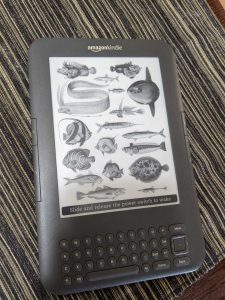 Our now decade old Kindle – the fish screensaver has always been my favorite.
One cool thing that is related to reading we all did as a family was one of those "Murder Mystery Boxes" where you get mailed a murder mystery to solve. This was also a present from Meem, it comes via a subscription service and you get four independent boxes over the course of a year. Our first box was about a murder that takes place during a blizzard and we ended up solving it correctly!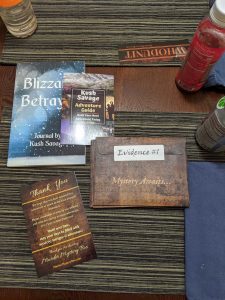 This box was decently challenging – not so hard that it wasn't really fun, but also difficult enough that we spent around 2.5 hours working through all of it. The culprit was the t-rex in the librarium with the frying pan.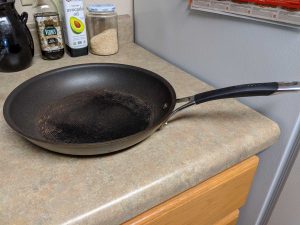 Not the murder weapon – instead our pan we learned we messed up by using cooking spray on it, but Circulon still honored the warranty and sent us a new one, so I'll probably be a Circulon customer for life now.
On the topic of blizzards, no we didn't have one – at least not like we've experienced before, (and oddly enough I have an email in my inbox right now from the U.S. Embassy in Reykjavík telling me they are closed due to weather) but we did get not one but two rounds of snow. The first left one of our two palm trees, Pauly, with icicles hanging off his palm leaves. They are a little hard to see in the compressed photo, but they are there!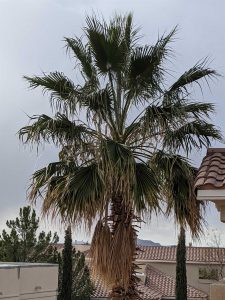 The second round of snow was fairly substantial for these parts, with some places closing early and being delayed or outright closed the follow day. That said, it was still not very much snow and SB and I got a kick out of what we perceived to be an overreaction to it.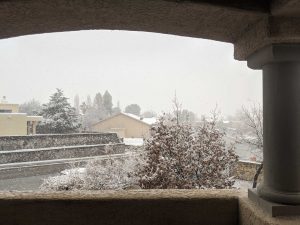 It was very pretty though!
Of course the desert being the desert, despite that snow occurring just four days ago (as I type this) we're now back up to 70° and the snow is long since gone. At least one member of the household, a certain member of the polar bear variety, was not pleased that the snow stuck around for less than 24 hours, but the plus side is that he got snow in the first place! We were all happy to see snow (except probably Tristen) as it's quite rare here, so we kind of figure it was the universe giving Valentino an early birthday present. That's right, Valentine' Day brings not only a consumerist holiday to our household, but also both Valentino's and SB's birthdays. This year Valentino is turning 7, while SB is clocking in at the ripe ole age of 46.
We started off the day with some flowers and coffee from Dunkin' Donuts (which I guess is now officially just known as "Dunkin'"), Valentino consumed both.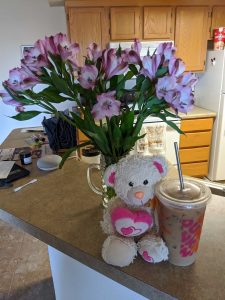 Later on we procured some scotch, and since we are both cultured and common we picked up both some not-cheap and some very-cheap scotch. I'll be you can never guess which is which.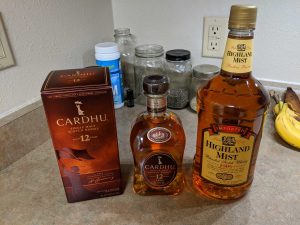 We were even fortunate to have a very nice sunset as a backdrop as I prepared our Valentine's Day dinner.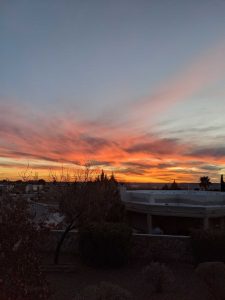 For Valentine's Day/SB's Day/Valentino's Day (i.e. pretty much just Valentino's Day as he claims everything) we had some peppered salmon, Spanish rice, and roasted zucchini.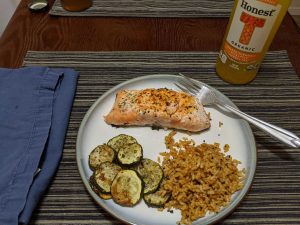 For dessert we had a bit of an interesting cake, it was made with chocolate & strawberry pancake mix (Kodiak Cakes of course) rather than actual cake mix. I had to make a few educated guesses but it turned out really good, though quite dense and hearty for cake.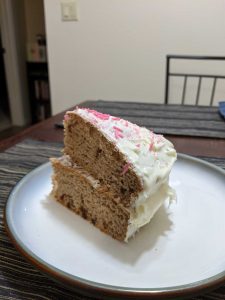 After I cleaned up from dinner and did the dishes (and SB was well on her way to falling asleep on the couch for the rest of the night 😛 ) I also melted 9 of our spent candles down and combined them into one uber candle.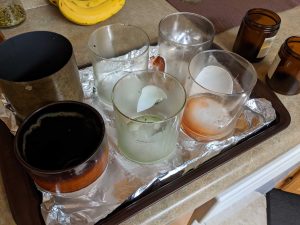 It's really not that difficult to do and once you've cleaned the old containers most of them can be recycled. Plus it's just getting your moneys worth since so often there's a decent amount of wax left over when a candle ceases to burn anymore.
Anyways, that's about all for now. I've reached the point where the sun is making my monitor almost unusable and since it's so nice outside I don't want to close our lead-lined nuclear blast shields metal blinds as they are a pain in the arse. Since I made fun of SB for going to sleep shortly after eating on Valentine's Day here's a really cool photo she took of the Organ Mountains at night.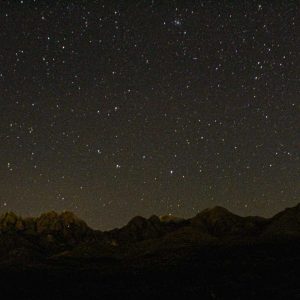 ~~~~~
Since I had a relatively "dark" song last time, the sign-off song for today is:
Tim Toupet – Ich bin ein Döner
I heard this for the first time way back in my second year of German. For the record a döner is a type of meat kebab. The title of this song is thus, literally and directly translated: "I am a kebab." For this song there's not much more to say than that, lol. The funny thing, it's such a silly song that it's honestly good for learning the German lyrics.
Until next time,
-Taco