This intro section below was written on Monday, July 2nd, which will explain why I'm talking about coming home from class even though I'm currently in Berlin. It also provides context for the first time the cleaners came, which I mentioned in the July 5th post.
So I just got home from class, and something definitely seemed off as I entered my room. For one, there was this really funky smell in the air, kind of like burnt dirt. Second, when I opened the bathroom door, everything.. and I mean everything was covered in black dust. Apparently they came and cleaned out the vents, without any prior warning to the students (Thank you once again DIS). So now everything from my towels.. to even my toothbrush, are covered in nasty thick black dust from who knows how many years ago. I then found an email from DIS telling us how we expected to leave our rooms spotless when we leave. Yeah go F&#K yourself. My toothbrush is currently soaking in Listerine, I hope that removes whatever ancient diseases are now coated all over it. Oh and we lost internet for a bit too. So, DIS has angered me again, no surprise there. Rather than continue into a rant about DIS, let's move on to Scotland Day 4!
_________________________________________________________________________
Day 4 was the day a lot of people had been waiting for, not because of anything specific thing, but it was the first day with absolutely no academic obligations. I was excited for that, but also because we were finally heading to Edinburgh Castle. I had of course hoped all around the outside of the castle, but hadn't actually got to go past the first gate yet. People were late to the meeting point (and no one was surprised), but our DIS assistant finally got the courage to follow through on her promise to leave people behind if they were late, and did. But not until after we waited 15 minutes and missed our bus, causing everyone to be almost 45 minutes later than scheduled. Frustrating start aside, the city was awesome. The Haar had finally moved in without rain, and things were looking pretty awesome since I could actually enjoy the environment without getting soaked. It was almost as if the sky had just lowered itself and formed a ceiling to the city, it was obviously fog, but it was also very different than any kind of fog I have experienced before.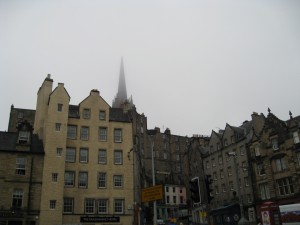 Once we got into the city center, we hoofed it up the hill to the base of Edinburgh Castle, where more confusion resulted because they hadn't booked our tour properly and didn't know where to go (Noticing a pattern yet?). Just about the time I had decided to just leave the group behind and pay my own way in, they finally got it figured out and we were able to pass through the main gates, though we had audio guides as opposed to a tour guide due to our tardiness. This actually turned out to be preferable to me, because it allowed me to instantly ditch everyone and enjoy the castle at my own pace. After entering through the first of many gates I got my first real look towards the top of the castle, which was very ominous in the fog.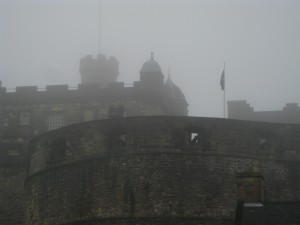 We then passed through a large open area, which was between the first and second gates. This area is the sight of the Scottish Tattoo, an annual celebration with music and drills, etc. Its original purpose was to form a flat area for the attackers to be slaughtered while trying to reach the main gate. So yeah, things are a little happier than they used to be. Once we reached the 1st main gate (as apparently there are two main gates), I noticed a familiar figure standing watch, it was none other than William Wallace. Notice how he doesn't actually look like Mel Gibson, believe it or not (Not seen here is Robert the Bruce, opposite Wallace).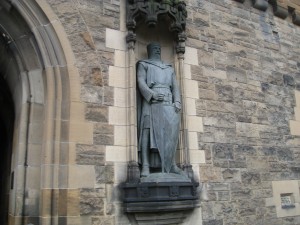 Once inside this gate, we went up to the 3rd gate (2nd main gate) which was where things got steep. The castle was quite well designed, and any attackers would have been funneled into tiny little passages with the defenders being right about them ready to do all sorts of nasty things to them. Since the castle is so old, having existed (with obvious modifications and expansions) since around 1000, you can see which parts were added before and after the invention of gunpowder. There are several tiers of batteries, and you come to the first one soon after passing the 3rd gate. Even though this is the second lowest of all the batteries, you can still get some pretty good views of the city.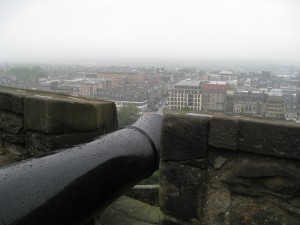 From here you keep going up, either by a long, long series or stairs or by a slope (which itself isn't so gradual). Either way takes you through more gates and past more walls. Since the castle has been largely converted over to a tourist site, there's lots of museums to see, be they concerned the Highland Guard, or a recreation of the castle's prisons (which weren't pleasant, to be modest about it). Eventually you come to the half-moon battery, which was probably my favorite part of the castle even though it wasn't the highest or most majestic place. It was just a simple tower, with a load of cannons on it, but the Scottish flag in the center kind of rounded out the place for me.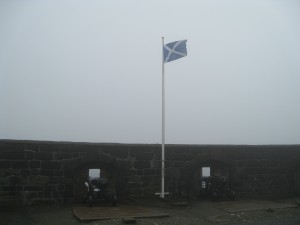 Not everything was military oriented in the castle though, it is actually home to the oldest building in the entirety of Edinburgh, St. Margaret's Chapel. This quaint little church is still used to this day, and has survived every major siege, successful or not, of the castle since its foundation. The one stain glass window in the little chapel is of course, William Wallace. After heading out of the chapel I entered part of the keep where the crown jewels and royal sword, and the stone of destiny are placed. Well, much to my disappointment, its just like Rosenborg Castle in Copenhagen, NO PICTURES OF THE CROWN JEWELS. Needless to say the curators in the room probably deal with hoards of angry tourists each day, especially the Asians, who were raising a storm even in the brief 5 or so minutes that I was in the room. So I have seen the  crown jewels of two countries, just take my word for it, no photographic evidence exists. After seeing the jewels and the stone of destiny, I headed into the living chambers, where I saw the tiny room where Mary Queen of Scots gave birth to James I, that was pretty cool. After that I headed into the great hall of the keep. Which is now home to a bunch of weapons and armor, though some sections of the hall have been pretty much untouched since the 1600s.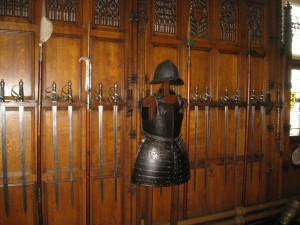 After exiting the great hall, I went into the central keep, which has been completely transformed into a massive memorial to all Scottish soldiers killed in every war that they have records for. And of course, no pictures. If I had had more time I would have liked to have looked more through the massive log books of names, because I found a few of my ancestors, but I have no idea if they are even remotely any relation of mine. By the time I finished there, it had started to rain, and I had ran out of time. They had only given us 1.5 hours to explore the castle since people were late. They were now taking us to the National Scottish Museum. This was an optional trip, but I wanted to get in for free. Turns out you get int for free no matter what, and our guide lied about DIS paying for us. So that was a little frustrating. The museum was interesting, and I probably would have appreciated it a lot more had I not seen tons of museums by this point, my legs weren't killing me, and I wasn't super hungry. I didn't even look through the entirety of the museum, I really just flew through the portions dedicated to Scottish history, ranging from prehistoric to contemporary. All the other stuff I can see any museums elsewhere anyways. The one thing I did go out of my way to see in the museum was a dead stuffed sheep, but this wasn't just any dead stuffed sheep, this was Dolly the cloned dead stuffed sheep.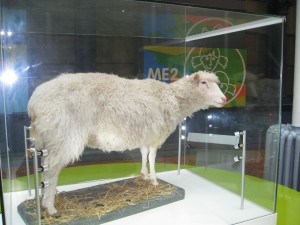 After seeing Dolly, I briefly walked around the dinosaur exhibit then decided it was time to get food. By this point I was by myself, which didn't really bother me. I headed out of the museum and over to The Elephant Cafe. Now, I enjoyed the Harry Potter series. I haven't seen all the movies, and I can't quote the books, but I enjoyed the books (even if they can be a little overrated in my opinion). The Elephant Cafe is apparently where J.K. Rowling started scribbling down notes for the first book after she originally got the idea while on a train. Naturally they advertise the cafe as the "Birthplace of Harry Potter" and the inside is filled of all sort of photos of her there as well as interviews in which she mentions the place. In the back room, which overlooks Greyfriar's Cemetery and has Edinburgh Castle in the background, is the table where she sat. They've even gone so far as to put up a little display case containing the napkins Rowling scribbled the notes on. Harry Potter stuff aside, the food was really good in my opinion. In addition to Harry Potter stuff, the place is obsessed with Elephants, thus the name. So all sorts of Elephant Statues, stories, and pictures dot the place.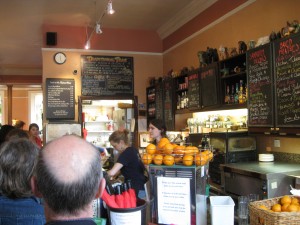 More enjoyable than the food and decorations was probably the vandalism in the restrooms. Needless to say it is almost exclusively Harry Potter inspired, and some of it is as vulgar as you can possibly imagine. In the entryway between the Gents and Ladies rooms Daniel Radcliff and Emma Watson have signed the wall, which are followed by a slew of sexual remarks from men and women alike. In the men's room you'll find more sexual references to Hermione than imaginable, as well as more than a few arguments between supporters of the various houses. My favorite, was probably the most obvious and simple, but I loved it nonetheless, it was perched right next to the toilet.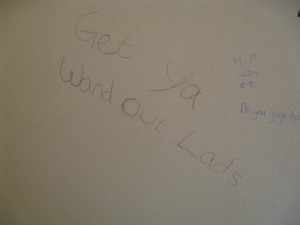 After having a good laugh, and getting my stomach full with a tasty sandwich, a chocolate tinne dessert (I have no idea what this is, so don't ask, but it was amazing) and two cans of IRN BRU I headed out into the city. The next thing we had to do was meet up for a Whiskey Tour and tasting, but that was over three and a half hours away. I narrowly avoided a bunch of DIS students as they entered the cafe and managed to slip out into the city where thankfully the rain had stopped. My first mission was to head to the Scottish Clan center (I took a detour so I could walk by the castle again and saw a bunny friend!), which was much further away than I realized. Luckily I was able to find it without even using a map, I seemed to catch onto Edinburgh's layout quicker than I did Copenhagen's. Outside the building has a nice view up the street towards the city center.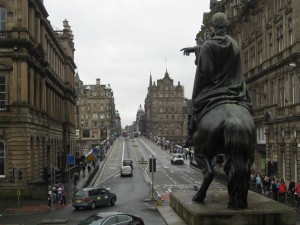 Once inside I found out that everything cost money, however as a student I was able to access the archives for two hours for free. Now "free" meant I could look at things for free, to print anything, or even save any files cost money, and it was pretty expensive. Luckily I did things the old fashioned way and broke out my pencil and paper, which unfortunately massively cut down on the amount of information I could obtain, but didn't cost any money. Rather than focus on individual people, I searched for the overall story of my family, and I was able to get a rough picture, which was pretty exciting. Truth be told I would have loved to have had an entire day and about 100 pounds to spend in that place, which I could have easily done. After being shuffled away (they monitor your time like hawks) I headed back up to the Royal Mile, and decided to head down towards Holyrood Palace rather than up towards the castle. This turns out to be a really good choice for a couple of reasons. The first being that the Scottish Royal Guard was practicing for the Queen's arrival as part of her Diamond Jubilee. They weren't dressed up in their super dress attire, but they still had the basic getup. For other people this was frustrating because it meant the palace was closed to the public, but since I didn't have the money to tour it anyways, this was a better outcome.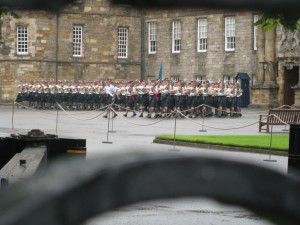 Just across the street from the Palace is the Scottish Parliament. At first I didn't think you could go in, given the number of police officers, so I walked on past to take in some of the views of the nearby Holyrood Park (home to Arthur's Seat). However, after people watching for a bit I noticed that people were going in that most definitely looked like tourists. So, figuring the worst thing that could happen to me would to get arrested and disappear in some dungeon for all eternity, I went for it. I'm really glad I did, because not only can you get into the Parliament, you can get into the Debate Chambers and watch for free. Naturally you have to go through security and you can't take any photos, but that didn't detract from my experience. Once in the chambers I was ecstatic to find out that they were talking first about welfare (a hot topic everywhere) then Scottish Independence. You see a lot of Scots hate England, its kind of a historical thing. So naturally a lot of Scots hate being in the UK. Apparently enough Scots have hated this for long enough that they are opening the floor to discussion on Independence in 2014, and they will hold a national vote on it in 2016. So yes, by 2017 Scotland could be independent again. So getting to hear them talk about it was really cool, I felt very lucky to have stopped in when I did. Though I couldn't bring my camera in, I was able to snap quite a few photos of the outside of the parliament. The picture below is of one of the reflection pools out front, which were really cool.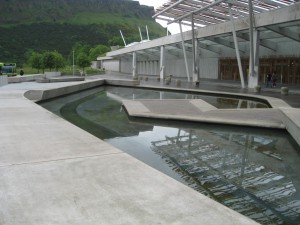 At this point I had about 45 minutes left before I had to meet up with my class for the Whiskey Tour. So I decided to walk the Scottish Mile, just because you sort of have to do that, its like a requirement of visiting Edinburgh. After walking the mile I headed back down to St. Giles Cathedral (which had since become my hangout spot) and waiting for the most recent round of rain to pass. Right before 5:00 I headed out to the meeting point, where we then walked up to the distillery, unsurprisingly no one was late for this particular meeting.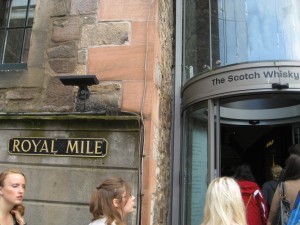 The tour was actually really cool, we obviously got to taste Scotch which I will get to in a second. Before the tasting, the tour started off with a history of Scotch, as well as detailing the differences between mixed and single malt whiskeys. Additionally they explained the differences between the regional varieties of Scotch, composed of the Highlands, the Lowlands, Speyside, Campbeltown, and the various minor islands. We got a card with scents that made the different ingredients and brewing styles very obvious. After this intro part of the tour we were given our first class of Scotch.. it was strong. So strong in fact that the reactions of the light/non drinkers were quite humorous, with one person spewing it out (they seemed used to this and had a bucket handy, meaning no mess!). After our first taste, we headed into a room with the largest Scotch collection in the world. Which now means I have seen the largest Scotch and Beer collections, this is something I am proud of.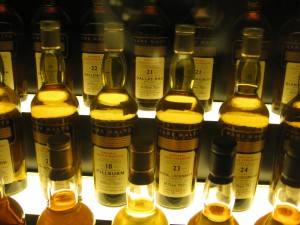 After our first round of Scotch, and viewing the collection, we headed to the actual tasting room, and we even got to keep our glasses. I think I was one of the few people actually excited about this, but as I had never had Scotch before, the glass was pretty meaningful to me. The tasting room was very cold, and we were split up amongst tables, with little cards and 4 already poured glasses of Scotch. At the time I wondered why it was so cold, but after drinking 4 glass of Scotch (5 including the first) one, that room seemed quite warm indeed. The tasting was actually really fun, we learned about colour, body, nose, palate, and finish. The entire time I was thinking how excited I was to apply these traits to beer tasting (yes even when surrounded by extremely high grade Scotch, I think of beer). The coolest trick was swirling the glass and being able to tell the alcohol content based on the thickness of the trails left on the side of the glass. We had a contest based on scent jars which were passed around, where the jar had a number and you had to write down what the scents were. Apparently if you score 14 or above you are in the top 5% of super smellers in the world, I scored a 13. Four people scored a 14, then they had a quiz based on information we had been given about the different breweries. After it was over I overheard all 4 of them talking about how they just lied and put down the max points for each answer. It made me wonder if I had actually scored higher than I realized since I hadn't cheated. After that the tasting began, which resulted in a lot of burning, especially the 3rd Scotch, which was 83% alcohol, yup. What was really funny, is that two people in our group don't normally drink, both girls, and they got absolutely wasted, both puking in fact. I'm not sure why they drank it, must have been peer pressure or something.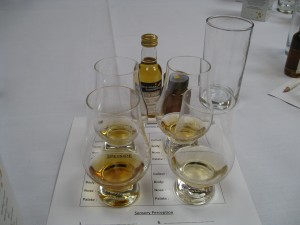 In addition to my glass, which looks like one of the four above, I got to take home to little bottle of Scotch seen in the background. It was brewed on site, I doubt I'll ever drink it, I'm not quite manly enough to drink straight Scotch (which apparently is the only way your supposed to drink it in Scotland). After our Whiskey experience was over, we had about 45 minutes before dinner, which I passed in St. Giles Cathedral, then we met up again and walked to David Bann, a vegetarian restaurant. At this point I must digress into a DIS rant. DIS spends exorbitant amounts of time asking you if you have allergies, are vegetarian, vegan, etc. But they 90% of the time they ONLY feed you vegetarian food. By the end of our time in Scotland most of the guys were going out after dinner to get some kind of meat. Now I don't mind vegetarian meals, as long as they are filling, but David Bann was not. However, it was still better than the Pink Olive, because DIS bought everyone one free drink, so I naturally got a Scottish beer called Grozet, which was made with Gooseberries and was actually awesome. The main course was good, but just way too small, I wasn't even close to being full. Afterwards they brought us an awesome chocolate souffle that was absolutely amazing and almost made up for the grass shavings they fed us for dinner. After dinner almost everyone headed back to the hotel, either to drink before going out to drink, or to get real food, or to get ready for an early bed since tomorrow was our last, and earliest day. On the way back a group of DIS students almost got into a physical altercations with a group of Scottish kids (yes 20 year olds arguing with 12 year olds) on the bus, I laughed quite heartily at the stupidity of both sides, but at least the kids had youth as an excuse. Afterwards everyone talked about how "kids in America would never do that" to which I laughed, because I have never heard anything more wrong in my entire life. I didn't bother obtaining free beers from the fellow students as I had the night before, I went to my room and got some sleep, after watching hilariously bad UK television of course.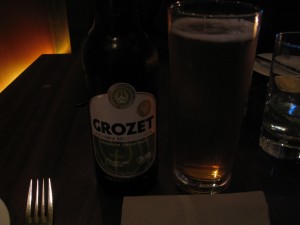 Scottish Tidbit of the Day: The Haar
So earlier in this post I mentioned the Haar, you may have wondered what in the hell that is. Well, as it probably became obvious, its fog. What makes it so special? Well, it Scottish fog, so there. In actuality it did seem to be heavier than the fog I am used to, and it really seemed to blanket the landscape more. Its sort of became Scotland's trademark weather and its actually really pleasant to be out and about in as long as its not raining while Haarin'. If you want to be specific, its actually a sea fog, but it goes much further inland in Scotland than in most areas of the world due to the countries location in regards to atmospheric changes. It really adds some character to the landscape, and truth be told I probably looked more forward to the Haar than I did the sun. I can't vouch for it in the winter when it comes inland and then freezes all over everything, but according to the locals Winters aren't normally really that bad in Scotland. So next time you are talking to someone about how bad the fog was, be sure to tell them that the Haar was so thick you couldn't see to walk. It should get an interesting reaction, unless you are in Scotland, then they will just make fun of you for being a sissy boy.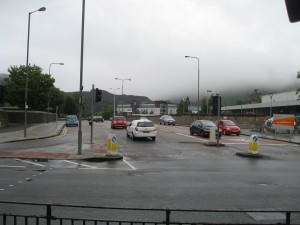 -Taco