So today was a big day in my Positive Psychology course, as we had to do the first part of the assignment which accounts for 50% of our grade. The assignment basically turned us into novice counselors, or "coaches" for about 30 minutes each. We took turns being a coach, a client, and an observer. It was pretty lengthy once you factored all that in, plus the 2 hours of regular class we had. I volunteered to be the coach first in our group, and the coach is undoubtedly the hardest position. You have to coach your client based on certain guidelines and plan a positive intervention for them. As a client you just talk, no real issue there, I spoke about my frustrations with my leg injuries, and how to be more positive about it, the client also gives brief feedback to the coach.  The observer.. well.. observes, then gives detailed notes/feedback to both the coach and the client. I now have to take all this experience and notes and go write an evidence based research paper that gives a custom tailored plan for my specific client. It has to be APA style and contain a lot of experimentally based assertions. Since I have never used APA before, and have no working knowledge of psychology, this is going to be a rough paper. I also have to simultaneously work on a group project, which is 25% of the grade. If any characters look weird in the above section, its because I am on a stupid Danish keyboard, as I am waiting on my group members in the library. Anyways.. on to Scotland!
_______________________________________________________________________________
My first full day in Scotland started quite nicely. I woke up nice and early and was quite excited to use areal shower for the first time in over a month. Additionally, the breakfast at the hotel was exceptionally good (for a hotel). As I mentioned before, Chancellor's Court is a residence hall most of the time, and as such has its own cafeteria. Now while I cannot vouch for the price of the food, as it was already factored in to our lump DIS price, the quality and quantity were quite nice. It was setup like a traditional continental breakfast, however there was much more food, including none other than haggis. Now I had been jiving to try haggis from the instant I landed in Scotland. I do believe you can safely say that I was the only person with such a mindset. Naturally I tried it at my first opportunity, and I'll describe it in more detail in the tidbit of the day below. Additionally, I found these veggie sausage things that would become the staple of my breakfast diet for the entirety of the week. I normally don't go crazy over vegetable-meat-clones, but these were amazing.
After breakfast we headed out for our first academic venture of the trip, which basically amounted to going to a lecture. We set out on foot towards our destination as apparently it was close enough to not need to use the buses, I think this would be true if you weren't trying to navigate with 31 people. As we left the hotel behind I caught this nice view.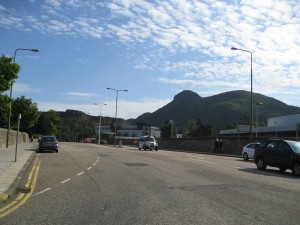 As we proceeded into the city, several people were almost hit, and even more were honked at in rage. I found this quite humorous to be honest, apparently some people didn't grasp the whole "opposite side of the road" thing too well. Once we got to campus, which is so spread out and scattered that I never did truly understand where campus actually was we walked by the end of a graduation ceremony. I thought it was pretty cool, especially since they don't drive around screaming with wailing sirens. Or perhaps they do, but I never saw or heard it.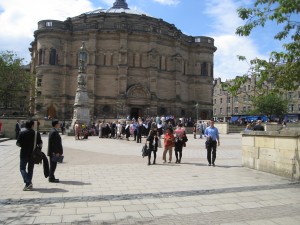 After this we found the place we needed to be, well no, the professor we were going to listen to found us. You see, in typical DIS fashion, they had no idea where they were actually going other than the name of building. Yes, a name of building does you so much good when you have no idea where that building is within an 8 block radius. We asked people, and no one had any idea what we were talking about, as it turns out they even had the name of the building wrong. Luckily, whilst we were aimlessly wandering around, the professor, Dr. Thin, saw us and came and rescued us. His lecture was a little dry, he wasn't bad himself, but lets be honest, I didn't come to Scotland to sit in class for 2 hours. Ok, so technically that is part of the reason I am here, but I've made it pretty obvious I only chose this class because it came to Scotland, not because I have any interest in the subject matter. So we had a lecture, I'll skip the details, nobody cares. After lecture we headed to lunch, which was way too soon, as it had only been about 2.5 hours since everyone had engorged themselves on the breakfast. In addition to everyone not being that hungry, it would turn out to be the worst meal of the entire trip. We ate at a place called "The Pink Olive" seen on the corner below.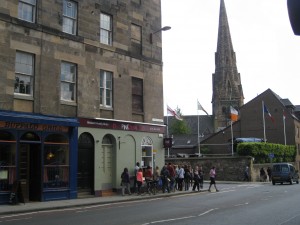 I'm generally pretty favorable towards food places, being the unpicky eater of all things that I am. However there was a trifecta of things that really fouled up the experience. The least annoying thing was the food itself, it was just pretty bland. Nothing was Scottish, the only thing even UK centric was the first course of tomato soup, which they seem to love here. The main dinner was cheap pasta, and the dessert was cheap ice cream with nothing on it. The second factor was that it was too small to hold 31 people, so we were mashed in like sardines, which meant it was hot. The biggest factor, was our absolute beotch of a waitress. She was Romanian, she barely spoke English, and she was rude as hell. At one point she literally tossed the bottles of water onto the table knocking over glasses and baskets of bread, then walked away. She complained about everything, and eventually I got so tired of her crap that I followed her into the kitchen and got us silverware myself, since she couldn't be bothered to do it. So yeah, after my Human Trafficking course talking about Romanians being some of the biggest thieves and human traffickers in Europe, plus this encounter with the worst waitress I have ever met (Congratulations old lady at the Denny's in Bloomington, you have been usurped as worst server of my life), I don't have much good to say about Romania, so I'll say nothing at all 😉
That rant aside, the rest of the day was really good. We hopped on a bus, which was the wrong bus (Thank you DIS), until I, yes me, figured out the right bus to get on to get us to the Mahabodhi Buddhist Centre. This was another academic portion of the trip, and it was the thing I was looking forward too most. Unfortunately since we were late due to DIS error, we lost almost an hour of our time. The time we did have was awesome though, we learned a lot about Buddhism, and their specific tradition, New Kadampa. Then we learned different meditation techniques, none of which I was good at. I just kept starting to fall asleep. Apparently my mind doesn't has difficulty with stillness (And the sky is also blue, fyi), but I really enjoyed the experience nonetheless. The downside was that the group was larger than what they normally deal with, so some of us had to sit in chairs rather than on the little floor cushions. Naturally I was one of those in the chairs, which made it really hard to do some of things we were being guided to do. During the third session I actually think I was meditating for about 10 seconds at one point, which is probably the longest I've ever done in in my life.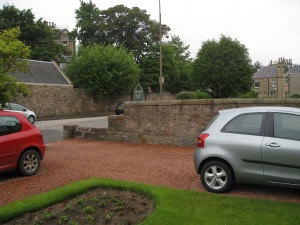 As mentioned we were late, but also we had to leave early, which further cut down our time. This is because the DIS people had vastly overestimated their navigational abilities and thought that we could return to the Mary King's Close tour by 5pm. Wrong. Truth be told we weren't that late, but we were late, luckily the group that took our spot was small, so we were still able to split up into two groups.
The good news about being split into two groups, is that it gave the second group about 25 minutes of free time. I immediately volunteered to wait and literally sprinted over to St. Giles cathedral as I was quickly becoming obsessed with the place. Fortunately it was entirely free, you could pay for a guide, or an audio guide, or a book, but I decided to just be ignorant and admire the church itself. Most of my pictures were really dark, as you had to pay to be able to use flash, I didn't really understand, you could take pictures for free, but flash cost money. I suppose its because flash can do damage to stuff, regardless, I went the free and darker route. While this meant some of the pictures are blurry, I actually think it captured the church better, as this Gothic cathedral was very dark on the inside, which was quite awesome actually.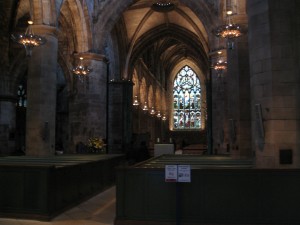 There were quite a few people interred in the cathedral, but as I didn't have a guide book or anything I had no clue who most of them were. Nor did I really know what anything was, that didn't stop me from appreciating the church though. The stained glass was undoubtedly the best I have ever seen with my own eyes, and there was so much of it. The tombs were also masterfully carved, though I wish I knew more about Scottish history, since as mentioned, I had no idea who they were.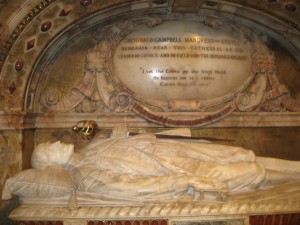 What's really cool about St. Giles cathedral is that it is the site of the beginning of the Scottish Reformation, lead by John Knox. This reformation, like others, was basically the Scottish people giving a big "feck you" to the Church and Crown, which came after the King decided they had to pray to him in addition to God. Well, people don't like to be told how to practice their faith, it just never works out well. In Scotland violence actually ensued, but in the end the people won, which actually changed the format of Presbyterian Churches worldwide (St. Giles is the mother church of Presbyterianism).  Interestingly enough, John Knox, the famous clergyman of it all, didn't want a shrine built in his honor when he died. He didn't want to become an idol, he wanted people to remember God, not him. So he was buried in simple marker in the cemetery next to the cathedral, which looks like this today.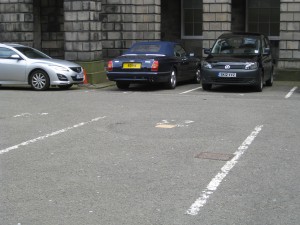 Yes, the leader of the Scottish Reformation, and one of the most important figures in Presbyterian history is now buried under a parking lot. As the governmental buildings grew up around the church, so did the need for parking spaces. All of the bodies were moved from the cemetery, except one, John Knox. His only request upon death was that he be buried next to St. Giles, so they honored it by leaving him there. A small gold plaque now marks the spot, its in the middle of parking space 23, if you were curious.
They paved paradise, and put up a parking lot.
After that, I noticed I only head about 3 minutes left, so I sprinted back over to the tour. So, what exactly is Mary King's Close? Its not an area where they used to wall, or close up people with the plague, that's a common urban legend (the Scots are not that mean). So, for starters, here is a picture of the sign, since you weren't allowed to take pictures inside because A. They wanted to sale you one, and B. Because its private property and the owner has said no pictures.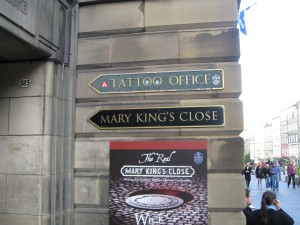 Ok, so a Close is basically the name for a "street" in medieval & Renaissance Edinburgh. It was called a close because it was very tight and cramped and well.. close. The buildings were up to 14 stories tall, and cram packed full of tiny rooms with low ceilings, and those rooms were even further packed with about 10 people per room. And when I say packed, I mean packed, these rooms were maybe about the size of my apartment's living room, and the ceiling was way lower. These buildings were essentially right on top of each other, and they even descended underground. Needless to say, the bubonic plague had a gay ole' time in Edinburgh. But anyways, the result of this, is that most of the original underground portions of the closes are still there. The above ground portions have almost entirely been removed. There are a few that have been renovated, including the one where Robert Burns lived (The best-laid schemes o' mice an' men Gang aft agley,). Now, not all closes were scum-pits, in fact some of the houses in the closes could have been quite nice. Normally the richest person in a close was what it was named after. In this case, Mary King, a wealthy woman had this particular close named after her. All that remains in the underground portion, which unfortunately did not contain Mary's house, as the rich liked to have daylight and more space, which the underground areas did not have. What makes Mary King's close so important is because they literally built town hall right over it. In fact, someone even lived there up until 1987, until he finally moved out, but only after being paid some exorbitant fee. Because its right under town hall, its very well preserved, so naturally they turned it into a tourist site. The tour was actually pretty cool, though I wouldn't recommend it to anyone who is spooked easily. They've turned it into a pseudo-ghost tour, but its mainly about the history. Other tours take you to even older, darker closes, and they are all about ghosts, but I prefer real stories myself. All in all it was actually a pretty cool tour, our guide was exceptionally good, as he was role playing a merchant from the 1600s. He really liked to give people a hard time (in good fun), but seemed quite impressed when I corrected him on something he said about the plague doctors.
After the tour I decided to break free from DIS for the today and headed out into the city once more. It was at about this time that the skies, which had turned grey around 3pm, decided to break open with my first real British Isles rain. Now, of course this would happen when I left my umbrella at the hotel room. I also didn't have a rain coat, or a poncho because I forgot it at home. So, I got soaked to the core, I mean I was literally more soaked than I think I have ever been before. I might as well have jumped into a pond, it would have yielded the same results. Once it started raining, the temperature dropped, eventually getting to the point where I could see my breath. However, I was thrilled by the city I kept on trucking, I was already soaked, so why bother stopping now? I was getting hungry by this point, but I wanted to see something in the distance before I got some food. I wasn't sure what it was, but it was big, and it looked nifty. So I headed towards it, this is what it was.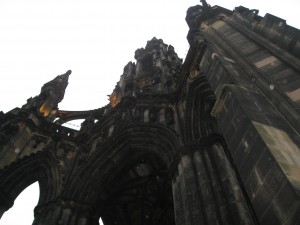 It was actually a huge monument to Sir Walter Scott, the famous Scottish novelist, poet, playwright, etc. It was absolutely awesome, as are most Gothic structures. I couldn't find much on the monument itself, other than it was in remembrance of Scott, and had been built in 1846. I later learned from a local that its frequently under restorative work and hidden by scaffolding due to its intricate nature, so I was glad I actually managed to avoid some construction for a change. After departing from the monument I saw something on a hill in the distance that I could swear was the Olympic Rings, turns out that is exactly what it was.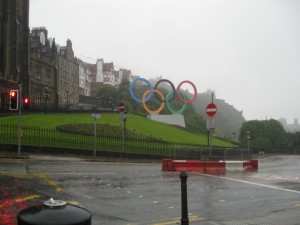 Apparently they were just placed here earlier in June, as part of the 2012 London games and celebrating the torches path through Scotland down into England. Also apparent, the locals seem to hate them. Even as I was taking this picture someone told me that they were "a bunch of rubbish." I guess they don't like them being near the castle, as they like it the way it is and they also don't like the Olympic rings being in Scotland for an English Olympics. Now, he could have just been grumpy, but I've found a few news reports online that seem to confirm his sentiments. I however, liked the rings, if only because they made a good picture, though they did stand out quite a bit in the otherwise dark and Gothic city. After seeing the rings, I headed to a cheap resteraunt where I had some sort of cheap chicken wrap thing, combined with an IRN BRU, the official soda of Scotland. After sitting there for awhile, and literally leaving a puddle of water on the floor beneath me, I headed back to the hotel where I got a good laugh out of the Scottish TV ads for local businesses. They are just as bad in the States, but they are so much more comical when the announcer is shouting in a gruff Scottish accent about the awesome deals at some used car dealer.
Scottish Tidbit of the Day: Haggis and IRN BRU
So, naturally, one of things you have to do while in Scotland is to try haggis. Most of us have at least a general idea of what haggis is. But I will give you the details you so desire here. I think the best way to describe came from the mouth of a Scottish woman herself:
"You take a nice tasty sheep, then you butcher it, then you take all the lovely chops and  cuts and delicious bits of meat and sit them aside, you won't be using them. You then take all of the entrails, including the heart, liver, and lungs and mince them up into a paste. You then add a mixture of herbs, spices, salt, and all sorts of other bits to your liking, then shove them in the stomach of the sheep. You then cook this for a few hours, slice the stomach open, and enjoy your piping hot stomach paste."
Thus were the words of our tour guide, to which she followed with "But its actually really good as long as you don't know whats in it!" ..as I mentioned yesterday, interesting sense of humor. So, even after this lovely description I still wanted haggis. Well, I had it the next morning as mentioned above, and it was actually pretty good. It tastes almost exactly like liver pate, maybe organs all taste similar. Its not something I would eat tons of, but then again I like gizzards and I wouldn't eat tons of them either. What I did not like was the black pudding, also known as blood sausage, also known as congealed blood mixed with floor sweepings. I can eat most anything, but black pudding hit my upper limits, so I couldn't finish the slice I had, though I did give it the ole' college try.
And what goes with haggis? Well, yes, beer of course. But what else? IRN BRU, the official soda of Scotland and largely unknown in the US drink of pure awesomeness. It was really good. It sort of tasted like.. Sunkist mixed with Mt. Dew mixed with Red Bull. Now that might not sound appealing if you aren't Taco, but for me it sounds very good. I unfortunately never was able to pair IRN BRU directly with haggis, but I consumed enough of each to make up for this short-coming. The downside to IRN BRU is that it contains ingredients not approved by the FDA and therefore cannot be easily obtained in the US. I was told a modified version is in very limited markets in the US but its not as good (New Coke anyone?). The good news is that I drank a lot, and also brought 2 back to Denmark with me. The first one didn't survive the first night, but I've packed the second one away to share with SB in Denmark. Sorry everyone else, but you'll just have to imagine its  orangey Scottish awesomeness. It is seen here in a can, I normally had it in the bottle as they seemed to be easier to find for some reason.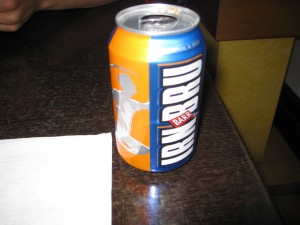 -Taco