As I write this, it is currently 72 degrees outside, quite possibly the warmest day since I came to Denmark. Its also very sunny, I should probably be outside, but there's some stuff I need to do before I have to meet my group at six, writing this post being one of those things. So, without further adieu, lets recall my Scotland trip!
_______________________________________________________________________________
My trip for Scotland began at 7:15am on June 25th. The Scotland trip was actually the last study trip to leave (and also the first to come home, which was a blessing in disguise). Most of the groups had left on the 24th, and the few that were left on the 25th had flown out even earlier than us. Our flight wasn't until 12:15, but they wanted us to meet at the airport at 9:30, which really isn't that out of line for a group of 31 people I suppose. I had managed to fit a week's worth of stuff into the small backpack that DIS gave us on day one, this came much to the chagrin of my fellow students who were lugging around suitcases that could have lasted me 6 months. Only having this small backpack would come to benefit me more times than I could count during the trip. For starters, it let me use the automatic check in machines (and thus secure a window seat) at the airport and completely skip the counters. So while I was able to sail straight through to security, which is so much smoother in Denmark than in the States, all my other travelers got to go to this: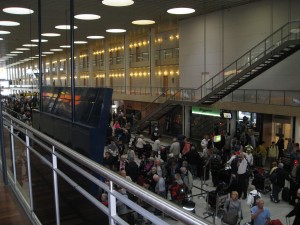 This resulted in me getting through to the airside of airport about 25 minutes faster than everyone else, which meant I had 25 minutes more to sit and relax. We were flying out via Norwegian Airlines, a "budget" airline. To be honest I was a little concerned about this, having heard quadrillions of horror stories online about the likes of other budget airlines such as RyanAir, or EasyJet. However, I must say Norwegian Airlines were exceptionally pleasant for what they were. We actually had to get on a bus to ride to the plane, where we entered via two sets of stairs from the front and rear of the plane, which was way faster. The jet was a recently refurbished 787-800, and it was very clean. There are no "classes" on-board, its all economy class, its part of their business model. After DIS representatives had everyone freaked out about the size of European Carry-On compartments, they turned out to be at most 1-2″ smaller than the US equivalents. DIS being wrong once again, no surprise there. There is nothing free on Norwegian, no free  checked bag, no free drinks, food, etc. Now DIS did purchase 1 checked bag for each of us, but I didn't use mine, and didn't fret much over the loss of the money I assuredly paid for. The flight was pretty simple, as it was a nice day. It was only about 1 hour and 50 minutes, which was far better than O'Hare to Copenhagen. As we approached Scotland the infamous sheet of clouds came forth, they literally formed a blanket over the landscape.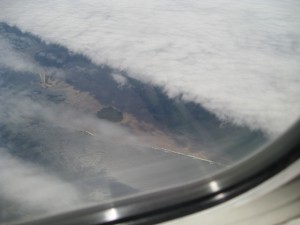 I was pretty stoked about this, I think I was the only person in the entire group excited about going to the "land of the misty cloud" and I wasn't too much concerned about sunshine. Once we got under the cloud cover things were actually surprisingly sunny, and it wasn't too long after that that we were touching down in Edinburgh Airport. The landing was smooth in my opinion, though later some of the people were complaining about it being rough. I suppose my flight from Andros to Nassau on a tiny plane in thunderstorm changed my definition of "rough." Right before landing I was greeted with this view: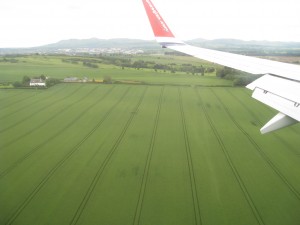 After we exited the plane, which didn't involve any buses this time around, we headed inside the airport where everyone else had to wait for there bags while I got to go about my merry business. Of course this didn't involve much because I was pretty much tethered to them by no real choice of my own. We boarded the chartered bus and headed for our "hotel." Now, I say that with quotations because where we were staying is actually not a real hotel. It is called Chancellor's Court, and it is a residence hall for the University of Edinburgh. During the summer session they convert it into a hotel, which basically involves adding a second bed to all the rooms, as doubles (or more) are not very common in Europe apparently. It was actually pretty decent, the room was about the size of your average budget hotel room in the states, and the amenities were probably just barely above what you would except for a budget hotel. What really made the place shine was its location, which was just below a part of Arthur's Seat, a series of hills overlooking Edinburgh.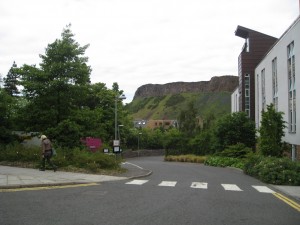 We didn't have much time to doddle around, we got our rooms (and roommates) and then headed straight into downtown Edinburgh. Our meeting place was the Royal Mile, which is a straight located in the heart of the city. This street is headed by Edinburgh Castle at the highest end (Edinburgh is basically a huge hill), and the lowest end is Holyrood Palace, which is the residence of the royal family in Scotland. It is funny though, the Scots, unwilling to ever be compared to the British, actually made the street 1 mile and 7 yards, so that it would trump any British mile. This measurement is called a "Scottish Mile" and it is a real, officially recognized measurement, and it only exists in that one spot in the entire world. We were heading there for a guided walking tour, which I wasn't overly thrilled about as normally I like to proceed at my own pace the first day or so. However, It was a really cool trip that took us to a lot of different places. We started just outside of St. Giles Cathedral, which is my new favorite church I have ever seen.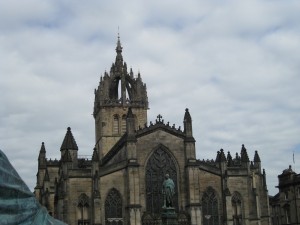 From there we headed to city hall, then to the base of Edinburgh Castle, then to the Grass Market, then to Greyfriar's Graveyard. Now, it might seem like an interesting choice of location, a graveyard. Well, it was actually probably one of the most historically interesting areas of the tour (aside from the Castle, but that is for another post). We learned a lot about the different people buried there, including a famous dog "Bobby" who still gets presents left at his grave to this day. We also learned about the Edinburgh Witch Hunts, and how they would use the ashes from the witches to make mortar, which actually was used to construct the wall around the perimeter of the graveyard, morbid stuff, but really cool. While in the graveyard we saw the graves of several people who J.K. Rowling used their names in the Harry Potter series, including Thomas Riddle, Moody, McGonagall, Granger, etc. Interestingly enough, right next to the graveyard is a private school which served as the inspiration for Hogwarts. Most of this stuff I would have probably walked right by without the tour guide, as to be honest I had forgot that Rowling lives in Edinburgh. The graveyard is also on the official list of most haunted places on Earth. Now, I'm not a big ghost person, at least not in the traditional sense of ghosts, but the stories behind the ghosts were really interesting. Most primarily the ghost of Sir George MacKenzie, a bitter old corrupt lawyer who now attacks as a malignant haunt in the graveyard and beyond after his tomb was disturbed in the 1990s. I will admit, peering through the windows on the door made my hair stand up a little bit.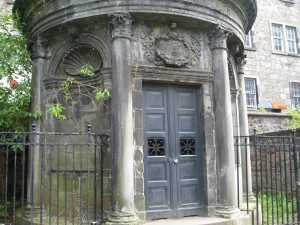 After the tour was over, we were back at the Grassmarket, which was actually the spot of one of the biggest sets of gallows in Edinburgh. There is even a inscription on the ground stating the last person to be publicly hanged there. The market is surrounded by pubs, tons of pubs, many of them from the 1800s or earlier. They include such names as "The Last Drop" which was given this morbid title in 1817 as a play on words, since people were hung right outside. Each pub had its own story, be it a haven of the two infamous Scottish serial killers William Burke and William Hare, or being formerly owned by a woman who was hung and survived. We ate at the Beehive Inn, which would actually turn out to be the best meal the entire time we were in Scotland (and this wasn't just my opinion, everyone seemed to agree).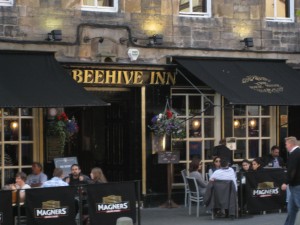 The Beehive Inn doesn't (at least to my knowledge) have any crazy murderous history, but it is over 400 years old, though it hasn't had that name for that duration, it has been an inn the entire time. The food was traditional British Isles fair, and therefore was extremely good. After we finished dinner, which was probably the best food I've had the entire time I've been gone, rivaled only by the meals I shared with my visiting family, we headed off to another tour, called "Mary King's Close," which I wont discuss too much in the post. The reason for that being that DIS once again proved their inability to properly plan things, and they hadn't reserved a tour. Now, it clearly states on both their website and over the entrance that booking for groups is required. 31 people is what I would call a group, but nope, no prior booking, so needless to say they couldn't fit us in. We signed up for the next day, but had to go in two groups since we were so big. Clearly DIS doesn't do their homework, but I already knew this.
After DIS' blunder, I took to the streets with my hotel roommate to explore the city. The sun was still out and the clouds had departed, so it was a perfect day to walk around and I wanted to take advantage of it because I figured it was only a matter of time before the rain came (which turned out to be exactly what happened for the next 4 days). We didn't really know where to go, and the map we had been given was really terrible, so we sort of just took off into the city. I saw a bridge, so we headed towards that, which I am really glad, since it lead to Calton Hill, a totally awesome spot. The walk there was pretty smooth, as all the signs being in English helped so much when using our sub-par map. I'm still not sure what the bridge was called, but it had a nice side view of the center-most part of Edinburgh.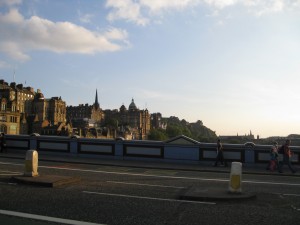 As we progressed onwards, I saw a building that was part of the University of Edinburgh, they were closed by now but a small sign on the front of the building listed it as a clan resource center, I made a mental note of that and planned to come back another day. Keeping the tower at the top of the hill in site, we made our way there and were greeted by some absolutely awesome views as we started walking up the side of the hill. Thankfully it is a public park and there are trails, though they were sometimes not much more than old wood chips and mud. Regardless, the climb was pretty easy since it was so gradual, and even once I was just halfway up I was very glad I had went so far off the beaten path of the city center.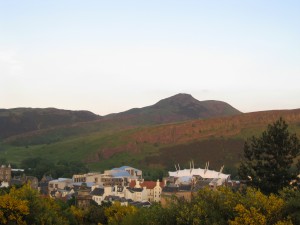 Once we got to the top there were several buildings up there, ranging from an old observatory, to an incomplete national monument, that will probably never be completed as its kind of being disregarded. I wasn't really sure what the monument was as we ascending the hill, at first I could only see the top and thought it was some kind of old aqueduct, well it wasn't an aqueduct but it was definitely old. Not ancient, but still old, as it was abandoned in 1829. It was a monument for the soldiers of the Napoleonic Wars, but today most people don't seem to know much about its history, other than it is cool looking and its a popular hangout spot for local teenagers.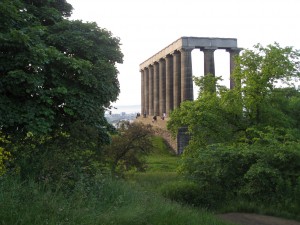 The top of the hill was fairly flat, with a few mounds here and there, each mound having its own building except for the far mound which had some sort of marker related to Greenwich Meridian Time, I couldn't really figure it out and there was no information nearby or on the map. It was started to get late by this point, so we decided to start heading back to the city center, because we still had to catch a bus from there and tomorrow was going to be an early day. Walking down the other side of the hill, which faced the eastern part of city, gave some really cool views, of which I probably took far more photos than necessary.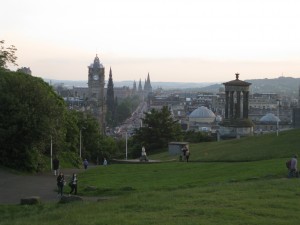 After we got back into the city center, which was really only about 30-40 minutes of walking, I decided to head up through the Royal Mile a bit by myself. This turned out to be a really good decision as I encountered some drunk Scottish people who after finding out my last name gave me a free beer. I was needless to say quite happy about this, though I could barely understand anything they were saying as they were from Glasgow and they were drunk. While walking around enjoying my beer I game across a Scotch Distillery, which interestingly enough turned out to be place that our group would do Scotch tasting later in the week.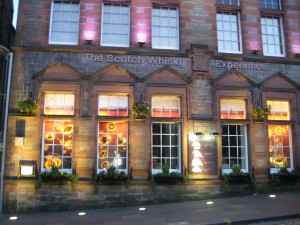 After that I got the bus, a double-decker which I of course sat on the top section of. The ride back to the hotel wasn't very long, and luckily I knew which stop to get off at as DIS had given us no instructions in regards to the buses. Thankfully they did give us a day pass each day, but that was pretty much it. My roommate snored and talked in his sleep all night, reminding me of how incompatible I am with having roommates, but I still slept pretty well considering how long the day had been.
Scotland Tidbit of the Day: Dark Humor

Anyone familiar with the UK probably knows about how different their humor tends to be. Well, I've never been one who is too obsessed with British Humor, as I think a lot of it sucks to be honest, but the Scots generally impressed me with their humor styles. It tends to be extraordinarily dark and self-depreciating. Murders are explained in humorous lights, social issues approached with a tinge of dark morbidity, and they never miss an opportunity to tell you the most gruesome story they know. Some people in the group wondered why they were so down on themselves, but I didn't see it that way at all. They seemed to have firmly embraced their cultural darkness and gray landscape, rather than try to play it off as something it is not. They also approach issues in a far more direct way than we do in the States and certainly more so than do the Scandinavian peoples. They are loud, they are rough, and they can be very, very mean but they are ok with that. They seem to inject a dark humorous slice into almost all commentary, and often you have to be very quick to catch it. I enjoyed the personalities of the Scottish people I met largely based on their affinity for morbid humor, in the end they come across as quite humble, you just have to know how to listen. Besides, the world isn't always a happy place, why pretend it is?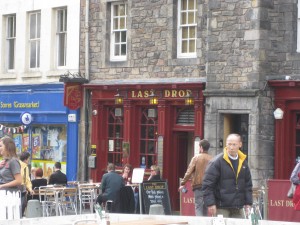 -Taco