Hey all,
So after several months of blaming my laptop, it turns out that it was WordPress causing my images to upload sideways all along. Yes, I have no idea why, but at some point one of WordPress' updates caused any photo taken on my mobile phone that was taken vertically to upload sideways. It had never done this in the past and it's the only website/program/etc. that does it. As of yet, I have no been able to figure out how to fix this. I tried a couple of plugins for WordPress, which of course did nothing (aside from break things), but it's very, very annoying regardless.
Anyways, not much has been going on around the homestead, while, nothing too interesting that is. Mainly I've been trying to wrap-up my business school classes (final exam is next Tuesday, the 25th), deal with some medical appointments, and get ready for the upcoming school year, which sadly is going to be here pretty much any day now. Of  course there has also been some relaxation, inclusive of some extra Starbucks trips and pops ("rops") though Tristen gets frustrated when he runs out of pop and SB still has some, to the point that he threatens to dump hers down the toilet.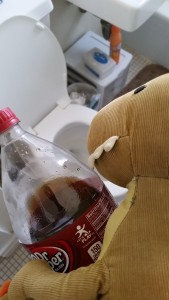 So far he's never done it. So far.
Of course where there is coffee and rops, beer is sure to follow.
1. Sunshine Pils – Tröegs Brewing Company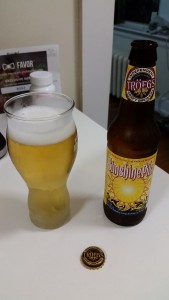 SB actually picked this one up. I'd been wanting to try Tröegs for awhile now. I'd seen them around Broadway quite a bit (they are a Pennsylvania-based brewery, so no surprise there), and Beer Advocate generally rates them well (speaking of Beer Advocate I recently got the 100th issue of their print magazine, it was pretty interesting). I'm also a big fan of summer beers and I'd never had a summer pils before.
Side note: A "Pils" is a pilsner, however, when you see "Pils" it is normally referring to a German Pilsner, which is a bit different than an American Pilsner, though both are lagers.
SB didn't seem to be as enthused about Sunshine Pils as I was, as she seemed to be expecting more of the traditional summer wheat flavors, which obviously a pils isn't going to offer. That said, I enjoyed it, it was a very clean beer with strong hints of noble hops and a crisp bit of lacing. At 4.5% ABV it's also definitely a sessionable beer.
Also on the topic of beer, we decided to clean out our beer cap jar.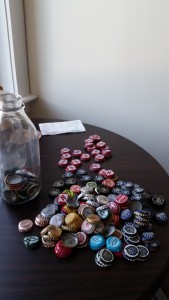 Those are an assortment of bottle caps from beers that have been drank since March 22nd of this year. It does include some Colorado beers as I carried my caps home for this reason. What it doesn't include are any beers that I got out and any canned beers. Additionally, there are sure to have been a few that I simply forgot to save. So I think you could probably increase this by about another 1/3 and then you'd get an accurate representation of how many beers this household tends to drink (with a solid 90% of them probably going to yours truly).
We decided to remove the duplicates and take one of each and put it into the milk jar (seen above). We started the mason jar over again (not pictured). While this does mean that certain breweries like Harpoon, which don't have different caps for different varieties, loose out in representation, it does make for a cleaner long-term cap collection. We recycled the bent duplicates, and gave the unbent duplicates away for art projects.
Now, moving away from beer (odd, I know).
About the post title.
Each year the greater Boston area has what is called "Restaurant Week." In a nutshell, this is a program designed to get people out and eating, to support the local economy and stuff like that. To make it actually worthwhile, participating restaurants come up with special menus for Lunch and/or Dinner. These special menus are normally (but not always) cheaper than the regular menu. So in essence, the week provides a way to sample a restaurant for less money, or at the very least sample more food from a restaurant for less than normal. As you can see from the website, there are a wide variety of places.
While, for SB and I, it would better be called "Restaurant Day," since even at the reduced prices most of these places are not the kind of place we can afford to frequent. We ended up deciding on lunch at Toscano, where they were offering a 20$ three-course lunch (or a 38$ dinner, so we did lunch, obviously). Now, if you remember from my last post, I'm not big on Italian restaurants these days as I feel like they exploit their genre for overpriced strands of flour. However, as I also said last time, it's not the food I don't like, it's the price and general "pretentiousness" of many Italian places. So, while I'd probably never have gone to Toscano on an ordinary day (despite it being highly recommended), this was a chance to try it out, and they actually had a fair amount of stuff that wasn't overpriced pasta.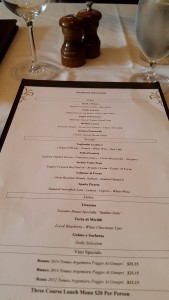 This was their three-course "Restaurant Week" menu.
I got there first, as SB was off doing big people things in preparation of her new placement. I was pretty unimpressed by the host, but fortunately things improved from there. We decided to have one of us get the 20$ three-course menu, while the other would just get a cheaper regular menu item (this was actually at the suggestion of our server, we were expecting to have to pay 40$). I opted for the three-course menu, while SB went with a Tuscan Panini. We were also served a very good flat(ish) bread with our meal.
For the appetizer of my menu, which was obviously shared, I went with the "Speck e Melone" which in Murkan' is prosciutto with ripe melon.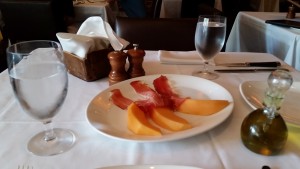 We both agreed, it was very tasty and the blend of sweet and salty was just right.
For my main course, which was shared to a lesser extent, I went with the "Spada Picatta" which in Murkan' is sauteed swordfish with lemon, capers, and a white wine sauce.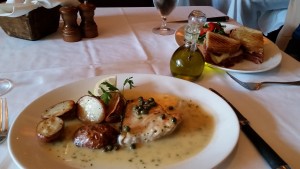 Both entrees were quite good, SB's panini was a bit more crunchy than we are used to, but it tasted amazing. It had been years and years since I'd had swordfish. While it probably hasn't been quite that long, the last time I definitively remember having it was when Meem still worked at the Old Bank.
My three-course dinner also included dessert, of course (*ba dum tss*).
We went with the Tiramisu, because SB and I love tiramisu. However, this wasn't your ordinary tiramisu.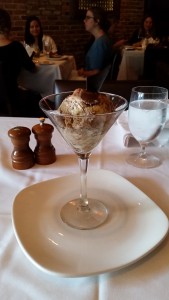 It was hands down the most fanciest-panciest tiramisu I've ever had in my life. It was also very, very rich. Rather than a just a light cocoa dusting, this tiramisu also added in a ganache, as well as some sort of sweet cream that regular tiramisu doesn't have (and it of course had all the regular stuff as well, such as the lovely espresso-soaked lady fingers). Overall we both liked it, but I think it was just a bit too rich for tiramisu, which I normally like precisely because it isn't too rich. The presentation however, was awesome.
So it was a good lunch. We spent less than we were expecting (always a plus) and got to try something new.
After lunch SB went with a friend to the Museum of Science. Her friend had two "City Pass" tickets left that were expiring. I've been wanting to go to the Museum of Science for awhile now, but unfortunately, like everything else out here, it costs a small fortune to go (23$ for one adult), and they have no student discounts. So I passed, but I'm glad at least one of us was able to go.
This weekend should hopefully be fun, as we are going to visit Aunt Train and go on a short Lexington and Concord trip! The major unknown factor at this point is the weather, it's supposed to rain and storm all weekend. Yeap. Me and rain, we just have lots of fun together (though to be fair I did enjoy running in the rain this morning while listening to Disturbed's new album Immortalized, for the first time).
So hopefully that will work out, it's kind of our "mini-vacation" for August.
Until next time,
-Taco