There have been quite a few technical issues with the blog lately, stemming from a recent server migration. Things have calmed down now (after a brief freakout with some vanishing posts), though I'm still dealing with sideways images and now a new issue where my blog is telling me that my photos are too large to upload, despite never having this issue before. Anyways, we'll see how this works, this is my first post-migration post.
Fall is giving way to real Fall here in New England. This is a fancy way of saying that it's starting to get cold. Of course, by and large the weather has been cooperating, outside of the falling temperatures.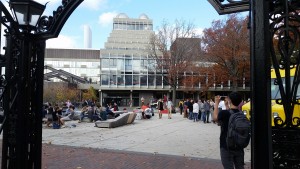 Indeed, on most days the Fall weather has been fairly enjoyable.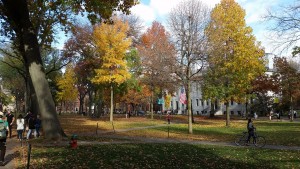 It all sort of ended this week with a long period of cold and rain. It was the first Nor'easter of the season, but fortunately it was a mild one. The only plus side to the cold and the rain and the wind was that it made it easier to stay focused on law school stuff. After turning in a paper worth 50% of my grade last week I had hoped that this week would be a bit more chill, of course it wasn't. It doesn't help that something is wrong with my laptop (which is of course out of warranty) and it sounds like a damn blast furnace half the time. The upside is that more school and journal work means I get to see Elsa Bear more.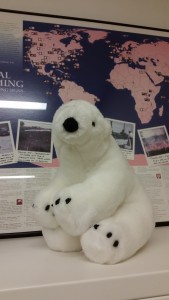 Elsa and Valentino are the best of friends, for obvious reasons. However, even Elsa bear doesn't help much when you get "DO THIS NOW" emails from your journal "boss" at 11:30pm on a Saturday. I plan on semi-quitting the journal next semester, but that's a story for another day.
The dreary weather was also prime for a bit of beer exploration.
1. Tröegs Java Head Stout – Tröegs Brewing Company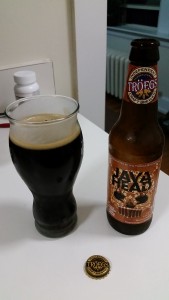 This was one of the more drinkable coffee stouts that I've had. I only got a single because I wasn't sure what to expect, but I would definitely drink and seek this one out again, which isn't something I always say about pitch-black beers.
2. Post Road Pumpkin Ale – Brooklyn Brewery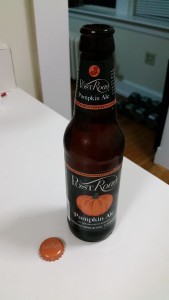 While I've had this one before, I just wanted to mention it again because it's a strong contender for my favorite pumpkin ale of the season. It's just so well balanced that its hard to fault, even if it isn't the most "pumpkiny" pumpkin ale in town by a long shot.
3. Shiner Prickly Pear – Spoetzl Brewery / Shiner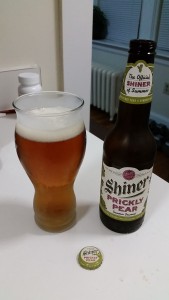 In a patently non-Fall twist, I went with a summer brew from Texas. I've actually had Prickly Pear (so named for the cactus fruit including in the brewing process – Little Friend is not a fan) before, but it was back before I restarted the blog. So this is a blog first-appearance, if not a Taco first-experience. I like this beer, but it is a bit odd, there is a tart, citrusy flavor and a crisp finish, but the cactus element makes things a bit "wild," but again, I like it and would recommend it. Also I got the six-pack for 6$ flat. That is the best deal on good beer I've found since moving to Massachusetts (and actually I think on beer period). I actually got it from a place we'd never been to before called University Wine Shop, which runs a "Six for Six" deal.
The reason we were up in that area is because we had just came from Cambridge Common. The reason we we ate at Cambridge common was because I had to work late at the clinic (yep, on Friday) and so SB just came and met me at the law school. This was our second time eating there, and my third time overall (its a go-to place for law students that can afford to eat out every day, e.g. 95% of them at Harvard). I wasn't sure I wanted to spend money on a beer when I knew I'd be picking up a six pack, but SB talked me into it (by saying she was going to get a beer – I'm easy to convince, what can I say).
4. Autumn Wheat Ale – Mayflower Brewing Company [Left]
5. Harpoon Rich & Dan's Rye IPA – Harpoon Brewery & Beer Hall [Right]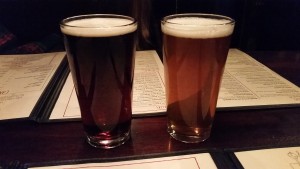 SB is actually the one who went with the darker beer (she is drawn to wheat ales), while I had to go with the Rye IPA. Both were good. The Autumn Wheat was stronger than we were expecting (but not too strong) and the Rye IPA wasn't quite as strong as I was expecting (but not weak) so that was sort of interesting. We of course paired our good beer with good food.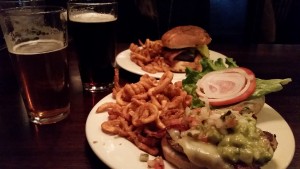 I went with the Baja Turkey Burger (bacon, pepperjack cheese, guacamole, pico de gallo, lettuce, onion & tomato) in the front, while SB went with the The 1667 Burger (melted cheddar, bacon, pickles, chopped greens & seriously special sauce, on an onion roll) in the rear.
On another health related note, (since, you know beer = health) I'm back to normal as far as my toe goes. Well, normal in that part of my toe is forever gone, but I can at least use it properly again. Because of some incompetence (if you read my last post you'll know how I feel about such things) I had to go all the way back down to the hospital for my checkup, as opposed to the clinic 12 minutes away. But again, the weather was nice.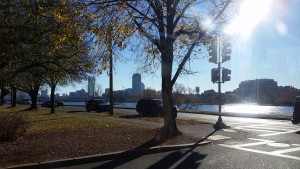 SB came with me this time, and we ended up a few minutes late for my 9am appointment because traffic was crazy, as traffic tends to be in big cities. Of course it didn't matter because we then had to wait 15 minutes. It was actually kind of weird, the first time the podiatry area was a ghost town, but this time it was super busy. Either way, after about 15 minutes I got called back and I was literally in the room all of 2-3 minutes. The news was good, the mole-thing wasn't cancerous, it just had the potential to become cancer (it was mild-to-moderate), which is the same way the five other moles I've had removed are. So while I need to stay on top of my mole-checking, things are good for now because not only was it not cancerous, they also got all of the "bad" cells. I sure as hell hoped they did, they used an ice cream scoop on my toe. After the good news he took the stitches out, which didn't hurt but felt weird. It took about 15 seconds.
Afterwards SB and I decided to get some coffee since it was still early and I didn't have class for a bit and she didn't have to be at her placement until 11:30. We got to go down to the "Longwood" stop for the Green Line, which is down next to a pretty green area and waterway.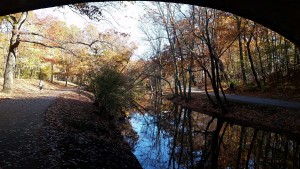 For coffee we went to a place called The Thinking Cup, which is right on the Boston Common. It was really yummy. We got some lattes and bagels. I liked that they had newspapers from the early 40s under the glass on the bars, it made for interesting reading. I also got to see a meter person giving people tickets. Good second breakfast.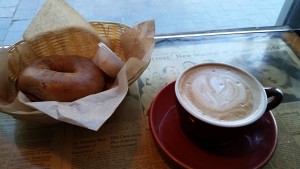 Oh, speaking of coffee, if you haven't heard of Stumptown, you really need to try it. SB and I actually first had it in Seattle, but I've had it much more since then. They are known for their cold brew (and nitro cold brew) coffees, but they make all sorts of them. Recently Whole Paycheck acquired a new variety of Stumptown. Coffee in a Can.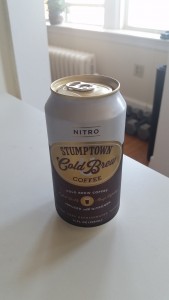 It was awesome. I am slightly horrified by the fact that the caffeine levels weren't listed on the can (which is surely against some law) but I didn't die, so its totally safe. I'm a fan of the nitro beer I've had, and I liked the nitro coffee as well. It really does add a slick "smoothness" to the body of the drink.
SB and I also took advantage of some discounts to see some more Harvard sports games recently. We had already seen BC Football this year, so we figured we check out some Crimson action. We started with a hockey game, which we had really enjoyed last year. This year we were able to pick our seats (last year was a promotional thing – free tickets) so we moved over to Harvard's side. This was especially important since the opponent was none other than the dreaded Yale.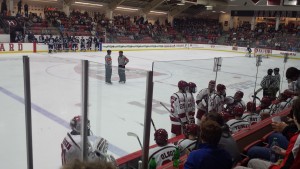 One nice thing about Harvard's hockey arena is that its fairly small, so there really are no bad seats. In typical us fashion we cut it close on time (again due to traffic), but we still ended up making it.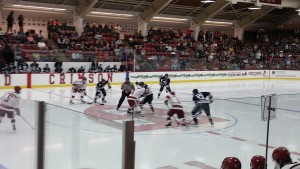 It was a good game. We really like watching hockey, despite having no real grasp of the more technical elements of it. Tristen likes watching people beat the shit out of each other. He has simple tastes. Valentino likes anything with ice, and Pig likes eating the food people drop. So everyone was pleased.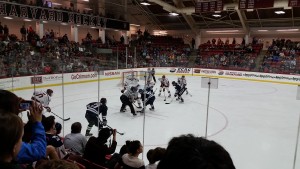 It ended up going into overtime, and ended in a draw, just like last year. So, while it was a tie, Harvard wins by default since Yale sucks. But in seriousness it was a fun game, I like how fast-paced hockey is. In fact here in a few weeks we'll be going to see our first ever BC Hockey game!
However, as fun as Hockey is, arguably the best part of the evening was the bus ride home.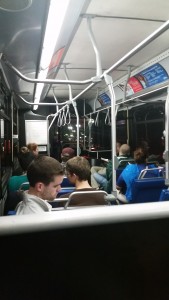 Things started off normal enough, until we stopped and had to get onto another bus. Apparently our driver was about to end his shift, so he had to take the gimp bus back to the station for repairs. I'm not sure exactly what was wrong, but there was like no suspension on the left side of the bus. Once we changed into the gimp bus it felt like riding down washboard hill on a piece of scrap metal. It was so bad it was comical. SB and I, and the couple behind us, were getting a kick out of it. Everyone else seemed much less bemused. Oh, and if you thinking I am exaggerating, check this picture out.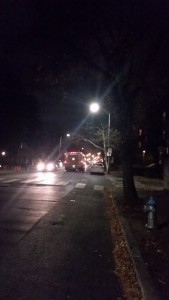 And a closer shot.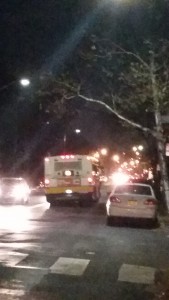 The pictures don't really do it justice (namely because my phone sucks unless its pointed directly into the sun), but that bus was MAJORLY tilted to the left side. Heck, when he went around turns (at 3mph) it sounded like a portal to hell was opening up underneath the bus. It was actually the most enjoyable bus ride I've probably ever had. I have no idea if actually made it to the station or not.
That probably would have been the end of our sports adventures, but then I saw a Graduate student deal for Harvard football tickets for 5$ a piece. It's kind of hard to pass that up. So after some short-lived debating, we decided to go to the last home game of the season which just to happened to be the very next weekend. So hockey one week, football the next, Tristen was pleased. The opponent this time around was the University of Pennsylvania. As I mentioned before, I really like Harvard's football coliseum stadium, so I was happy to go to another game. While we didn't have front row 50 yard-line tickets this time, as with the hockey stadium, so long as you are on the sides (as opposed to the ends) of the field, there really are no bad seats.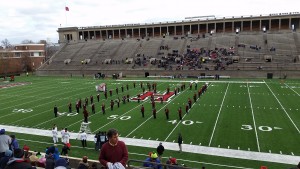 The band was much more tame this time, they still did weird things (such as spell the word Penis), but they weren't rolling around in costumes and fighting like gladiators this time around, so that's an improvement I suppose. It was also senior day (since it was the last home game), so the senior players all had their families meet them on the field, that was pretty cool.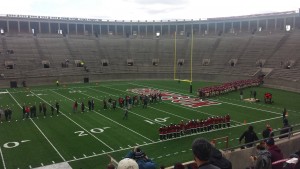 Before too long it was almost game time! SB and I had actually been early this time around – craziness.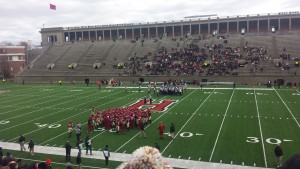 As soon as kick-off rolled around it became very obvious that there was a third "team" playing in this game.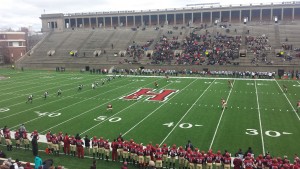 The wind. Yes, while the bulk of the Nor'easter has passed us by, the remnant winds (still gusting up to 30mph in some spots) made the game difficult for the punters and kickers. Actually the wind made it difficult for everyone involved, simply because it got so freaking cold by the time the game was over. Of course the fact that its dark at 4:30 here doesn't help matters, at least the game started at noon though.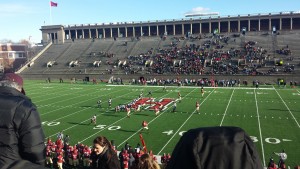 After a really good back and forth (including the longest first quarter I have ever seen in football), Harvard ending up fumbling the ball on an important play and Penn won the game, giving Harvard their first loss of the season. While I was sad to see Harvard lose, by this point I was so cold that aliens could have landed on the field and I wouldn't have really cared. Both SB and I were very ready for that clock to run down. Once it was clear that Harvard was out of time we actually left our seats and followed the path of the sitting sun.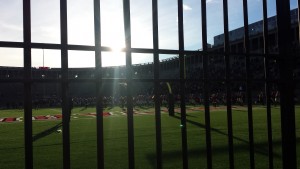 So while it was still fun, and definitely worth 10$, it was cold and our team didn't win. However Penn are still child molesters, so they lose by default. And in case some of you are really dense, yes I realize that that was a different Penn, that's the joke.
And on a semi-related note, Bengahs.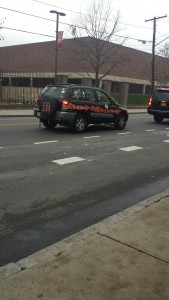 Notice the little tail. Photo courtesy of SB.
And that pretty much catches us up. Thanksgiving is just around the corner, then after that comes the "Dark Period" where I have to wrap up my classes (sadly more tedious than it sounds – especially thanks to my environmental law professor extending two of our classes by an entire hour), finish a clinic project – which involves meeting with two or three clients as well as doing research and writing, write two term papers, take three exams, and finish my journal work – all before finalizing my clinical placement for J-term (but more on that once I know more).
Until next time,
-Taco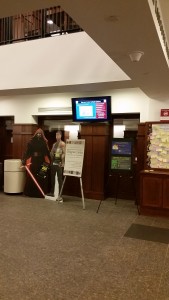 P.S. – I have no idea why, but Star Wars has migrated into the library. Star Wars and the Magna Carta, that actually sums up HLS pretty well.