It has been nearly 100 days since the plague came and wiped out most of the greater Copenhagen area. They tried to shut down the bridges to Sweden, but it was too little too late. Last I heard Berlin went dark about two weeks ago, I figure the last cloisters of people here won't last much longer either, especially now that the meager water supply is infected as well. I've been holed up in my room for some time, I've blockaded the floor as well, which was made easier by the electricity going out and killing the elevators back on day 39. My symptoms seem to be be gradually getting worse, though sometimes I vainly hope that I am improving, I'm not quite sure how I've held out this long. At night the screams, if you want to call them that, seem to be getting a little further away, perhaps they've moved further out from the city center due to a lack of food. Regardless, there are still a few who were.. different.. in that they didn't change in the same way, these few seem smarter, more apt to lay in wait, and its them I hear each night scratching the walls of the floor below me. Its nearly 19:30 now, I should try to rest, I fear my own change will come soon enough, and my only hope for survival is to utilize the daylight of the solstice to head for Jutland, I've heard that a splinter cell of former CDC workers might have figured out a temporary cure in their lab at Holstebro. It could easily be a myth, as the few of us left cling to them blindly, but I have to try, its better than becoming one of them.
__________________________________________________________________________
Ok so maybe that was a little dramatic, but still, my cold is making me feel pretty blah right about now. I think I spoke too soon in my hopes that I was getting better, as today I felt worse than yesterday. I really, really hope I am better by Saturday, as I'm supposed to go spend the evening with my visiting family in Humlebæk as they celebrate the summer solstice (which is a big deal here in Denmark). Because of my illness I haven't really done anything fascinating, so I don't have much to speak about. My Positive Psychology Course is pretty dry, and the cold is making it borderline unbearable, plus it ALWAYS runs over. You'd think after being in class for four hours straight that she would let us out on time, big nope there. But, as mentioned, the cold, or whatever it is, is making those four hours much, much, much worse than they need to be.
So, rather than gripe and complain about my sickness, which would technically be fine since 99% of blogs are just complaining anyways, I'll skip the cold-specific QQ and head straight into tidbit of the day, also QQ, albeit QQ-lite.
The Tidbit of the Day: Street Signs
Now, since I'll only be abroad for about two months in total, culture shock really hasn't affected me too much. Sure there was the initial 24 hour adjustment period that was a little rough, but since then things have been pretty smooth sailing, as far as cultural issues go. That being said, one thing has made me curl my little toeses on more than one occasion, and that is Denmark's (lack of) street signs. Take a look at this: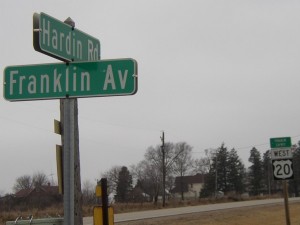 Pretty simple right? These signs are normally right out on the corner, they all look very similar, and generally it doesn't take long at all to figure out which street you are on once you've reached an intersection. Ok? Now look at this, its a picture I took while standing at the corner of a busy intersection (And no I was not taking a picture of that girl, but at least it wasn't one of the 300lb Turkish men, so no complaints):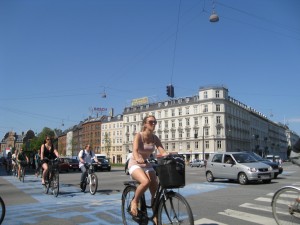 Notice anything missing? Yeah, street signs. So what's the deal? Well they have them, they are mounted on the sides of buildings.. sporadically. There's no real rhyme or reason as to where they put them, and even a few Danes have confirmed my suspicions as such. The ones on buildings can be difficult, because they often are not uniform, and sometimes they will have one, but not the other, but normally its none at all (unless they decided to put them in some weird spot like a tiny alleyway, which they do occasionally). So yeah, street signs, not the same. I wasn't really expecting them to be the same, but I was certainly expecting them to be better than they are. So maybe I've had some culture shock after all 😉