It's now time to finish up my New Mexico Mega Post. If you haven't read Part 1 or Part 2, do so first. Although this post post won't be quite as gargantuan as the first two, there is still a lot to cover, and, between the two of us, these posts have been a lot of work so I'm ready to get things back into a normal flow. So, let's get started!
When we last met Pig and I had just settled into work on Tuesday morning and SB was on her way home. Since my supervisor was out of the office and my fun weekend SB visit was over, the first day back was a bit melancholy and Pig and I weren't quite as productive as I'd hoped we'd be.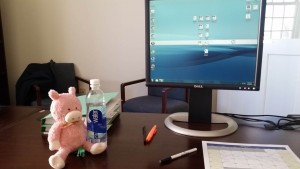 In fact that first day was just kind of gray in general after SB left.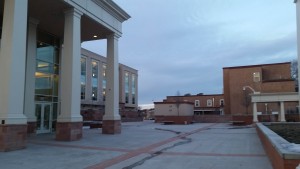 As a way of brightening our spirits Pig and I (and Pigsten) made a fire that evening and dedicated it to Tristen, who was quite pleased.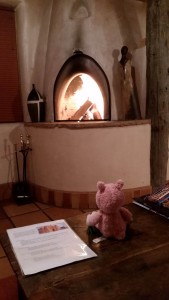 It was a much smaller fire than we'd built the night before, but we still had it going up until bedtime.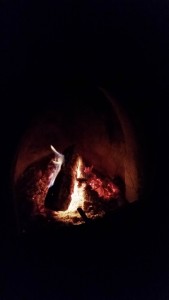 The next morning I decided that I was going to get some coffee to kick-start the day! I had heard tell on the interwebs of a little hole-in-the-wall placed called Holy Spirit Espresso, which had rave reviews. So I sat off in search of it while walking to work.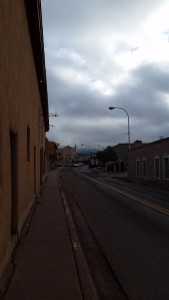 Before too long I found it, and I couldn't help but laugh because I had passed it many times without ever noticing it.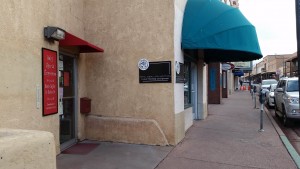 The only problem was that it was closed until Friday, which gave me a one day window to try it. So, with my head a little lower I left for work, but I did find a "backup" coffee place on the way, which had decent iced coffee (but equally ice-cold service). I improved the coffee by adding some cinnamon bun creamer to it from work.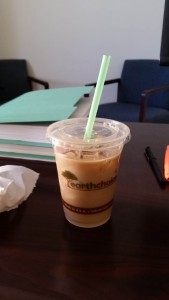 I later found out that the creamer was 1.5 years expired. But it still tasted fine, creamer is pretty much all chemicals anymore anyways.
Regardless of whether or not the creamer was toxic, the coffee put Pig and I on the right track, and I actually had a hugely productive day on Wednesday, so that was nice. On the way home that evening I was able to take in a gorgeous sunset.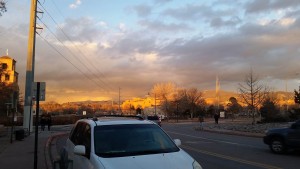 This was kind of the first point when I started thinking about how much I was actually going to miss Santa Fe.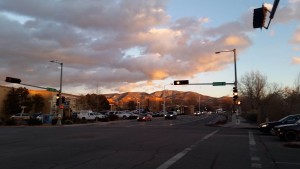 Even though Pig and I had planned on the fire from the night before being our last, we couldn't help ourselves and decided to have a fire just one more night. So we stocked up with a crap-ton of firewood.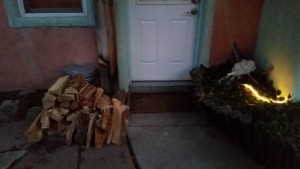 And then let'er roar.
It was a nice and chill evening.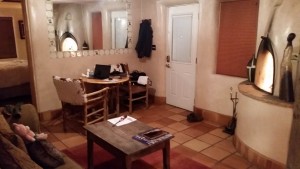 I actually ended up doing some work from home that night because of my time crunch, but by and large Pig and I just relaxed and enjoyed our last fire. The reason we were stopping the fire here is because of dealing with the hot coals (after setting the trash on fire on Tuesday) and also because we needed to clean the fireplace, so cutting off the fire on Wednesday night made the most sense.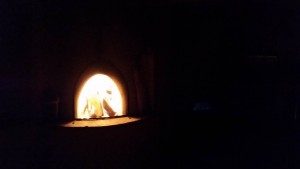 What we didn't realize is that while we were having our relaxing evening in it was snowing outside, which is what greeted me on Thursday morning.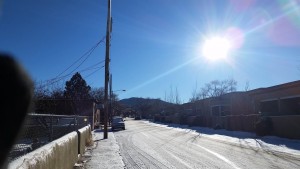 It wasn't too much snow, but it was enough to add a nice new layer of ice to the sidewalks.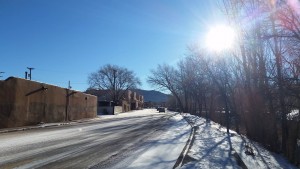 Of course the bright blue skies ensured that the new snow wouldn't last too long, which was good in some ways, but bad in that it just meant the return of the mud.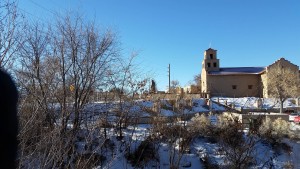 Still, I really enjoy the western skies.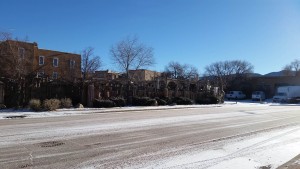 Thursday was going to be a busy day for me. Not only was my supervisor back, I had a lunch meeting over near the Roundhouse. I was meeting my local friend's dad (and a couple other attorneys/lobbyists) for lunch. I reached out to him, and from there he picked the place – Rio Chama – and we were good to go. Now, what I didn't realize about Rio Chama is that it is the place for New Mexico politickin' when the legislature was in session (it had just started a new session on Tuesday). This probably has to do with the fact that its a fairly nice place to eat and more so because its about a 5 minute walk from the Roundhouse. So, when you enter Rio Chama, it's like an explosion of New Mexico's "Who's Who?" and suits, with a mix of cowboy hats and boots for good measure.
It was kind of funny, when I spoke to my lunch person, he had told me that he (and the two attorneys/lobbyists with him) were in suits and sitting at a table for four next to the fireplace. Sounds good. Well, when I entered, that described about 90% of the restaurant because there were tons of kiva fireplaces and pretty much everyone was at a table for four and wearing suits. So, I used my detective skills, closely honed by absolutely no training, and narrowed it down to two tables – and of course picked the wrong one. It was only after I'd introduced myself to everyone at the wrong table, and shaken all their hands, that I realized – oh yeah, these are totally the wrong people. So that was kind of awkward, but soon after I found my table and from there had a really good lunch.
Since everyone at my table (other than me) was either a lawyer, a lobbyist, or both, I got quite the exposé of New Mexico's current political and legal drama. Everything from personal stories about the Governor and the AG, to dirt on people who I still have no idea who they are. Because I have no vested interest in it, it was actually pretty enjoyable, which is saying something for me since I normally despise gossip dates. I also learned that we had a really good table (probably selected for the very purpose) because if you leaned back in your chair at the table we were in, you could hear the conversations in the three booths nearest us up against the exterior wall. As such, people like to get that table so they can eavesdrop on other conversations. Since the room was literally full of senators, congressmen and women, lawyers, lobbyists, businessmen, and rich people who no one really knows what they do, there was A LOT of "important" conversations going on. I for one could care less about it, because I had an amazing salmon and roasted vegetable salad. But really, while I probably don't paint the best picture of my lunch, I really liked my friend's dad and his friend and had fun. I also learned that I desperately need to learn more about the stock market in order to have high-brow conversations.
After lunch I made my way back over to the AG's office, which sort of sits on the edge of the government complex.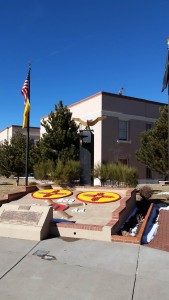 This is not the AG's office mind you, just some random Zia stuff I found in the complex.
Around this time Pig found that someone had left Peeps out – pink ones no less.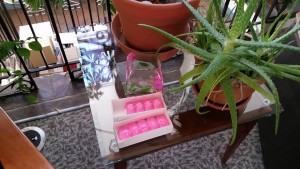 By the end of the day those things were harder than diamonds, yet someone (Pig?) kept eating them.
We worked hard for the rest of the afternoon, typing up around 19 pages of material and then headed home. Since my supervisor was back we got a ride home and didn't have to walk, which was nice. Once home, Pig took advantage of the fact that the fireplace was no longer molten and returned to his throne with Pigsten.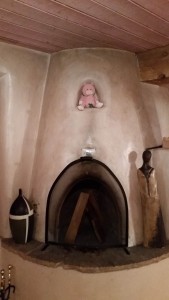 That night we were pretty tuckered out from all that politickin' and typing.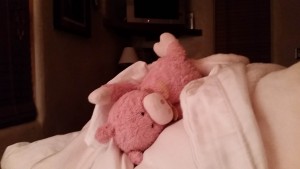 Of course it was probably good we were tired, as there was no internet, again. See, this is a running thing with me – I am cursed when it comes to the internet and law school travel. Last summer, I had HORRIBLE FREAKING INTERNET, and that curse followed me to Santa Fe, where I had stupidly designed internet. See, where I was staying was a complex of casitas, all owned by the same company. One of the casitas was where the internet "stemmed" from, and in my case, it meant that I was connected to the other building via an Ethernet cable hooked up to a wireless router in my unit. The problem? The idiots did not use a WEATHER PROOF cable, nope, they used your plain-Jane, Cat 5e cable from the bargain bin at Wal-Mart and ran that piece of shit up through the roof, OVER AN OUTDOOR ALLEY and down inside the other roof. The result? Every freaking time there was snow, the internet died, all because some jackass wanted to save 5$ on a freaking cord. Yes, once I realized that I was pissed. So anyways, while my internet, in fairness, was better than in Denver – which honestly isn't saying much – it still was out for about 2.5 solid days while I was there.
Anyways.
The next day, Friday, was our last day at work and also our only real chance to try out the Holy Spirit Espresso place. So we set off, hoping that their sign saying they would open today was true.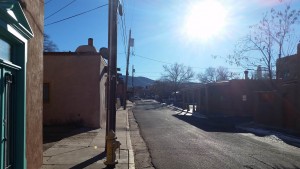 You could barely even tell it had snowed the day before.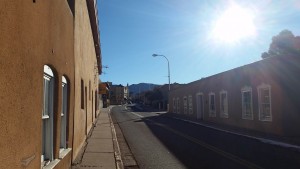 As we approached, lo' and behold, they were open!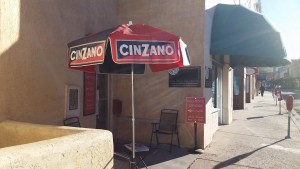 Now, rather than just saying what coffee I got and move on (spoiler: it was the best coffee I've ever had), I feel like I owe a duty to the world to describe this place just a little bit further. First, it's obviously a small locally owned coffee shop. Second, it's not even owned by some local conglomerate, it's owned by a husband and wife. From what I can tell, the husband, Bill, is the one who normally runs the place. If you haven't clicked through to their website either of the times I've linked it yet, then this is Bill: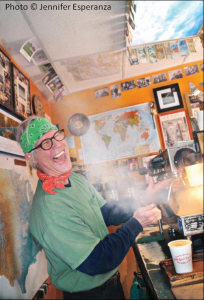 And I feel like that picture is incredibly true to life. First, the place is SMALL, I mean, I've had closets larger than this place and I'm not exactly swimming in mansions. When you walk in, there is room for at most 2 people and even then you are making sweet love with each other's personal space. Bill's counter and space takes up about 2/3 of the area, so Bill has about 1/3 of the floor space to move around in, the counter takes up a 1/3, and then that last 1/3 is left for the general public – meaning that you have about as much room to move around here as you do in an economy airline seat with morbidly obese people on both sides of you. On the plus side, it smells much better in here.
Now, Bill. Bill was genuinely the most interesting coffee shop person I've ever met, and while I'm not coffee world traveler, I've been in coffee shops across this land and even in a few other lands – yet Bill takes the cake. As I told SB and Meem after my encounter, Bill seems like someone who left all his worries, and a good chunk of his brain, at a long string of Grateful Dead concerts and Burning Man festivals. Yes, Bill wasn't all there, but Bill was amazingly nice, and Bill made a fucking good cup of coffee. This is one of those few occasion where I feel like an unedited f-bomb is required to fully describe how amazing this coffee was.
I had been told a few other places in town were the "best" – but they didn't come close to Holy Spirit. In fact, based on the name, I can't help but wonder if Bill was actually Jesus Christ returned to spread coffee salvation to the masses of New Mexico. Truth be told, I could see it.
I had a mocha, which is, you know, the normal stuff like espresso and milk and mocha powder – but there was also more too it, like vanilla and some unknown spice (my guess is cocaine) which, which coupled with Bill's coffee-skills made for the best damn coffee I have ever had, ever. With tip, and I felt like I had to tip since he might be Jesus, it was 5$ for one drink. But I didn't even care. It's a really good thing I only was able to go to Holy Spirit on the last day, because I'd be absolutely broke otherwise.  I even felt kind of bad, because Bill recognized me as a new person, and we briefly chatted, and he told me a story about having a "GOOD TIME!" in Boston back in the 70s, and then I left – yet I felt like I sort of needed to come back the next day. If you read reviews online, he tends to remember people's names en masse, to the point that someone returned years later and he instantly greeted them by first name. Heck, Bill even knew the person in front of me by first name and was asking them about how their work was going.
All in all, I have a feeling that the reason not many people mention Holy Spirit on the "touristy" sites, is precisely because no one wants anyone to know about it.
But seriously, coffee shop Jesus, mana from the heavens. My cheap ass paid 5$ for coffee and would do it again. That is all you need to know.
Oh and they have animals on their cups.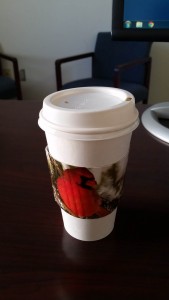 Fo' realzies. A cardinal no less.
Anyways, now that I've fulfilled my fan-girl quota for the next decade, let's return to my narrative.
Supercharged by the power of Christ, Pig and I furiously dove into our projects and finished them like.. hours early.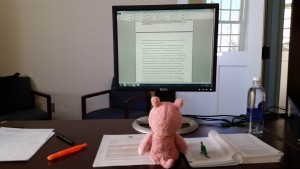 To be honest by the time lunch rolled around we were kind of twiddling our thumbs (or hooves).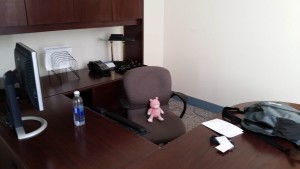 We had a great lunch, my supervisor took me out for a "parting ways" lunch and a few other people came along. Aside from being my last hurrah with glorious New Mexican food, it was also a chance to do some MAJOR networking, which I did. Holy balls I've made some New Mexico connections. Of course that was kind of the entire point of this, but I impressed even my asspie self with how well I did. I gained a shiny new reference and now have a few "ins" both legally and politically. Score for Taco and Pig.
After lunch, which ran long, I really only had about an hour left of some final edits then I was done. So I turned that in and my boss took me home two hours early. It was actually kind of sad to leave and turn in my badge. I was instantly taken back to that final "Green Mile" at the DOJ in Denver. It's weird how lucky I've been with my placements. While a lot of people I know haven't enjoyed their placements, I've truly connected with them. I like to think that that is a sign that I'm on the right path, which sadly is one leading to like the second lowest income job category in the entire legal profession, but that ship sailed long ago. It made me really excited for next summer, and I was really glad I'd worked over J-Term, rather than taking the safe route of writing a paper or taking a class in Cambridge.
That evening  I went into full on packing mode, while Pig explained to Pigsten the plans for the next day.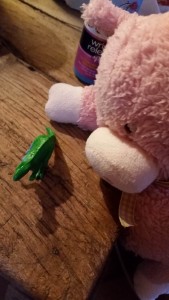 In addition to packing and tidying up, I also found time to try to be artsy with the fake bird outside.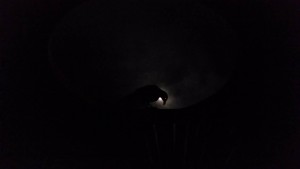 I figured I'd try to placate the ravens and crows as good luck for the coming voyage. When I got back inside I found Pig and Pigsten all packed and ready to go.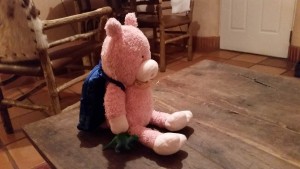 Of course then I had to explain that we didn't need to leave for another twelve hours, but I appreciated their enthusiasm.
To celebrate a night of getting ready we had our last beer in New Mexico, which interestingly (and fittingly) was the same kind of beer that we'd had our first night there.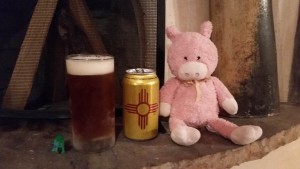 We got to bed a little later than we had hoped, but it probably had something to do with everything we had to get done. Either way, we fortunately fell asleep really quickly, which isn't always easy for me.
The next morning I got up and got in a round of exercise, even though I didn't have time for a full exercise regimen I always like to get in 20 or 30 minutes of exercise on days when I'm going to be flying all day. Doing nothing but waiting and sitting all day really isn't too healthy, so even a little bit of movement helps offset that, if only a little bit. What's funny is that I actually did the wrong routine (I had brought along a bunch of routines on a USB drive) and did one requiring weights – except it was movements where I couldn't use my bands. So I improvised by using a ceramic statute in the casita, whatever works I suppose.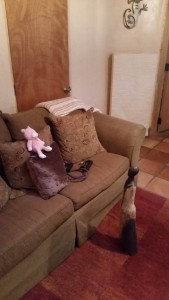 After that Pig and I got ready, had breakfast, and then were on our way.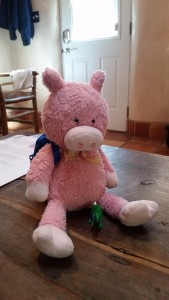 I was a little sad to say goodbye to my casita, but overall I was ready to be back in my own bed. Fortunately for us my shuttle pickup was only about 2.5 blocks away, so it wasn't much of an issue to get there. Even more fortunately, our shuttle was right on time!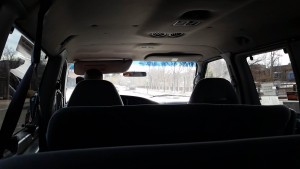 Unlike the fancy shuttle that had picked up SB, I got an old van with lots of rattling and a cowboy for a driver. He had a cowboy hat, cowboy boots, and listened to old-school country music, not that I minded the old county. Pig didn't seem to mind either.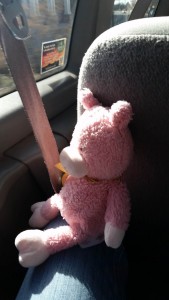 We went and picked up the one other person, which explained the van, and then were on our way! Well, we had to set and wait for 15 minutes on some random street, which I didn't really understand, but after that we were on our way.
Cowboy was cruising along at about 70mph for most of the trip, which definitely made for good time, but the van didn't seem to like it so much.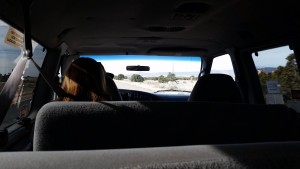 New Mexico continued to offer up scenery, almost as if chiding me for leaving.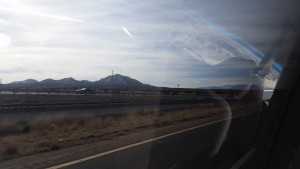 While not as scenic as many of the areas I'd been it, it was just enough to remind me of how much I like the landscape out here.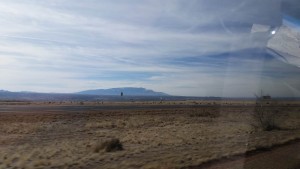 I guess I find beauty in all sorts of areas.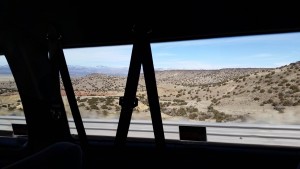 Albuquerque is about 70 miles south of Santa Fe, but as mentioned, we were making good time.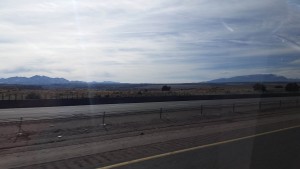 And don't worry, Pig was buckled up for safety.
After awhile we started getting closer to the mountain range east of us.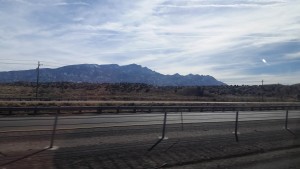 While these mountains weren't too big, they still provided for a good New Mexican horizon.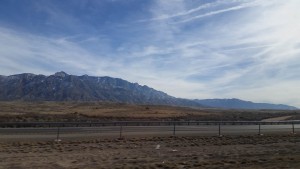 Before too long we were in the outskirts of Albuquerque, land of Breaking Bad, and avoiding right turns.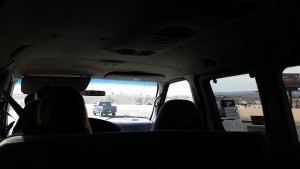 We didn't get too close to downtown, but we got close enough that I recognized things from Breaking Bad.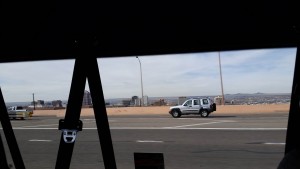 I especially recognized the Sunport (ABQ airport), which is featured in a few episodes of the show. I was a little fan-girlish about being at one of the exact filming locations.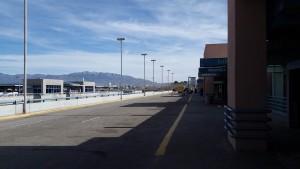 It's one of the few times, if not the only time, I've ever taken a photo of an airport door.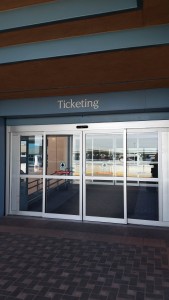 And then across the way was the parking area, also seen the in show.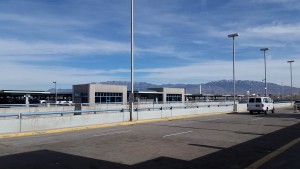 Had my schedule allowed it, I would have loved to take one of the Breaking Bad RV Tours in ABQ, but sadly I just didn't get the chance. Gives me an excuse to go back – plus I'd like to see ABQ in general.
The Sunport definitely had a southwest feel to it.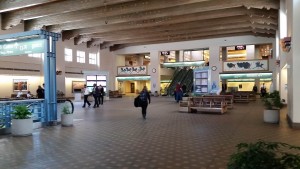 It was unlike any other airport I'd been in, that's for sure.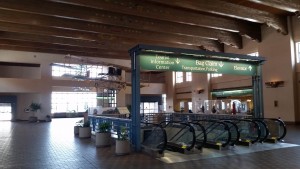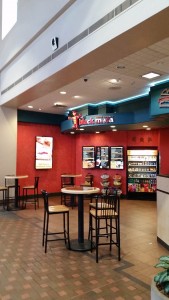 Security was pretty much a breeze, and Pig and I ended up making it our gate like 1.5 hours early. The good news is that our plane was already there.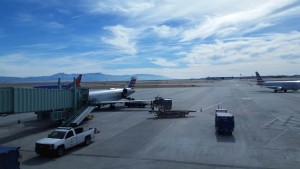 So we ate our packed lunch (we made it from Santa Fe to home without spending a dollar, yay packing food!) and chilled out.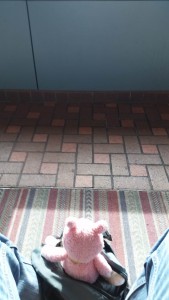 Since the weather was fine and the plane was fine, we boarded right on time.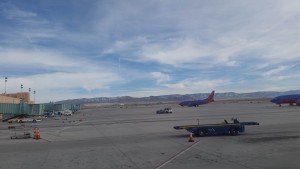 I took this next picture thinking of Tristen.
It was kind of interesting, one side of the airport was just… well.. nothing as far as the eye could see.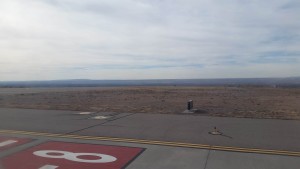 Somewhere out there is the missing fortune that died with Jack – not that I shed any tears over him getting turned into pasty bits.

Then on the other side are some mountains, though I didn't capture most of them in this photo.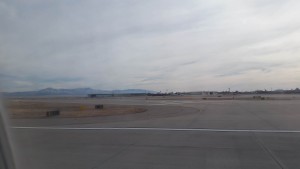 It was a smooth takeoff – here are some more of those mountains: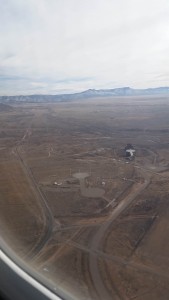 And again: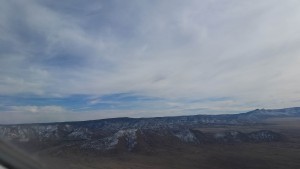 And here they are, with ABQ in the picture, for reference: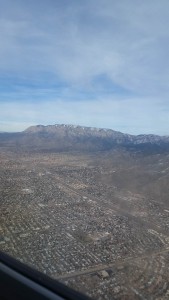 ABQ just kind of "stops" at a certain point, it was cool.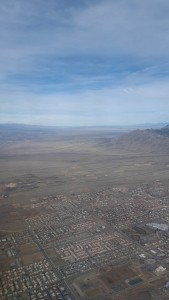 Here is a great (in my opinion) photo of the mountains just outside of ABQ: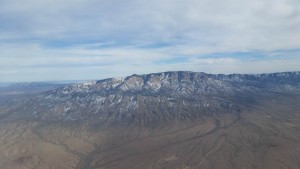 You can see some of the salt (or rather, snow) flats in the great beyond in this next picture.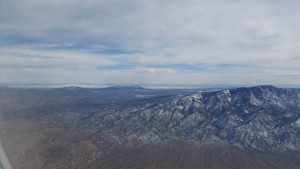 We actually stayed at a fairly static altitude for awhile, not sure why but it made for great views of New Mexico.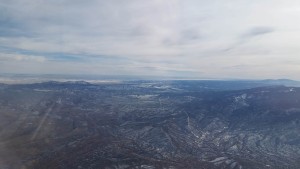 Here is the road (I-25) that I'd just been on while coming down from Santa Fe, seemed bitties from up in the sky.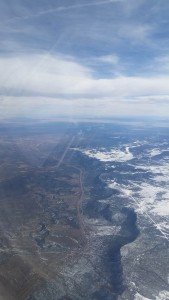 After that we started gaining altitude at a decent clip.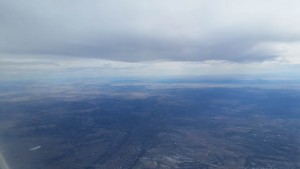 And then we were in the clouds!
I always enjoy the ascent through the clouds, especially when there's no turbulence or excess noise. This was my first time flying in front of the wings in.. possibly ever and it was a lot more quiet. I was stepping in high cotton on this flight. But anyways, I like the clouds. It's calm, silent, and you have no way of gauging anything. It's almost like sensory deprivation. You don't really even know that you are moving, you just kind of exist in this static state, aimlessly gazing out into a gray abyss. Time could be standing still, the world could have ceased to exist, there's no way of knowing. I realize this is sort of metaphysical, but it's interesting to me how in those brief moments there is no reference, just nothing but the interior of that plane, and the void beyond. I like it.
But, surely enough, we broke through and after a little bit I knew we weren't in New Mexico anymore because I saw the tell-tale signs of agriculture ancient-aliens.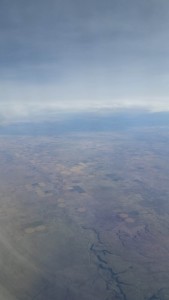 Then we went into space.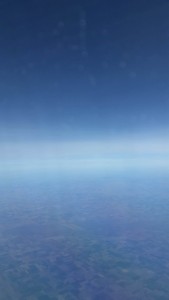 While in space I enjoyed some bloody mary mix, which was actually really good.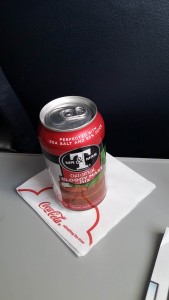 One of my New Year's Resolutions was to drink less pop – which I was drinking FAR too much of last semester, so I opted for this instead. Turns out the second ingredient in it was High Fructose Corn Syrup, I got a laugh out of that.
After a good bit of sky-sailing I notice the world turning white beneath us, the war trail of Winter Storm Jonas.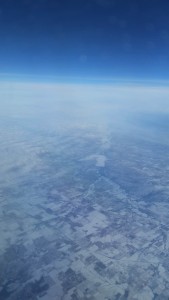 Then the clouds moved in.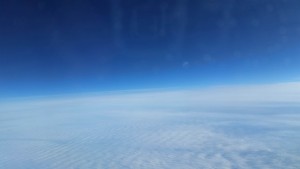 In fact, all the snow made it hard to tell apart cloud and earth.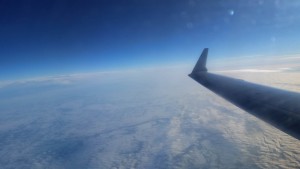 As we approached Chicago (my first stop) the clouds cleared up a bit.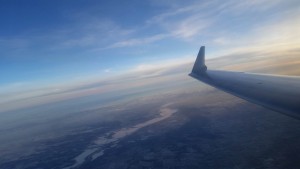 And then proceeded to come right back, but the moon looked awesome with them.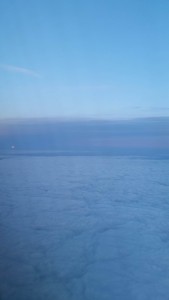 The sunset over Chicago was quite amazing actually.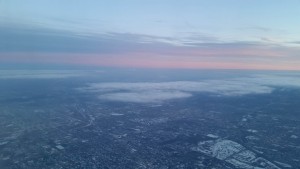 As we waited around in a holding pattern for a bit I got some really good sunset views.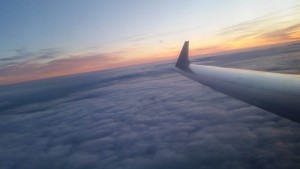 The sun itself was the most amazing red I think I've seen in years, my crappy photos do it no justice.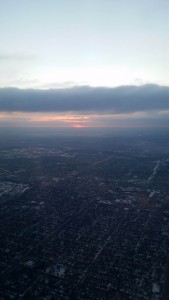 It was just a deep, fiery crimson – it was incredible.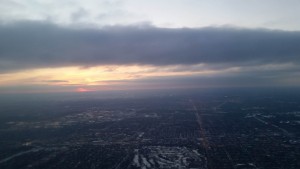 We landed at O'Hare with no issue.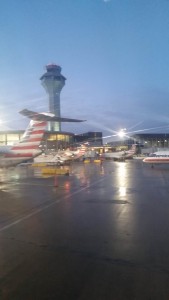 Inside the airport was a Cubs bar and grill, I immediately though of Valentino.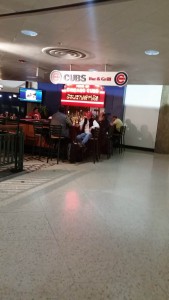 It'd been a little bit (not long enough) since I'd been to O'Hare, and Pig was excited to see things.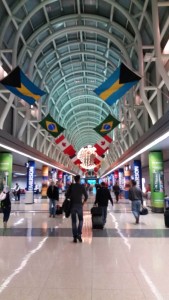 Of course we had plenty of time to get to know the place, it was at this point that all my travel luck started to break down a bit. See, I had timed my travel at the worst possible time, for as I sat in Chicago the blizzard was pummeling the east coast, and while Boston was on the northern edge of the blizzard, it was still snowing heavily and the winds were gusting up to 50mph. Despite our flight still being "On Time" I started noticing that all flights currently in the air to Boston were being diverted, not a good sign. Sure enough, 3 minutes before our schedule boarding time, they announced that their was a ground stop at Logan (Boston) and that it was going to be 45 minutes before we got updated. Sigh. So we waited 45 minutes, and then amazingly were able to board. All things considered, the 45 minute delay was much better than what I lot of people were dealing with that night. Once on the plane I noticed that this was a new, or newly refurbished plane. Whether new or refurbished I remember seeing somewhere that it had only been in service 11 months (since construction or refurbishing, either or). Each seat had a nice touch screen monitor – but the default screen had a creepy as shit dude peering into your soul.
In fact I think the creepy dude caused some mental deterioration, because there was an actual fight on the plane – which caused us to further be delayed. I don't know if it was the bad state of travel, the haunted screens, or an unknown issue – but two dudes decided they hated each other, and before it was over one of them was escorted off the plane with security. That added about 15 minutes to the wait time, but after that things calmed down. A plane full of angry Bostonians is a recipe for a fight I suppose.
Pig and I passed the time by playing with our haunted screen.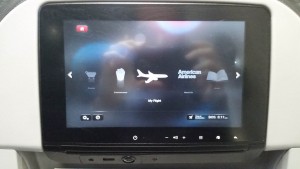 Pig liked all the photos.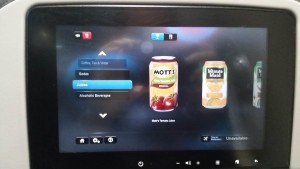 And then after the delay and fight, we started backing away.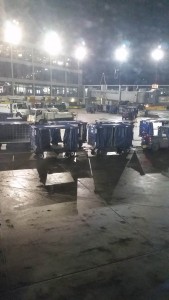 We were then up and away! Chicago looked really pretty, I liked the contrast between the city and the sheer blackness of Lake Michigan.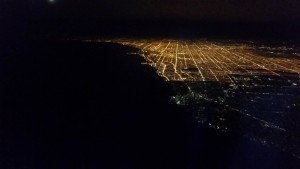 Due to the weather our flight was pretty bumpy, but Pig didn't mind. It helped that we got super lucky and had no one in the middle seat (we were in the window) despite the flight being sold out.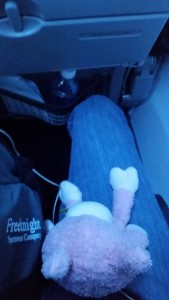 We shared at Tomato Juice, this time with no HFCS.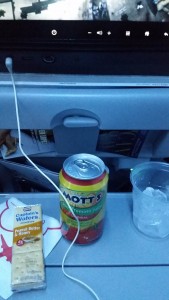 We also watched a couple of episodes of Through the Wormhole with Morgan Freeman, that was a nice way to pass the time.
Overall, despite being bumpy the takeoff and flight weren't bad, I was just happy to be making it home when so many other people were severely delayed, diverted, or cancelled. However, the ride got crazy right about landing time. Logan Airport tends to be a bit rough on a good day, largely because it's practically out in the ocean, and so the winds can get pretty choppy. That was the case tonight, according the pilot the winds were around 40pm and it was also snowing extremely heavily. As such, the approach was really bouncy and you couldn't really see anything – but the landing itself was the "fun" part.
Here is a picture of what I could see, just seconds prior to landing. Notice that you can't see the ground, or really anything but the wing.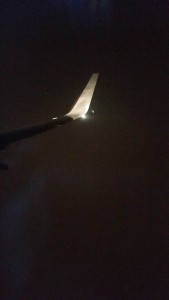 And then here is what it looked like the instant we landed.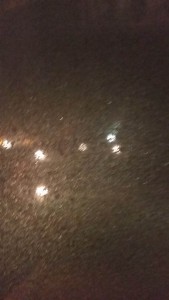 Slight difference. Before too long the plane was obviously sliding and the back end was cat-tailing back and forth, having never experienced this before it was an "invigorating" experience. Actually it happened so fast that I didn't really freak out, it's more scary in retrospect. After the tires stopped squalling we gained traction, shuddered a bunch, and then were good. A few overhead compartments had flown open, but I don't think anything had fallen out, at least nothing big.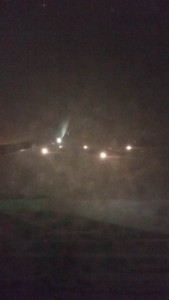 It was really windy and snowy, obviously.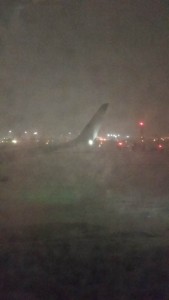 There were tons of shadowy planes stuck out there in the darkness.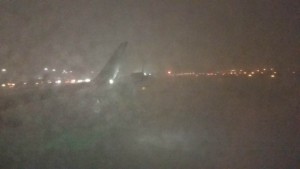 I later learned that we were the last flight in before another ground stop, so I don't know if those planes were waiting to park, or to take off.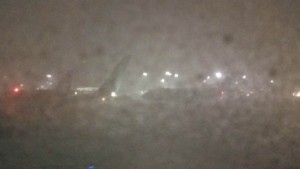 It was hard to see much of anything though.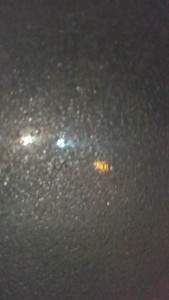 It actually took us like 35 minutes just to park because they were having to clear the spaces. The plane couldn't drive itself in either, it had to be towed.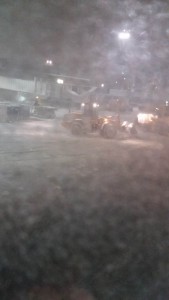 But, finally, after about 45 minutes from touchdown I was able to get off the plane. I was very pleased to be on solid ground. However, the next 3 hours were decidedly not going to get any better.
It started with a 40 minute wait at the baggage carousel, made worse by the fact that the doors near carousel 8 (mine) were stuck open, letting in the freezing cold (it was about 9 degrees) and winds. Eventually my bag came out…. with the back ripped off. Yeap. First time in my life having luggage damaged and it had to happen this night (it was already midnight). So I had to go report that, and they were, of course SUPER HELPFUL. The good news was that I'd packed intelligently and my cheap running sweatshirt had plugged up the gaping hole and as such I didn't lose anything on the inside of the suitcase. The bad news is that as part of American Airline's baggage claim process, you have to turn over your suitcase to them. Well, that really wasn't going to work since I still had to get home via public transit. I asked if they had a garbage bag or something, they of course did not, so that doomed me to about a future 2 hour trip to get back to the airport to hand over a broken bag.
Anyways, I then took my broken bag out to where the Silver Line picks up, and HOLY BALLS THE WIND, I went numb all over. Well, the bus came (about 15 minutes late) and from there I thought things were going to improve. NOPE. We got stuck in a tunnel for a half hour because there was a wreck at the other end of the tunnel due to weather. This tunnel was hilariously full of Silver Line buses, easily 20 of them (which has to be like 90% of the fleet for the Silver Line). We got stuck down there for so long, that eventually we had to get off the bus, walk down the tunnel, into a maintenance stairway, and up to street level where we boarded a shuttle which took us to South Station where I waited for a bit on the Red Line subway. Because it was around 1am at this point, the train was almost entirely empty.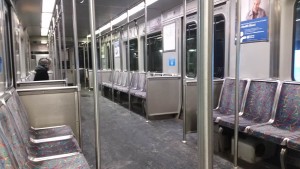 The Red Line runs all the way up to Harvard Square.
But not that night.
OH NO, I got all of THREE STOPS and then the train stops. Because of bridge construction I had to walk up out of Park Street Station, then walk a block in the blizzard with my broken luggage, where I got on another bus.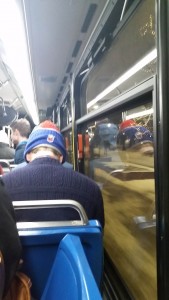 This bus took me across the bridge, stopping at various points along the way, and then dropped us off at the station right on the other side of the bridge. So then I got to go back down and wait on the Red Line again, and then FINALLY, FINALLY proceeded to go the rest of the way to Harvard station… at about 1/5th the trains normal speed since they were sharing tracks due to all the construction.
But at last, I made it to Harvard Square, and quickly darted into Harvard Yard, which thankfully was already being cleared by Harvard's slaves.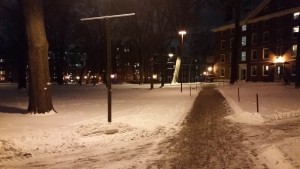 However, as soon as I got to the Plaza, the clearing had pretty much stopped and the snow was about 5-6″ deep.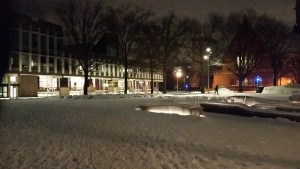 My suitcase was too heavy to carry while tromping through snow, so I pulled it liked a sled behind me, stopping every once in awhile to push stuff back inside the hole on the back.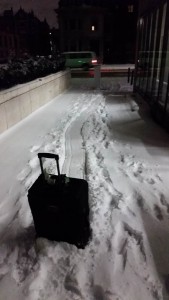 Pig and I (and our suitcase) were just a couple of battered pioneers.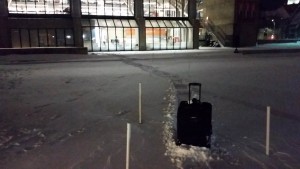 But, in some ways, despite being after 2am, being exhausted, and being very sore, it was very peaceful and quiet in ole' Cambridge. There was a kind of "I have to laugh because this is so shitty" element to it.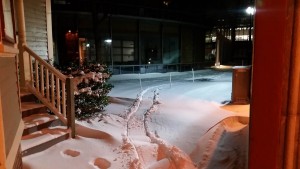 But, 3.5 hours after landing, we made it home. I inspected the luggage again to ensure nothing was missing, put some things away, and then shortly after 3am, finally crawled into my own bed, ending one crazy ass trip home.
And that was how I ended my amazing New Mexico trip, and looking back, I wouldn't even change those last few hours.
C'est la vie.
I'll follow this with a "Things I Learned Post," but for now, I think this is a good place to end our journey. 🙂
Until next time,
-Taco