So I've been busy, but deep down some part of me knows that future me will really enjoy reading these posts (even if I don't always enjoy writing them) so here is another post. I like to think of it as a successor to this post.
Anyways, I am happy to report that our march into Spring (no pun intended) is progressing nicely. In fact, we just broke a 186 day long streak of not hitting 70 degrees. In fact-fact, if my phone is to be believed, we are actually at about 80 some degrees as I type this. This means that all the pretty trees are continuing to bloom:
Of course, the warmer weather also means that construction crews are out in full force, so there is also that lovely smell of asphalt and dust in the air.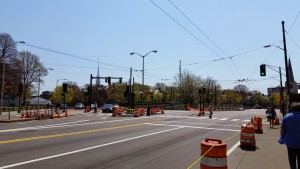 However, we don't drive and none of it is super close to us, so its really not that big of deal.
The warmer weather also means it time for more beer, as is colder weather, or really any state of continued existence. A good while back I noticed a newcomer at Broadway, Ballast Point Brewery. Initially all that was being offered was one of their beers in cans, plus it was expensive, so I passed. Well, eventually Broadway caught up with the times and brought in some bottles. So I decided to try a couple of singles – both because it was new beer, and I liked their labels.
1. Victory At Sea Coffee Vanilla Imperial Porter – Ballast Point Brewing Company
2. Grapefruit Sculpin IPA – Ballast Point Brewing Company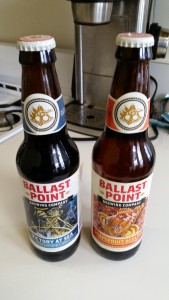 I had the Imperial Porter first. I have to give some props to SB on this one, she was the one who actually noticed how interesting of a flavor this porter was (Coffee + Vanilla). I was distracted by the skeleton on the front, I guess. I've since learned that "Victory at Sea" actually refers to a whole line of Ballast Point brews, so you have to pay close attention to the subtitle and image to determine which variety you are getting. This was an interesting beer, and I don't mean that in a bad way. I'm not a huge porter person. So my palate isn't the best for really getting into their nuances. It was a smooth beer, no real "bite" for a 10% ABV beer (low acidity), and had lots of subtle undertones. I felt like the coffee overpowered the vanilla on some drinks, which I think is common for coffee porters any ways.  Its one I would drink again, but wouldn't really go out of my way to get. (That said, notice the CRAZY GOOD Beer Advocate rankings, so you have no excuse not to try it).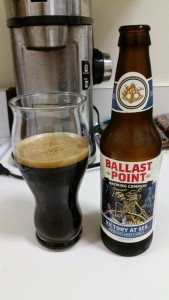 The glass is low because I was sharing with SB.
Next up was the Grapefruit Sculpin IPA. First off, I had no idea what a Sculpin was. Turns out, its right on the friggin' bottle – its the fish. This probably should have been obvious given Ballast Point's overt nautical theme and the fact the fish is right there on the bottle, but I'm slow sometimes, what can I say. Anyways, as per the title, this is a grapefruit IPA. Unlike the porter, which I have little practice with, I've been on an IPA kick lately, so my palate was ready to roll, and roll it did. This beer was awesome. By far the best fruit IPA I've had (Sorry Dogfish Head Sixty-One). I love, love, love grapefruit and heck, anymore I'd say I love IPAs. So the combination was already on the right track for me. Of course that also meant that I'd be picky. However, this beer met the challenge. The citrus blend of the hops makes for a crisp aroma that smells (and tastes) like a freshly picked grapefruit. This beer rocked a level of tart freshness that I rarely experience. Definitely recommend this one. Even if you don't like grapefruit and/or IPAs, this is just one of those beers that you must try (and at 7% ABV, you'll feel just fine if you only drink one).
There was also another IPA I had this week.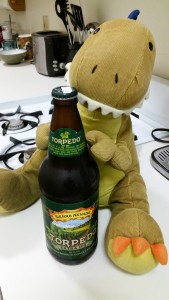 Tristen and I drank it to celebrate the end of our first 8-hour exam of the semester.
While I'm no stranger to the Sierra Nevada Brewing Company, I don't think I've reviewed any of their beers on the blog yet. So I figured their iconic "Torpedo IPA" would be a good place to start.
3. Torpedo Extra IPA – Sierra Nevada Brewing Company
So, unlike the Sculpin above, this was just a plane ole' IPA. Well, aside from the fact that it was an "Extra" which I actually didn't notice until after I had drank the bottle. What does Extra mean? Well, it basically means "stronger than usual." While not quite to the level of a Dopple or Tripple, its still more alcohol than is standard for that kind of brew, in this case it was 7.2% ABV. Now, 7.2% isn't that much, especially not compared to the 20% ABV 120 Minute IPA I had. However, as you can see from the photo, this wasn't a 12oz bottle. Nope, this was 24 oz. So it was really two beers hidden in one bottle. So yeah, after 24 oz of 7.2% ABV beer I was feeling pretty decent. Not drunk, not even tipsy, but definitely feeling better than I normally would from two ordinary IPAs. As for Torpedo itself, its a strong brew. It has a strong pine and herbal character that hints at this beer's Californian origins. If you like IPAs, I don't think you could pass up a Torpedo, but if you are on the fence, just go for the 12oz.
Stepping back from beer for a moment (there's more to come, surprise surprise), I went down to visit SB at Boston College before one of her exams. I think this is actually only the third time I've been down to BC. I decided to take advantage of the nice weather and go see her. I was even a big person and took the bus on the way down, all by myself.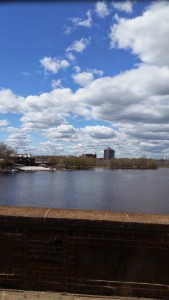 A nice view of the Charles River from the Anderson Memorial Bridge, you can see one of  Harvard's boathouses (Newell Boathouse) to the left, and if you squint you can even see one of their men's rowing teams.
After a surprisingly easy bus ride (complete with the stereotypical inattentive parent letting their small child roam the bus freely while they talked on the phone) I arrived down at the Chesnut Hill Reservoir station, where I hopped on a BC shuttle (complete with the stereotypical drunkard undergrads carrying 128 cans of Keystone Light while they talked on their phones) and from there it was only a short ride to campus.
Of course, like everyone in the world, BC was also celebrating the warm weather with construction.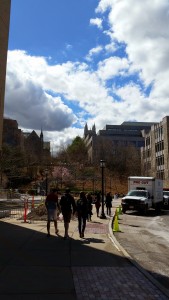 They were also in the process of tearing up pretty much everything that is green, and then (literally) rolling out more green.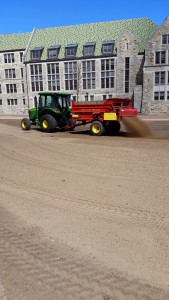 I'm actually not sure why Harvard doesn't just use grass rolls instead of seeding everything, maybe they think it looks too green. Anyways, SB was happy to see me, and we got some coffee to share while she showed me around. While I had been to BC before, I'd mainly just seen some of the more obvious attractions (e.g. Gasson Hall). This time, she showed me a few of the off-the-beaten-path kinds of places, such as the Social Work library, which is in a basement and was being renovated and thus really wasn't worth taking pictures of. However, she also took me to see the magical "Graduate Student Only" house that BC has tucked just a bit away from campus. The walk there was gorgeous.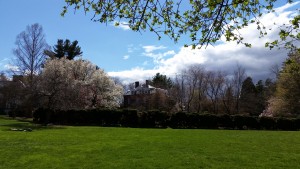 The house itself "Murray House" was originally used as a meeting place for commuting undergraduate students when BC first acquired it in 1967. However, in 1997 they kicked out the undergrads (hahaha), renovated the house, and made it into a Graduate Student hangout (i.e. the "Coo-Kids Club").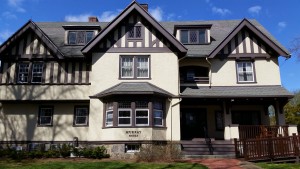 The house has some offices for BC staff, common areas, study areas, a dinning room, a computer area, and most importantly a kitchen with free coffee. Yes, if you provide coffee they will come. Its in a really nice, and very close to campus, area of Chesnut Hill.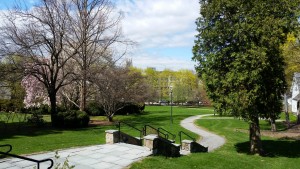 Of course pretty much that entire area is Grey Poupon.
Aside from Murray House, SB also showed me a (itty bitty) classroom in McGuinn Hall (home to the Social Work program – as well as the aforementioned dungeon library).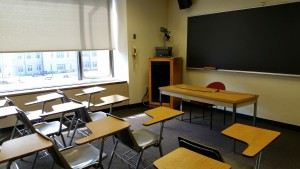 According to SB this is a small example, they are not all so itties. One of SB's classrooms was right next door, but there were people in there taking an exam so I didn't get a chance to see it. I just enjoyed the straight-outta-highschool chairs. That said, I can't say that the overtly hostile environment I'm used to is preferable, even if the room is nicer.
SB also took me to see the main bookstore, the main dining area – "The Eagles Nest," and she tried to show me the Bapst Library, but they were closed to the plebs for some odd reason. After that we shared a sandwich and I started the voyage back home so SB could get started on her first exam.
Of course the trip back had to be complicated, given how easy the trip down was. The BC Shuttle driver decided to be a douche and not let anyone on the shuttle while he just sat there doing nothing for 10 minutes. So I had to take the next shuttle, which required me to miss the city bus. So I ended up taking the Green Line to the Red Line to get back home, which generally speaking is not an efficient process, especially near rush hour.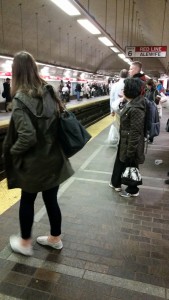 All things considered, it wasn't that bad, though the Red Line was, as usual, like being in a can of sardines.
The very next day was Friday (woo!) which mean that it was time for our weekly night out. It was my turn to decide and I wasn't feeling very decisive, so I picked our standby of Grendel's Den so we could enjoy the half-price food. The obvious plus to Grendel's is that the half-price food means we just have to get beer (no really, you have to get drinks to get the half priced food), not that I am complaining. SB went with the Cambridge Brewing Company Amber Ale (discussed here) while I decided to go with something new.
4. Steel Rail Extra Pale Ale – Berkshire Brewing Company, Inc.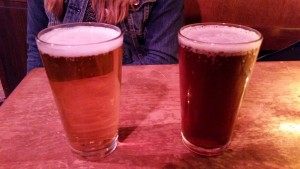 I bet you can't guess which was the pale and which one was the amber. (/sarcasm)
At first glance I thought "BBC" meant it was from the Boston Brewing Company (Sam Adams) but it turned out it was a brewery I hadn't heard of before (its located in South Deerfield, MA). On top of that, the name Steel Rail made it sound like this was going to be a beast of a beer. Nope, turns out it's just a fairly tame (5.3% ABV) extra pale ale. It had a nice smell and texture, and it was definitely a clean and clear beer, very drinkable. That said, it wasn't especially memorable. Not bad, but a good pairing with a meal that I'd certainly drink again, but not so good that I'm going to search out a six-pack.
I also branched out in my choice of food, ordering a Chicken Burrito (which somehow neither SB nor I even realized Grendel's had before), though SB played it boring safe and went with the Sonoma Wrap (Turkey, bacon, sundried tomato-goat cheese, Guacamole, arugula, onion).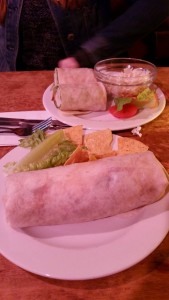 Both we very good and neither of us left hungry, as I've explained before, during the half-price period you can't take anything home.
Of course, we weren't so stuffed that we didn't want dessert, and since we were in the area we headed to Mike's for the third time. [First time & Second Time]. This time around I went with the "Espresso" cannoli while SB went with the "Oreo." I have to say, of the three I've tried so far (Peanut Butter, Limoncello, and Espresso) the Espresso is my favorite, with Limencello just a bit behind, and then Peanut Butter trailing (due to its richness). SB's Oreo was also yummy. Though to be fair, I've not had anything from Mike's thus far that I didn't like. We watched an episode of Breaking Bad, then settled in for some Jeopardy, cannolis, and coffee.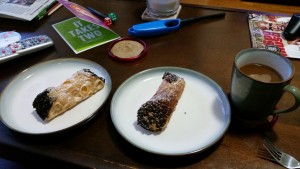 The next day, being Saturday, was Whole Foods day. SB had also promised Tristen that we would get some coffee while we were out. However, we also decided to finally visit the Fogg Museum. We'd been wanting to visit ever since we had journeyed down to the MFA and since it was a nice Saturday we decided this was a good time to visit.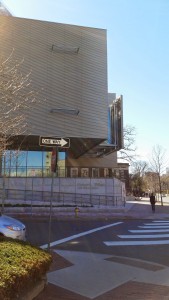 This is the "Modern" side of the museum, the other side looks like you are walking into a colonial mansion.
The Fogg Museum is normally free to Harvard students plus one guest (as are all Harvard museums, I think), however, unbeknownst to us some "Arts First" festival was going on From April 30 – May 3, and the Fogg Museum had free entry for everyone during this period. While this meant the museum was more crowded than normal, the upside was that there was live music and dancing in the lobby.
The museum had actually been closed for six years for a major renovation and only opened just last semester. From what I can tell, the museum's renovation has received nothing but praise. Now that I've been, I can see why, its a really cool blend of "old" and "new" (which can be said about Boston in general).
The museum was designed so that all the galleries formed a square around the central lobby and a good portion of the museum utilized natural light really well.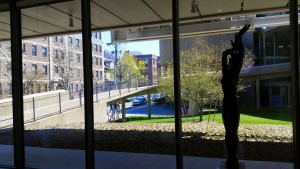 As far as artwork goes, it seemed like they had a good collection going on. However, I am pretty much a piss-poor evaluator of art collections (I'll stick to beer) so take my word with a grain of salt. I did see one Monet that I had never seen before and that I really liked: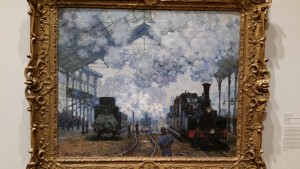 Claude Monet – La gare Saint-Lazare [The Saint-Lazare Station]
I also saw a Picasso that I hadn't seen before, and I really liked its darker tone: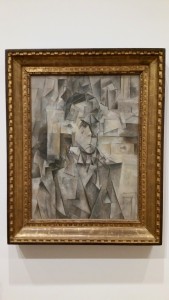 Pablo Picasso – Portrait of Wilhelm Uhde
They also had a few of Jackson Pollock's pieces. These always make me think of Meem for some reason. I like them, though I can't claim to understand them.
They even had an Andy Warhol, which given its color and subject-matter (electric chair) you don't even need to be an art person to spot from a distance.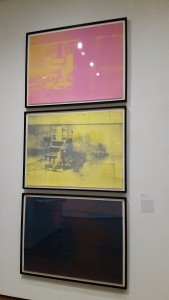 Andy Warhol – Big Electric Chair
Then there was this dude, I have no idea who the artist is (its technically on the wall in the image, but good luck reading that – my camera isn't that good). I suppose there is a lot of imagery and symbolism here, but to me it just looks like a dude shitting all over the place.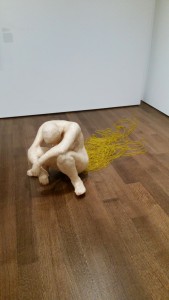 A bit more elegant (in my opinion) were some of the authentic Byōbu they had in their collection. I've always thought the artwork on these was so cool.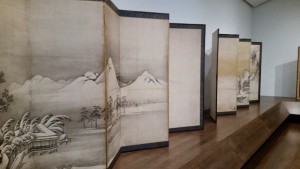 Since I really don't know much about art, here is a sampling of some of the pieces that I appreciated and enjoyed throughout the galleries. I'm not going to identify them at this point, but if you are curious you can do a reverse image search, or conversely just let me know and I will figure it out.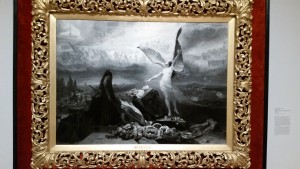 As we progressed up the floors, you could see the transition from old to new a little better.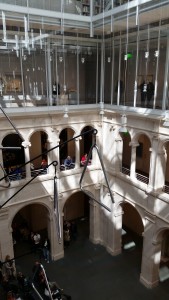 Eventually you get to the top, which as a big class roof (which assists with the natural lighting throughout).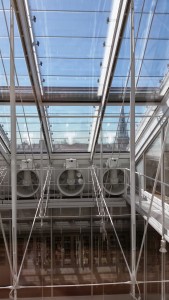 The only thing you can really interact with on the top floor is their electronic shadow box display, which is a collection of digital screens you can navigate via a wireless remote. It lets you explore their entire collection (including things currently in storage) and view extremely detailed information about each one. It was pretty cool.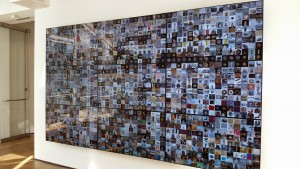 Also cool was that you could see all the restoration and working areas, I love when museums allow you to see these processes.
Of course, since it was a Saturday no one was working, but it was cool to get to take a peak regardless.
After that we started to head back home (well, to Starbucks – Tristen has needs). On our way our we noticed that a little robot (who is unfortunately hard to see in this photo) was just going to town and spraying paint all over the wall, letting it run down the two stories to the basement level. It was kind of cool, and I have no idea how we missed it the first time (there are at least two entrances to the museum, we came in the "back" way).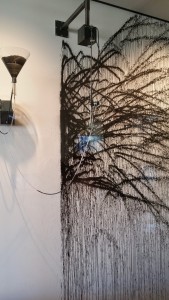 The next day (Sunday) we had plans to go to a Graduate Commons Program cookout that was going to have Tasty Burger and Harpoon beer for free (well, one sandwich and one beer free for person, for the first 300 people). However, it started at Noon and it was about a 30 minute walk away. Being Sunday, we slept in too late, and by the time we were ready to head that direction it was late enough that we figured we would be risking dropping in after the 300 person mark (which would have just been frustrating). So, we decided to just forgo the cookout altogether and go to Tasty Burger ourselves (which never of us had been to, remembering that I shunned my LRW party there due to weather).  Well, little did we know that this particular Sunday was host not only to the final day of the aforementioned "Arts First" festival, but also Harvard Square's 32 Annual MayFair – which included lots of store stands, food stands, food trucks, street vendors, live music, and most noticeably – a metric crapton of people. Still, our bellies hungered for noms, and so we decided to stick with it (and by we, I mean me – I'm the antisocial one).
Tasty Burger wasn't too packed, but holy hell they were slow. We ended up waiting 17 minutes in total just for 2 items. Still, when the food did finally come the burgers were wrapped up really cool, so all you had to do was fold over the wrapping and you could hold your burger without getting it all over your hands!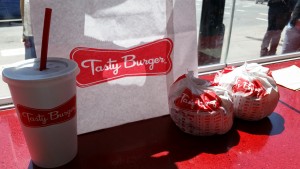 For reference, I went with the Kahuna Burger (pineapple, grilled red onion, and teriyaki sauce) and SB went with the BBQ Chicken Sandwich. I think we were both in agreement. The burgers were definitely better than McDonald's but weren't quite up to par with homemade (or restaurant level) burgers (I realize the chicken wasn't a burger, deal with it).
Despite the wait, we got to sit at the bar which looks out on Winthrop Square, and subsequently to the masses of people moving about for the MayFair. There was this one bus, I couldn't help but laugh. I think it must have taken the poor guy 5 minutes to finally make the turn given how many people kept walking out in front of him.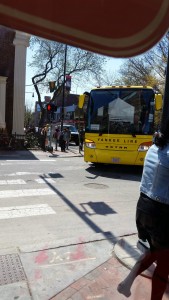 The traffic situation was bad, because they had closed off several main streets, and the street they were flooding people onto was half-torn up so it was only at 50% capacity. Again, I don't miss having a car here.
Afterwards, our bellies full, we decided to walk around and explore the MayFair a bit (at the time we still didn't know what it was).
At first we didn't quite realize how big it was, but then it just kept going: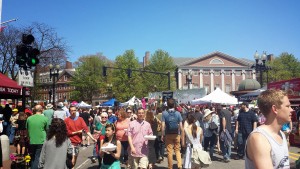 And going: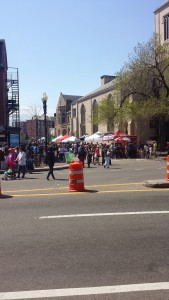 YAY TRAIN!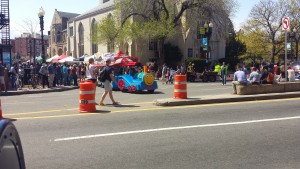 After some very heavy deliberating, we decided to save money and not visit any stands (namely the Ben & Jerry's truck that SB was eying).
On our way back home we passed by more of the "Arts First" activities in the Science Center Plaza. Of course we also passed by this: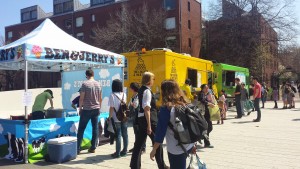 Which to her credit, SB resisted once again, I was quite proud of her. Though immediately afterwards we kept running into people carrying Ben & Jerry's, it was pretty comical. We took a detour through the Memorial Hall, then decided to check out a cool looking little Church that we've been by countless numbers of times but never  visited.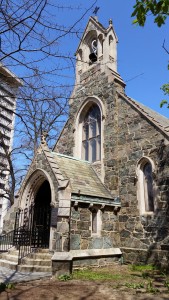 The door was open, but when we went in it looked like they were in the middle of some ceremony, so we didn't hang around. We did however notice the nifty little door on the side of the church, which SB took a photo of and I present here, because its a door that SB took a photo of: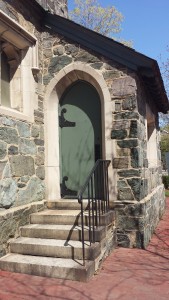 After that, it was back home for some chores and "getting stuff done" time. However, not all was boring, there was plenty of beer waiting for us!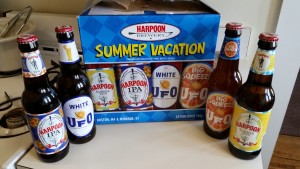 Yep! SB and I and broke down and bought a 12 pack sampler from Harpoon Brewery (thus providing us with everything [and more] we missed at the cookout). While I've had both the UFO and IPA before (discussed here and here) I'll revisit everything here, plus welcome the two newcomers! All beers are from Harpoon Brewery & Beer Hall. [The lighting in some of the photos is odd because one of our florescent kitchen lights burnt out – which has now been fixed by maintenance.]
5. IPA
6. UFO White
8. Summer Beer
First up, the IPA: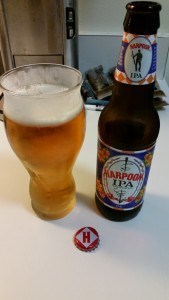 This is a strong "standard" IPA, in a similar vein to the Sierra Nevada reviewed above. However, unlike the Torpedo, this is not an Extra so it only clocks in at 5.9% ABV. Not a light weight beer by any means, but far more downable than the Extra. This IPA has a nice hop and malt balance, and has a nice touch of smoothness compared to a lot of baseline IPAs. Some people (beerfags) say that this is too "easy" of an IPA, but I appreciate it for what it is, a good baseline/starter IPA.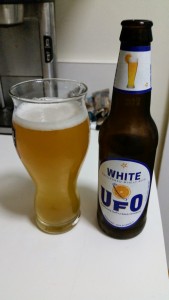 UFO (Unfiltered Wheat Offering) White is probably one of Harpoon's most well-known staples, and for good reason, its a solid witbier. It manages to form a nice citrus-filled balance that not many witbiers are able to achieve. While I may have passed my wheat-ale-mania stage, I still appreciate a good wheat beer (and SB all the more so). However, some of them are just too heavy and malty. Not UFO, it keeps up the tartness that I like to see in a witbier, yet manages to stay mild on the palate, probably due to its 4.8% ABV.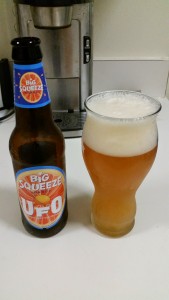 Here is a variation on UFO that I had never tried (or seen) before, and keeping with the grapefruit theme, I really liked this one. Maybe I've just been getting lucky with shandy lately, but they've really been impressing me. I've discovered that I am not a big fan of overly sweet shandies. So, this being grapefruit flavored, I was hoping that Harpoon had erred on the side of tangy rather than in-your-face sweet. Fortunately, they had done just that and the result was a strong shandy showing. While it definitely was sweet, the aftertaste of mild bitterness helped to offset the sugar. This would make a great summer beer (well, duh – its a shandy) as it finds a nice balance between being alcoholic and being refreshing, the 4.5% ABV probably helps keep the scales from tipping towards the "too much" side of things.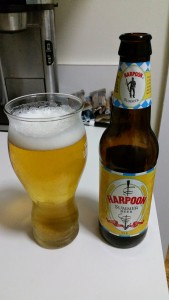 Last up (but not least) was Harpoon's Summer Beer, which is actually a Kölsch variant. Being a summer beer, the ABV is sub 5% (4.8%) to increase drinkability and the fact that it's a Kölsch keeps the bitterness down. The Summer Beer was actually what SB and I originally set out to get (just a six pack) but when we saw the variety pack, which included the Summer Beer and UFO White and IPA and especially Big Squeeze we knew we had to go with that instead, so we did. I'm actually not super well versed on summer beers, namely because I haven't had that many of them and because I drink them so far apart that I tend to forget about all the flavors, scents, and appearances. That said, this was a good beer. Very crisp, with a slightly unique twang to it, that reminded me of their IPA in a very faint way (you could tell that Harpoon has a "theme" running between some of their lines) and actually added to the complexity of the Kölsch base. It was a very clear beer, with ending hints of coriander, which is actually common spice for summer beers.
I'd solidly recommend all of the Harpoon beers mentioned above, and as always, welcome donations 😛
Anyways, that catches us up to the present. I hope you enjoyed me being all cultural and sophisticated as I explored both art, food, and beer! (and BC)
Until next time,
-Taco