Happy day after Thanksgiving! (Or Black Friday, for you shoppers)
So I've been having some technical issues with my blog. The biggest issue is that I haven't been able to log in regularly. Also, and if you are subscribed this will not be news, I had a post that wasn't supposed to get send out, get sent out. Have no fear, you'll get notified of it, yet again, soon enough.
So, anyways, this will be the last "pre-recorded" post that I make, at least for the time being. I wanted to write it sooner, but technical problems prevented that.
Anyways, last Friday night SB and I saw some law school basketball.
Yeah, I know basketball is probably not the first thing you would think of when it comes to law school, but the world is a big place.
More specifically, last week was "Rivalry Weekend" here in Cambridge, as in, Yale was in town. Now, the focal point of the weekend is "The Game" but I'm not going to talk about that too much since I hope to go before I leave, but I will say that Harvard won, of course. Which means they were undefeated this season.
Anywho, "Rivalry Weekend" hosts various other Harvard-Yale match-ups, but there is also a lesser known game between HLS and YLS. A basketball game. No, technically neither of these schools have basketball teams, nor do they even have official intramural teams. Its a law school, after all. However, what they do have is a basketball club. To join you need to be A: A law student and B: Like basketball, that is about it. Now to actually play, you probably have to be decent, but the entry requirements are low. I have no idea who they play most of the year, my guess is other local clubs.
But if there is a Championship Game for law school basketball clubs, HLS vs YLS is it, and HLS was the reigning champion.
I found out about the game from a flier, which also said it was free. Also, it was at the Cambridge Rindge and Latin School, which is near where SB and I live. Since it was -100 degrees it was nice to have something close. So we decided to make a Friday night of it (I had a memo to work on for the rest of the weekend, but Friday night was going to be good). It was my turn to pick where to eat, so I went to our nearby standby of Darwin's and then we headed over to the usual Broadway Market for treats and beer (nothing blurb worthy, at least not yet – I did get some Thanksgiving beer, but thats on lockdown). After that we headed back out to the school.
When we first got to the school we overheard some other people who were going to the game, they were trying unsuccessfully to get in the building. We ended up finding the right way in, well I found the right way in then SB led me away from the door to follow the other moo cows, then we went right back to the door I found and it was correct. The first thing we noticed was that the inside of this school was quite nice. No seriously.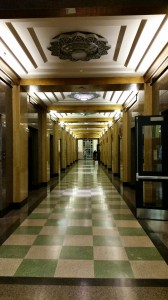 Even the public schools are nice here.
We found our way inside the gym, which was also nice, and found our seats. It was interesting, we started on the Harvard side. However, the Yale players were practicing at the end of the court with all the Harvard player's stuff. So when the game was about to start, suddenly all the Harvard players moved to the other side, which caused a flood of people to the other side as well. We decided to just sit on Yale's side because Harvard's was packed (hometown advantage). This was kind of fun, because we got to witness some Yale emo rage.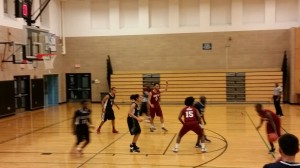 You'll have to forgive my crappy shots. I think my phone has a "Sports" or "Active Shot" mode, but I couldn't figure out how to turn it on. And was more interested in the watching the game than playing on my phone. HLS got off to an early lead, and the game was still mostly fun and joyness at that point. Though the fouls started to build and by the end of the first half it was resembling street ball more than anything.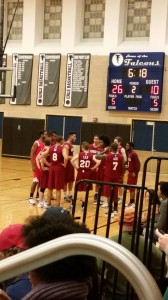 Speaking of half time, since this event was sponsored by law firms (with the proceeds going to public interest students at both schools, yay!) we got swag. And I don't mean a crappy pen, we got these USB charger block things. I had never heard of them, though SB had. Its basically a battery pack that you charge via USB and then you can use it to charge your phone, or iPod or whatever, while on the go. Its pretty cool. Sure, its emblazoned with a law firm's name on the side, but I checked on Amazon and these things run between 20-25$ a piece, and we got two. Can't complain.
Soon enough the second half was underway and this was about the time that the friendly game started getting a bit angsty. Well, at least for the Yale players, maybe Harvard was chill because they were winning. To be fair, it was really only one girl on Yale's team who looked like she was going to throw her Candyland pieces across the room and shut off the Super Nintendo. But the "hostility" was in the air for sure. Harvard got a big lead, then they proceeded to get fat and lazy and just try for three-pointers over and over, which quickly resulted in Yale narrowing the gap.
The good news was that the announcer was very funny and while he was obviously pro-Harvard, he took digs at HLS whenever they deserved it (which was often in the second half). Both sides were fouling like crazy and got double bonuses on each side, I don't remember what that means, but SB told me about it. Despite their fatness (and some weird manipulation of the game clock that heavily favored Yale) HLS kept their lead and won the game, as we knew they would.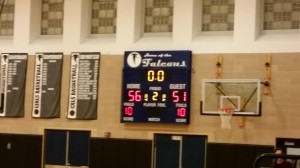 They even had a little trophy presentation ceremony at the end, where HLS received a team trophy and then one of the HLS players received the MVP trophy.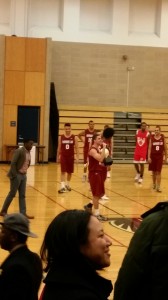 This was half victory speech, half smack-talk, which was made better by the ongoing QQs of that Yale girl I mentioned earlier.
All in all it was a fun game, made entirely even more fun because it was free and also because we sat among the enemy when we watched it. I imagine next year it will be held in New Haven (following "The Game") but if possible I'm sure SB and I will try to catch this game again when it comes back around. I still just think its cool that the law school has a sports team, even if it is just a club.
Until next time,
-Taco
—–
P.S. People from Cambridge are called Cantabrigians. I like it, it sounds like something out of a fantasy world.