Consider this a further follow up to these posts: Law School 101 and Lawyerdom 101.
This post might be better entitled "Everything you never wanted to know about the Ivy League and didn't ask because you didn't care."
At least that is what we will pretend.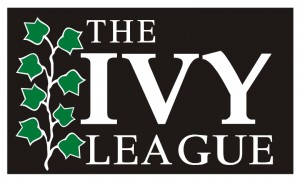 I kid, and really this entire post is meant to be tongue-in-cheek (so keep that in mind). But its actually sort of interesting, the history of the Ivy League and all that stuff. But I'm not going to go into a big historical discussion here, that is all easily available via Google if you are interested. What I'm going to do here is do a very brief overview of what the Ivy League is, and subsequently a bit of what it isn't, with a dash of my personal opinion thrown in for good measure.
For starters, the Ivy League is actually an athletic conference. Its not some mythical group of schools that form some academic bond based on ivy, well it is, but technically that isn't what the name is about. In fact, the term "Ivy," when used in reference to the group of schools as whole, has only been around since 1933. Sure, schools have spoke of their ivy-clad greatness since their founding, but using the term to refer to a group is a relatively new thing. So what schools comprise the Ivy League? Go ahead, try to think name the ones you can think of. Yes, I get it that with the huge imagine below its going to be hard to not "know" them all. But be honest with yourself and think about whether or not you could actually name them all.
I couldn't, at least not until all that long ago.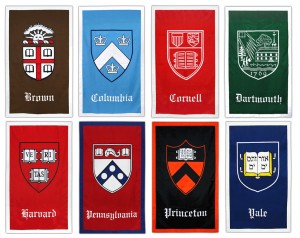 If you are like me, then some of these are given, some of them are an "Oh yeah, that place" and one of them is "What?" (*cough* Penn). You might even have thought about places like Stanford or MIT (I thought they were Ivies as well, but they are not). But lets not live in our plebeian ignorance for any longer than necessary. Without further ado.. "The Ancient Eight:"
Listed As: Name – Year Founded – Original Name – Motto
Harvard – 1636 – New College – Veritas (Truth)
Yale – 1701 –Collegiate School – Lux et veritas (Light and truth)

University of Pennsylvania- 1740 –Unnamed Charity School – Leges sine moribus vanae (Laws without morals are usless)

Princeton University – 1746 –College of New Jersey – Dei sub numine viget (Under God's power she flourishes)
Columbia University- 1754 –

King's Colleg

e – In lumine Tuo videbimus lumen (In Thy light shall we see the light)
Brown University – 1764 – College in the English Colony of Rhode Island and Providence Plantations – In Deo Speramus (In God We Hope)
Dartmouth College – 1769 – Dartmouth – Vox clamantis in deserto (The voice of one crying in the wilderness)
Cornell University – 1865 – Cornell – I would found an institution where any person can find instruction in any study
So from looking over that list a few things should become apparent.
1. For all except Dartmouth and Cornell, they were founded under different names. Some of them even changed their names more than once. I have to say, Brown takes the cake here: "College in the English Colony of Rhode Island and Providence Plantations," give me a freaking break. However, Penn gets the dishonorable mention because they didn't even have a name..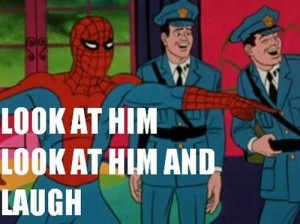 2. Yale copied Harvard, from day 1. Though to be fair Harvard copied the University of Cambridge, which itself copied the University of Oxford.
3. They all have fancy Latin mottos, except Cornell. By the time Cornell came around they were like "screw this poo" and just did everyone the favor of using English. Also, WTF Dartmouth? It sounds like some 13 year old angst-ridden teen wrote their motto. (Before you rage, yes I get it that its from the Bible, but its still emo).
Progressing onwards, where are all these places located? Well, obviously the Northeast, but not exclusively New England. I am stupid and literally thought until this year that New York was in New England. Its not. And even if it was, you'd still have Penn and Princeton as outliers. So just say its the Northeast.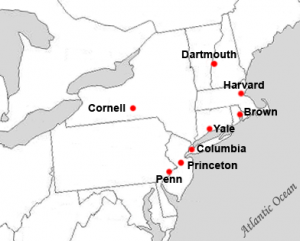 Its pretty obvious why they are all in the Northeast, that is where the aliens put us when they used us to colonize this planet.
Moving on.
These schools are hard to get into. And at this point you take a drink of your coffee, finishing off its wholesome goodness. You then get up and walk to go rinse your our your cup. As you do,  you think to yourself "Well no shit Sherlock" You then never return to this blog.
But really, they are.
Here are some approximate admission rates for the most recent classes, bearing in mind that for a few graduate schools (such as business, medicine, law, etc.) these might be even lower.
Harvard – 5.9%
Yale – 6.3%
Columbia – 7%
Princeton – 7.3%
Brown – 8.6%
Penn – 9.9%
Dartmouth – 11.5%
Cornell – 14.0%
For comparison, lets look at a University that I knew quite well growing up:
Indiana University – 72.2%
I think that sort of brings it into perspective a bit.
Now, if it wasn't obvious based on the barrier to entry, all of these schools are famous, in fact the "Ivy League" has so many connotations with it, from the rich WASP (White Anglo-Saxon Protestant) folk of yesteryear, to yuppies, snobs, the 1% and of course to Presidents. In fact, I'd argue that the "Legend" of the Ivy League is a bit bigger than the schools that make it up, at least most of them (but more on that in a moment). So that gets me to the next point, these schools are loaded. And I don't just mean loaded with lots of smart people (they are) I mean they have gold piles that would make Smaug jealous. One of them in particular is the equivalent of a small nation.
The Ivy League Endowments:
Harvard – 36.4 Billion
Yale – 23.9 Billion
Princeton – 21 Billion
University of Pennsylvania – 9.6 Billion
Columbia University – 9.2 Billion
Cornell University – 6.2 Billion
Dartmouth College – 4.5 Billion
Brown University – 3.2 Billion
[For reference Stanford's is 21.4 Billion]
And again, here is:
Indiana University – 1.7 Billion (System-wide)
That means that Harvard has an endowment worth approximately 21.5 entire  Indiana University networks. Think about that for a second, everything that Indiana University owns, Harvard could theoretically buy 21.5 times. That is kind of hard to wrap your mind around. In fact, Harvard's endowment is the largest in the entire world of any educational institution anywhere.
But back to the Ivy League. You'll notice quite a large discrepancy between the top three schools and everyone else. Further, you see an additional discrepancy between Harvard, then Yale and Princeton. Depending on who you talk to, these endowments roughly correlate to the "power" that each school possess. Some people would go apeshit over this statement, others would say "Yep, dats right" and a person's position may or may not depend on which school they go to. But I think that we can all agree, that money does indeed bring with it great power.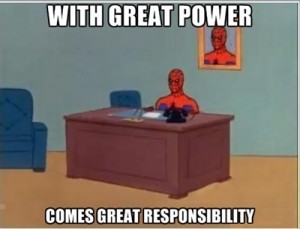 It comes as no surprise then, that not all Ivy League schools are created equal. While all of these schools rank within the top 15 schools in the country (with the exception of Brown, currently sitting at 16) some are "More Equal" than others. Namely: Harvard, Princeton, and Yale – who make up the top three spots and have for a long, long time.
In fact, so removed from the other Ivies are these three that some people call them "True Ivies," or more commonly the "Big Three."


Naturally, this creates a bit of rivalry, not only between these Ivies and those Ivies, but within the Big Three themselves. [In case you were curious, yes there is indeed a "Little Three" as well, but they aren't Ivies]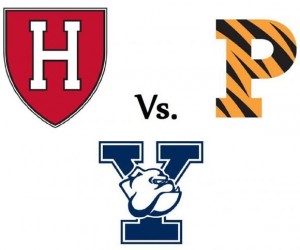 These rivalries extend far beyond academia and professional issues, they are also firmly grounded in sports. I'm honestly not hip to the jive on all the rivalries, a lot of them vary and are dependent on sport. For instance in lacrosse Cornell and Pinceton are bitter rivals, but not in hockey. On the flipside, Cornell and Harvard are ultra hockey rivals. But, generally speaking, if one of the Big Three is involved with another of the Big Three, you can rest assured that there is a rivalry and it runs deep. And thus "The Game" was born.
My point is, while the Ivy League is awesome, these three are especially awesome, yes even Yale. Remember how earlier I mentioned that the entire Ivy League took up over nearly 1/2 of the top 15 schools in the US? (lol Brown). Well, why just look at the US when you can look at the world. So, lets do it. Here are the top 15 Universities in the entire world.
1. Harvard
2. MIT (Massachussetts Institute of Technology)
3. Stanford
4. Cambridge
5. Oxford
6. Princeton
7. Yale
8. UC Berkeley
9. Caltech
10. UCLA
11. Johns Hopkins
12. Columbia
13. Imperial College London
14. Kings College London
15. Cornell
So your first question might be, why are so many of the US top 15 not in the top 15 of the worldwide ranking? Well, these ranking systems have flaws. But also the measuring systems are different on a global vs. US-centric scale. For instance, the University of Chicago has a strong base in the United States, but globally it has much less recognition. If you were wondering why schools like Berkeley and UCLA were so high up the worldwide list, but not on the US list, its because of Asia. No really, a big factor in the "World" rankings is the power a school has in Asia since that is a HUGE and growing sector of our international.. well.. everything. The west coast schools have it going on it that regard. But once you focus exclusively on the US, they lose out to say.. Duke. Either way, its pretty clear that the US is dominating the educational arena, at least as far as universities go. Our primary schools pretty much suck, writ large.
But, back on topic, you'll notice that of the "Ivy League" only three schools make it into the world top 10, despite largely owning it in the US-only rankings. Guess which three schools those are? Yep, the Big Three.
So, if you view the Ivy League as a wedding cake for rich kids, Harvard, Yale, and Princeton are that little piece on top that you cherish and save. Except unlike the cake you don't come back to them a year later and wonder why in the hell you saved this dank ass piece of stale bread, except maybe Yale.
So there you have it, a brief overview of what the Ivy League is, and by omission, is not. So what do I think about it?
Well, its important to consider my new and limited perspective, but I'll say this much. A lot of what you hear about the Ivy League is not without merit. I mean that for both the good and the bad. For instance, these schools, especially the Big Three have changed human history multiple times. I don't mean US history, I mean human history. In fact, there are a multitude of things within mere feet of you that simply would not exist had these schools not been formed. These schools attract and foster the brightest minds in the world. They back research that will touch every faucet of our existence and they produce a solid portion of the people who will go on to be leaders, both at home and abroad. But there is bad as well. Elitism still roams these Ivory Halls. As does a great imbalance of representation. While the WASPs might have largely faded, they have only been replaced by another generation, which, while numerically smaller, still holds all the right keys. At Harvard for instance, 40% of the University comes from the top 3% of households by income. With an additional 30% coming from the rest of the top 10% of households. That means that roughly 70% of the class comes from the top 10% of earners. And from what I've seen, this kind of statistic runs fairly constant at the other Ivies, sometimes a bit better, often even worse. So, I view the Ivy League as an extraordinarily powerful group of institutions, yet these schools, and all their influence, remain largely inaccessible to a large array of applicants. Some argue that exclusivity is the point and on that note alone, I would agree. However, the way these schools define exclusivity, the way they pass out straws, is inherently flawed. Though things are getting better, I mean I'm here and my family can only afford a paltry three yachts, there is still a lot of work to be done.
And there you have it, you are now more knowledgeable about the Ivy League than most people ever will be. I hope you also know, that there are many schools, such as those in the list above that are just as good, if not better than most of the Ivy League, exclusive of the Big Three. And more importantly, the best school for one person may not even be any of these schools, for instance Yale is pretty much only good for convicts. So go where you find your fit, be it the online technical school, the community college, or the state school.
But should you be unable to resist that allure of the ole' Ivy Charm and all the doors it tends to open. As a student from one of three bests schools at the best university, I'll leave you with the best advice you will ever receive in regards to the Ivy League:
When it doubt, Pinky Out.