Today was a fairly exciting day, for a few different reasons.
First of, it was my second to last day of my first class, which means I'm getting fairly close to the half-way mark which is Sunday (I believe). I have a final exam tomorrow, that I haven't studied for yet, and even writing this post is a form of procrastination. This first course, which deals with human trafficking has been a very depressing affair overall, and I'm somewhat ready to move onto Positive Psychology, so I can learn about happiness. Granted, the fact that the class gets me nothing as far as transcripts go is a little bit of a buzz-kill, but I knew that from the get-go, I just wanted to go to Scotland.
After finishing up with class, which was only 90 minutes, making it the shortest class of the summer thus far, I headed over to the National Museum of Denmark. This is a massive museum situated directly across a canal from the parliament, so it really wasn't much of an issue to find. I spent more time trying to find the door to the building than I did the building itself. The scope of the museum was pretty broad, with an obvious emphasis on Denmark, but not solely limited to that. What the museum likes to highlight is its "Sun Chariot" which is around 3500 years old, which is pretty crazy: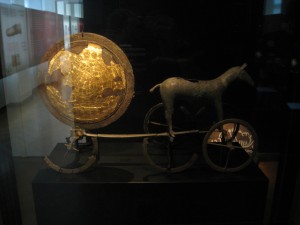 It wasn't really the highlight for me though, I was more drawn to the museum's extensive collection of weaponry from through the ages. Overall I enjoyed this museum more than I did the art museum yesterday, but I believe that's to be expected given where my interests lie. They also had a quite a collection of Greek Pottery, but naturally I sailed straight past the sea of nearly immaculate dishes to check out this: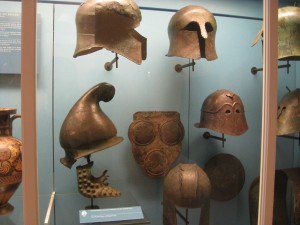 They also had a Roman collection, though it was pretty much centered around Roman glass, and wasn't nearly as fleshed out as the Greek exhibit. Other nifty items of note included: Egyptian Mummies, Renaissance Art & Arms/Armor, Stone Age items, Bronze Age items, Iron Age items, and everything in between and before and after. There was really too much to list here and the slew of photos I took do a better job of displaying the diversity. In fact, I'm a little burnt on museums for the time being, as despite my affinity for all things historical, I was ready to leave once the last exhibit was behind me, being ravenously hungry probably contributed to that.
After leaving the museum, I took to the streets in a new direction.. which led me straight into.. construction. Yes, construction, as in the U.S. everything is under construction at all times here in Denmark, ruining otherwise awesome city-scapes. In fact, many of the pictures I've taken have required very odd angles to remove a metal jungle of scaffolding and industrial machinery from the image. Regardless, I made my way down to one of the harbors, where I caught bus 66 (Which was 10 minutes late) down into Southern Copenhagen, where I had only been once, and that was on day one, in a bus, northward bound. My target was Vor Frelsers Kirke (Our Savior's Church), which was constructed in 1682, then added too, and changed many times since. The main reason I went, is the church's (in)famous spire, which towers over Copenhagen.
There was a fee to climb the tower, but none to visit the church itself, so despite my reservations I broke down and spent the money, though I did get an unlisted student discount. When you first begin to climb the tower, you are greeted by a multilingual sign which reads "Climb at your own risk." It was a nice start, but was actually pretty accurate. The way up was a labyrinth of aged wooden staircases, rickety ladders, and massive timbers forming a web-like network in the musty lofts. It was also much longer of a climb that one would expect, as stairs led to more stairs, all the while the creaking of the building (the tower is entirely oak) grew louder and the howl of the wind stronger. Upon finally making it to the spire, you are greeted by a thing ledge of metal stairs, that grow increasingly more narrow as you head towards the top, until eventually they just end, no platform, just you teetering on a 6″ wide step 300′ in the air.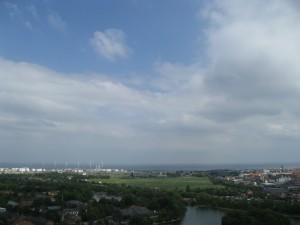 On the way down the clock struck 3pm and the bells began a thunderous ringing, that was almost cool had I not been RIGHT NEXT TO THEM. But still, It was really awesome, however if you are out of shape, or agoraphobic, then do yourself a favor and stick to the ground. However, the "ground" was amazing in its own right. Based on the church's relatively small stature (the spire is the only thing that sticks out), I was not expecting much in the way of extravagance, however my expectations were far surpassed when I entered and saw this: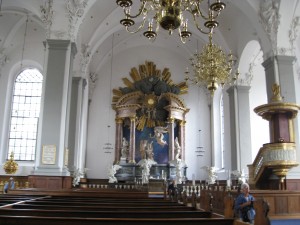 Not pictured is the ENORMOUS organ behind me, which has over 4000 pipes and was constructed in 1698, under authority of King Christian (Taco) the Fifth. There were a lot of really awesome things in the church, and I am superbly joyed that I decided to visit the rest of the church beyond the spire, as apparently many people don't. After touching the sky, I decided to start working my way back home, which was all the way on the other end of Copenhagen. On the way I took at detour to Strøget, the longest pedestrian street in all of Europe, so I could stop by the Lego Store. Which brings me to the..
Tidbit of the Day: Denmark & The Lego
If you didn't know, the Lego Brick (NOT "Legos," you will be flogged here) was invented by Ole Kirk Christiansen, a Danish Carpenter, in 1932. The term "Lego" comes from the combination of two words, leg and godt, which means "play well." Needless to say, the Danes are quite fond of their Legos, and the first Legoland was even built in Denmark, but sadly its like 6 hours away and costs a lot to get to, and to get in. Additionally, Lego are no cheaper here than they are in the states, in fact I believe they cost more, simply because they are Lego in Denmark, which makes them better I suppose!
The picture is sadly not of the two Lego Men Royal Guards, as I couldn't mash myself between them and the window from the inside and get anything in the picture, I tried, but was shouted at in Danish 🙂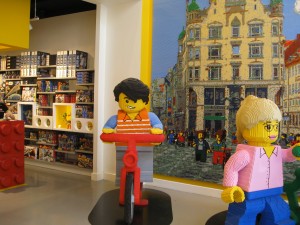 -Taco