Today I took advantage of having no schoolwork whatsoever and hopped on a (very expensive) train to the very northern point of Zealand to the city of Helsingør. Helsingør is home to Kronborg Castle, the famous castle from the play Hamlet. While Helsingør itself is more of a quaint town with not a whole lot to do, Kronborg is totally awesome, and sets on the narrowest point between Denmark and Sweden (who waged so many wars against each other in the past that its hard to count them). Because of its extremely critical vantage point, the castle was expanded multiple times, from its origin in the 1400s all the way up to the 1700s. Its a mixture of stone walls, moats, and earthworks. The train ride took about 30 minutes I would imagine, maybe a little longer. Helsingør Station was a smaller station than I am used to, but it had a nice charm to it because of that.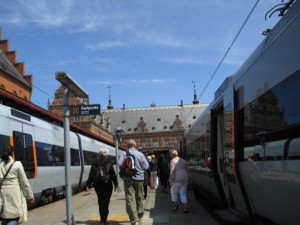 After getting out of the station, which is attached to the Town Hall (there is a 7-Eleven inside the Town Hall), you are greeted with a nice view of the harbor, and in the distance the imposing Kronborg Castle, standing ever resolute over the sound. Walking to the castle took a bit, mainly due to the construction that had engulfed the usual route, as I mentioned before, construction is everywhere here. But I was able to find the way thanks to makeshift signs which had been spray painted onto the sidewalks. At one point I couldn't help but wonder if someone had just painted the signs to really mess with tourists and send them wandering to the outskirts of town. The road to the castle is actually a small dirt path, which was pretty cool, it definitely increased that feeling of stepping back into time. In typical Danish style, there were about 3 or 4 "layers" to the fortress, with the outer most layers being dirt and stone mounds with a moat, then as you worked inwards the walls got larger, until eventually you came to a really deep moat, and some REALLY large walls. This picture shows some of the inner walls, by this point I had past through no less than 3 gates, walked up a huge hill, and crossed over 2 moats. I think you get the idea of how fortified this place was.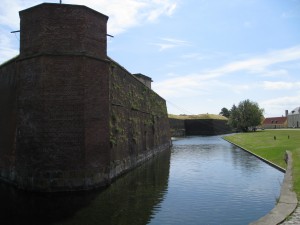 Once passing through the swarm of walls and moats, you get to the actual castle itself, which dates from the 1600s, as the original keep was almost completely burnt in a fire. The only original part that remains is the chapel, which was pretty cool, only the church survived the blaze. The first gate to the interior (Yes, 3 more gates to get to the inside), has a picture of Shakespeare carved into the wall next to it, this was obviously added at a later date after the release of Hamlet. I decided to get the tour ticket for 95 Kroner (15$) which allowed me to see everything I wanted to see. I checked out the chapel first, then from there I headed to the "casements" which is actually the cellar to the castle, and wow, was itdark down there. I have a few picture with flash, which was actually how I navigated part of the passageways. The fact that they were selling flashlights at the entrance should have been a sign that things were going to get crazy. Down in the casements is a very forlorn statue of Holger Danske (which is actually him "sleeping," not a statute), a character of Arthurian Legend who has saved kingdoms in the past, and will wake when Denmark needs him again.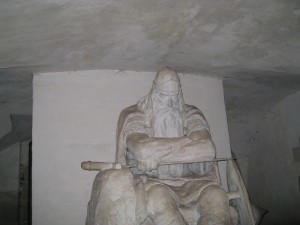 I got a cool picture of myself with ole' Holger, but out of fear of having the wrath of the Nordic Gods befall me, I'll refrain from posting me crawling on him here. And just as a way of giving you an idea of just how dark it was down there, here is a picture I took without flash RIGHT next to the lights, I would post a picture away from the lights.. but its just a black square.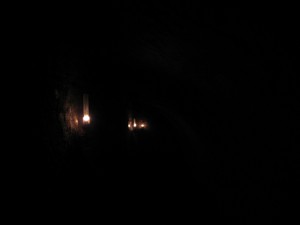 After being under the castle in 500 year old stone passages, I ascended into the blindness that is the sun, then proceeded through the area where the  royals used to live. The ballroom was the highlight of that portion, as it was way, WAY larger than I would have anticipated. From there I headed into the maritime museum, which was ok, but the real highlight was ascending one of the towers (conveniently placed inside the maritime museum, forcing you to pay to get to it). From the top you could see most of Helsingør, a big chunk of the bay, and of course Sweden. Being up on top of the tower made the entire trip worth it, as the views were really awesome (though the billion steps in the tiny spiral staircase were not).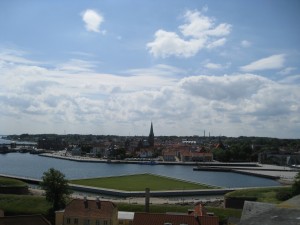 After heading back down, I walked around the outskirts of the castle, checking out a few things such as the armoury, as well as seeing the world's oldest cannons still in regular use, which come from 1766. The whole area was just really gorgeous, and the way the landscape had sort of just grown up around the aging castle had a sort of melodramatic effect that I can't accurately describe in words or in photos. Before leaving I headed down to the beach, as Kronborg actually contains its own stretch of beach, complete with batteries where crap tons of cannons used to sit. From down there I was able to capture this picture, which shows a bit of the actual "keep" itself. I actually had to walk up from the beach a bit, all the fortifications kept getting in the way, its crazy to think that Sweden actually took this place once!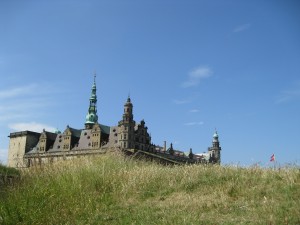 I then started back home, where I missed the train I needed twice, because I wasn't really sure which train I did need. Luckily the third time was the charm, and I made it on the train and back to Copenhagen. Since I took a little bit of a weird route, I also got to see a station I hadn't been to before, Østerport Station. By the time I got home, which involved walking > train > walking > bus > walking, I was really hungry, so I set down for my pasta dinner, which is every dinner. I've now got a few beers, 2 of which I have never had before in my life, and I am getting ready to enjoy a Friday evening with no homework. Tomorrow its supposed to rain (which is precisely why I went to Kronborg today!) so I'm not sure what I will do, outside of sleeping in.
The Tidbit of the Day: The Drinking Culture of Denmark
As I went to Carlsberg yesterday, beer has been on the mind, as partaking of it made me want it more, as I had been avoiding it due to budget concerns. Anyways, I have noticed a great deal of different between America and Denmark when it comes to drinking. First of, America's drinking age is 21, Denmark's is NONE. Yes, you read that right, there is no legal drinking age in Denmark. Now what they do have, is a legal purchase age, which is 16. For the most part, stores don't care about selling light alcohol to minors, and I've seen kids who can't be any older than 14 buying beer. Where things start to matter is bars and liquor, both of which have more hefty requirements. For instance, 18 is the age to buy hard alcohol in stores, and some bars go up to 20, and I believe I've seen one bar that requires 21, and they card you like crazy. But outside of bars and hard liquor, the culture is very relaxed and binge drinking is most definitely not an issue here (whereas its a massive problem in America). You'll see people drinking on trains, while cycling, while pushing baby carriages, while shopping, and so on and so forth. The concept of "public drinking" here has no stigma attached to it at all. For me, its nice being able to get beer without having to tell someone my life story (F*&K you Bloomington), and since alcohol-poisoning deaths aren't common, I can't fault the system a whole lot, at the very least its just different, certainly not worse than our own.