[This is another moving bucket list post, so the standard notice applies]
Another day another article checked off the ole' moving bucket list.
This time around we visited a local park by the name of "Happy Hollow." I'm not exactly sure where the park got this name from, aside from the fact that it is indeed a hollow right through the middle of town, but I don't think they put a lot of thought into how the name might be misinterpreted. Anyways, its a park that runs the length of a hollow. It has lots of parky things, like a playground, shelters, open fields, volleyball courts, and trails. It was actually the trails that brought SB and I to Happy Hollow. While Happy Hollow has its own trail network, they are all part of the larger "Hoosier Heritage Trail" which is very, very long. Needless to say I wasn't interested in a multi-day hike, so we just stuck to the immediate area. SB had actually been to Happy Hollow before, but this time we went further along the trail than she had in the past.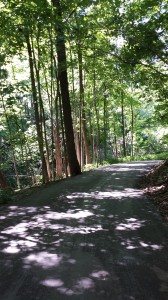 As you can see from the photo above, its actually a fairly nice paved trail. In fact the entire Happy Hollow trail network is paved, of course being "secluded" right in the middle of a city does tend to have advantages such as that. Of course the larger Hoosier Heritage Trail has no such amenities, but that wasn't of our concern. The portion of the trail that we walked actually went from the basin of the hollow up to the top of the ridge, which was actually a street. The interesting thing about the Happy Hollow trail, at least the one we were on (there are four, though they are mostly just offshoots of each other), is that while it seems like you are in the middle of nowhere, houses dot the ridges above you. As we climbed the ridge it became more and more obvious there were houses around us, eventually getting to the point where you could have almost reached out and touched a few decks. It was also made more apparent by an ever increasing number of children playing in the creek bed. Towards the bottom of the trail though, it was fairly secluded.
While the walk (which amounted to about 45 minutes) was nice, the two real highlights of the trip were meeting Clarence and Oliver. Clarence was an older brown squirrel, which are actually somewhat uncommon here in the realm of the grey squirrels. We came across him while he was eating a walnut dinner. Oddly enough, when we came back buy him a fair bit later he was still eating. It was kind of cool seeing his teefers turning the nut into a powder-like substance.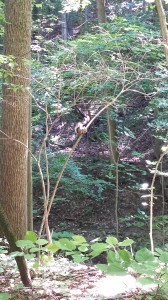 Further down the trail was Oliver. At first glance I thought Oliver was a chipmunk because he had a couple of markings that didn't strike me as squirrelish. However, on closer inspection Oliver turned out to be a young squirrel. He was still quite small, but that didn't seem to be stopping him from enjoying he wonderful afternoon sunshine. He was asleep when we first passed by and when we came back through he was still sleeping, though he had moved forward about a foot on the branch. Perhaps he was sleep-crawling. You can't see it in the picture below but Oliver was surrounded by a bunch of really cool looking spiderwebs that reflected the sunlight.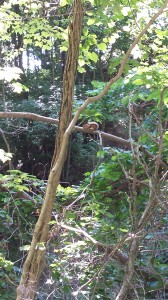 By the time we got back to the car SB was hungry and I was getting there. We had decided a while back get some sushi, or as the boys call it, "Rushi." Valentino is an especially  big fan and Tristen just likes eating meat. There is a local place called "Heisei" that SB had eaten at a couple of times before and it is well-known for the quality of its sushi. It also happened to be fairly close to Happy Hollow park, so it was an easy choice about where to eat. When we first got to Heisei they hadn't opened for dinner yet, so we had to wait about 10 minutes which ended up giving me the extra time needed to become hungry. Once inside we got to choose if we wanted to sit at the sushi bar, a table, or floor seating. If you are wondering what I mean by floor seating, its probably pretty much what you are imagining.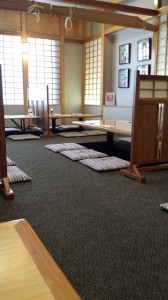 The nice thing about the floor seating was that you also have the option of sitting "normally" with your legs in the area under the table. The floor above is actually a raised platform, so before you go up there you take off your shoes and then go up a couple of steps. This allows for a more traditional Japanese eating style, or you can still plop your legs underneath the table. I alternated between the two. We ended up ordering 4 different sushi rolls, including an Alaskan Salmon Roll (much to Valentino's great pleasure) and a Pickled Plum Roll (which I had to convince SB to agree to). All of the sushi was great, definitely some of the best I had had in a long time. Of course when your regular source of sushi is Target that probably doesn't  say much. But really, it was very good. Just as good as the sushi itself was the presentation.. a giant boat.. no seriously.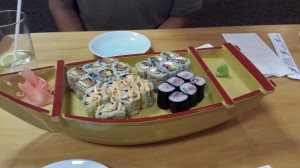 While I did enjoy the boat, I couldn't help but wonder if the dishwasher hated their life. Once we were done with the boat, the server actually brought out a fifth roll on the house. I had no idea why at first, but it turns out the itamae of sushi (chef) recognized SB from her two prior visits. One of SB's old co-workers had known the itamae, we are not exactly sure how. Either way, last time they visited he had provided them with 2-3 free rolls. He must have remembered SB (or at least her tip) and sent us out a free roll. If his goal was to get an extra tip, he succeeded. Either way it was a nice gesture and the fifth roll was very good, though it made us pretty pompous.
After that we headed over to a nearby grocery store called "Pay Less" where we had spent several years shopping. They had made quite a few changes, such as adding a Starbucks. We were actually looking for some sake to try, but they didn't end up having it so we got it elsewhere before heading home.
All in all a good night, even if the things we did weren't a first for SB, it was the first time for me to do them and thus a first for us as a pair. After the fun we went home and started packing, which was much less fun, but equally as important.
Until next time,
-Taco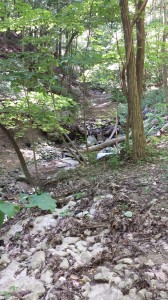 The above is a shot of the creek that runs through the base of the hollow. The trail follows it for the most part. Since its not as secluded as it initially appears there are a few concrete dams along the way. Because it was a nice day we got to see lots of of those cool water skating bugs.