So I like animals, that should sort have been fairly obvious by now. By extension I also like seeing animals, and when you live in a city one of the best places to see animals is a zoo. Its no secret that my all time favorite zoo so far is the Columbian Park Zoo. In fact I wrote pretty much an entire post about it. Columbian Park Zoo is not big, nor do they have a wide variety of animals, but there is just something special about it.
Boston has a zoo as well, the Franklin Park Zoo. However, like most things in Boston, its a little bit too steep for SB and I to afford (looking at you New England Aquarium). This time around I couldn't cabbage onto some free tickets, but our tickets came from another source. Knowing our love of animals, MIL and FIL purchased our tickets for us. Pretty cool. It took us a bit to get out there, but I'm definitely happy that they purchased the tickets for us and that we went.
My overall opinions on the zoo were a bit mixed, but I'm going to walk you through our adventure before I talk about that.
As usual, I've omitted a lot of stuff for the sake of time and space.
—
We had been planing on going to the Zoo this past Saturday (9/13) for a little over a week. The weather was looking good so we were pretty stoked. As always happens the sunny sky forecast turns into rain right beforehand. I have never regretted how quickly I abandoned my plans to be a meteorologist. We had all but decided not to go, but SB decided to check the weather one more time (this is the day of) and it turns out they had pushed the rain back to the evening. Well, by this time were were about 2 hours behind where we should have been. But, not ones to miss animals, we took it upon ourselves to make it down to the zoo. It was gray skies, but animals are animals.
The trip itself was a bit of an adventure and took a fair chunk of time. There was no real straight shot to get there via public transportation, it was either a combination of bus/train or bus/bus. We opted for the bus/bus route and between waiting on the first bus, the layover at the bus station and then the second bus trip, it was a bit over 75 minutes before we got there. By this point it was almost 3pm and the zoo closes at 6pm. The good news is that it was not raining.
From where the bus dropped us off it was only a short walk to the zoo.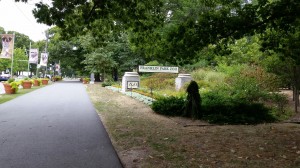 The main gate was sort of similar to the gate at the Berlin Zoo, I doubt that was intentional, but considering that they are both old zoos (Franklin: 1912, Berlin: 1844), who knows. This is actually the "Zebra Gate" entrance.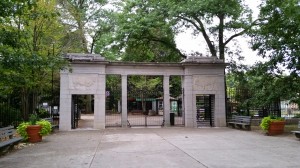 We went through, turned in our tickets then began looking for a place to eat. We had planned the day rather poorly I suppose and were both hungry. The plan was go eat, then explore, but we got pretty much instantaneously sidetracked by the animals.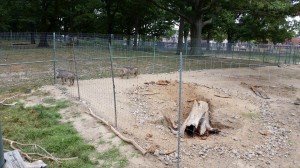 The first up were some warthogs, which were running in big circles chasing each other, it was kind of funny. Next to them were some African Crested Porcupines, one of which was sleeping.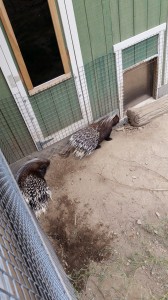 We pulled ourselves (read: me) away from those critters and took off for food. We thought we had found it, but ended up turning down the wrong path (or maybe I did it intentionally), which led us straight into a prairie dog kingdom.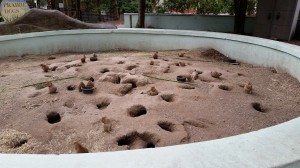 I had never in my life seen so many prairie dogs in one place. It. Was. Awesome. I mean, I liked the prairie dogs at Columbian Park Zoo, but there were just so many here. I was getting all up and personal with them, then I noticed the sign that said to keep off the wall, whoops. Shortly after that we got back on track to find food, which took us through a barnyard area. Lots of zoos seem to have these, sure they aren't very exotic, but I still like them. I especially liked the Nigerian Dwarf Goat, who was chilling out in the food bin.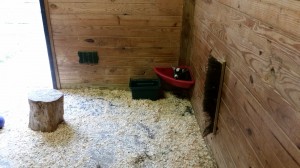 After that we finally made it to the food place for noms. We didn't stay long since time was ticking away and every once in awhile we felt a stray raindrop. One of our first stops as we made a big circle around the park was the tigers.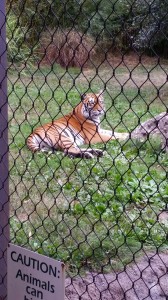 They also had a rare white tiger that wasn't disfigured from inbreeding, but he (she?) was back towards the back and little difficult to see.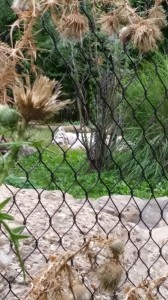 After that was the lion area. They had a cool thing one one wall where a safari jeep had "crashed" through the glass. You could go inside the jeep so that you were actually inside of the holding area, it was full of kids, but the lion wasn't next to it anyways. It was a cool concept though. It reminded me of Jurassic Park for whatever reason.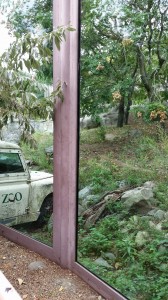 The lion himself was sleeping, at least when we were there.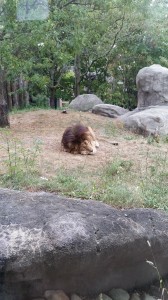 He definitely woke up later though, since we heard him roaring, which was pretty awesome (we were too far away to justify walking back though).
From the lion we went straight to the.. Camel?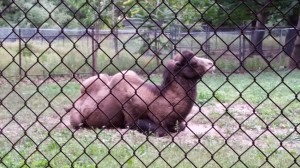 Kind of an odd animal combo, except for the fact that this is a Bactrian Camel, which is from Asia. So his wooliness isn't just because he is in cold ole' Boston, in fact this is probably warm for him (Bactrians are primarily from Mongolia, for example). I always forget how huge camels are.
While watching the camel the train came by.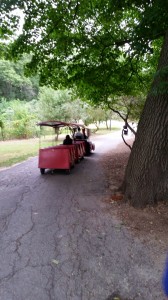 I'm honestly not sure if the train was free or cost money, but my guess is that it was free. The zoo covers a decent area and there is a large circular path (seen above) that sort of runs the gamut of the animals, the train takes you along the route if you are too lazy to walk (or unable).
We followed the train's path which took us into one of the indoor areas. We actually came in the back door, which was totally fine and its even on the map, but it was not marked well. It looked like you were walking into a bunker or something. There were no soldiers inside the bunker though, just a big ole' Tapir waiting for us.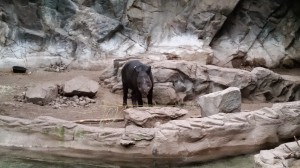 There were a couple of birds in there with him and there was supposed to be a Capybara in there, but we seriously could not find it and oh did we try.
Near the Tapir was a Giant Anteater.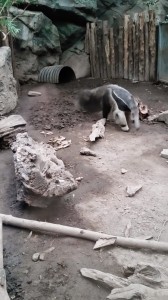 He did not cooperate and thus is sort of a giant blur. You can pretend he is Flash Anteater if you like. It was probably more to do with the low light and me not being good with cell phone cameras.
After this we came across a Potto, which I had never even heard of but was pretty awesome.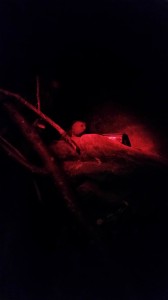 He apparently likes the dark too, which is why the pictures is hard to make out.
In the same building were some gorillas.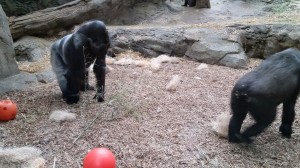 These are Western Lowland Gorillas. I learned something too. I always thought that "silverbacks" were an actual kind of gorilla, but it actually just refers to adult male gorillas of many different species. You can see what I mean in the above photo. They were playing with a stick, it was pretty funny.
Continuing on we found a Pygmy Hippopotamus, which are always awesome. He even had some duck friends.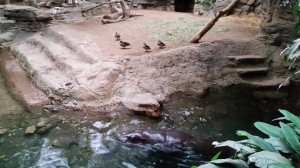 In the next area was a Capybara.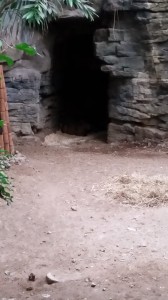 That was about all I could see of him. Which is why I didn't really explode with excitement when I mentioned it. He was just visible enough that you could tell he was a Capybara, but that was about it. This was actually the first of two disappointments I had. I won't complain too much, though, since at least I did get to see one.
Near the elusive Capybara were some Tamarins, there was even a little bitty one that was just a couple of months old.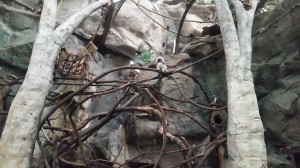 The baby is the one furthest right in the above photo.
About this time we crossed another viewing window for the gorillas, someone had decided it was sleepy time.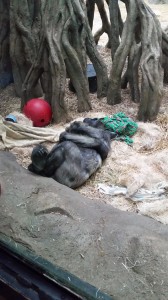 Just past the nap-nap gorilla was the Ring-Tailed Lemurs.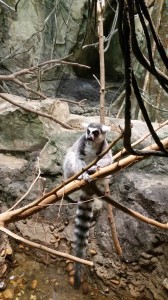 They are such cool creatures and they were really close to the glass. At one point a crowd of people with kids came in and the lemurs got very nervous, it was funny in its own kind of way.
We then excited the big building, through the main door this time. It was much nicer than the rear door.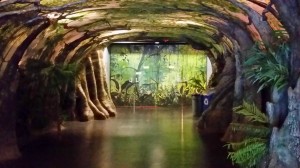 Outside we saw one of my favorite creatures, which wasn't actually an exhibit, the squirrel.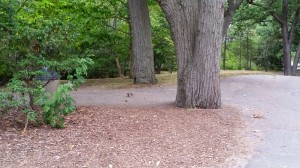 There were actually a ton of squirrels in the zoo, which isn't really surprising since the zoo is park of the larger Franklin Park area, itself part of the (much) larger Emerald Necklace. Some of the squirrels were pulling ninja moves and running on walls and roofs.
By this time we had worked our way across the zoo and were near the "Giraffe Gate" entrance. There were supposed to be some Hyenas near that entrance, but they were either gone or not there yet, I'm not sure which (the map made it seem like they were there, but the sign said "Coming Soon." The big "Bird World" was there and open though, they had a big dome you could walk through as the Condors and such flew around you.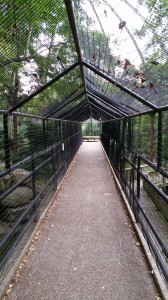 Inside the Bird World building they had lots of little sections of birds, they seemed pretty happy, or maybe they were very angry and were screaming rather than singing.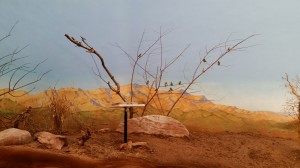 They also had a Tawny Frogmouth. If you are like me, you have no idea what that is.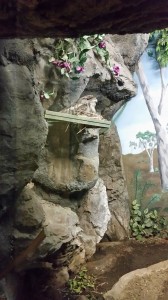 Its a bird, and yes, it looks like a frog. Its very, very weird. But I liked it regardless.
Outside were some Emus (SB's favorite worst enemy), they had some Red Kangaroo buddies.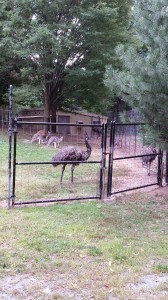 Near here was the COOLEST part of the entire day. They had a big netted hut-thing you could go in that was just FULL of Budgerigars ("Budgies"). It was AWESOME.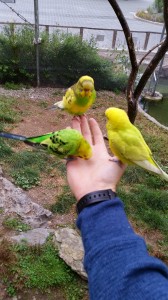 The zookeeper on duty gave us a little bit of food so that the Budgies (best name ever) swarmed us. It was cool because you normally have to pay 2$ to get the food, but since we the were only ones in there (the weather had kept the crowds away) I guess she decided to be extra nice. At one point I actually had 7-8 Budgies on my hand and arm, but neither SB or I had our phones accessible, so by the time I actually got my phone out several had left. The one furthest on my hand was my ULTRA BUDDY (Budgie) though, he stayed on there for a long time, best friends.
SB even got in the action and sometimes she is nervous about such things.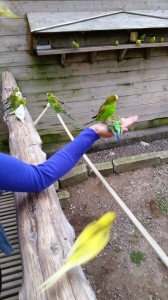 After exciting the Budgie house and seeing how far we could jump in comparison to an adult kangaroo (not far) the few pitter-patters of rain were increasing ever so slightly. We started making our way back towards the other side of the zoo, passing by the zebras.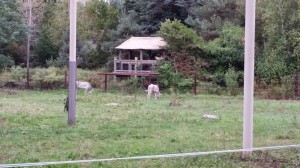 And then the Masai Giraffes.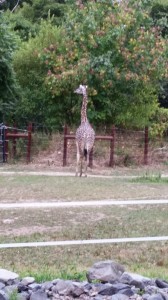 Technically it was "giraffe" only out of the three giraffes was actually out, I'm fairly sure it was due to the temperatures, which were unseasonably cold. One of their giraffes was massive (they had a sign up showing their height) and I mean massive, but it was one of the ones in their house.
We cut back through the barnyard area, there was a big cow in there that gave no cares about me sticking a camera up in its business.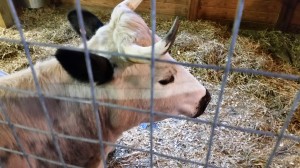 Near here was the Red Panda house, but literally right as got there they were taking them in for the night. They have a camera where you can watch them inside, but with the door shut it was too dark (disappointment 2 of 2, Valentino was sad as well).
Things turned around quickly though, since after the Red Panda house we came to a building with sloths (two-toed). Commence SB freakout.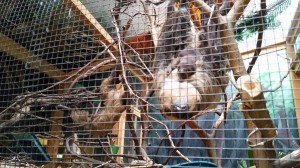 We then realized that the sloths had a baby, commence even bigger SB freakout.
Near the sloths was a turtle bro, getting him some noms.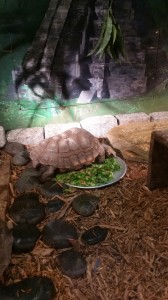 Next to him was a smaller turtle bro, who was mad fascinated by SB and I, it was really cute.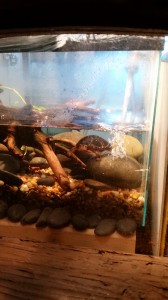 Not everything was fun and games though, it was exercise times for the Degus.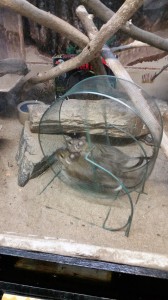 The Skink wanted nothing to do with that though, he was chilling.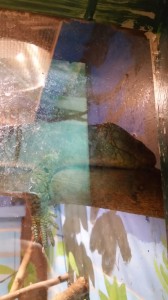 After that the rain was starting to come, but luckily we had pretty much made our rounds to we headed out. By this point I think we were one of like 5 visitors in the entire zoo, probably due to the weather and also they were closing (it was after 5:30). As soon as we left we found another squirrel.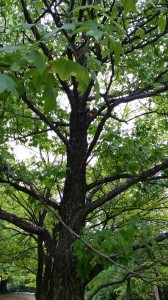 We decided to take the bus to the train to get home this time, since it was a bit later. There was a bit of confusion about where the bus stop was (it was not marked) and I ended up having to sprint with my umbrella to make the bus, but I made it.
All in all, a good day with lots of animals buddies and Budgies.
—
So why the mixed opinion?
Well, it has to do with a few things.
First, while the zoo is in Boston, its in the neighborhood of Roxbury, which is a good ways down into south Boston. If you don't know much about Boston geography, there are a lot of rough areas in south Boston. Granted, my ability to judge an area of a city as either "rough" or "not-rough" is rudimentary at best, but the "worst" areas of Boston are generally regarded as being in the south [I'm sure someone from Boston will read this and tear me to shreds, but I'm basing this on what I've heard so far]. Anyways, this is neither here nor there. My point is that the zoo was not in the best area of the city. This kind of diminished things as far as the trip as a whole goes. This was less important than the condition of the zoo itself though.
This is an old zoo, but more profoundly it is a zoo that has had a lot of financial trouble and has almost closed on more than one occasion. Back in the day and I mean way back (think 1910s and 1920s) when the zoo was free, it was quite popular, with over 2 million visitors per year. Its never recovered from becoming a pay zoo. In recent years admissions have been rising, but they are still only around 350,000. In light of this, the zoo apparently has a lot of financial issues, and it shows. The zoo as a whole seemed pretty worn down and some of the animal cages looked like they had not been updated in several decades. Only a few of the areas (namely the Flamingos) were what I would call full on bad, but I can't say I was impressed with at least half of the areas. Some were pretty nice, it was pretty obvious which areas were new, or were at least renovated. But the zoo as a whole felt a bit dilapidated. The food was overpriced, limited, and just "meh" but you don't really expect much from food at parks like that, so that isn't much of an issue.
Tickets cost 17.95$ for adults, and similar to the New England Aquarium (which is 25$), I am not convinced that the zoo (or aquarium) justifies those prices. Don't get me wrong, I'm happy we went, but I'm not sure I could fully recommend the zoo at full price if someone asked. A reduced ticket or free admission (they have occasional free Fridays) would make it well worth the time though, and besides its not like the zoo can improve unless more people visit and spend money. The cool thing is that they give you a free admission if you fill out a survey, so both SB and I got two free tickets for filling out surveys, that is pretty cool. Additionally, all the employees (except for the food counter person, who was your typical apathetic food service person) were very friendly.
So, while Franklin Park Zoo did not supplant the Columbian Park Zoo for me, it was a fun day, even with the rather lackluster weather and the issues mentioned above. I'll go back, especially since we have free tickets, but next time I'd like to go when the weather is a bit nicer and we can leave earlier in the day. I always loving seeing me some naminals.
Until next time,
-Taco