So, even though exams are still looming, most of the "End of the Year" stuff has already happened. Be it for journals, SPOs, individual classes, or most prominently the section – everyone is wrapping up. I think its kind of ironic that most of this comes before exams (which for the majority of classes are all that really matter), but I suppose it helps to lift people's spirits in the face of the coming storm.
My section was no exception, this past Friday (4/24 – the last day of 1L classes) we had our section party. But before I get to that, I'll discuss exactly what a section is. I've alluded to my section many times in the past, and even mentioned them as far back as Law School 101, but I've never really fleshed the idea out.
So what exactly is a law school section? Well, to be more correct, we need to ask what exactly is a 1L law school section, as no other year has sections. The idea of a 1L section can be traced back to none other than Harvard Law (the same can be said for the entire modern system of legal education). At its core, a section is a variably sized group of newly minted law students who are thrown together for what is undoubtedly the scariest year of law school. The size of a section varies by quite a bit. Some schools have about 60 people per section, others have as high as 120 per section. Here at Harvard we have 80 students per section and it tends to pretty rigidly stay at 80 students, whereas other schools adjust from year to year. In fact, Harvard seems to have designed its entire physical infrastructure around that 80 person number, so if they ever did want to change it they'd have some issues. The number of sections is also variable, some schools have as few as 2, others have as many as 7 (Harvard – I'm not sure if that is the highest or not). So as you can see, there are lots of variables as to how big a section is and how many of them there are.
What doesn't change is the basic idea behind a 1L section. A section takes either all, or almost all of their 1L classes together (depends on the school). The section is also graded against one another (e.g. in my 80 person section all 80 people are in direct competition with each other for a limited number of grades). And, again, depending on the school, the types of classes each 1L section takes are the same (again, this can be traced back to Harvard). The "core" 1L curriculum that sections must endure is generally: Civil Procedure, Criminal Law, Property, Torts, Contracts, Constitutional Law*, and Legal Research and Writing (Which is split into 2 groups of 40 per section).
[*At Harvard 1L Constitutional Law has been replaced by Legislation and Regulation, while Constitutional Law has been moved to be an upper level (2L & 3L) course offered as two classes focusing on either the 1st or 14th Amendments]
Also at Harvard 1Ls are required to take an international elective, mine is "International Law & Human Rights" and these international electives combine sections and are the first class a HLS 1L has that isn't confined to their section. As Harvard is pretty much the originator of the modern law school curriculum, most schools mimic that course setup pretty closely, though they often take less credits – as, to be frank – their schools are easier.
At Harvard (not sure about other schools) each section is also given a Section Professor – who commonly comes to be known as a Section Mom or Section Dad. Basically this professor helps coordinate events for the section, holds special office hours just for that section, generally shepherds them through 1L, and also teaches them in one of the "core" classes mentioned above. The Section Professor is actually a pretty cool idea, it helps "soften" the introduction to HLS, which is a school known for being anything but warm and welcoming. The section professor, if good (mine was), also brings the entire section closer together.
So, while that is all well and good, the real takeaway point is that a section experiences 1L together and is graded against itself. This is paradoxical. One one hand the law school goes out of their way to make sections feel like a fun and comfortable group, giving us section funds, building orientation around the section, etc. But at the end of the day, these are the people you are competing against. Further, because 80 people really isn't that big of a group, things get a bit too much like high school for my liking. So, like high school, you get clicks within the section, romances within the section, feuds within the section, and oh-god-so-much-gossip-it-burns within the section. Nevermind the fact that these are Harvard Law students, they are still human, and most of them are competitive type A personalities. The result is a social environment that tries very hard to be inclusive, but just beneath the surface there is a palpable tension.
That being said, your section is your section, and only you are allowed to hate/love them. Your section may not be perfect, but they are yours. And you walk through the fire together, even if you're planning on stabbing them in the back once you get to your destination.
So, when the end of 1L rolls around, you kind of feel like you should celebrate with these people – even if they aren't your most favorite people in the world. Despite my extraordinarily anti-social attitude, I joined in some of the festivities.
The celebrating actually started last Wednesday (4/22), at the end of Legislation and Regulation. While this wasn't our last class, it was the end of the last class as a section. Never again would we all be together in a classroom. Turns out, it wasn't even all of us, some people skipped class, or left before the toast. And toast we did.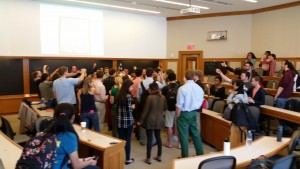 The section brought in champagne (and sparkling cider – since somehow there are freaking infants in law school who are not yet 21 – those people must have sad lives) and we toasted our year together. It was my kind of celebration because it was very short and I was in the room anyways. However, our real celebration wasn't until Friday.
It was divided into two parts, the first part was at our Section Mom's house, then the "after party" was at the Hong Kong Restaurant, which NO ONE calls anything other than just "The Kong" and which is known for massive amounts of drunk Harvard student revelry and stupidity (especially from the feared/admired "Scorpion Bowl"). My section actually rented out the entire upper floor of the restaurant. I really, really considered not going to either of the events, but eventually broke down and went to the party at our Section Mom's – but knew from the get-go that the Kong wasn't happening.
The thing was, our Section Mom's house was far away, and most of the bus lines didn't do me too many favors. Plus, I needed to run by Staples and pick up a poster that our section was having printed for another professor (which was out of the way from the best path to the party). So, I set off on what would become a tour de force around Cambridge. As I mentioned before, at the end of the day I had logged about 11 miles of walking.
The adventure started off on a sour note, despite saying the print would be done "within an hour" Staples said it wouldn't be ready until the next day (meaning that it would be too late for everyone to sign it) and also that their printer was broke (it ended up not being ready until the following Wednesday, so they lied twice). That meant I had gone a sizable distance out of my way for nothing – fun times. So I headed off, the only upside to my detour was that I got to go walk down along the Charles River, which was nice and pretty. After a lot of walking, I found my way to our professor's house, which was located in a very nice area of Cambridge (quite near Tory Row actually).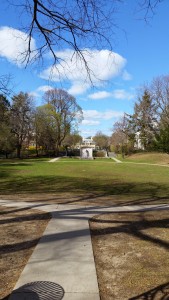 A nice distant view of Longfellow House.
Upon arriving I realized that the party was actually being catered, complete with fancy appetizers, drinks (but not beer, just wine, WTF), a full course meal, and desert.
As you can see from the photos above (taken before the vast majority of people showed up – I arrived pretty much exactly at 4:30) most of the event was outside. That was fine at first, but as the afternoon turned into evening and the sun went behind the clouds it actually ended up really chilly. Fortunately I had worn a sweater and I kept my jacket on, so I wasn't nearly as miserable as some of my more fashion-oriented classmates. The upside was that the pool-house was heated, as was the pool (though our professor expressly said no swimming, sadly) so a lot of people just hung out in there once it started to get cold.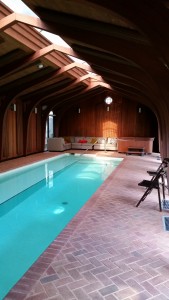 After snacking on some appetizers and having a few drinks (sparkling water for me, since this was a "Too-Cool-For-Beer" party) it was time for actual dinner. I'm not sure who the party was being catered by (all the people where just in traditional black catering garb) but the dinner was really good. There was this one kind of cheese.. bake.. thing that was super good and gone almost instantly. Luckily I was the 5th or 6th person in line so I got a bit of everything. Dinner was back outside, and by this point the wind was starting to pick up, but the food was nice and warm.
After dinner we presented our Section Mom with our "gift" to her, which was a 500$ donation to the Marshall Project and 210$ to the Boston Ballet (she loves ballet), both of which were in her name. After that, we went back inside and mooshed into one room where our Section Mom and a couple of section alumni performed some live music for us.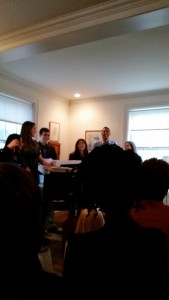 She started off by saying "This is proof that I am not perfect" and then she of course proceeded to play the piano perfectly. The songs were actually really funny, they were based on our experiences through the past year and likely would largely make no sense except to someone who was on the backside of my section's 1L experience. After our serenade, it was time for dessert, which was of course back outside.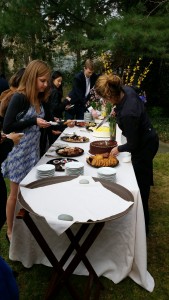 Like with dinner, I was quick to the front of the line, and boy did they have some yummy options!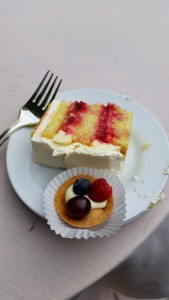 I ended up going with a Vanilla-Bean-Raspberry cake and a small fruit tart. Though fruit-and-yogurt tarts, a chocolate cake, cookies, brownies, berry bars, and some lemon cream tart were also available. It goes without saying, the dessert was pretty awesome.
What wasn't awesome is that it was now just downright cold. Apparently when they did this party last year it was about 15 degrees warmer, with sun. It wasn't too bad until the wind decided to show up to the party as well. By this point it was getting close to 6:30 (official end of the party) so a lot of people started packing up and heading off to the after-party. I had brief conversation with my professor before I left, and she gave me a hug (as she did to everyone else – I'm not that special). It was kind of nice to see the "human" side of the "professor" – If you've ever been in college this will make all sorts of sense to you.
As I already alluded to, I wasn't about to go to the Kong after-party. It just wasn't my thing, plus it was SB and I's Friday night and we had plans to meetup at new restaurant. So I was off on the next segment of my long walk for the day. The good news is that I was able to see a new area of Cambridge, including this awesome fat bunny statute.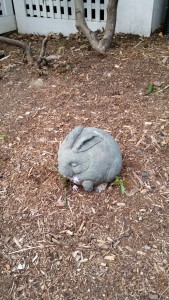 So, while I won't ever really be gathered with my section again in a classroom setting, I'm sure we will stay at least reasonably close in the next couple of years. We do have a Facebook page after all, which counts for like 75% of social interaction these days. In the end I'm glad I decided to go to the party, which isn't a sentence I say very often.
For now, its time to start dealing with exams.
Until next time,
-Taco
P.S. – Speaking of exams, it looks like the firms are starting to reach out. This firm, Jenner & Block, is from Chicago and sent me a lot of Chicago-themed goodies.