I'll start this off by saying that this post, despite being labeled "End of (1L) Year Wrap-Up" – isn't actually about law school. That is going to be a separate post, focusing on the end of 1L from a law school perspective. This post is instead about the end of the year activities that SB and I have had, as well about a few other miscellaneous things (read: food and beer).
So, where to get started. That is one thing about my blogging style that isn't really conducive to easy posting. Rather than having a series of micro-posts, I tend to let crap blob up and then I end up with several-thousand-word mega-posts that literally take hours to write. If you have no experience blogging, you seriously don't realize how mind-bogglingly time consuming this stuff can be. I've had conversations with SB about this actually. She tends to err on the side of shorter, more frequent posting. Well, at least theoretically. She posts far less than I do 😛 . Anyways, I don't really see my style changing. As such, don't expect this blog to ever become one of those "POST ERR' DAY" kind of blogs. However, I'd like to stay away from the DAY-CONSUMING posts that I have done in the past (see this – which is still my favorite post, but was just very time consuming), where I literally spend an entire day of my life writing one post.
Anyways, moving onwards.
So its the "End of the Year" season here at Harvard. Which means that almost everyone was done one or two weeks ago, but the law students, always the law students, didn't finish this week. But at least the weather has been more cooperative.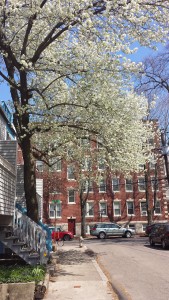 In fact, it has been a little too cooperate. On May 10th it was 88 degrees and humid here. We have no A/C yet. Those were fun times. Especially when they are doing construction on your building (literally right outside our windows) and you are trying to take an 8 hour exam.
Of course the plus side to the end of the year season, is that Harvard tends to do nice little things to help get you through, be it chair messages (which I have managed to miss every time) to lots of food.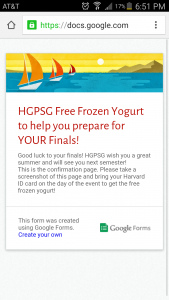 The graduate student government provided us with some yummy frozen yogurt!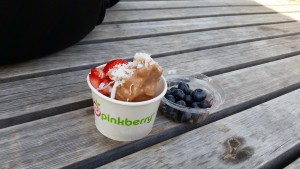 It was my first time having pinkberry. That giant butt in the photo belongs to SB. She came along and leeched some of my yogurt 🙂 . Actually, this was one of the few times that Harvard actually had a rigid RSVP system. Not only did you have to show them that screenshot above of the confirmation  on your phone, you had to show your student ID. This excluded SB. But, I was nice and shared. We got there right as they were setting up, which is a good thing, they ran out of yogurt WAY before they said they would.
That same day (earlier, in the morning) Harvard brought out some mom-and-pop donuts and Starbucks coffee to our apartment. Yes, all the way out here! Generally our building is kind of like the forgotten bastard child, but nope, GCP brought us noms! Of course, this was one of the mornings that SB had to leave early, so it was really just noms for me. The doughnut was awesome and the coffee was coffee, and thus awesome.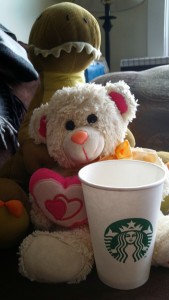 Valentino really likes his coffee.
But naturally, coffee isn't the only thing I've been drinking lately. Actually, since its been exam season I've been drinking a lot more pop, energy drinks, coffee, and beer than I should. But beer is good for you (no really). So we'll talk about that.
1. Presidente – Cervecería Nacional Dominicana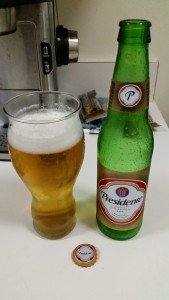 This was purchased in the spirit of Cinco de Mayo. Since it was, well, Cinco de Mayo. Originally I went in search of something such as Modelo or Tecate. But then I saw Presidente, which was both cheap(ish) and also from the Dominican Republic, which I don't believe I've ever had a beer from before. And, while the DR doesn't actually celebrate Cinco de Mayo, lets be real, as a fat American its all the same to me.
So how did my first DR beer fare? Well, it was just meh. It claims to be the "Most Refreshing Beer in the World." And to that I also say, meh. Was Presidente bad? No. It was like, I dunno, just a boring ole' lager. Lots of water, medium body, and low carbonation. Not a bad beach beer, which is honestly probably all that it was intended to be, but overall, its nothing worth writing home about. That said, it was beer, which is (rarely) a bad thing.
Another way SB and I celebrated the end of the year was by finally using two of those three free movie tickets I got from Harvard way back at the beginning of the year. We had originally wanted to go see Sin City 2, but time ended up getting in the way, so we had decided a while back to wait and go see Avengers: Age of Ultron when it came out. Our tickets were to AMC theaters (so pretty much any major theater these days) and we had been told that there was a nice once down in Boston near the Commons. So, we picked a day, and were off!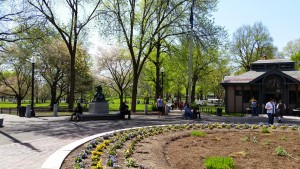 It was my first time being to the commons in awhile, and it was a gorgeous day to be there.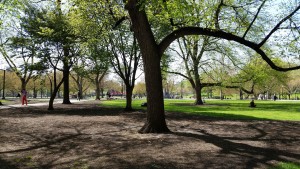 If you maximize that picture you will see a couple of girls walking a SWARM of dogs if you look closely enough.
SB and I were a bit early for the movie (we had met up at the Commons) so we sat and enjoyed the day for a little bit, until a humongous black ant buddy became too friendly with SB and she decided it was time to go into the theater.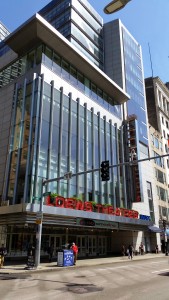 I have to say, this was the biggest theater I have ever been in in my entire life, hands down.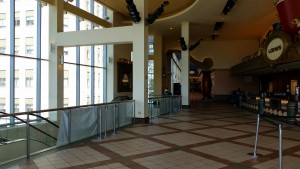 For starters it was two stories. It also took up.. like.. a conference center amount of space on each floor.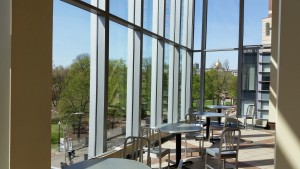 It was also in fairly nice area.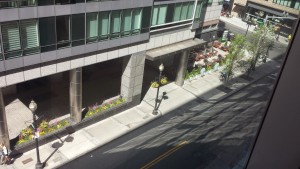 One of the hallways, that lead to other hallways (seriously) was cool in that it was lined with original movie posters and had famous movie quotes on the ceiling.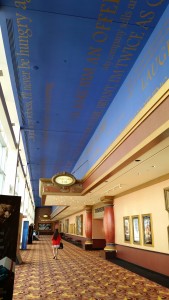 There was also a big concession area on each floor.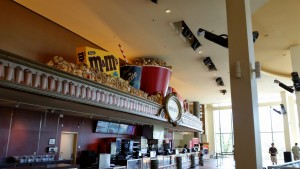 SB got a pop, I didn't get anything (though I shared with her). My bladder is the size of a pea. No, I am not kidding. I can drink one ounce of water and pee a gallon. I physically do not understand. But if I drink during a movie I will have to piss 3000 times. So I tend to avoid drinking during movies. Plus, the drinks are expensive.
As for the movie itself: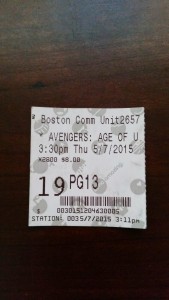 Avengers: Age of Ultron was pretty awesome. I think I liked it more than the first one (the Huklbuster vs. Hulk scene was worth the [free] price of admission alone). Also, James Spader did an awesome job voicing Ultron. Its definitely a Taco recommended movie.
However, the movie was really only the first part of our time out. This was our celebration of SB being done with school (she finished almost two weeks before me). So we were going out to eat as well (On a Thursday, rather than our usual Friday). SB, as I've mentioned before, is a Groupon Hawkeye (Avenger's pun definitely intended), and she had snagged us two Groupons during a special deal where not only did you get the Groupon, but you got an additional percentage off, so you ended up paying less than 50% of the final price at the restaurant. This basically opened up places that we would never be able to afford otherwise.
The first of which was a place called Midwest Grill here in Cambridge. And no, I have no idea why it's called Midwest Grill, its a Brazilian BBQ restaurant in the Rodízio style. If you don't know what rodízio is, its pretty simple, its an incomprehensible amount of animal flesh. But really, it's those places where they bring endless skewers of various meat (and in this case bread) to your table which you eat in addition to an all-you-can-eat buffet. In other words, MAXIMUM FATNESS ENGAGED. Trust me, I got my monies worth of small creature souls.
When we first entered, we were the only people in the entire restaurant, which was a little unsettling. Fortunately more people came in to the point that it was quite busy by the time we left. Anyways, I started off with some soda called "Guaraná Brazilia" which was a guaraná flavored soda from, you guessed it, Brazil. It was pretty tasty , but nothing extraordinary (or worth the 2.50$ I paid for one can). It tasted A LOT like something I've had before, but I still can't quite put my finger on it.
We then went up for some of the buffet food while we waited on the meat to start pouring in. Our server suggested going light on the buffet, which we did, and which was a very good idea. You see each table is given a little card. One side is green for "GO" and the other side is red for "STOP." Its pretty straightforward, green means "BRING ME FLESH," while red means "I AM OBSCENELY FULL." Soon enough, our green card (lol) summoned a meat-runner.
The first meat that came to us was beef sirloin (seen pictured with my random buffet picks).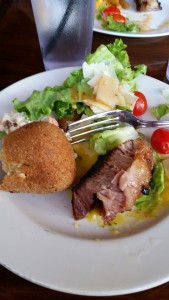 And thus began the ABSOLUTE DELUGE of meat. Next up was kielbasa.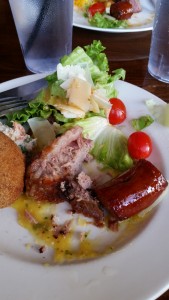 You can notice the back-up was already beginning. Chicken breast quickly followed.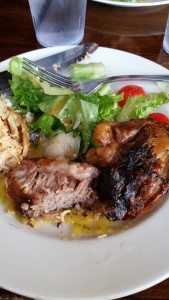 We then had a (very brief) break from the stream of protein as they brought out some bread.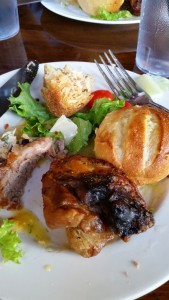 However, they quickly returned to meat with the arrival of some lamb.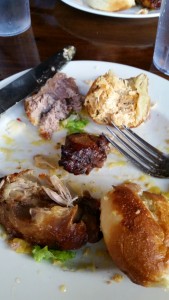 Which was in turn quickly reinforced by some ribs.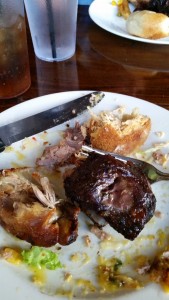 And seemingly just moments later, some pork loin arrived to join the fun.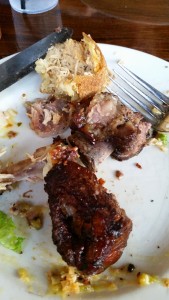 Not to be forgotten, the chicken made a return, this time wrapped in bacon.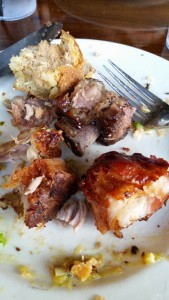 There was a bit of pause here, giving us a little bit of time to catch up before the Brazilian sausage arrived.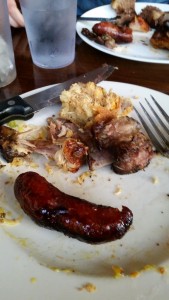 By this time we were so pompous, it was insane. Yet when the chicken hearts came out, curiosity got the best of me.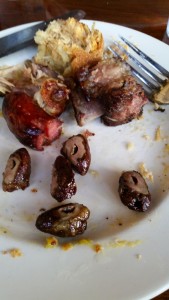 Yes, chicken hearts. I am fairly adventurous when it comes to food, so a heart isn't too far in the outfield for me. They sort of tasted like gizzards and/or liver, but not quite. I dunno, heart tastes like heart, lol. I even got SB to try one of them after pestering her. She was more neutral on them. I mean, I though they were "ok" but really nothing special. But now I can say I've eaten chicken heart, which is kind of barbaric and cool.
At that point, we turned our card to red and tapped out. Well, tapped out and went and got some ice cream from the buffet that is.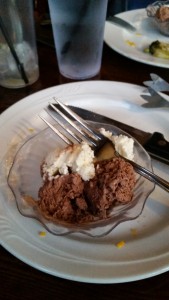 After that we headed back home. And pretty much lapsed into protein comas. I have not been that overly full in a LONG time. I didn't eat again until like 16 hours later. Overall, I liked the rodízio style. But its not something I'd regularly do. Namely because its expensive and Groupons don't grow on trees. But also because it just encourages you to eat so, so, so much. If you know me, you know I am a very fast eater (too fast actually) but even I struggled to keep up with the speed of the meat-runners. If you are a carnivore true-and-true, though, I think you owe it to yourself to try out a Brazilian rodízio. It was a cool experience, and I'm glad SB spotted the Groupon.
After recovering from our protein comas, life returned to normal. I had a lot of running around to do over the next few days. At one point I even came across "The Kong" which I mentioned in this post.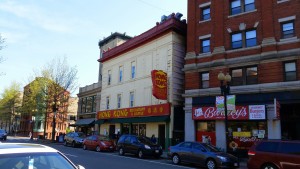 It looks like, and pretty much is, a dive. But hey, that adds to the appeal I suppose. Also worth noting is that that "Mr. Bartley's" place right next to it, apparently has AMAZING burgers. SB and I have not went there yet as its a bit pricey for us (so below average for most Cantabrigians, lol).
I also stumbled into a new area of campus that I had never seen before.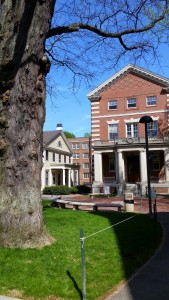 It was like a little alcove east of Harvard Yard. There was even a fancy looking "Faculty Club" back in there. Because at Harvard you build an entire freaking mansion to be your teacher's lounge.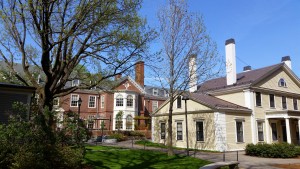 Like most areas of campus, it was very pretty, and the modern buildings were sprinkled in with the older houses.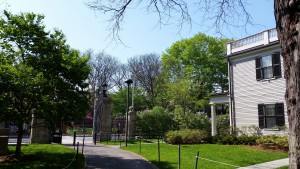 When I came out of the alcove I was actually just south of the Fogg Museum that SB and I had just recently visited.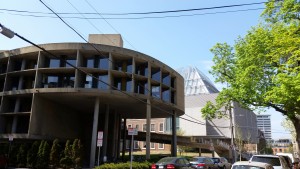 Since SB and I had massively gorged ourselves at Midwest Grill, we took things a bit lighter on our Friday date. Rather than going out to another restaurant we decided to just eat some Broadway grub. While we've been to Broadway countless times, we had never actually physically eaten there. Since they have some tables, we just got our food and chilled out.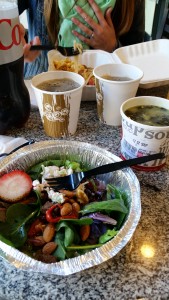 For treats we got a couple of Starbuck's frappuccinos (Starbucks is literally attached to Broadway Market). They were running a "Happy Hour" promotion where you could get fraps for half price, and they were offering two special varieties to celebrate the warmer weather: S'mores and Caramel Ribbon Crunch.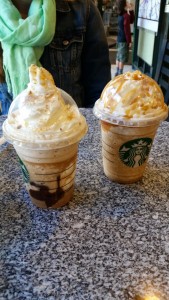 Both were quite nummies. I would have preferred to see a bit more marshmallow in the S'mores frap, but its liquid s'more so I can't complain too much.
Since it was Friday and we were at Broadway I just had to get some beer. And like happened last time, I went in seeking a six-pack and came out with a twelve-pack. What can I say, I am sucker for beer.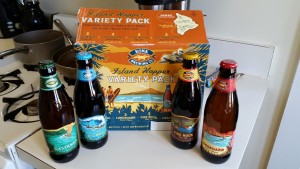 Case in point, when I bought the twelve-pack I had this many varieties of beer in my possession: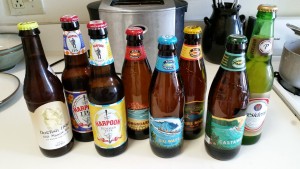 Anywho, since I had tried my first ever Dominican Republic beer, I figured I should also try my first Hawaiian beer. I had never heard of the Kona Brewing Company, but it was on special and it was one of the good twelve packs that has 3×4 instead of 4, 2, 2, 2, 2 varieties.
All the beers below are from the Kona Brewing Company.
5 – Castaway IPA
Starting with the Fire Rock Pale Ale: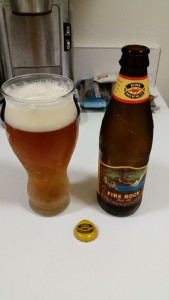 This was actually my favorite beer of the box. Not only did I really like the color of the bottle, this was a very solid Pale Ale. It managed to be both crisp and refreshing with citrus-floral hop overtones, while still keeping the roasted malt flavor that one expects from a Pale Ale. It wasn't super strong for a Pale Ale, registering at 6% ABV, but that worked well with the lower IBUs (35) and bubbly flavor to the beer. Definitely one of the better Pale Ale's I've had in awhile.
Next up the Longboard Island Lager: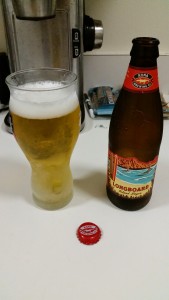 If the picture didn't make it obvious, this is a Pale Lager, more specifically a Pale Lager in the American style. This was a cold-aged Lager, which is actually interesting considering its from Hawaii, but it adds to the lighter body, which is what they were going for. There are some subtle spices mixed into the malty body of this beer, and its a solid lager. The lower ABV (6%) and even lower IBUs (18) make this a very drinkable beer, but it doesn't stand out that much in my opinion. Definitely not a bad lager, especially with some very faint floral tones, but it didn't impress me as much as the Fire Rock.
Next is the Big Wave Golden Ale: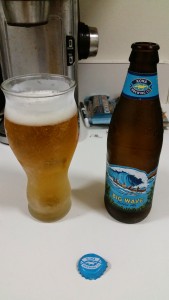 Now, admittedly, going into this I had no idea what the hell a "Golden Ale" was. Turns out that "Golden Ale" is like a mutt name for various different kinds of beers, in this case an American Blonde Ale. Despite being darker than the Longboard Lager, this was actually the "lightest" ABV beer of the box (4.40%), though the IBUs were very slightly higher (20). This beer definitely focused on honey malt. There was a tangible sweetness to the beer, that was almost enveloped by a hop-laden flavor. It was a fairly carbonated beer, with good lacing. Decent clarity for a Blonde Ale too. While not as good as the Fire Rock, it was more memorable than the Longboard.
Finally, the Castaway IPA.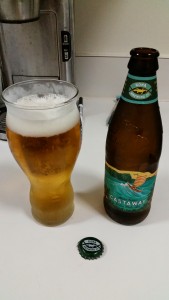 If you're sick of hearing me talk about IPAs, just deal with it 😛 . Besides, this is the official IPA of Wilson. This was a full-bodied American IPA. Which means it tends to be a bit more bronze than pale. This particular IPA is also dry-hopped, which means whole-hop flowers are added after fermentation has occurred, yielding a strong hop flavor and aroma. At 6% ABV and 65 IBU, this reads about the same as most baseline IPAs. It was a bit foamy for an IPA though, but not in a bad way. The leafy bitterness of the brew was nicely balanced against the hops, with hints of some kind of tropical fruit in there as well. While not to the level of Dogfish Head 60 or 90 Minutes, it was definitely my second favorite beer of the box after Fire Rock.
So, overall, I was much more impressed by what Hawaii had to offer than I was the Dominican Republic. That said, I only tried one macro beer from the DR, which would be like someone only trying Coors Light and declaring that American beer sucks ass (you'd be amazed how many Europoors do this). Fun fact, the US produces more varieties of beer than the rest of the world combined. Yes, the ENTIRE WORLD. Eat it Europe.
But mostly, I really liked the bottles. I mean, I still recycled them, so I didn't like them that much. But I loved the colors. Definitely some of my favorite bottle designs in awhile.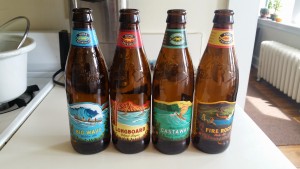 Moving on from that round of beer, SB and I made an extra trip out over the weekend to enjoy some of the nice weather. We even spotted a Cardinal on our way out!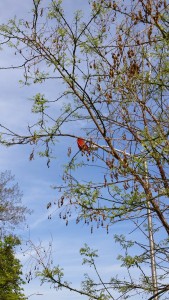 We spotted a Blue jay too, but I didn't get a picture of it.
We headed down to the square and tried out OTTO pizza, which is a New England chain from Portland, Maine.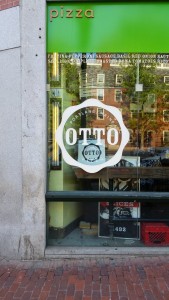 People talk up OTTO a lot, so it was on our list of places to try. Since SB and I aren't huge pizza people, it took us a bit to get to it. I'd actually had it at the law school before, but it only counts when we have it together. It was actually kind of busy, of course they have no room whatsoever inside, I mean literally, no seating. So I waited outside while a bunch of people cut in front of SB, as people are good at doing.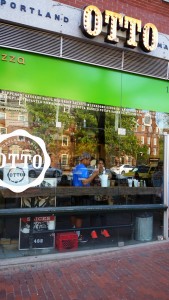 With OTTO, if you just want a slice you are limited to whatever they have out, and since they have a large variety of pies, its hard telling what you will have to choose from. We ended up trying some sort of chicken-mango pizza. Which might sound weird, but it's the kind of thing we like.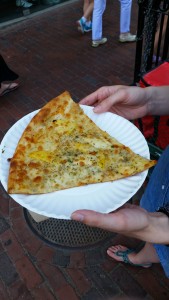 The outside seating was all full, so we had to stand and eat it, which really wasn't that big of deal since it was a nice day. Overall it was good, but it was pizza. And it takes a metric-feckload of awesome for pizza to really impress me these days.
Afterwards, we headed into CVS and got a couple of Snapples, and then SB and I decided to go down to Ben & Jerry's so that she could finally try out "The Tonight Dough – Staring Jimmy Fallon" flavor (chocolate and caramel ice creams with chocolate chip cookie dough, peanut butter cookie dough and a crunchy chocolate cookie swirl) she had been wanting to try for so long. Given the nice weather, Ben & Jerry's was quite busy, complete with small screaming child (the bane of my existence). However, the ice cream made up for that.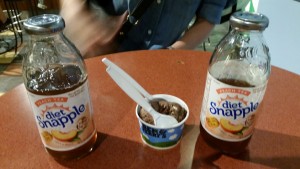 As you can see, we shared as kid's size, because, as this post has made clear, we had been eating a shit-load of food lately. It was pretty good, but a bit irregular. Some bites were AWESOME and others just tasted like chocolate ice cream. Still, it was good sharing it was SB on a nice day.
Also enjoying the nice day was Bonsai Buddy Jr.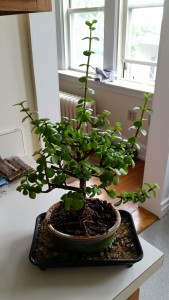 He really, REALLY needs pruned. But I am waiting until right before I leave for the summer to do it. I also need to feed him and Three Amigos and Little Friend some succulent food before I leave too, I think its been since Thanksgiving that they were given noms other than water or the dead bugs they consume (or souls in Quixote's case).
Back to human food, not everything we ate was out and about. I do have to give props to SB who made us some delicious chicken tenders!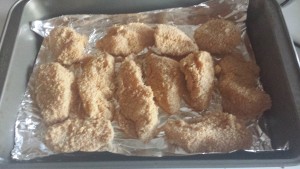 They were very nummy, and much healthier than what you would find in a store or restaurant!
Speaking of restaurants (double lols), yesterday [5-14-15] we went out to celebrate the end of my first year, which was timely since I had finished my last exam that very same day. As for where we went, you guessed it (or didn't, either or), we used the other Groupon. This time it was a for a sushi place, Akai Ryu. Which was highly rated and up near Porter Square, which we had visited for the first time not too long ago.
However, before I get to the sushi, I have to talk about getting to the restaurant in the first place. Akai Ryu is about 1.1 miles from our apartment, so not too far. Since it was a nice day and it was early (SB and I had finished up the iced coffees from Starbucks she brought home to celebrate Tristen and I finished our last 1L exam) we decided to walk up there and see some new areas of Cambridge (though Akai Ryu is nearly in Somerville). Namely, we were going to go see the "other" side of our street that we hadn't been on before.
Turns out, that, unsurprisingly (like most places here) it was gorgeous with lots of old houses. Some of which have pretty cool histories. For instance, one such house belonged to Julia Child, and was where they filmed her popular television show "The French Chef" which incorporated and blended Child's own style with that of The Joy of Cooking. The house is now privately owned, and Child's kitchen has long since been relocated to the Smithsonian (no seriously, they literally moved the entire kitchen). However, its still pretty cool to see.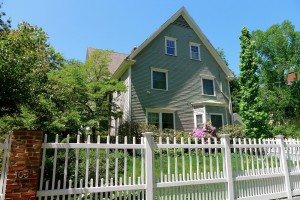 Also, Child apparently got a lot of her meat from none other than Savenor's (which SB and I have visited more than once 1 – 2 ). She was even friends with the original owner, Jack Savenor (who appeared in some of her television shows).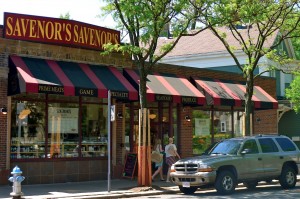 This also cleared up a bit of mystery for me. Since we walk past Savenor's every single week on the way to Whole Foods, I'd long since noticed a section of the sidewalk out front that looked much older than the surrounding sections. It also had something wrote into it with a finger. Now it all makes sense.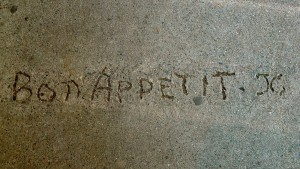 If you can't read it, it says "Bon Appetit – JC"
Also, worth noting, literally right across the street from Julia Child's house is the childhood home and birthplace of E.E. Cummings.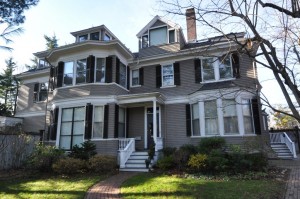 Stuff like this is why I absolutely love living here. Every little crook and cranny just exudes history, and since I am curious if nothing else, I love putting together all the little puzzle pieces (for another example see this post).
So, back to our journey. We walked by a lot of very nice houses, even a wooded park area that we didn't know existed. Then it was up to near the Somerville border and down a long street of Boston's classic triple-decker homes, over some train tracks, and then finally up to Porter Square. It took us a second to find Akai Ryu as it was located in a small mall (Porter Square Galleria – since malls are obsessed with calling themselves "Gallerias" out here, whatever the hell that means).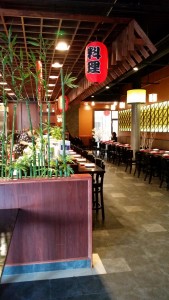 Since we we had beat the dinner rush by a good bit, we were promptly seated and started examining the menu.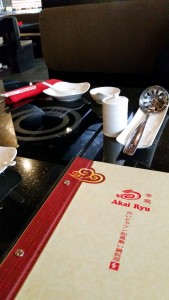 Valentino was fuh-reaking out. We had seriously not been to a sushi restaurant since before we moved to Boston. So yeah, the Polar Bear was going crazy. We ended up going with an Alaskan Roll (Valentino), a Scorpion Roll (Me), a B-52 Roll (Tristen), a Porter Square Maki Roll (SB), and a Lovers' Maki Roll (Valentino).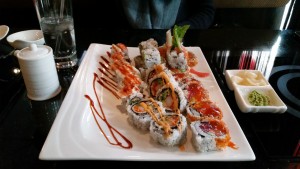 It was a lot of sushi, but it was so very good! In the end we liked all of it, but I think the B-52 ended up being SB and I's favorite (Its the one front and center in the image, with the orange sauce). I had a lot of fun getting to spend time with SB and relax after finishing up 1L. It was also nice because the Groupon allowed us to afford good sushi, which is something we can rarely do, despite loving it. And lil' ole Valentino's day was just absolutely made.
On the way back home we were nice and pompous, but not quite to the point as we were with Midwest Grill (which was to the point of being miserable). We took the super-deep Porter Square Red Line (discussed in more detail here) back down to Harvard Square and walked the rest of the way home, as we didn't feel like repeating the 1.1 mile walk with all that sushi in our bellies 🙂 .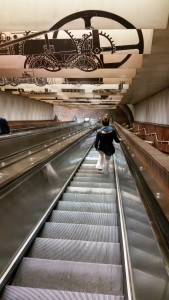 Here is a photo about half-way down the second escalator, its actually hard to walk down it without getting dizzy.
As this was a Thursday, we settled in and watched some Jeopardy and Breaking Bad for the rest of the evening. Like the week before, we decided to go a bit lighter on Friday (especially since Aunt Train was coming down on Saturday to celebrate the end of the year with us and to let me borrow a suitcase). However, this time we went with Whole Foods instead of Broadway, namely because it allowed us to get our shopping done at the  same time (which is normally done on Saturdays). So for dinner we just had some wraps (sweet and spicy kale chicken) and some BBQ tofu. Then for treats SB had a chocolate chip scone and I had graham crackers (I love me some graham crackers – I mash them up and put them in milk).
After swinging through Whole Foods we stopped at the ole' Wine and Cheese Cask for some alcohol. I wasn't really sure what I wanted. I had promised myself that I would do a mix-a-six once I was done with 1L, but the closest mix-a-six is at Broadway, and its mad expensive (as is all alcohol out here), so the best laid plans and all that. SB was interested in some more summer beer, and I kind of wanted to try some more mead, so we went from there. We ended up with a six pack of Samuel Adam's Summer Ale and an (18$!) bottle of mead (I figure you only finish 1L once).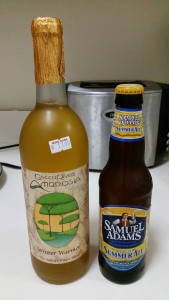 However, I actually still had a 120 Minute IPA (review here) sitting in the back of the fridge. So I decided to celebrate with that and save the summer ale and mead for later on (Don't worry, I'll get to the mead in a moment, and the beer in an upcoming post!)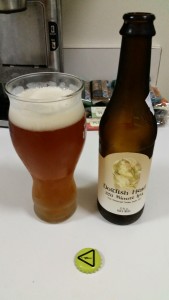 While I did enjoy it, the second time around it was a bit much. I really think the 120 is a beer to be enjoyed in extreme moderation. As in maybe once every year or two. Its just so dang strong, that its almost exhaustive to the pallet. Of course I still drank it, that would be a cardinal sin if I wasted it. That said, I'll be taking a very extended break from the 120s to give my beer-tasters a bit of time to relax from this near-whiskey brew. 🙂 . It was still a great capstone to the 1L year and the night though!
The next day (yesterday) Aunt Train came down to see us and celebrate. However, before she showed up I had to run by the law school (ugh) to pick up the law review packet. I'm not actually going to do the law review, I just want to see the packet. I'll talk all about that in my official "1L is Over" post. But I did have to get up in time to go get it, and then make it to lunch with Aunt Train.
After dropping off a suitcase (and waging war with a hornet in our bathroom) she was letting me borrow it was off to lunch! We (so basically I – since I am forced to be the decision maker more often than not) decided on the Grafton Street Pub [It can actually be seen to the left of the image in the photo of the "The Kong" above]. We made reservations for 1:15pm, which apparently was still brunch, which was odd. I initially wasn't feeling too much in the mood for breakfast, but it ended up growing on me (and SB). I went with the Irish Breakfast (two eggs, bangers, black and white pudding, rasher bacon, brown bread, home fries, grilled tomato, baked beans), SB went with the Avocado Benedict (poached eggs, avocado, hollandaise, home fries, English muffin) and Aunt Train went with the Traditional Fish & Chips (red curry tartar sauce, apple slaw, fries).
All the food was awesome, I was so stuffed I didn't eat for like the next 6 hours (which is a lot for me), well aside from dessert!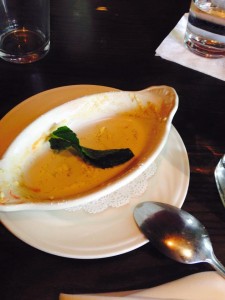 Ok, so its an empty dish, yes. We all shared the Crème Brulee with fresh berries and had some coffee. It was a nice end to a nice meal.
Of you didn't think I would pass up a chance to mention the alcohol did you? Aunt Train and SB shared a carafe of the House Made Sangria  (Red Wine, Elderflower Liqueur, Fuji Apples, Fresh Strawberries & Basil) which I tried a bit of, and it was pretty good, but I went with a beer, of course.
6 – Jabby Brau – Jack's Abby Brewing
I don't have a picture of it specifically, but you can see it behind my Irish Breakfast in the photo above. I actually didn't know anything about Jabby Brau, I chose it simply because I hadn't had it before and because it was a low ABV (I wasn't looking to get drunk and I knew I'd be eating a lot). Well, it turned out to be a pretty awesome beer, one of the better lagers I've had in awhile. It was almost a balance between a pilsner and a more malt-heavy beer. There were definitely some tones of light wheat. It was interesting, this was not a summer lager, but it definitely fit the profile while maintaining some of its heartier tones, all while being highly drinkable of 4.5% ABV and 20 IBUs. Definitely one I'd try again and recommend, especially with a good meal!
After that we chatted for a good bit until Aunt Train needed to go home, and then we headed back home ourselves. It was a nice and lazy day, full of way too much food, and just enough alcohol. For dinner we had some Dinosaur-shaped chicken nuggets (Tristen's all time favorite) and watched some Breaking Bad.
So, what about that mead?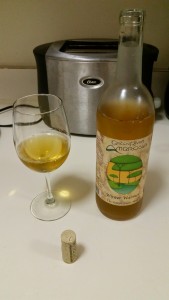 Well, I am sorry to say that something got lost in translation and this is likely the last 18$ I blindly spend on something that isn't beer for awhile. Last time I really enjoyed the mead. However, as I mentioned, the mead I had then (Boudica's Uprising) was only 7.5% ABV while most mead runs from 8-15%. The variety I got this time:
7 – Winter Warmer – Green River Ambrosia
Is 14% ABV, so on the higher end of the normal scale (remember that some above-average meads clock in at 20% ABV). This mead had a lot of flavor, and it was definitely a warmer. The thing was, all that good flavor was good wine flavor. See mead is technically honey wine. That is, wine made with honey instead of grapes. I explain all this in my mead post (linked just above). So, I think one of two things happened. As I naturally moved away from a 7.5% ABV mead, to one nearly double that strong, the alcohol flavor subsumed the mead flavors that I came to appreciate from Boudica's Uprising. Or, 2, it was just this particular style of mead that I am not liking as much. Once thing I didn't realize, it's still, whereas Boudica's Uprising was carbonated. I think, as a beer drinker, I much prefer the carbonation to the still drinks (a la wine). So, yeah, I can't say I like the Winter Warmer. But, it is from a local brewer (Greenfield, MA) and it is made from, and supports, local bees (and bees need all the help they can get these days). So while its not the best 18$ I've ever spent, its far from the worst. If nothing else, I've learned that mead is a very nuanced drink, much like beer, and I need to learn a bit more about before I go dropping 18$ on bottles. There is apparently "mead-that-tastes-sort-of-like-beer" and then "mead-that-tastes-like-strong-wine." So I need to figure out which is which. Still, mead gets mega coolness points.
And, with that, I'll draw this post to a close. Like normal, I ended up covering a whole lot of stuff and I actually worked on this post on and off over the course of two days.
Until, next time
-Taco