Hello all,
No beer blurb for this week. Its not that I didn't have beer, but I had no interesting beer. So nothing to share on that front (it was Miller Lite, from a can, if you must know).
We did have our normal Friday night out though. For the first time in literally a month neither SB nor I were sick. I'm in the final stages of my being sick, which means I'm about 95% over it, so I don't really count it as being sick at this point. It was SB's turn to pick since last week I just had us stay in, since I was still in the pits of the sick. Like often happens during SB's weeks, I make the suggestion which she ends up selecting, so its more me picking than her 😛
Anyways, there is a rather discreet looking place down near Harvard Square that is called the Border Cafe.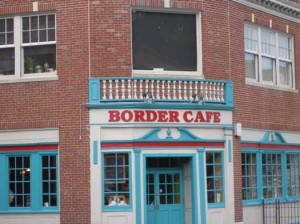 We had passed it many, many times. As far back as when we first came to visit with Meem. Well, we looked it up at one point and determined that it was Tex-Mex/Mexican food. No real surprise there. We aren't huge fans of Mexican food, it normally doesn't settle the best, but that doesn't mean we don't want it in moderation. We decided to give this place a try, since it was something different.
I don't have any pictures of the inside and maybe that is a good thing, but wow, the inside is like a giant fiesta on PCP. All sorts of different lighting colors, murals on the walls, string lights, country/folk music, wood floors, you name it, they have it. Its a complete 180 from the rather austere outer facade. It sort of ran that fine line between gaudy and unique.
The food was good, the drinks were huge too.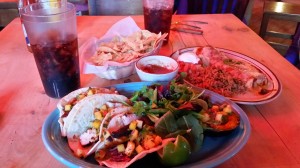 I got the Swordfish Tacos Veracruz, which were AMAZING (especially the mesquite grilled avocado) and SB got a Chicken Burro. The salsa was pretty standard, but the chips were really good. I try to avoid eating too many chips, since they fill me up and mess me up. I was successful this time, though I probably split the difference by drink too much Diet Coke. SB's Burro came with jambalaya, which was one of the sides you could pick, it was definitely good as well. Overall I'd say it was some of the better Mexican I've had in a good while. Of course it was also a little pricey for us. Of course pricey for us in these parts is actually probably below average for most people. Stuff is cray-cray expensive out here.
Also, Fall is in full swing out here in New England.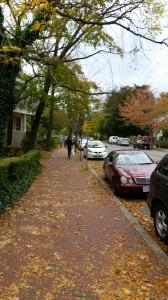 That is a street near our home. I took that when we were walking back from Whole Foods. So far Fall hasn't been too bad weather-wise out here. By the time this gets posted I'll be interested to see how much worse things have gotten. Next week, so the week of October 20th, is supposed to be pretty crappy. But this past week was really nice, it was almost 80 degrees at one point!
The good news is that a lot of the Farmer's Markets around here run all the way into November.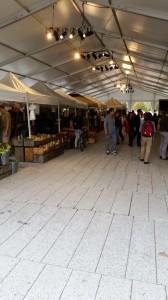 That is the Harvard Farmer's Market, which is in the same place its always been (at least since we moved here), they just build a huge tent over it once it gets close to Fall.
School is also getting pretty intense, I'll probably write a post about how school is going at some point in the future, but I need to muster up the motivation to blog about school on the weekend, which is harder than it sounds.
Not much else to say right now, its about midnight and I want to get in an episode of Lost. 🙂
Until next time,
-Taco
P.S. – Squirrel, he likes apples, its Fall after-all (that rhymes)