Hello again from Denver!
So, after my big 6 and 7 check-ins (and brief musical interlude), it's time to return to normal, meaning that I'll be re-imposing the 1500 word limit goal (which is a goal I have a really bad track record with [Yep, failed again]).
So what has been happening lately?
Amazon had a big "Prime Day" sell where I bought ninja masks and you missed out on saving $131,065.01 on moist towelettes.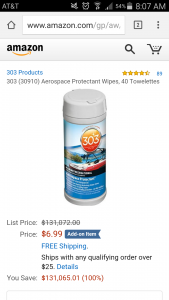 Construction continues as usual.
Also, work continues as usual, which is actually not the best thing. While I still have plenty of time left out here in the ole' Mile High, I am getting to that point where I'm trying to avoid taking on huge projects and am instead focusing on trying to ensure I can actually finish what is already on my table. Sadly, my supervisors aren't cooperating with this mindset and I seem to keep getting more and more buried, despite each day marking a little less time left to work on everything piling up.
However, not all is bad, we had mimosas during a section meeting the other day.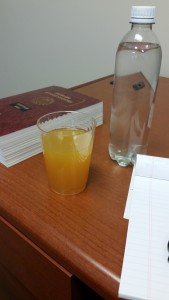 Everything you've heard about lawyers and drinking is true.
I actually had three of those, two peach, one orange. Which was probably a mistake, because afterwards I was listening to my boss talk about an upcoming project and found myself mostly asleep with my eyes open. Of course, by his own admission, he was in the same state of mind, so I could have walked out of the room and he probably would have kept talking.
Speaking of being observant (or not being so), I found a cool little waterfall/stream literally right across the street from where I work the other day.
Last Thursday I met up with one of Aunt Train's friends (who is from Ireland), as she apparently has friends in all majors cities in the world. He is working here in Denver and took me out to eat (yay friends!) at a place down by Union Station called ChopHouse & Brewery.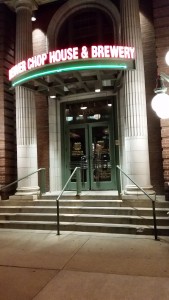 This was a rather nice place that I'd never be able to afford normally, and despite me never having heard of it prior to dinner, I was very impressed. While the food was certainly top notch (mussels, salon,rib-eyes, white cheddar potatoes, Brussels sprouts, bread, jalapeno cornbread – all shared) it was their in-house brew that pleasantly surprised me. We (and by we I mean I, after asking of course) ordered a sampler for the table, this after two full-sized pints.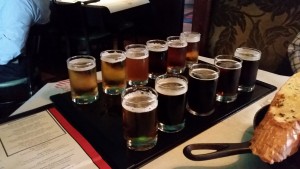 It included one of everything they were currently brewing, starting with the rear row, left side, then moving right, and then moving to the front row, left side, moving right (all beers are Denver ChopHouse & Brewery):
Pilsner Lager
Dortmunder Lager
Wheat Ale
Dark Munich Lager
Blackberry Black Lager
Pale Ale
Red Ale
Dry Stout
Oatmeal Stout
Dopplebock
Wild Turkey Barrel Conditioned Stout
[Not all beers had a Beer Advocate Page]
Rather than speaking about these beers individually, I will say that on the whole I was very impressed. The Wild Turkey Barrel Conditioned Stout was especially interesting and I'm not normally a big stout person (but after that many beers about anything tastes good).
I followed up with good beer with good desert, an amazing bread pudding (almost as good as the rib-eye I had).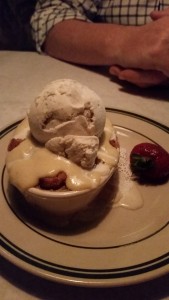 The very next day, despite having a minor hangover, I went straight to Argonaut and bought my last big round of beer (at 45$ I think it's the most I've ever spent on beer).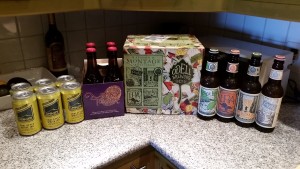 I went with an Odell sampler, some Dogfish Head Midas Touch, and some Upslope Thai Style White IPA.
I'll cover the Odells as I drink them.
1. Midas Touch – Dogfish Head Brewery
The Midas Touch was more of an impulse purchase, as I was worried it would be hard to find later on as I sought out the other Ancient Ales. Since I will do a full write up on the Ancient Ales at some point in the future, for now I'll share that the Midas Touch is a sweet yet dry beer and is made from re-formulated molecular traces of ingredients (honey, barley malt, white muscat grapes and saffron) found in 2,700-year-old drinking vessels from the tomb of (the believed to be) King Midas. Somewhere between wine and mead, Midas could please the chardonnay and beer drinker alike. I liked it.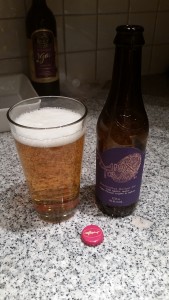 [Ancient Ales Drank 1/8]
The next beer I tried from the bounty was:
2. Thai Style White IPA – Upslope Brewing Company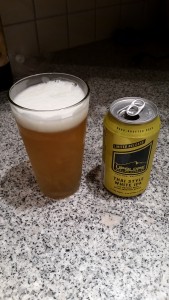 This surprisingly good brew (wasn't sure about the idea of essentially mixing curry and beer), but the white IPA base makes for a nice blend with the spice components. While the spices are a bit stronger than they might need to be, they aren't overpowering either. Overall, definitely a more memorable beer than Upslope's Lager.
On Saturday morning we got up earlier than usual so we could go see Dragon Boat races!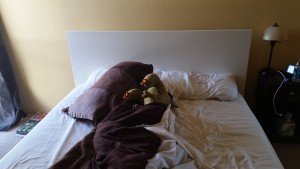 Ok so at least one of us got up early.
What is a Dragon Boat you might ask?
Dragon Boats are, of course, Chinese in origin and are at their core racing boats. The practice extends back into antiquity and some of the traditional boats are pretty decked out, to the point of being cumbersome as actual racing boats. Denver's racing boats were a bit less fancy, and bit more race. However, they still maintain the traditional elements of a rowing crew, a drummer, a color-bearer, and a coxswain.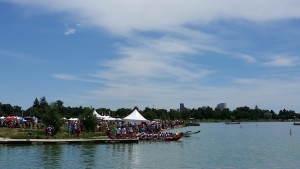 The races were being held as part of the annual Colorado Dragon Boat Festival (in its 15th season this year). It's held out at Sloan's Lake and has become very, very popular.
Each race has anywhere from one boat (time trial) to up to at least four, if not five boats.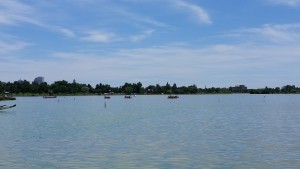 Each race (save the time trail) is a mad dash to the flag, where the color-bearer has to reach far out over the bow and grab the flag from the water.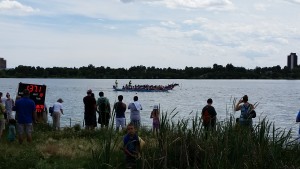 First crew to grab the flag wins.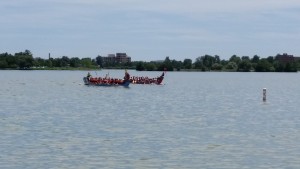 This makes for some pretty high-stakes finishes.
Aside from the boat races, the festival itself was just kind of "meh." It was a normal themed festival.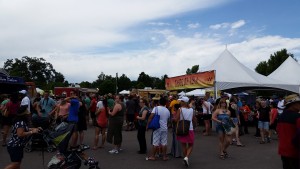 Meaning too many people, overpriced food, and heat.
The side stages had music, while the main stage had theatrical martial arts, which were kind of interesting but not so much that I wanted to work through the crowd.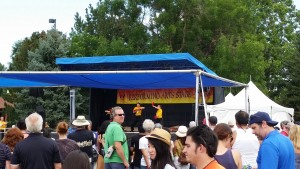 They also had those big floating "Run on Water" tubes, but I didn't feel like paying 10$ just to try one.
As mentioned, the place was packed. This was one of the few times where my decision to take public transit probably saved me time. Most people either tried parking (and ended up a mile away) or took the festival shuttle buses, which involved a long wait in the sun.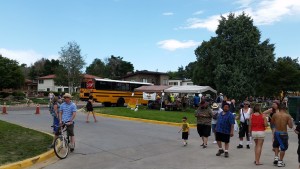 My bus still involved a long wait in the sun, but at least it wasn't crowded.
I was going to go home, but on a whim I decided to detour through LoDo and still if I could think up anything to do that was cheap (the festival didn't keep me busy for as long as I thought it would). I first swung through the Tattered Cover Book Store.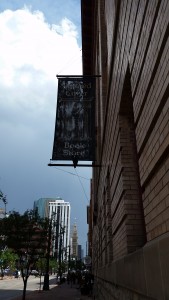 Tattered Cover is famous in book-people circles and is one of the nation's last large independently owned book stores. It was neat, but it in my non-book-person opinion it wasn't much different than any other hole-in-the-wall bookstore, it was just bigger and the they had more used books.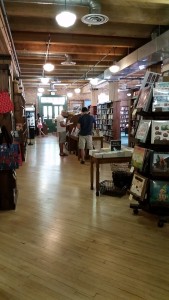 After stopping through Union Station for a second round of Pigtrain Coffee (yay Rig!):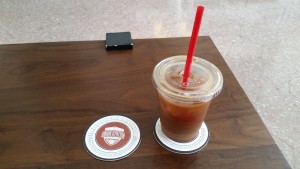 I realized that Wyknoop Brewery (Denver's first craft brewery) was having a free tour in about 3 minutes. So I sprinted over there and made it just in time (they only door two tours per day, five days per week).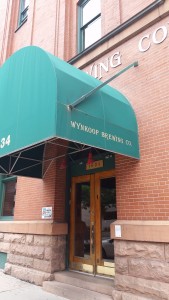 Inside there was a giant guerilla statute, which was cool but never explained.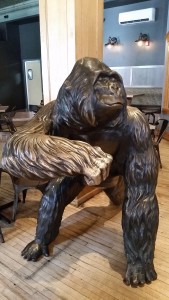 Since Wynkoop is a deep-urban brewery, their physical footprint is fairly contained, so the tour didn't actually cover that much distance (compared to say, Coors). That said, it was clear they had put some thought into possible tour paths when laying out the building.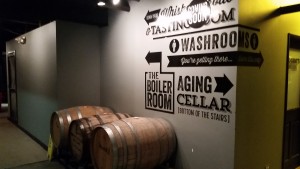 Most areas had lots of glass viewing windows.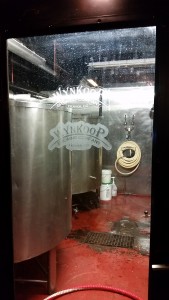 Some even told you exactly what was going on inside.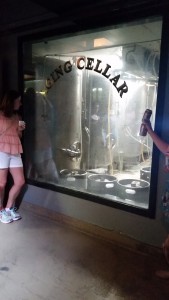 The tour was about 45 minutes, and while it was interesting our guide didn't seem super knowledgeable (as she was actually a hostess, not a brewer). For instance, she didn't even know where a good number of their hops were grown.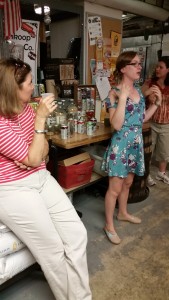 That said, she was very personable otherwise and was willing to go ask the brewers for information – though that left me wondering why they weren't doing the tour as there was no active brewing happening when I was there.
The building (brewery, bar, and pub area) itself was most interesting to me actually, it was really cool.
Though in fairness to our tour guide, she did finally reveal to me the difference between conical and pellet hops.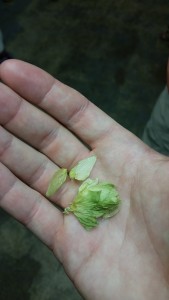 Conical hops (seen above) have a more constant lingering flavor, while pellet hops have a "burst" of flavor that fades faster.
Of course why do I do brewery tours? For the beer of course.
3. Colorojo Imperial Red Ale – Wynkoop Brewing Company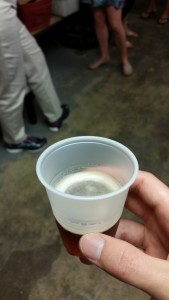 A hoppy imperial red ale, boasts a firm palate and a pleasant aromas.
4. Mile High Pale Ale – Wyknoop Brewing Company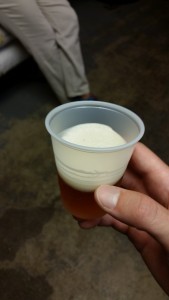 A simple yet robust pale ale with clear vibrant colors and a floral hop finish.
5. Rail Yard Ale – Wynkoop Brewing Company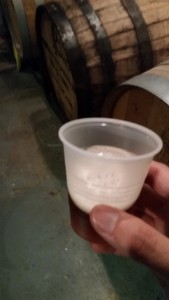 Wynkoop's flagship brew, a rusty-toned color gives way to a malty flavor with elements of English ale yeast.
All three of the beers were good, and definitely the highlight of the tour (not that that is unusual, :P). The one really weird thing is that they didn't get you samples from the tap, they all came from cans (Wynkoop is can centric, like Upslope). So, I look forward to actually trying some more of their beers on tap next, as well as their food. If they are anything like their Chile Beer, I'm sure to be impressed.
After that it was getting ready to rain and I was hungry, so I passed a piece of public art I hadn't seen before:
Then it was off to hop on the bike and go home.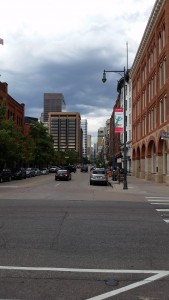 Well, that actually didn't happen as I got rained on and had to take the bus, but it still wasn't anything like the typhoon of a several weeks ago.
Until next time,
-Taco