Hello again from Denver!
Time for a rare Saturday check-in.
So, while this is its own check-in, it is pretty much the spiritual successor to the last check-in, in that I'll be covering the beer-oriented stuff this time around.
My off topic-preface to this post is that I absolutely hate my internet, it's practically unusable tonight. It's taken me 1.5 hours just to get to the point where I can type on my blog. No thanks to the lovely whatever that causes half my images to upload sideways these days. In fact, as I am typing I am continously seeing the "Connection Lost" popping up over and over at the top of the administrative screen. Fun times. I hate this apartment's internet – a seething, virulent hatred.
Anyways, on to the beer! For the purposes of this check-in I will be reinstating  a check-in word limit, unlike last time. Namely because there isn't as much to cover, but also because my internet is really dragging down my desire to write. However, I am going to put it at ~2750, rather than the usual 1500, since I do enjoy talking about beer and there are less photos this time around (though still the second largest number for the check-in posts).
—
So this post serves as both an ode to the beers enjoyed and the beers long lost. It's also a testament and reminder to myself that I need to write beers down as I drink them, because if I wait too long (e.g more than about 24 hours) I will forget what they are called. And, when I do forget them, it means I can't add them to The Beer List, which makes Taco cry. So I need to get better about writing beers down if I know I'm not going to be able to make it to Dinosaur Bear anytime soon (which happens a lot out here, either due to being busy or due to crappy internet).
If I don't record it, I'll forget likely forget it.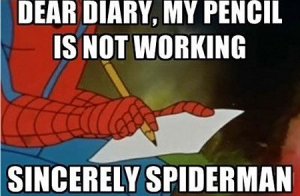 So, lost beers, I apologize for your lack of inclusion in this post – the fault is mine, not yours.
My beer adventure started when Meem and Daryl 1 arrived. We had dinner at Park & Co., where I tried two different brews (and may have gotten mild food poisoning from eating a lamb burger, bad karma for eating lamb-chop I guess).
1. Park Rye Pale – Denver Beer Co.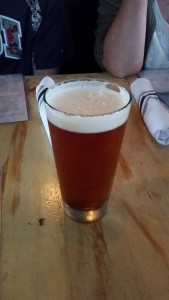 This was the "house beer" so it's only available on-site (similar to Grendel's Ale), it was also my first beer from Denver Brewing Company, so I was pretty excited. As you can see from the mostly blank Beer Advocate page, this isn't a widely disseminated brew, however, that doesn't mean it's not tasty! In fact, this was a solid rye ale (which I am relatively new to) with just a hint of the deep rye flavor that makes these kind of ales more distinguishable than their "colored" ale counterparts. At 5.6% ABV it's a nice "with-dinner" beer and you could definitely put two of them away without much trouble, however for my second beer I decided to keep sampling.
2. Unknown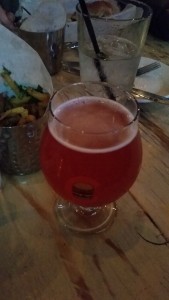 Sadly, though I may try, I cannot identify this beer. I remember it was fruity (in a good way) and a nice finish to the meal. However, I've looked over the menu and nothing matches up quite right. The bad thing about drink menus is that they rotate a lot (well, bad in the sense that if you are trying to find something it's hard to do so). So, sweet beer in a class with a hamburger on it, I shall remember you in taste if not in name.
While at the aquarium restaurant (which, despite being cool and yummy, only had a mediocre craft beer selection) I dug into my Midwestern roots and went with:
3. Goose IPA – Goose Island Beer Co.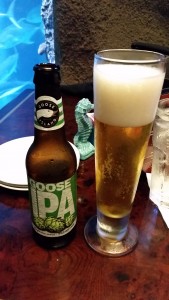 I don't know if it is just that foamy, or if I had a bad pour – likely a combination of both. This is a pleasant IPA in that you get a lot of the standard IPA flavor without the bitter kick at the end. Of course this means it isn't a "pure" IPA as the hop-laden blast is a trademark element of the IPAs. Lots of decent lacing and aromas, even if this just a middle-of-the-road IPA, it's still a solid choice to pair with dinner.
Once we had made our way up to the mountains, I was finally able to get my hands on the highly touted:
4. Odell 90 Shilling Ale – Odell Brewing Company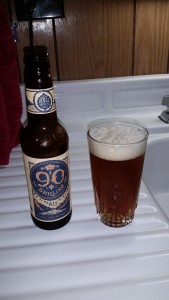 This beer, one of the "Must Drinks"  of Colorado (as determined by various people and magazines), is touted as both a cheap and a good beer. Well, it isn't that cheap, at least not by Taco standards, but it is good, really good actually. It's actually a Scottish Ale, that has been smoothed out, brightened, lightened, and generally all around made less "kick-you-in-the-ass" than most Scottish Ales (not that kicking you in the ass is a bad trait). So, while it is a bit less of a kicker than its ancestors, it becomes much more drinkable as a result. Plus, one of my fellow interns went to school with the two kids of the Odell family! Pretty cool! One of the better beers I've had in awhile.
Once we were back down in Denver, I was able to check out one of the three "beer rooms" at Mile High Stadium.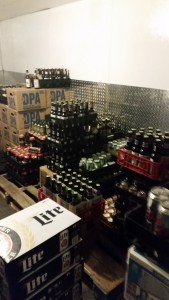 Since it is off season, the rooms were minimally stocked. Though lets be clear, "minimally stocked" in NFL terms is still a shit-load of beer.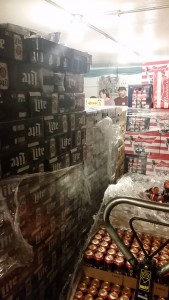 They even had a complex keg system set up, I'd love to see it when the room is fully loaded.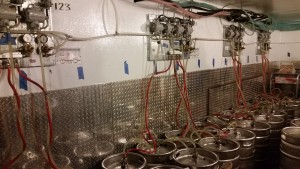 While there were a good deal of craft beers on one wall (see three images up) the vast majority of it was macro brews, but that is primarily what they sell – you have to placate the desires of the masses, even if they aren't good desires.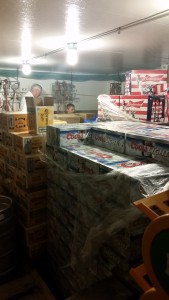 Down at Cherry Cricket I tried a very interesting beer:
5. Patty's Chile Beer – Wynkoop Brewing Company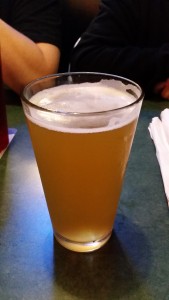 Now, when I say interesting, I don't mean interesting in a crappy way like the Bluemoon Blackberry Tart Ale. This was actually interesting in a really good way. If it wasn't obvious from the title this isn't an ordinary beer, this is a golden ale with green chili peppers;  and late in the brewing process Anaheim peppers and smoked ancho peppers are also added. Hey, don't knock it until you try it. Spiced beer goes back into pre-history. This was my first go around with a chile beer (and also Wynkoop brewery, I believe) and I have to say, I was pretty impressed. The 4.2% ABV really allows you to focus on the flavor and there was just the right amount of balance between "beer" and a "chile," and based on the Beer Advocate rankings I am not alone.
For my second beer at Cherry Cricket I had:
6. Unknown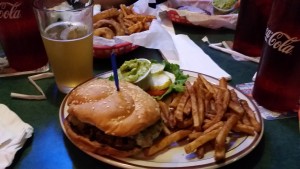 This beer, pictured above with my second elk burger of the trip (the first was had in Estes Park at the Big Horn Restaurant) is another victim of my bad memory. I don't even remember much about the taste. Now, in my defense, I had to ask for like three different beers before I finally got one they had in stock (they had just rotated their stock and hadn't updated the menu) so by the third attempt I was mainly just listening for a positive response.
The real highlight of my beer adventures was my recent trip to Golden.
If you weren't aware, Coors has called Golden its (primary) home since its founding in 1873 by Adolph Coors and Jacob Schueler. And while in 2007 Coors became a corporate blob with Miller, and was reborn as MillerCoors, the Golden plant is still a Coors-only facility. It also happens to be the largest single-site brewery in the world.
Ticket please.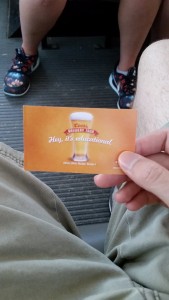 The interesting thing about the Coors brewery, is that since its so large (basically a city in and of itself) you have to wait on a shuttle bus to get into the plant. Now, the entire tour, including shuttle – tour – and beer samples, is all free. However, on busy days (such as a Saturday afternoon – when I went) the line to get on the shuttle buses can be very long, I'm talking it was a 1.5 hour wait when I arrived. However, I wasn't about to leave, even in the hot weather. But, the Beer Gods smiled upon Taco on that day. For after waiting only 3 or 4 minutes, one of the Coors employees came around asking for a "single" – to which I raised by hand and was granted the magical ticket seen above, skipping the entire 1.5 hour line – much to the gross rage of those around me (Beer Karma was on my side that day).
So that was pretty awesome.
In fact, the whole tour was awesome. It starts after a brief little side tour of Golden, courtesy of your beer shuttle. I got the Coors Light, rather than Colorado Native shuttle, but I wasn't complaining after saving nearly 1.5 hours.
You get dropped off right at the front doors, well, one of the many sets of front doors.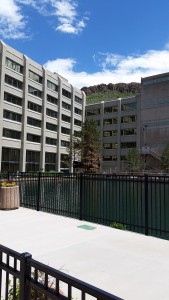 Say what you will about Coors, they definitely picked a good location to found a brewery.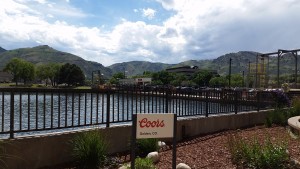 And yes, just like back in 1873 they still use the famous Rocky Mountain water for their brews.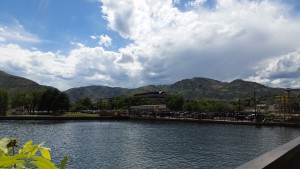 The exterior was dotted with relics of the past.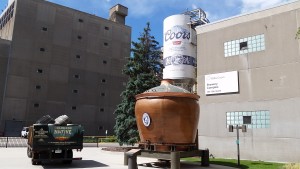 Once inside you pick up an audio device for the self-paced tour and if you are 21 or over you get a wrist band that unlocks up to 43 OUNCES* of free beer samples, 43 OUNCES*.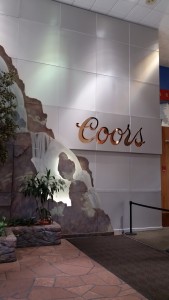 The first part of the tour is primarily informational and historical, highlighting the founding, prohibition years, rebirth, the ingredients, etc. Before you take the elevators up to the production area you pass by a wall showcasing all the current Coors family brands (yes they make more than Coors Light people).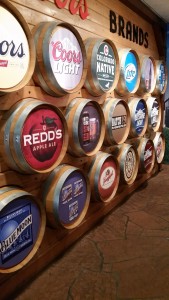 After a few more stops along the tour you come to the HUGE mashing room.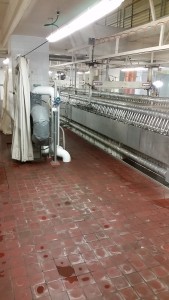 Which is right next to the "kettle room," which are full of giant copper kettles brewing around 2 million gallons of beer.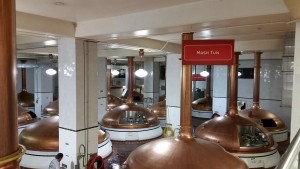 Excuse me while I go pee myself.
But in serious, it was crazy, they even have a "Control Room" (think NASA) in the middle of the kettle room that has windows on all sides where the beer is monitored by 8 people, 24/7, 365.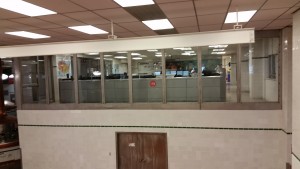 I want that job.
The tour also takes you through some of the more "behind the scenes" area of the plant, such as the Quality Control Room.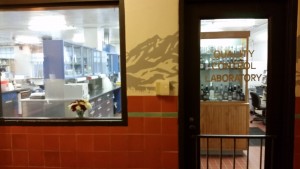 I want that job.
After that, you are officially at the half-way point of the tour. You celebrate with a 3oz sample of either Coors Banquet or Coors Light, I think it's obvious which one I chose.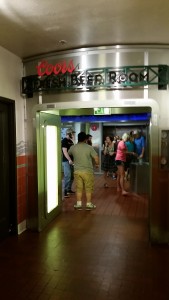 Along the way to the bottling/canning area you pass by some more historical information, including sme of the earlier equipment and tools they used for sanitation and quality control as well as some really cool bottle collections.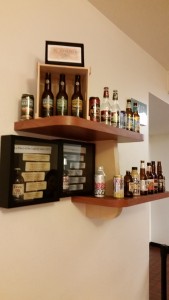 The tour sadly doesn't go through the bottling area, but you do get to see one of the canning rooms and I was lucky enough to see it in action (which isn't guaranteed)!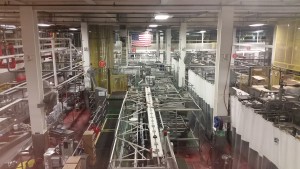 The entire room is controlled by one guy.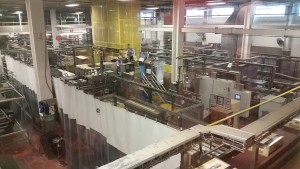 Behold, I have become God.
I. Really. Want. That. Job.
At the end of the the tour, the real tour begins in the Coors Lounge.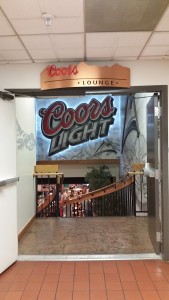 Here you get to sample up to 40 additional ounces of beer (technically 30, but I will explain that in a second).
If you were thinking it would just be Coors Light, nope, try again. In fact, they had quite the selection, including two beers I had never seen before.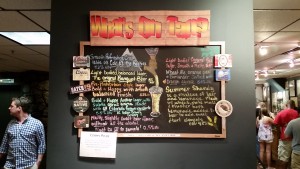 *So the way it works is that your wrist band allows you the 3oz sample at the half-way point, and then 3 more 10oz samples in the lounge. However, there is a non-alcoholic (0.5% ABV) beer "Coors Non-Alcoholic" that you can also try, and since it doesn't have alcohol it doesn't count towards your three beers. So technically you get 43oz of "beer" but its more like 33 of beer.
So, since I just mentioned it:
7. Coors Non-Alcoholic – Coors Brewing Company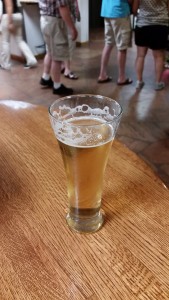 This beer sucks. Don't pay for it. Even straight from the factory it's not good. It tastes funny. There are FAR better non-alcoholic beers out there. Only try it at the Coors plant in Golden, Co. Just so you can get the extra 10oz of "beer."
8. Colorado Native – AC Golden Brewing Company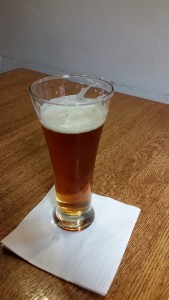 So I was super excited about this amber lager, especially since it only exists in Colorado, so you can't have any, unless you visit Colorado. And yes, AC Golden is a Coors family brewery, in case you were wondering. As you can see from the Beer Advocate rating, this is a good beer. Yes, a good Coors beer. Its full of roasted caramel malts and two-row barley, which combine for a very distinct flavor palate that would be good for drinking alone or with food. I really want to try this beer again, but it's probably ruined in bottles after having it straight from the source.
8. Coors Peak – Colorado Brewing Company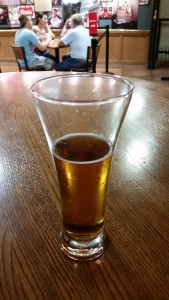 Coors Peak is actually a gluten-free copper lager. I don't really care about the gluten aspect, though I do enjoy trying gluten-free beers since their flavor profiles are often different. That said, beyond Red Bridge, I haven't had many gluten free beers. I have to say though, I was pretty impressed. The bartender/Coors-dude in the lounge didn't sell it very well, referring to it as the "Best of a bad situation" (alluding to the lack of gluten), but it was actually not a half bad beer. It's actually brewed with brown rice syrup, which adds an interesting flavor that goes decently well with the lighter profile of the beer. While this isn't one I'd search out, I'd definitely try it again if I find it. It obviously wasn't terrible, as you can see it was nearly half gone by the time I remembered to take the photo.
9. Blue Moon Belgian White – Coors Brewing Company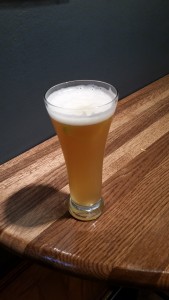 Last but not least, SB's beloved Blue Moon. After a relatively mixed experience with their 20th anniversary sampler I was ready to try Blue Moon straight from the brewery, and I do mean straight from the brewery. The lounge feeds in from the final production kegs, in other words, prime beer. And.. it was everything I had hoped it would be, plus they even included an orange slice (pretty much mandatory for Blue Moon). It had all the regular tones of a witbier, but they were all just magnified 3-4x over the bottled product, and 2-3x over a standard draught. In other words, this was the best Blue Moon I've ever had and ever will have. End of story.
While the beer was free, the snacks were not, and since all I packed on my voyage to Golden was a Kind bar (not the smartest thing, I know) I decided to partake in some beer nuts. Bringing the grand total of my beer adventure (including transit) to like $1.50.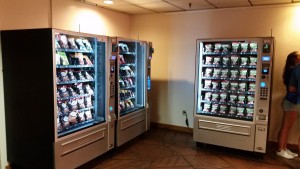 There were no shortage of sweet or salty snacks to be had in this beer mecca, we accept credit cards too.
In addition to the beer, snacks, and lots of people, the lounge was adorned in Coors family advertisements from this year and yesteryear.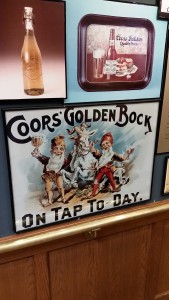 Maybe it was all the beer, but I think I'm seeing gnomes.
There were also some mostly forgotten oddities, such as Zima.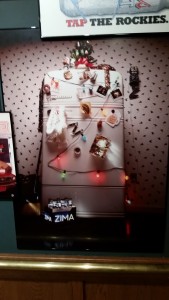 Oddly enough, according to one of the Coors-dudes, since cancelling production of Zima in 2008 the beverage has reached a cult-like status and petitions to bring it back are ongoing.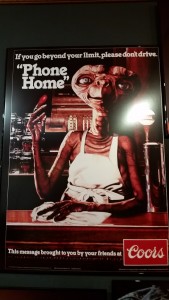 E.T. reminding you that when you get blasted on Coors Light (you trashy people you) to phone home, also don't do drugs (excluding alcohol of course).
There was also an entire wall dedicated to the various awards Coors has won at the national and international level over the years (more than you would think, actually). One such display that I thought was really cool was the first bottle of Blue Moon to roll off the assembly line, post-Coors purchase.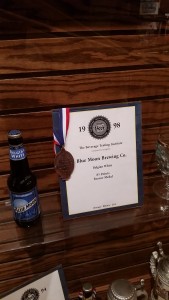 Vintage Blue Moon, probably tastes like shit at this point.
After that, I head to Starbucks for a couple of iced coffees (yay free refills!) to re-energize myself after all that beer. Then I walked 2.7 miles to the train then headed home to Denver.
All in all, my Coors trip made me appreciate Coors a lot more. Yes, Coors Light still sucks. Don't argue, it sucks. I mean, I drink it from time to time, but it sucks, just accept it and move on, it's ok.
That said, Coors, despite what their advertising campaign and word of mouth might have you believe, does make good beer, and they make a decent amount of it. Now I need to go check out the Miller brewery tour in Milwaukee, WI, and the Anheuser-Busch in St. Louis.
I hope you enjoyed my little beer adventure, I know I certainly did!
Until next time,
-Taco