Hello again from Denver,
It's time again for a check-in from yours truly. Of course as I write this I am sitting here listening to the distant lightning as well as to the slow death of my laptop. Well, that might be an exaggeration. I don't know if the laptop itself is dying, but one of its fans is sure going to shit. It sounds like someone stuck a card in their bicycle spokes. Unfortunately, my laptop's warranty expires on 7/7/15. And, you guessed it, I can't spare it right now because of my classes. So I'm just having to sit by and watch the warranty slip away. It sucks, but there isn't much I can do about it. Samsung doesn't have on-site service, so you have to ship it in. Which means I'd be without my laptop for at minimum, about 10-14 days. Not really an option when I have weekly assignments (and as a reminder, if I do bad in my classes, I have to pay for them – 1,800$).
While the fan is annoying, in the context of this blog and my crap internet, the fact that my laptop seems to love to upload images sideways continues to baffle me.
Anyways, revisiting something I discussed last time, the work has continued to spread like the plague through the ground floor of my office building.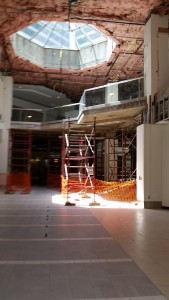 The photo is blurry because I took it while walking, I didn't really care enough to get an HD quality shot of construction. But yeah, as you can see, the temporary walls and missing roof have now been joined by inexplicable scaffolding. I am very glad my office itself isn't part of the renovation, though I wouldn't mind if they made it not -200 degrees in my area.
But construction always finds a way to be a bane to our existence. While I've mostly dodged the bullet when it comes to the renovation (aside from loosing the table I eat at when it rains) I've been ravaged by ongoing street construction in this one particularly bad spot.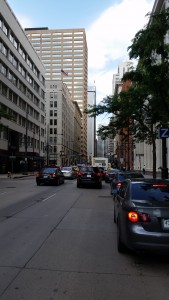 You can't see it in that photo, but down at the end of that street (17th) construction reduces the entire road down to one lane. And, here's the great part. I have one of three buses I can use to get home – and every single one of them goes through the congestion point. On good days it might only take me 25 minutes from the moment I get up from my desk to the point I am walking in my building. On the bad days, this construction has made it 90 minutes. Yes, 90 minutes to go 2.1 freaking miles.
So why don't I walk or ride a bike? Well, some days I don't have a particularly good answer to that question, other than just not wanting to deal with it in the 90+ temperatures and business clothes. On other days, well, the sky unleashes hell.
I've already alluded to the rain and storms, but this past Wednesday (6/24/15) took the cake. In order to explain this storm I need to put you in the scene…
*wavy flashback screen*
So imagine yourself as a slave baby lawyer, tucked away in your freezing office late in the day on Wednesday. 2 of the 4 interns are already gone, so it's just you and the other remaining intern. Naturally, being late in the day you are talking try to waste time. Suddenly you notice it's time to catch the bus, just like any other day. As you go to leave you happen to notice that it looks almost pitch black outside. Then you hear an attorney say "Be careful out there, it's a downpour!" No matter, you think, I have my trusty umbrella.
As you go to leave the building, you quickly realize that the apocalypse is at hand. It's not just a downpour – when Gaia woke up that morning she mistakenly placed the ocean above Colorado. It's near-blackout conditions – from rain and wind. So you sprint to the bus stop, but it's too late, you're already soaked to your underwear and your shoes are visibly leaking water. Tiny fish are now evolving in your shoes. You joke to the lady waiting next to you that you are glad you have your umbrellas, you laugh together in your misery as the umbrellas do nothing. You see the bus far in the distance.
Tornado sirens.
Wind goes crazy, lady next to you's umbrella breaks, yours doesn't, because it is a fancy storm version – of course it is serving no purpose anymore, so you go ahead and close it. Bus shows up, praise Baby Jesus. You are on your way home, more tornado sirens, your phone pushes you a "Seek Immediate Shelter Warning" thanks phone, brofist. You decide the bus is adequate shelter. Bus hydroplanes. Yes, the bus. Bus gets re-routed by police. Sirens still going.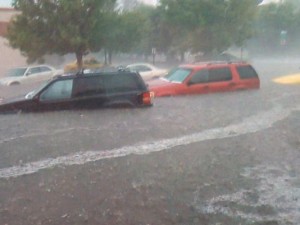 Cars are being washed away. Small band of squirrels goes by in miniature version of Noah's Ark.
Bus is about 3 blocks from your house, you decide to run for it. Running through water above your knees, the cars headlights in the middle of the street are now underwater. Jaws eats the person wading next to you.
Eventually you make it home, completely drenched. Your trusty phone tells you that the world is flooding. You climb the 11 stories to your apartment, then watch the world sink below the tides. You become last person on Earth and then write this blog post to an imaginary audience to stay sane.
*wavy flashfoward screen*
Ok so maybe I dramatized a little bit, but seriously, that storm was insane. The cars were literally being washed away in the middle of freaking downtown. It turns out there was an tornado out on the east side of town, but more-so than anything, the flash flooding was just bat-shit crazy.
But the next day I got to go to a baseball game!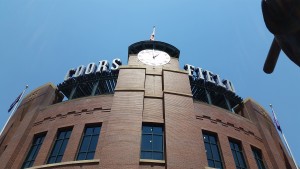 Coors field – home to the Colorado Rockies, who happened to be playing the Arizona Diamondbacks on this particular day.
This was my first ever MLB game, which was cool. Even more cool was that it was an office trip, so I didn't even have to pay for my ticket. Plus, only having to work a half day (the game was at 1:10) after the previous day was very nice.
We had pretty decent seats by my standards.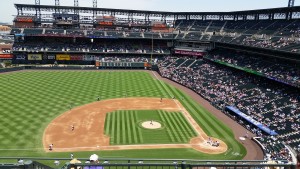 What made them even more awesome was that we were only being blasted by the sun for about 15 minutes, then the glorious shade saved us.
It was a deceptively nice day. There were no signs that the doom storm had fallen less than 24 hours prior.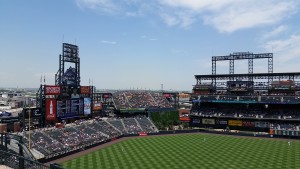 Eventually it was time for some beer, I'll talk about the kinds I got in a moment. But it was 7.25$ (at minimum) for a beer. However, my boss actually bought my second beer for me! Yay! I had brought my own snacks, so I saved myself the 3400$ that a hotdog or hamburger cost.
I don't have much to compare it to, but Coors Field seemed like a really nice stadium. Many parts of the arena had nice sweeping views of downtown Denver (the park itself is in Lower Downtown (LoDo)).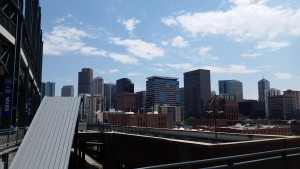 Despite most people here telling me the Rockies aren't good, they won the game, 6-4. They were actually trailing but had an explosive 8th inning with 5 runs. Tristen was especially pleased because the victory meant that Dinger came back out and waved the Rockies' flag around.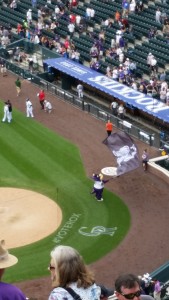 If it wasn't obvious, Dinger is the mascot, he also happens to be a Triceratops. Apparently when they were building Coors Field they found a Triceratops skull under and very near what would eventually be home plate, and thus Dinger was born.
In other office news, my boss actually just got back from doing Ride the Rockies, and he has been in full-on "pay attention to us" mode now that he is done training. This means he does more with us, such as the very next day he took the two of us in EES/EDS out to lunch, then took us to see the 10th Circuit Federal Court.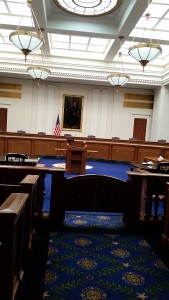 It was really cool (the place was still abuzz due to the SCOTUS decision on gay marriage that had came out that same morning), and that was the only picture I got, because you weren't supposed to take pictures, but you know me. Probably the highlight was getting to hear about the "Lady in Red" the federal court's resident ghost. At first I thought my boss was just messing with us, but then one of the Federal Marshall's immediately knew what he was talking about. Haunted courts, must be one bored ghost.
Of course the flip-side of my boss being more focused on us, is that my work EXPLODED on Friday, I mean I went from "almost done for the week" to deeply buried in the course of about 15 minutes.
Because Meem and Daryl 1 are coming to see me this week (yay!) I didn't do much exploring this weekend, mainly I just worked (see explosion above), and I do mean I worked a lot, as in almost 20 hours between Saturday and Sunday (gotta make up those job and class hours somehow).
However, today (Sunday) Tristen finally talked me into going to see Jurassic World (and also the internet was out, surprise surprise). The theater near Cherry Creek that we saw Mad Max in wasn't carrying it, so we went to the downtown theater instead. It is located right on the 16th Street Mall.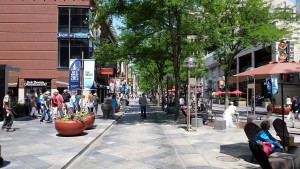 The 16th Street Mall is Denver's walking street, with only free Mall Shuttles and bicycle taxis taking up any space beyond pedestrians. Since it's full of shops and tourist stuff, this street is better referred to as "Slow Tourists, Beggars, and Unattended Tween Highway." It's pretty, with a lot of cool stuff, but I generally avoid it like the plague.
That said, it does have its cool qualities, like the public pianos that dot it's sides. Yes, public pianos.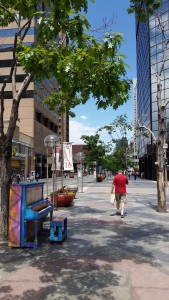 Eventually we found our way to the Denver Pavilions, which is like an outdoor shopping mall that also houses the movie theater.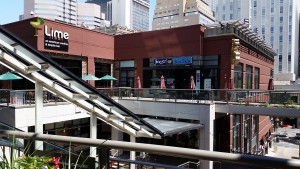 We then got our tickets (matinee of course) and headed in and had our minds blown. The seats were electric recliners with built in tables.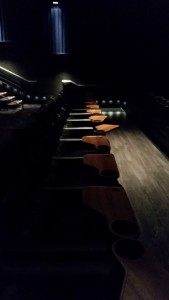 So, that picture is really dark (it's a movie theater, give me a break), but the chairs were AWESOME. And because they recline (and I mean seriously recline, Lazy Boy style) the aisles are larger. It ended up getting PACKED, so I appreciated the extra space.
Jurassic World was much better than I was expecting, especially the ending. The "Military Dinosaur" subplot was pretty stupid, but the homages to the original Jurassic Park, including the return of the same T-Rex from the original movie to kick some Indominus Rex ass was worth the price of admission. Tristen got so excited during the movie he puked, starting roaring, and biting people. It was good times.
Then I came home and got back to work on various things. My roomate is gone for two days, so I have the entire place to myself which is nice. But mainly I'm just excited for Meem and Daryl 1's visit. Of course I have to get through half the work-week first!
Anyways, I'm over way my self-imposed (and poorly enforced) check-in word limit, but I still have to talk about beer! So I'm going to just tack on a beer blurb here at the end: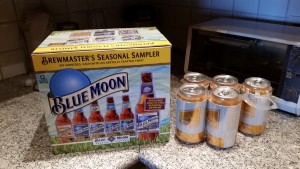 Nevar forgit that Upslope can that fought the good fight.
As I mentioned, I had picked up the 20th Anniversary Box of Blue Moon, I was excited to try them, plus as a local beer, Blue Moon is common here. Well, the time has come to review these bad boys! I'll cover my baseball park beers at the end.
All Blue Moon beers are from the Coors Brewing Company.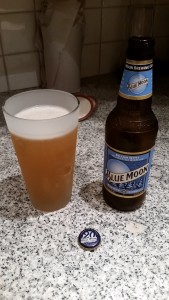 The original and still decent Blue Moon Belgian witbier. Crafted by a guy who went to Europe get to a PhD in brewing (seriously) then returned to Colorado to share the love. It was good enough to promptly be bought by Coors and that was all she wrote. A good macro beer, and one of SB's favorites.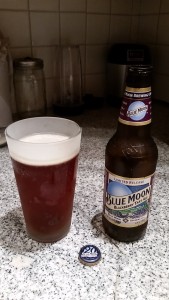 Ok so I was super excited about this beer. In fact, it's really the one that drew me to the sampler. Welp, it sucks. It has a fake-sweetness to it, and the blackberry is practically non-existent. Definitely one of the biggest beer disappointments I've had since Boddingtons. I still have one more bottle to try, but I'm not expecting much improvement.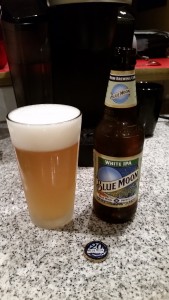 I wasn't sure what to expect with a Blue Moon IPA. They played it safe and went with a white IPA, which as a company that started with white beers, makes sense. It was actually pretty good! Lots of lacing with classic IPA flavors. It was oddly frothy (notice the picture) but overall a strong macro IPA.
Blue Moon Cinnamon Horchata Ale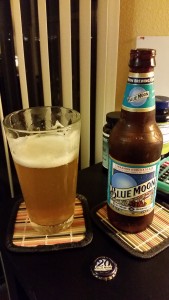 Ok, I wasn't sure what to make of this one. A horchata beer? Well, it isn't bad, but it isn't really good either. It's just kind of neutral. Whereas the Blackberry was just terrible, and the Farmhouse Red Ale (next) was really good, this one is more memorable from it's name than for it's taste. Worth a try to say you've had horchata beer though. [It's like 1/3 gone in the picture because that was my Wednesday beer and it had been a long, stormy day.]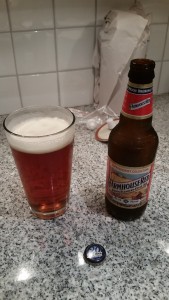 This part Red Ale, part saison was a true gem. I didn't know what it would be like, being a red ale from a white beer company, but it balanced itself so well that I have to give them props for it. Definitely worth checking out. The red and saison elements are nicely balanced with the traditional characteristics Blue Moon is known for.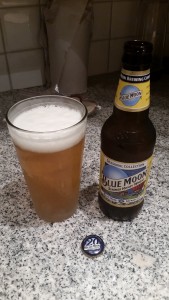 This one was another disappointment, though not NEARLY to the level of the Blackberry. The reason this beer was a bit of a let-down is because it's two distinct types of beer in one bottle, and it doesn't mesh right. It's a honey ale, blended with a wheat ale, and while that sounds great on paper, they didn't balance it well, so the result is just a wheat ale that tastes too sweet. Not bad, but sadly far from its potential.
So, overall the Blue Moon 20th Anniversary Sampler is a bit of a mixed box. I'm glad I tried it overall though.
And not to be be forgotten, the baseball park beers (of great value, at least based on the price):
Leinenkugel's Summer Shandy – Jacob Leinenkugel Brewing Company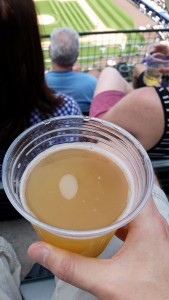 This shandy has popped up on the blog at least once in the past, but here is its formal beer blurb. One of the original macro shandies, Leinenkugel's Summer Shandy has everything you'd want from a macro shandy, not too sweet, and not too sour. Overall a good "starter" shandy, especially on a hot day at the baseball park. However, it's not worth the 7.25$ I paid for it. But I mainly got it as part of the "experience" of my first MLB game.
Dale's Pale Ale – Oskar Blues Grill & Brew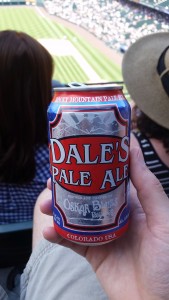 This was a surprisingly good pale ale. Being from a can, even a 7.25$ can (my boss paid this time), I wasn't expecting a whole lot. But the boys/girls up at Oskar Blues Grill & Brew (in Lyons, Colorado) really know their pale ale, at the very least. Lots of crisp hops and just the right touch of bitterness. Don't let the can stop you should you get a chance to try it!
And that official wraps up this (very long) edition of the Denver Check-in.
Until next time,
-Taco