Hello again from Denver!
Things have been busy here in the Mile High City, which is precisely how I like them to be. This week was pretty low-key as far as my classes go, I had hit them hard in anticipation of a 5k I was going to be running this weekend. That said, they are getting ready to kick up into overdrive again next week. The way the course is designed you can't really "get ahead" which displeases me greatly.
Work has also been busy, but it's been a bit more interesting this past week. Basically I have two ongoing assignments. One is fast paced and very interesting, the other is slow and arduous. I've been continuously pushing off one of them, I'll let you guess which one. Sadly I think this week I'll have to pay the piper on the slow and arduous project, I just hope I don't miss too much on the other project that is a lot more interesting, but as an intern slave I don't have much choice in what I do.
Also speaking of work, the construction on the building continues. I had though I had mentioned this previously on the blog, but a cursory search didn't reveal anything. Basically the first-floor lobby/common/retail area of my building is being gutted. No really.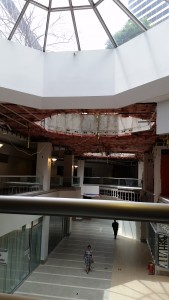 Yep. They've built all sorts of temporary walls, the escalators are gone, and a lot of the shops are temporarily closed. It's kinda janky. But it's far enough away from me that it only bothers me when I have to walk through it. Supposedly it will make the place much more smexy when it's done.
On Friday around 3pm one of the other interns in the NRS (Natural Resources Section) got an email that her section was doing a happy hour at 4pm. Score – beer and a reason to leave work early on a Friday. We went to a place that I honestly don't even know the name of, I was just following people. One of my supervisors bought my beer because I had turned something around so quickly that week. Once she offered I changed my selection to an 8.50$ beer instead of a 6$ one, haha.
Weihenstephaner Vitus – Bayerische Staatsbrauerei Weihenstephan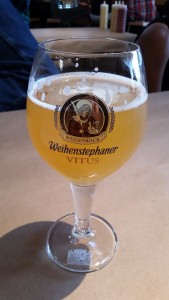 I've had many of Weihenstephaner's offerings before, including some while in Germany. However, I'd never had the Vitus before. What I didn't realize when I ordered it was that it was going to come in a big glass (I'd already drank a fair amount in the picture above) and that it was 7.7% ABV. Not terrible, but I'm at a higher altitude and I'm with a bunch of work people. But I held it together for the most part. Vitus was a strong and flavor-filled weizenbock, it had a long tangy finish that was a bit dry, but complimented itself well with the aromatic overtones. A bit strong, but recommended.
And while I did hold myself together, part of what helped was this: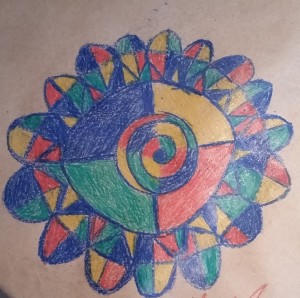 Yes, this place put paper down on the long-tables and passed out crayons, so I created a masterpiece (and I may have taken a bite of one of the soy crayons, maybe). And no, this was not a kids place, this was a 21+ pub/restaurant, so I wasn't stealing some child's crayons. My drawing was quite popular with my coworkers.
On my way home from the happy hour, I spotted a cool contrast of old and new in downtown Denver.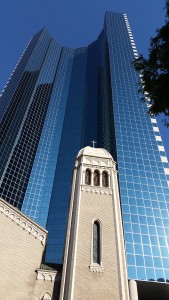 Outside of work, I've mainly been chilling at home this week, given my ever-so-slight headway on my classes. Tristen finally got to watch the original (1993) Jurassic Park (since SB is scared of such movies) as preparation for going to see Jurassic World (which ignores the other sequels) at some point in the near future I am sure.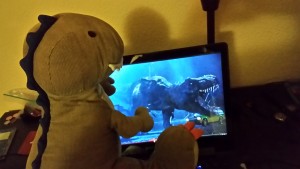 Then came Saturday, our big race day! Denver Pridefest was this weekend and part of the festivities was a "Big Gay 5k" – yes seriously that is the name. In fact, the name is pretty much what got me to pay the 30$. I wanted a t-shirt for the Big Gay 5k (which I got).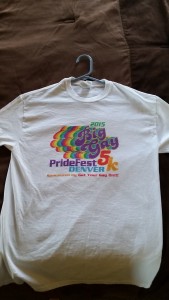 However, this was to be my first 5k in six years. As anyone who knows me, or has read this blog for awhile knows, I have some rather serious pain in my legs that as of yet has not been formally figured out – let alone fixed. So, for me to run a 5k again was a really big deal, "Big Gay" or not. But I'd been doing some light running since coming to Denver, and I put my mind to it. Thankfully, I wasn't running alone, Tristen was right there with me (not many people can say they've run a 5k with a dinosaur on their back).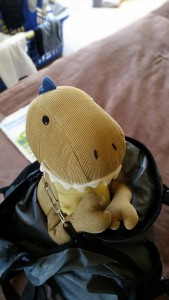 We got there early (it was at 10am on Saturday) to get some stretching in. The forecast high for the day was 96 degrees and by 9:50 or so it was already in the 80s. However, people were in pretty high spirits, this was after all, more of a "fun" race than a serious one – which I greatly enjoyed.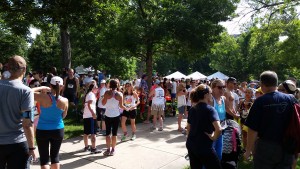 Before too long it was race time, and we were off!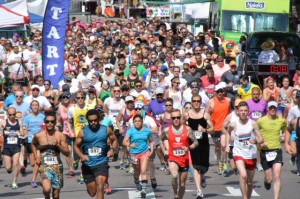 Now, I obviously didn't take that picture, but that is my race starting. I am in there somewhere, but I've haven't been able to spot myself.
The race went well! As the photo above hints at, this was the largest race I'd ever run. Because of that, I actually undercut myself a bit and started way too far back. They also (being more of a "fun run") didn't divide people up based on estimated-pace or walker/runner status. Which mean A LOT of slow people were ahead of me. In fact I estimate I passed between 200-300 people, while I was only passed twice. Had I started closer to the front, my time might have been even better. But I'm not complaining, I had fun! I finished in the top 20 for my age group and even beat my old times before my legs started hurting! The only downside was that my legs ended up pretty bad that night (and the day after, and the day after that), but I have no regrets.
Especially because they had animal friends right at the finish line to meet us, no really.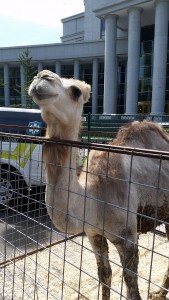 After checking out Pridefest for a bit, it was back home for some lunch and a (much needed) shower. Then I went back to Pridefest briefly to catch a large drag dance, and then it was back to Argonaut Liquors (my new favorite booze emporium) for my second Denver beer run.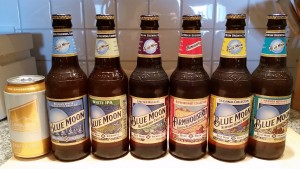 I got the Blue Moon 20th Anniversary Sampler containing six varieties of beer (2×6 the BEST 12 pack) as well as a six-pack of Upslope Brewing Company's Craft Lager. Both items were on sale. I'll review the Blue Moons in an upcoming check-in.

I was very excited. And this time I took a bike to prevent having to carry a ton of beer 10 blocks! Great idea right!? Not really. Because of Pridefest a bunch of stupid-out-of-town people were out driving. So, in one unfortunate incident (of many) I had to slam on my bike brakes and one of the cans of beer flew out and busted open. In a moment of sheer terror at the beer gore before me, I drank as much of the foam as possible that was coming from the can, getting road grit in the process (don't judge – the first rule of Fight Club is don't waste decent beer, ever). I ended up salvaging it to the point that it was drinkable once I got home. Warm, exploded beer, mmm.
Craft Lager – Upslope Brewing Company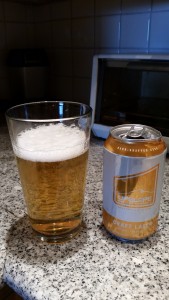 Notice the carnage.
Now, the exploded beer actually wasn't terrible. But I'm mainly basing my opinion on the second unadulterated can I had later in the day. Despite being almost impossible to take a good picture of, this was a surprisingly good lager. Upslope is a Boulder brewery and apparently they use snowmelt and Czech hops in most of their brews, maybe that is why it was more than just a "ho-hum-average" lager (which are common these days). This would be a good summer lager in the same way a Budweiser is, but your money would be going to a smaller brewery instead of a global corporation. Worth checking out.
[Extra Beer Note: I finally learned what a "session" beer is, after having them several times. They are low ABV versions of another beer (for example a wheat ale) that are meant to be drank during a "session" e.g. they are lower in alcohol so you can drink more of them. Makes sense!]
The next day I decided to go check out Sloan's Lake (which has a really interesting history in the link) in the Highlands area of Denver. It's about 5 miles from my apartment, with no easy way to get there without a car (and during Pridefest which shuts down a lot of downtown's streets) so I took my feet, a bike, a bus, and a train to get there.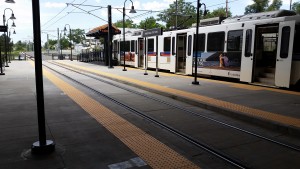 On our way out there we passed Mile High Stadium, or as Tristen calls it "Reyton's House"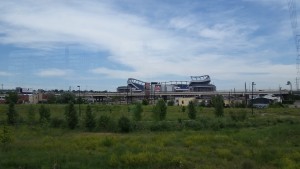 The wacky public-transit route took me about 75 minutes (including walking and biking) but it was worth the trip!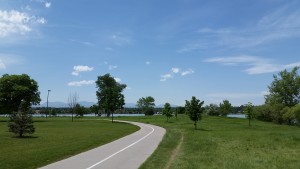 When I first arrived it was cloudy, but before too long the blue skies broke free! Which meant it got very hot (90+) and my decision not to bring sunscreen was instantly one I regretted (yes I got burnt, but my farmer's tan saved me from getting fried – except my forehead, it got roasted). The path around the lake is ~3 miles, so it's a bit of a walk (especially if you just ran a 5k the day prior). I was told around 80,000 Geese frequent this area. I have no idea if it's 80,000 or not (I don't think it is all at once anyways, at least not during off-migration season) but the amount of goose shit here is legendary.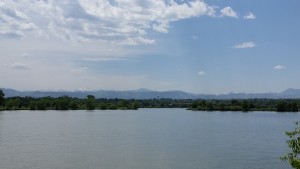 A nice view of the front range from the eastern side of the lake.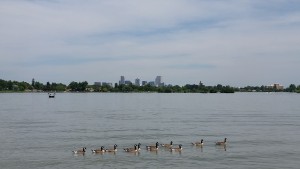 And a nice view of distant downtown Denver, from the western side of the lake.
After completing the loop I stopped at a McDonald's for a drink and a salad. Almost as soon as I walked inside a huge-ass fight broke out and the cops got called. Just another day at McDonalds. Manries.
I then retraced my route back to Union Station (downtown area) but then walked back into the edge of the Highland neighborhood across a couple of pedestrian bridges to get some ice cream!
Along the way I passed a cool graffiti of "Reyton."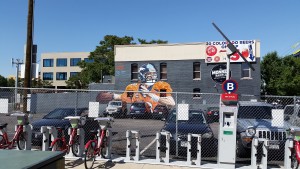 Just a short walk from there was the destination, Littleman Ice Cream, which had been recommended to me.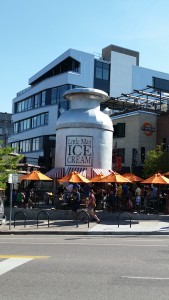 Yes, the building is a giant milk can. I quickly noticed that it was very busy. In fact I ended up waiting in like 25 minutes for ice cream. But hey it's a Sunday. They actually had an "Express" line that was limited to their 8 most popular flavors, but screw that noise, I wanted the whole experience, complete with miserable line-waiting in the sun. Besides I wanted flavors they didn't have the in the express lane.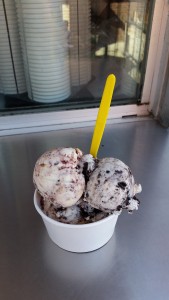 I went with "Cookie Monster" (on the left) which is a cool mixture of all sorts of cookies. According to the guy at the counter, whenever they are making cookies (for one of their various flavors, or ice cram-cookie sandwiches, or just cookies) they take all the left over cookies, or cookies that break, and blend them into this ice cream and call it "Cookie Monster" it was pretty boss. The other scoop was "Salted Oreo" which is exactly what it sounds like. Both were awesome, especially the Cookie Monster. Though the portions were larger than I was expecting, which is good or bad depending on your mindset. Was it 25 minutes of waiting in line awesome? I'm not entirely sure, but I'm glad I went.
And I see I've grossly exceeded my self imposed check-in quota, so I'm outta here.
Until next time,
-Taco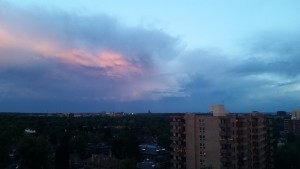 A pretty evening sky I was able to enjoy from my balcony a week or so ago.