Hello again from Denver! (well sort of)
So as I alluded to late time, this tenth post in the Denver Check-in series will also be the last. I'll probably write up a brief "wrap up" post next, but this will be the final check-in post. I'm not going to even bother with the word limit.
The big highlight was that on the 29th SB finally came out to see me! At 10 weeks this was the longest we had ever been apart. We met up as she came into town (which was just shortly after I got off work) and being us, immediately head over to a brewery. We had decided on Wynkoop, which had previously visited for a tour, but hadn't ate at. We of course had some beers.
1. Mile High IPA – Wynkoop Brewing Company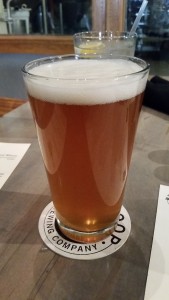 2. Orchard Wheat – Wynkoop Brewing Company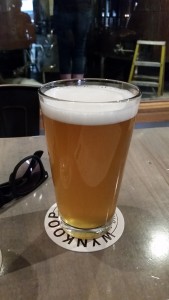 We also got some tasty vittles to go with the beer.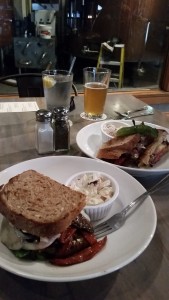 After dinner we headed back to the apartment (I had to work a half day the next day) and Tristen and Valentino were reunited! ("at rong rast")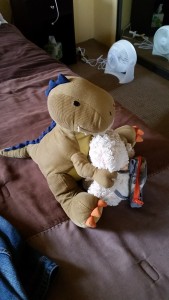 The next day after I got off work we headed up to northern Denver to check out Hammond's Candy Factory.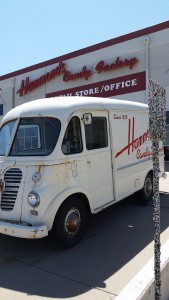 We took public transportation which was a bit of a trip, but nothing too bad. We actually were able to slip in right as they were beginning a tour, thus saving us a 30 minute wait. The tour itself was short but sweet (*ba dum tss*). It was pretty cool getting to watch them make huge amounts of candy by hand though.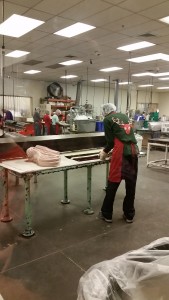 The tour of course drops you off in the gift shop. Among other things SB and I picked up a Pumpkin Pie Candy Cane. Yep. It was good.
After Hammond's we exchanged the sweet tooth for a beer tooth and headed down to Great Divide Brewery.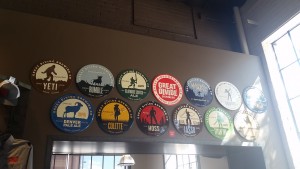 Their facility tour was pretty interesting since it was a relatively new location (not Great Divide itself, just the building was new). But it wasn't anything exceptional and there were no free samples of beer, which is odd. So SB and I made up for that and got a beer to share ourselves.
3. White Water Wheat Ale – Great Divide Brewing Company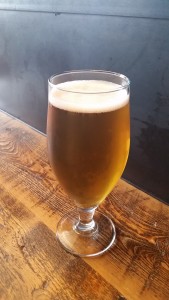 Of course maybe that was the point of no samples. We also picked up some shirts because they were really cool. Sadly, mine shrunk beyond comprehension (despite the girl telling us it wouldn't shrink) and so I can't wear mine.
After the brewery we had diner reservations at Ophelia's Electric Soapbox. This quirky restaurant is actually inside an old brothel. Interestingly, Ophelia's is one of three "sister" restaurants. The other two are Root Down and Linger. Linger is housed in an old mortuary (not sure about Root Down). Since it was Happy Hour and it had been at least 20 minutes since our last beer, we got some more.
4. Red Banshee – The Fort Collins Brewery [Left]
5. Apricot Blonde – Dry Dock Brewing Co. [Right]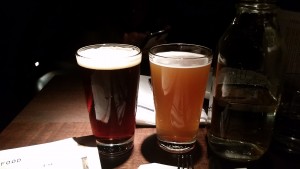 This is one of my all time favorite photos I've taken of beer.
We of course paired those Happy Hour drinks with some Happy Hour bites!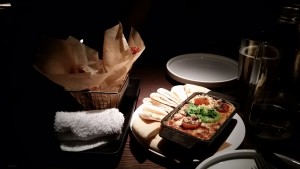 Tristen rather enjoyed the duck wings.
After Ophelia's we headed off on a semi-long walk out to Little Man Ice Cream. This was my second time nomin' it, but it was my first time experiencing it with SB.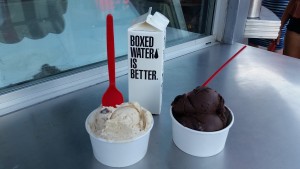 Bet you can't guess which of these was chosen by a female.
After Little Man we had a bit of trouble with the buses, but it was a forced excuse to walk off some of that ice cream.
The next day we went and picked up Sylvan, our friendly Subaru Impreza Zipcar, and headed off to the hills (literally). The first stop of the day was the famous Red Rocks Park & Amphitheater.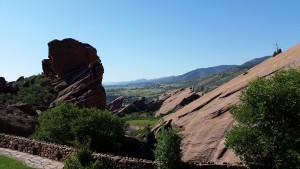 It was a gorgeous day and we set off on the "Trading Post Trail" which clocks in at around 1.4 miles, so nothing major, but it still offered up lots of amazing views.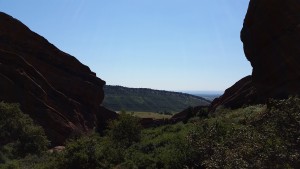 We of course checked out the amphitheater itself, with all of its 9,450 seats nestled into the only known naturally acoustically perfect spot on the planet.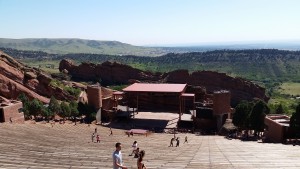 A lot of people use the stairs for exercise when a concert isn't going on. SB and I took a pass on that one.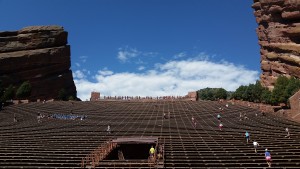 After Red Rocks Tristen and Valentino drove us over to Dinosaur Ridge.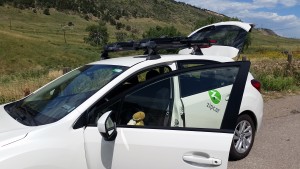 Tristen had been flipping out to go to Dinosaur Ridge since our first day in Denver when he discovered a brochure for it.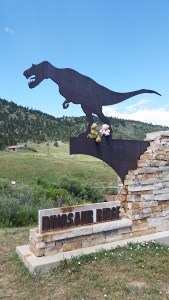 Dinosaur Ridge was exactly that, a big ridge (which is actually part of the larger Dakota Ridge). The difference is that it was LOADED with dinosaur fossils and traces – at least until humans came along and stole most of them. That said, there are still fossils and traces to be seen even in the wake of the scientists. So, when you visit Dinosaur Ridge you can either walk the ridge for free (about 1.5 miles) or pay 6$ to take "Shuttlesaurus."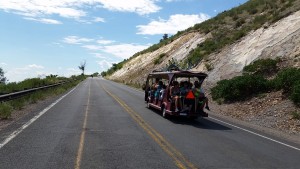 SB and I opted to walk so that we could avoid the crowds and move at our own pace. While there were a lot of cool spots and bones, I think everyone's favorite spot was the dinosaur tracks area. This whole ridge, despite now being a semi-arid, well, ridge, was once at the edge of a MASSIVE river that flowed through North America. So these Dino Feets' were left behind in the mud.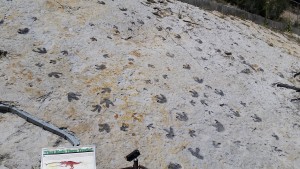 The road was no longer in use, but you could still take the aforementioned shuttles, walk, or bike.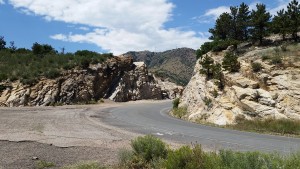 Once on the other side of the "hogback" at the top of the ridge, we were treated to a nice view of Red Rocks in the distance.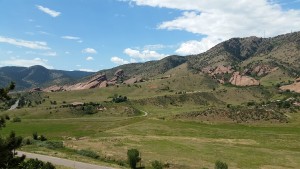 Being the troopers we are, we headed all the way down to the "end" of Dinosaur Ridge (you can technically start on either side – but we started on the side with the visitor center and dinosaurs for Tristen to meet).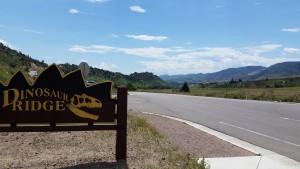 We then touched the sign and headed all the way back to Sylvan and lunch. Afterwards we headed down to Morrison to see the Natural History Museum.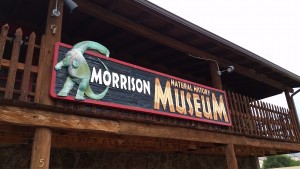 This was actually an impulse trip, as SB had seen a brochure for it while we were at the Dinosaur Ridge visitor center. So we decided to head down and check it out and maybe give the rain a chance to pass, since it had looked like it was about to rain for awhile now.
Turns out, it was a good choice, we both really enjoyed the museum. We just missed a school-bus load of kids (thank God) and so we were pretty much given a private tour of the museum. We even got a chance to help uncover dinosaur bones ourselves! And no, I don't mean the gimmicky kind. I mean a real fossil, with real tools, in a real lab. That is the benefit of being the only two visitors in the entire museum. We both ended up learning quite a few things and definitely had fun.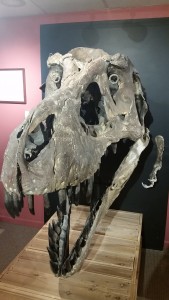 However, our rain plan backfired. When we came out it started raining, after not having so much of a drop of rain while we were in the museum. The next stop was Lookout Mountain, so we headed off towards part of the Lariat Loop (which I had elected to take rather than the faster interstate) and the rain caught up to us on the way. Fortunately, it didn't last too long and it had passed us by when we started driving up Lookout Mountain.
Once we made our way up to the top (7,379′) we were greeted with some amazing views.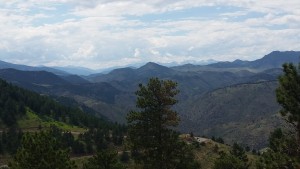 We also had a bird's eye view of Golden.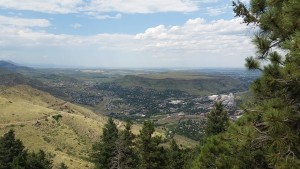 Notice how large Coors is.
And then there, far off in the distance was the Jewel of the West, Denver.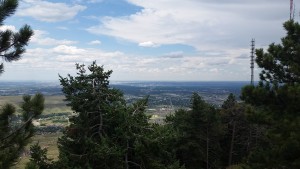 Lookout Mountain is also the final resting place of none other than Buffalo Bill himself.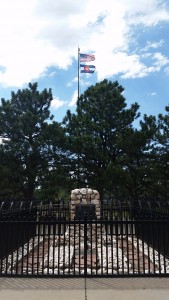 Both Cody and his wife Louisa are interred at the peak of the mountain. Buffalo Bill is actually pretty interesting. I'd suggest you read the link above to get some information of the man behind the legend. For instance, did you know he was both a proponent of environmentalism, conservationism, women's rights, and native American rights in addition to all the other stuff he was famous for like being a scout and a showman? Probably not.
Once we had partaken of some delicious Colorado-made root beer and a buffalo burger from the cafe at the top of Lookout Mountain (how perfect), we headed back down the other side of the Lariat Loop which was far more curvy, but Sylvan handled it just fine with his magical features and AWD (Sylvan only had about 6500 miles on him). Since it was still a bit early and Golden was just down the hill (literally), SB found us a random brewery called Golden City Brewery to go check out. It was more backyard and less brewery, no really.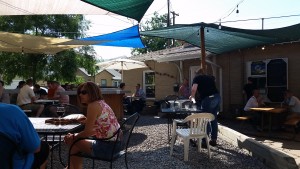 However, it's really all about the beer, and the beer did not disappoint.
4. German Pale Ale – Golden City Brewery [Left]
5. Evolution IPA – Golden City Brewery [Right]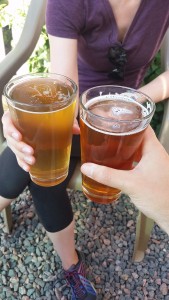 This was further proof that there are so many breweries in Colorado that you have a decent chance of stumbling upon one in a random backyard.
After that we ate dinner in Golden at Woody's Wood Fired Pizza (we went for the big salad bar), and were able to skip a pretty substantial wait by our willingness to sit outside. Then all of us (including Sylvan) headed back to Denver for the big day tomorrow.
The big day was a trip all the way down to Colorado Springs courtesy of Gray Line. Well, courtesy of us paying them to take us. The first stop of the (very early) day was the United States Air Force Academy. More specifically, our first stop was a Vietnam-era B-52, the thing was freaking HUGE.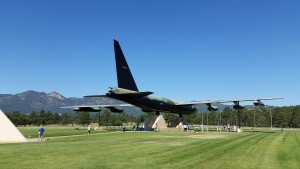 With dozens of bombing missions and some confirmed fighter kills, Tristen was enamored.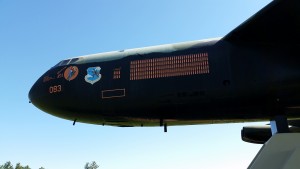 Manries.
The next stop was an overlook of the main facility area of the academy itself, complete with a nice view of its famous chapel.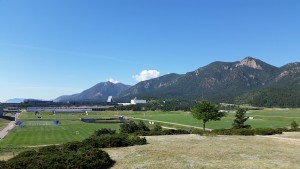 When you stop at the visitor's center you actually have to go on a short hike to get to the chapel, we did, obviously.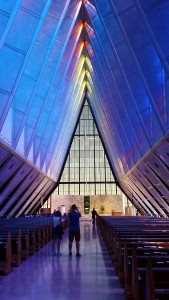 It was pretty awesome, all the stained glass and tinted windows gave the appearance of artificial lighting, but it was all natural.
Next up on our trip towards Colorado Springs and Pike's Peak was Garden of the Gods.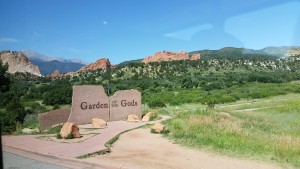 Garden of the Gods was PACKED. So our pompous tour bus didn't really have a chance to stop, but by and large it seemed similar enough to Red Rocks that I don't think either SB or I were too disappointed that we didn't get a chance to spend a lot of time there.
We did get to make one stop at the "Balancing Rock" though, which was pretty awesome, and also packed.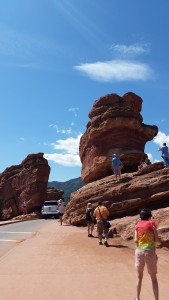 After exiting Garden of the Gods we had lunch (part of our tour package) at a nearby trading post and then headed to Manitou Springs, home to the famous Pike's Peak Cog Railroad (which is the highest railroad in North America). The railroad was actually originally funded in 1889 by Zalmon G. Simmons, of Simmons Mattress fame (but he was rich for many other reasons as well).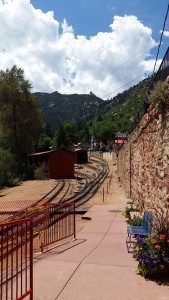 The Railroad is one of two ways us fats can get to the top of Pike's Peak these days. One is to drive (yes, there is a dirt road to the top) the other is to take the train, which is actually more scenic. Sure, you can still hike to the top like the good ole' boys did, but like I said "us fats." I think the only option that previously existed for rich fats that no longer does is the horse-drawn buggy to the top, though you can still see the 100 year old path due to how slowly the tundra grass and fauna grow and heal.
Anyways, point of the story, we took the railway.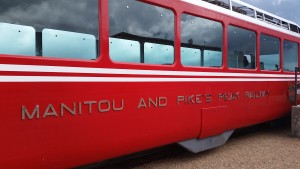 And boy what a cool trip it was! Actually, it was literally a cool trip, as it was only 49 degrees at the summit (whereas it was in the mid 80s in Manitou Springs).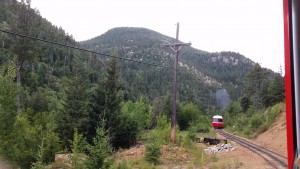 Eventually (it's a 1.5 hour trip one-way) we were making our way closer and closer to the tree line.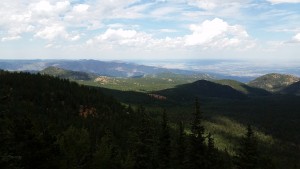 The train ride itself was pretty nifty, as the cog rails allow the train to traverse as much as 25% inclines, whereas normal trains are limited to 3-4% grades.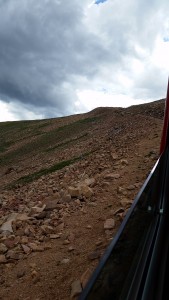 The treeline eventually gave way to open tundra, where we were greeted by some Pikas, Yellow Bellied Marmots, and Big Horn Sheep, as well as some increasingly vast views.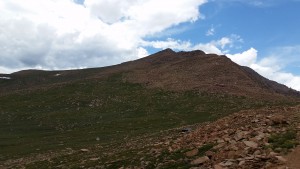 The train takes you all the way to the summit, and I do mean all the way to the summit. In fact, it pretty much takes you right to the edge of existence.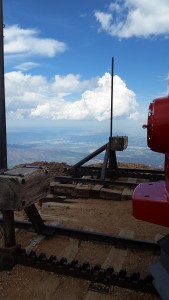 Once at the top Pike's Peak offers up some incredible views that photos just don't even begin to do justice for.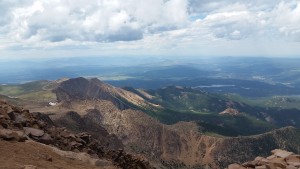 And although the photos don't really cut it, you can begin to understand why Katharine Lee Bates wrote "America the Beautiful" based on what she saw while looking out from Pike's Peak.
After a bit up on the chilly summit (14,115′) it was back down the mountain on the train, which was a very sleepy trip! Then it was back to Denver where we ate dinner at a funky sandwich shop named Snarf's.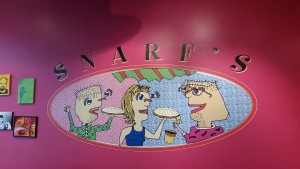 No relation to ThunderCats.
Then SB and I went to visit the Big Blue Bear and then headed home, a nice end to a long day.
The next day, Sunday, was more of a chill day. We started off with brunch at Syrup, which actually has a location in the building where I work. So while we were waiting (breakfast places are oddly popular in Denver) I was able to show SB my office and around the building. Before to long it was noms' time, and nom we did.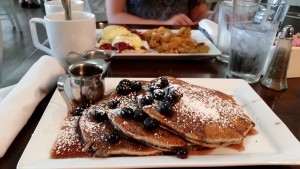 I had blueberry buckwheat pancakes with blackberry syrup and a side of butterscotch syrup, while SB went with an eggs Benedict with corned beef! Both were quite yummy.
Afterwards we traversed around the 16th Street Mall for a bit, just so SB could take some of it in. I actually got to see a few new sights as well, such as rock climbing.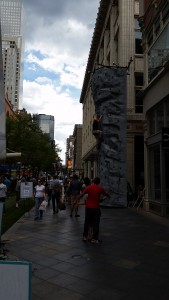 As well as paddle-boarding. Yep, paddle-boarding in the middle of a street.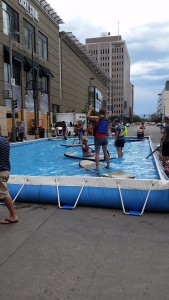 After walking around the shopping district for a bit, we hopped on the light rail and headed a bit south to make our tour at Stranahan's Distillery. I am not a big whiskey person (sadly) and so I hadn't toured a distillery since Scotland. That said, I was still pretty excited to check out Stranahan's.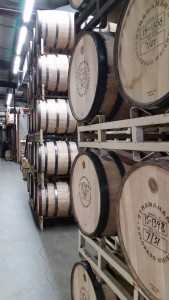 I was actually surprised by how similar the two processes of brewing (between beer and whiskey) actually are. One neat thing about Stranahan's is that they actually have volunteers assist in the bottling and labeling process and payment is levied via pizza and a free bottle of the batch you assisted with (unsurprisingly the wait-list to volunteer is around 20,000 people long).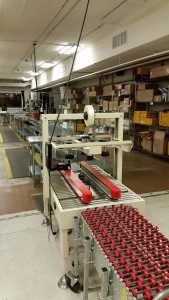 The tasting went better than expected, as it actually didn't burn quite as much as I was expecting (despite being 94 proof). SB didn't finish hers, but Tristen says that is because she is a "russy."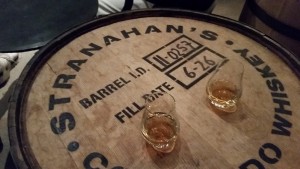 After departing Stranahan's we started heading home. We made a brief stop at K-Mart and then were planning on eating dinner and having drinks at the Fainting Goat Pub, but that didn't end up happening as we still had lots of drinks at home, so we just grabbed from food from Trader Joe's and ate at the apartment. We did close out the day with some ice cream from Sweet Action though.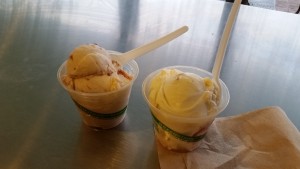 This was the first time I'd been there since going with Meem and James, and their flavors had already changed a lot (which is what they are known for). In case you were wondering, the flavors we got were: Stranahan's Whiskey Brittle (how perfect right after visiting the distillery), Biscuits & Jam, Peanut Butter and Jelly, and Coffee Brownie. If the flavors sound weird to you, don't let that put you off, they were all yummy! (Biscuits and Jam was actually my favorite).
It was nice to be able to take SB to both Little Man and Sweet Action so she could join in on judging them. While it's definitely close, I think we both found ourselves leaning a bit towards Little Man over Sweet Action, namely because Little Man seemed a bit more creamy, even if Sweet Action has more interesting flavors.
The next day it was back to work for me, as it was actually my last day in the office. Of course I saw "work," but really it was more of a fun day. The other EES/EDS intern and I went on a trip with an attorney back up to Red Rocks to do some hiking (more extensive this time, about 6 miles). While I had pretty much just been there, I didn't mind at all because it was a new area of the park and the company was different.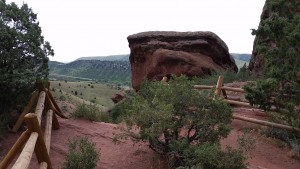 The overcast skies actually made for really good hiking weather as it was still pretty toasty outside.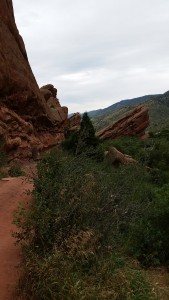 After the morning hike we had lunch at The Blue Cow, a Morrison tradition, and then headed back into Denver (but not before stopping at a Safe Way to get a vegetable tray for the afternoon).
While there was a bit of work in the afternoon, it was mostly fun as well, namely our mini-golf tournament, held at Denver's Skyline Park.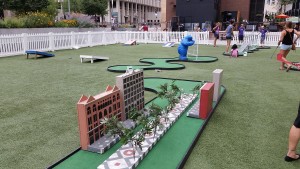 The course is only 9 holes, but its free and features landmarks from Denver, so it was a lot of fun. We actually had a competition for best score and for worst shot. I actually ended up winning the best score (and my prize was "Golden Tee" – which was funny and cute), whereas the NRS intern won the worst shot award by actually hitting the attorney the award was named after with her ball (unintentionally). You can't make this stuff up.
After our golf-picnic we headed back to the office building and had our final Happy Hour at Hodson's (I had two Odell's 90 Shilling if you were curious). There we were given a few more gifts, such as a Department of Justice beer cozy and a Department of Justice beer stein (I'm not lying about lawyers and drinking). It was actually a bit sad, especially since the last day had been mostly fun it was kind of hard to leave everyone.
My boss and I headed out from the Happy Hour a bit early so we could go back up to the office and I could clear out my desk, shut down my computer, get the "Don't tell anyone what we do here or you will die" speech, and then hand in my badge. I think leaving the office with my boss was one of the saddest things I've done in awhile, there is just something about handing over your badge that just exudes melancholy. While I knew I was only going to be there for 10 weeks, I'd had a really good time at the office and it was kind of hard to say goodbye to my little supply-closet-with-four-interns-space and all the attorneys, especially those who had taken me under their wing.
But life goes on and the interwebs make it much easier to stay in touch than ever. I also left on very good terms (a recommendation is waiting whenever I need it). So all was well and it was time to continue my journey.
But I wasn't quite done with Denver yet, I still had one more night to spend in the Mile High with SB. So we dressed up nice and fancy and went to Appaloosa where we had a delicious final feast, including some jalapeno bread and bison sausage.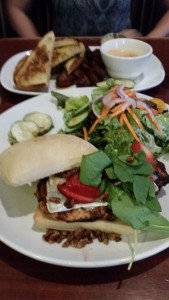 After dinner we headed over, or rather, up, to Peak's Lounge for some drinks and watch the sunset (it's on the 27th floor of the Hyatt).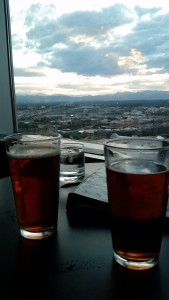 I went with a Colorado Native [Left], as I figured it might be my last time to try it for awhile, whereas SB was adventurous and went with a gluten free beer.
6. Tread Lightly Ale – New Planet Beer Company [Right]
After sitting an drinking for a bit we decided to order some dessert, only to be told they were out of it after at least 5+ minutes of waiting. In fact the service as a whole was pretty slow and lackluster (aside from the manager who helped us when our server just continuously failed to appear).
That said, the views of the sunset were pretty incredible.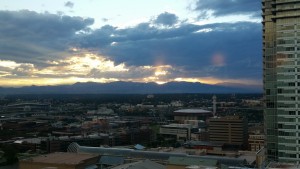 So all in all, a pretty amazing last day in Denver.
The next morning we were up early and making good time, only to find out that our flight had been delayed by two hours. Our flight ended up getting delayed by 3 hours, but it took off and we made it back to Boston, just much later than we had hoped. So we were pretty tired and pretty much crashed that first night (after waiting on our air conditioners to at least partially cool down the hot box our apartment had turned into, much to Bonsai Buddy Jr's joy and the cacti's dismay).
The good news is that I had saved a beer for myself way back in May before I left.
7. Backseat Berner IPA – Otter Creek Brewing / Wolaver's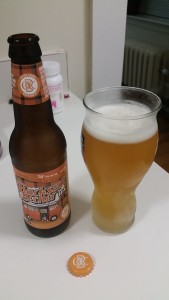 And because SB is a good SB, she had even purchased a few more beers to have waiting for me.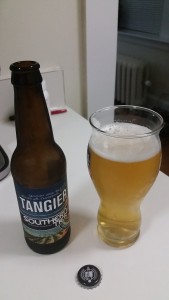 And even though I didn't have either of these the first night back due to how late it was, they did make for a nice welcome home, even a belated one.
So ladies and gentlemen, that brings us to the end of the Denver Check-in series. It's been a pleasure (mostly) to keep up with my time in the Mile High via Dinosaur bear. And while I technically wrote this from Boston (which is why I started this post off with "sort of" after my introduction), it was certainly Denver-centric and wraps us up nicely.
I'll have "Things I Learned" reflective post coming up in the near future that is a lot shorter and more broad than this final check-in, but it will hit on some of my post 1L Summer thoughts in way that these check-in posts weren't really meant to.
Until 2L Summer,
-Taco, Baby Lawyer Extraordinaire