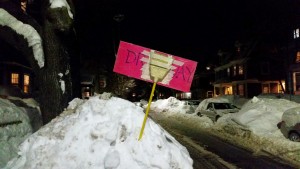 Hello, long time no see.
Not really, its not even been a full two weeks. Yes, I said I was going to try to post once every week, but watcha gonna' do about it, nuffin' that's what. In fact I think its probably unlikely that I'll stay on top of that goal, namely because of how busy I've been lately (and more specifically, how busy I am going to remain over the coming months).
The good news is that I am getting over my illness (not the mental one). In fact, my senses of smell and taste are probably at about 80% at this point. Yes, for a period of about 5 days I entirely lost my ability to smell and lost about 3/4 of my ability to taste. No, my nose wasn't entirely clogged up, I literally couldn't smell. It happened after I tried to help clear my sinuses with a pot of boiling water and some essential oils. I think one of two things happened. I either burnt the tissue linked to my olfactory bulb with the steam, or I overloaded and fried said nerve with the essential oils. Whatever it was, I lost my ability to smell entirely. And I do mean entirely. You know that pungent smell of Vick's Vabor Rub? Yeah, I stuck my nose in that crap and couldn't smell it. It was not a fun week, because apparently about 75% of our taste actually comes from our olfactory nerve, not our taste buds. Anyways, its coming back slowly, I didn't permanently destroy my sniffer, which is nice. The not good news is that SB ended up getting sick as well, but thankfully she is on the upswing herself (her nose never ceased to function).
So outside of being sick what has been going on?
For a little bit it looked like we were starting to win the snow battle. The dunes were ever so slightly receding, sidewalks were starting to be unearthed, the salt started working again, but nope. The snow continues, in fact its snowing right now. Which reminds me, its now officially the second snowiest winter on record in Boston. My timing is JUST SO GREAT IS IT NOT? Some people think we stand to top the list, we'll see, but between you and me, I wouldn't mind if we don't (We are  currently at something like 98.3″ whereas the record is 107.6″). We've also had record breaking cold temperatures, see my comment on timing above. And, since I am now a walk-commuter, it means I get to take all this magical joyness in. Even the snowmen are sick of the snow.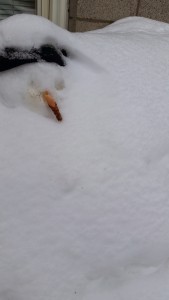 Though to be fair, its not been horrendous, well it has, but not that horrendous. At least I don't heavily rely on the public transit system, which has came to a complete standstill on more than one occasion due to the snow. I'd honestly say that for me its mainly the snow make-up days at school that have been the most painful. Being on campus until 6pm on Friday is not my idea of a good time. Speaking of make-up days, school doesn't slow for the weather. No, our ABA overlords ensure that there are indeed, no real breaks in law school, even during breaks. Subsequently I've been crazy busy. Between being a freshly minted Line-Editor, an SPO member, a 1L, and a co-counsel on a (STUPID) LRW brief, there is little time for much else in the world, which is precisely why no post happened last week (being sick was also a factor).
But that doesn't mean nothing post-worthy happened last week! I picked up my suits from the tailor and they look WAY better, I mean so so much better. I didn't really have the money to spend on them, since you know, they weren't cheap in the first place, but I will make even by getting crappy beer for awhile (I know, the horror). More importantly, it was SB and Valentino's birthdays, as well as Valentine's Day! We had some VERY delicious salmon, pasta, and bread. We acquired most things from Whole Foods, which was a nice little splurge treat for us.
Before: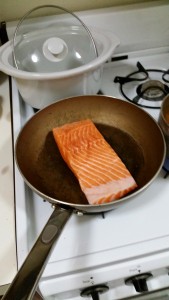 And After: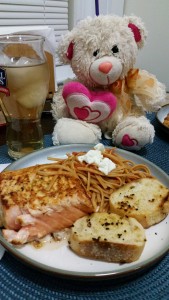 In addition to dinner we had a very tasty cake, which was: Devil's Food Cake, with a Peanut-Butter-Fondant layer, and Strawberry Cream Cheese Icing, and red sprinkles. It was amazing, just trust me.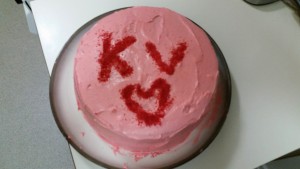 If there is one thing I do well its make tasty food, even if it doesn't look that great (Function > Form, for me). SB even went out and got us some coffees! Since there was a triple celebration going on, it called for some good beer. We actually took a fair amount of time deciding, since what we wanted had been busted up, but eventually the owner of Broadway gave us a deal on the half six-pack and we were on our way (in addition to some Yuengling). So what was this three-pack?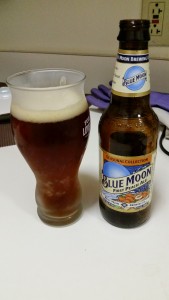 1. Blue Moon First Peach Ale – Coors Brewing Company
Yes you read that correctly, its Blue Moon + Peaches. Also, this is a friendly reminder that Coors brews Blue Moon. I'm ok with Blue Moon, but its actually one of those rare beers that SB enjoys a lot more than I do. However, I do like Fruit Ales (but not lambics, oh gehd not lambics). Since it was SB's birthday, she was allowed to participate in the sacred beer selection process, and this is what we ended up with. The first time I had it, I tasted nothing. Heck, I didn't even taste beer let alone peaches. This was because my olfactory system was fried. So, while I technically had the first, First Peach Ale, SB actually tasted it first. I was disappoint, but saved the other beer until I could actually taste it, lest it be wasted. SB commented that the peach was subdued and once I was finally able to taste the beer, I agree. Its actually pretty good for a macro-brew fruit ale, I'd definitely try it again, but I am an avid peach lover (peach flavor lover rather, actual peaches are just neutral for me – I mean I will eat them, but I like peach flavor more).
But we aren't done with beer just yet. Fast forward to yesterday (a week later). Its now another weekend, which means another beer. I went with my standard Yuengling four pack staple, because I am poor, but I also got a single of something I've never had before.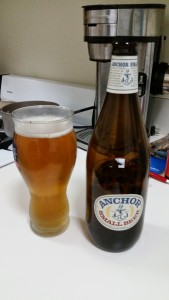 2. Anchor Small Beer – Anchor Brewing Company
So, if you are like me, you are probably wondering "WTF is a small" beer? I mean look at the bottle, its clearly not a small beer. Turns out that even people like me have lots to learn about our blessed nectar of the gods known as beer. The inner beer snob is ashamed. It turns out the tradition of brewing two distinct beers from one mash goes back thousands of years, and for centuries the term "small beer" was used in English to describe the weaker second beer. By application the term came to mean something of little importance. However, Anchor Brewing Company sought to change that and so they took the second beer from their Old Foghorn (made in an all-malt mash) and turned it into the Small Beer. They changed the brewing process a bit for the second beer, and the result was actually quite good. Its kind of similar to a "bitter" but even that doesn't exactly describe it. Its something I'd like to try again, because it was unique enough that I couldn't really place all the stuff going on with it, which is a cool thing given the size of the bottle. And that is your beer lesson for today.
So, that is about that. Snow, Cold, Getting over Sickies, Beer, Snow, Cold, Celebrations, Law School. Sort of the essence of my existence since the Holidays, come to think of it. So, wherever you are, just be happy you don't have to deal with this: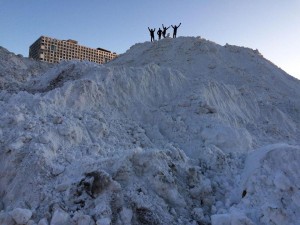 Yes that is real, yes that is snow, yes that snow is on a flat surface. In fact its estimated to be about five stories tall. I have this odd inkling that wherever future Taco is, its not someplace with a five story tall snow pile, but stranger things have happened. 🙂 With that, I am going to bid you adieu, I have a few hours of a Saturday night left to enjoy (after spending most of the afternoon on stupid LRW) and tomorrow I have to go to the law school to meet my partner for more LRW. Moral of the story, I hate LRW.
Until next time,
-Taco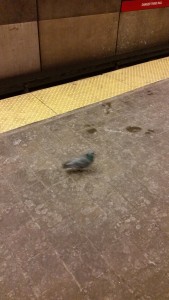 P.S. – GHOST PIGEON IN THE SUBWAY