Greetings from Montana,
This is going to be a doozy of a penultimate check-in post, I can feel it in my bones (that word limit concept died just like last summer 😀 ). But hey, this is probably the only Saturday of my trip that I'll be spending the majority of my time at home [I'm writing this on Saturday, thought it will post later]. That means that I need to acclimate to those Saturday noises that I've never been around to hear before, such as the stray Go-Kart or lawnmower. More problematic is the heat (I've mentioned my crappy ac before) and the holy war on flies, which rages ever faithful ever true. Still, it's a pretty good day for some catch-up blogging. I've got a fan on me, the internet radio for some wanted noise, and the Olympics on the television to glance up at from time to time.The only bad thing is that I'm sitting on the hot leather couch and don't have my mouse, so I'm using the laptop mouse. I don't really have a desk here and I didn't feel like sitting hunched over on a wooden bar stool to right this post today.
I've actually had a pretty big day so far, but I'll touch on that next in the next check-in. The topic of this check-in is, as you probably deduced from the title, all about some adventures with SB. In fact this post is kind of a spiritual successor to the post "SB Adventures and Farewell" which was the 10th and final Denver Check-in last year. The one thing you'll notice is missing this time around is the "Farewell" portion of the post. Due to her own busy schedule SB was unable to ride out the final days with me, so I'm solo again, and thus there is one more check-in to come after this one. Still, while it was a bit sad to send SB on her way, that doesn't mean that we didn't have a whole ton of fun while she was out here! So let's revisit some memories!
[Taco's Note: Some of the following photos were taken by SB, so photo credit goes to her as well.]
The reunion began on Thursday, July 28th when SB set off for Bozeman from Boston (Yay Bs!).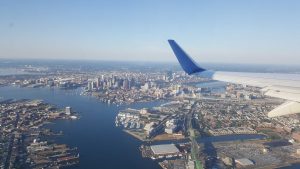 Unsurprisingly her trip involved a transition from city-scapes to mountains, which is one of the best kinds of flights.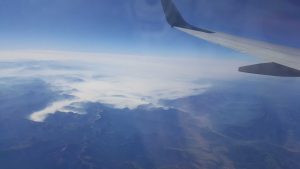 While Meem had arrived in the morning, SB arrived in the mid-afternoon. Originally the plan was for me to take off the rest of work for the day to pick her up (as by this point I had only been to the Bozeman Airport 5 billion times) but being a baby lawyer that plan didn't work out, so I had to return to work for a bit. Still, it gave the boys enough time to have a reunion in the trunk of Moose II!
After I got off work we headed over to Over the Tapas, which unsurprisingly serves tapas, and also unsurprisingly drew SB in like a fly to honey.
While all of our tapas were good, the bacon wrapped dates with cheese were the prize winners, a tradition which finds its origins in a trip SB, Meem, Daryl 1, and I took to Chicago (Cafe Ba-Ba-Reeba).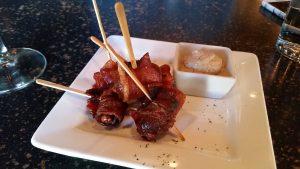 After our delicious dinner we headed to the northern part of town to check out Map Brewing, which is one of Bozeman's six (yes six, that's a lot for a town of this size) main breweries.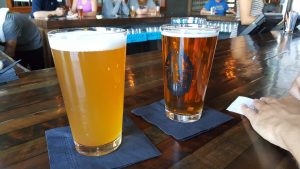 Of course the downside to Bozeman's otherwise excellent brewery scene is that the breweries have to stop serving alcohol at 8pm, 7 days a week. It's the result of the lobbying of some powerful local groups (consisting almost entirely of bars and restaurants) and not some lingering blue law. That's a battle that's going to continue for awhile, but my guess is that eventually breweries will be able to stay open later. Still, it was early enough that we had no problems, plus, Map has a great view of the Bridgers.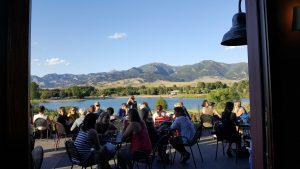 Map Brewing is on the opposite side of the lake Meem and I found while walking.
In addition to the good views, Map had some.. industrial bathrooms that looked like they were designed to withstand a bombing run.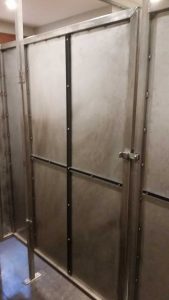 The next day, Friday, I had a half day of work and like most half-day Fridays I didn't get much work done. This was mostly because I was excited for our upcoming trip! So, after putting in a few hours of being at work (notice I didn't really say I was working 😛 ), I headed out to the airport (again) to return Moose II to his dominion. I then picked up Moose III, Son of Moose II, Grandson of Moose I, of House Moose.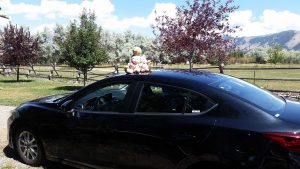 Moose III is a Mazda 3, which I found kind of funny since he is also the 3rd generation of Moose. So, House Moose consists of, at the very least, a Toyota Corolla, a Ford Focus, and a Mazda 3. Tristen liked that Moose III is black, he said that means he is a ninja.
After getting things rounded up (including some supplies from Meem and I's trip – yay conserving!) SB and I, and all the boys (inclusive of Pigsten) were on the road!
Like the trip with Meem, the main destination was Yellowstone National Park. However, in the interest of not doing exactly the same thing again I took us on a different route. Whereas Meem and I had went east to Livingston and then south to Gardiner [North Gate], SB and I went west to Four Corners (not the famous state Four Corners, but instead a big intersection in the middle of nowhere that I have no idea why its so "famous" in the Bozeman area) and then south towards West Yellowstone [West Gate].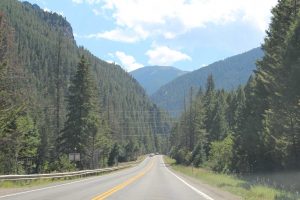 This route passes by Big Sky, MT a famous ski resort town that lives in the shadow of Lone Mountain (11,161′). So for a bit of trivia knowledge you now know that Big Sky is not only an abstract reference to the skies in Montana (which are indeed big, holy gawd) but also to an actual place. As an even further bit of trivia, Big Sky is itself divided into three "sub towns." The "Canyon Village" which is the area down in the canyon along the Gallatin River and is home to all the river-oriented activities. The "Meadow Village" which is sort of Big Sky proper and is the "hub" of the area where stores, gas, bars, the hospital, etc. are. It has a lot of fishing and hiking opportunities. Then there is the most famous of three sub towns, the "Mountain Village" which is where the ski resorts are mountain climbing opportunities are, it's also by far the most expensive of the three to stay in. Since it was July and we don't (read can't) ski, and because we still had a long way to drive, SB and I opted to just visit the "hub" town center area.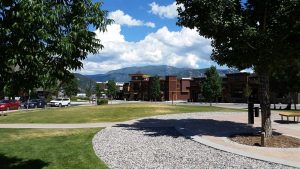 It was a cool town, but definitely a resort area. It reminded me of a mountain version of Martha's Vineyard.
After that we got back on the road and headed down to West Yellowstone. I was able to share with SB the stupidity of West Yellowstone's parking lots that require driving over a curb. However, we didn't just shoot straight through the town. We decided to do another thing Meem and I had considered which was to drive out to Idaho. It might sound like a heck of a side trip, but it's actually only about 9.1 miles from town. Meem and I had discussed going all the way to Squirrel, ID, but upon looking it up Squirrel was like.. 3 buildings in the middle of a 10 zillion mile field, so we didn't go, nor did SB and I. Maybe some day.
SB, Tristen, Valentino, and I have technically been to Idaho, but we haven't set foot in. Plus, Pig and Pigsten hadn't been. So it was an easy choice to head out there. It also turned out that the MT and ID border was also along the continental divide, and while I've crossed that like 3 bajillion times already (not complaining, I still think its cool) that was a nice added bonus.
After getting some photos at the sign and actually touching Idaho soil (Tater Nirvana) we headed back into West Yellowstone for a brief potty break and to let Valentino check out the Three Bear Lodge which SB had found on a brochure and interestingly enough I think Meem and I stopped in front of when we arrived at West Yellowstone very late one night.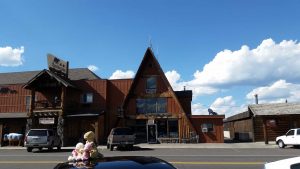 After that we headed into Yellowstone through the West Gate which mercifully wasn't backed up that bad (though in my infinite luck I picked the lane with the person who had to ask every question known to man and thus took as long as 20 other cars).
Once inside the park we headed directly to the Midway Geyser Basin, home of the Grand Prismatic Spring. Meem and I had not been able to see this area because we made the dire mistake of trying to do a major attraction in Yellowstone on Sunday during July (just don't, seriously 1/3 of the world's population is blobbed up around the major sites). So, I was very determined to make it, and we did.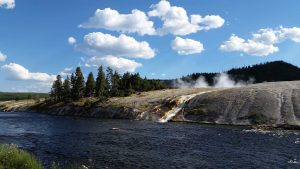 Hot water from the Excelsior Geyser Crater flowing into the Firehole River.
SB was immediately drawn in by the colors, as was I (again).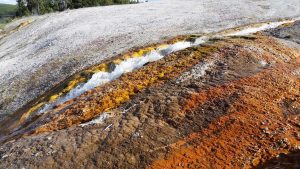 The Excelsior Geyser Crater is home to what was once known as Excelsior Geyser, which prior to the 1900s regularly erupted from 100′ to 300′ feet in the air (thus rivaling Steamboat Geyser) but has since fallen dormant and now spends its days sending 4,000 – 4,500 gallons of 200 degree water per minute into the Firehole River.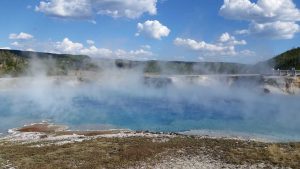 It was so blue that it reminded me of the Bahamas.
Of course the real highlight of the Midway Geyser Basin (almost literally) is the Grand Prismatic Spring itself.

It was absolutely incredible and really looked like a rainbow. Here is a closer view so you can see some of the color details.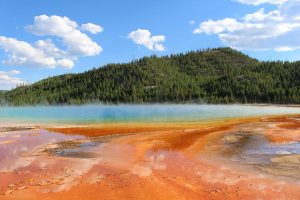 The boys loved it, especially Pig who actually tried to dive into the mud and thus we had to confine the boys to my backpack.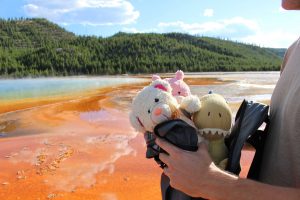 Pig being sneaky and plotting his escape.
It was nice, we had the basin at a good time of day that wasn't too hot (it was really windy on the basin, which helped) and that also allowed for us to take in some lovely views of the sun starting to move towards the horizon.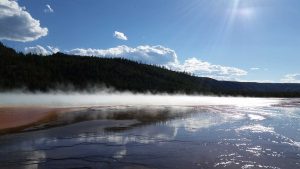 Here is another angle of the Excelsior Geyser Crater that shows how big it is.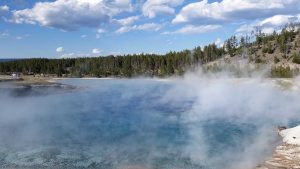 After getting back to Moose III I decided to take a gamble and head for Old Faithful. I had been two Old Faithful twice. Once at night and that was a good experience, the other during the day on Sunday and that was like trying to find parking during the Super Bowl (in fact we ended up just leaving). Since this was in the early evening on Friday I had hopes that the crowd would be manageable. Turns out my gamble paid off. I mean don't get me wrong, it was still very busy, but not pull-your-hair-out busy, and I even had personal vindication as I was able to get my Old Faithful cancellations (stamps) this time!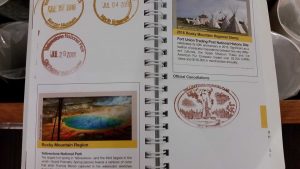 These were also SB's first cancellations, a good start! (Thanks to Meem for the Passports)
SB and I got out to Old Faithful about 30 minutes before the next scheduled eruption, and while the good bench seats were already taken, we actually got front row in the absolute best viewing area, though said area has no benches, so you either sit on dirty boards or stand. So we stood for the next half hour (SB eventually sat down), but given the weather that wasn't too much of an issue.
Then, right within his (I imagine Old Faithful as a him, not sure why) 20 minute prediction window Old Faithful put on a heck of a show for us, and this time I could actually take photos because it was daylight!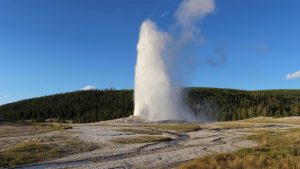 The boys were pretty excited, especially Tristen.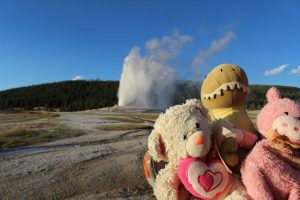 I'm not sure on the data for that specific eruption, but I think it went higher than when I saw it last time, though it didn't last quite as long. However, as a general rule of thumb Old Faithful's eruptions tend to discharge between 3,700 and 8,400 gallons of water and reach heights of between 106′ to 185′ (also, as mentioned last time Old Faithful erupts every  60-110 minutes, with a +/- 10 minute variation and an average time of 74 minute). We were all excited to watch it, especially with our great spot.
Afterwards the (still very hot) water flows down towards and under the boardwalk and I got to run my hand through it (being sure not to touch the bottom and disturb the sediment, leave no trace people, seriously) which was amazingly cool. At first it shocked the hell out of me and I've since learned that the water gets highly charged due to the intensity and force of the eruption – the more you know.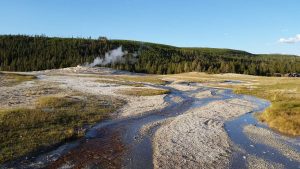 I've touched the waters of Old Faithful.
After the eruption we let the crowds clear out a little bit before getting some snacks and heading on our way.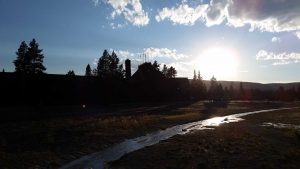 We still needed to make our way all the way up to the North Gate (we were staying at the Yellowstone River Motel, just like Meem and I had), but I'm getting to be an old pro at driving in Yellowstone (at least during July). The plus side was the gorgeous sunset.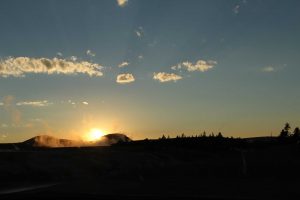 SB got to encounter her first little group of bison on the way back too, but many more were to come!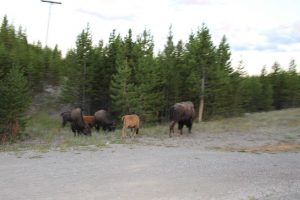 After settling into our hotel for the evening we had some beers and got some sleep. The next day we got up and had breakfast as the Two Bit Saloon (as Meem and I had done – I even got the same thing, BIZKITS N' GRAVAH with eggs). We also got some gas, at the Dino Mart of course.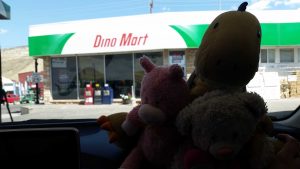 From there we headed through the Roosevelt Arch. We'd been through it the night before but I wanted SB to get to see it up close during the day. Since I've posted some people-free photos of it previously here is a shot with a person for scale.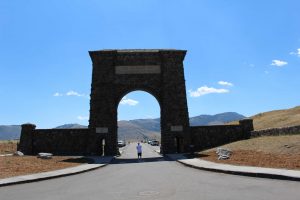 While SB was getting some pictures I noticed something that I thought was new.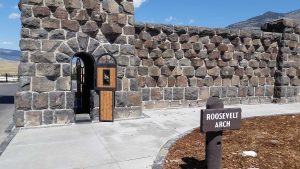 After consulting with Meem I determined that the doors were indeed new. So sometime during the nearly month gap between my last visit and this one they had added the doors to the arch.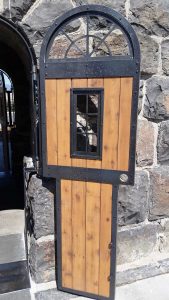 I did some subsequent research and it turns out that the arch has historically always had doors. So, since these were obviously quite new my guess is that Meem and I's visit fell in a gap between the old doors being removed and either repaired or replaced. Kind of interesting.
From there we headed on into the park.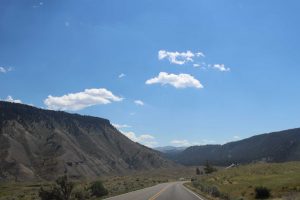 While Meem and I had stopped up north and worked our way south, I decided (based on gained knowledge) that a better plan of action based on our HQ of Gardiner was to drive south and then work your way north. So we headed down to Yellowstone Lake first.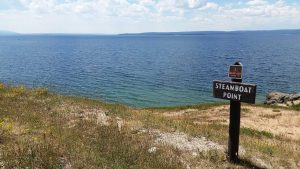 While there were some steam vents nearby, I don't believe there is a relation to Steamboat Geyser.
Tristen was pleased to show his brothers the "ruge" lake.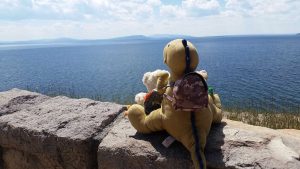 We spent some time on the shore, just taking in the gorgeous day.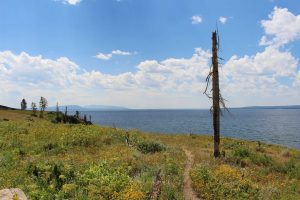 If you're wonder about that dead tree, that is a remnant of the MASSIVE Yellowstone fires of 1988, which you probably remember if you were alive then. The fires ended up burning 36% of the entire park, or roughly 793,880 acres of land. The fires were important because they taught us that our fire management strategies that we had used up until that time were absolutely stupid. Unfortunately over 1/3 of Yellowstone burned as result of our learning experience, but since then we've been much better at fire management. The good news is that forest fires are actually a natural part of an ecoystem's cycle (in fact some species have evolved to rely on them) and those 793,880 are all in various stages of natural recovery.
SB and I drove up to the Yellowstone Lake overlook, which not only gives great views of the lake, but also of the lingering damage from the fire in that area.

Still, in the words of Dr. Ian Malcolm "life finds a way" and Valentino was quick to point out all the wildflowers in the field burnt trees.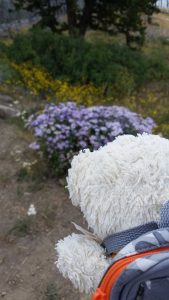 After checking out the Overlook we headed around to the other side of the "bay" we'd been on (we went to Gull Point Drive) so that we could get right down on the water.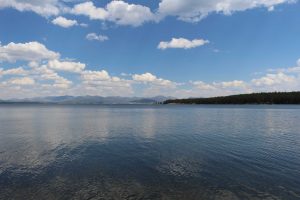 While we were sitting on the lake wall, dangling over feet over the ledge like a couple of kids, a storm started blowing in. In fact it went from the blue skies you see above to crazy rain and wind really fast. So we got into Moose III and started making our way back to the main loop, but in the process poor Moose III got bombarded by tree shrapnel and it was so windy the car was getting jerked around.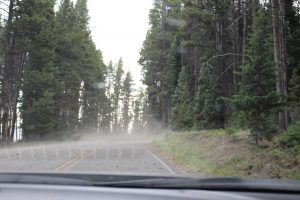 In fact, it was so windy that an entire tree blew across the road. We came upon it and it was like "Yep, this is a problem." To make matters worse the tree had fallen directly between two other (still standing) trees, so you couldn't even shimmy it off the road. So unless you have superhuman strength or a way to cut the tree into sections there was no way it was coming off the road. Fortunately the end of the tree had shattered into a few pieces small enough for me to move off the road. This allowed just enough space to drive around the tree with your car half off the road.
The funny thing is that SB captured none of this epic manliness, and to be honest I don't think Tristen will ever forgive her for it, lol. Of course the one thing about a lack of photo evidence is that Tristen's version of the story – which started accurately, with us moving large tree parts in the wind and rain – has now also begun to include things such as forest giants.
The good news is that those "hard and fast" western storms seem to vanish just as quickly as they came, so in the calm after the storm we started heading back north.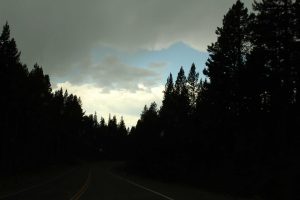 Pig had made a special request to see the Mud Volcano area, so that was our next stop.
SB and I did the hike up the hill to the other sites that Meem and I had passed on last time (SB is dealing with a bunion and is having surgery in either December or January – so we also had to be careful about how muck walking we did). I learned along the way that this whole area used to be covered in dense trees, until an earthquake shifted the geologic table and caused the ground to soar to nearly 200 degrees, which roasted the trees alive.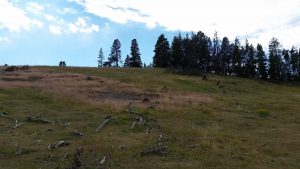 Pig loved all the mud pools.
We had to explain to him (multiple times) how hot the mud was, the little fellow really want to get in.
Naturally we had to see the Mud Volcano itself.
And then Tristen had to show everyone the Dragon's Mouth Spring (one of his favorite things).
After we left the Mud Volcano area we ate a late lunch and then headed up to Uncle Tom's Point. SB wanted to do Uncle Tom's Trail, and I figured I might as well exert myself a bit, so we headed down into the canyon.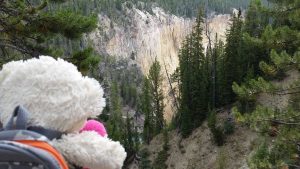 Both SB and Valentino really enjoyed the view of the Lower Falls from the trail.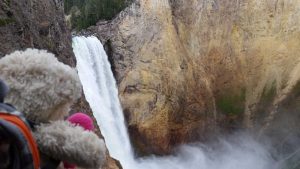 From there we had to head back up the trail. While I think I now have a personal best time on the trail, SB got to experience the ascent for the first time – Valentino meanwhile jumped into my backpack, he's no dummy.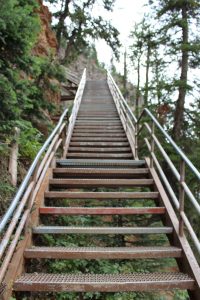 From there we headed to the always magnificent Artist Point and this time I didn't even get hailed on!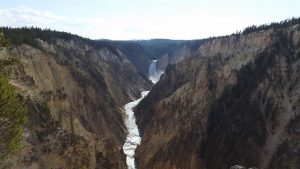 From there we decided to hike along a portion of the Canyon Rim Trail out to Point Sublime. The trail literally follows the rim of the canyon and I would not recommend it for people who are scared of heights. But for those willing to walk right next to a glorious death, then its an awesome trail.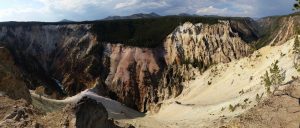 The boys loved the canyon views.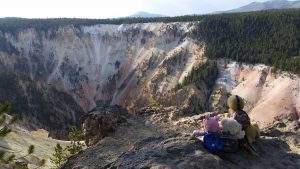 Heck, everyone loved the canyon views.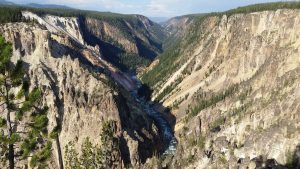 The interesting thing about the Point Sublime trail (other than that it is further than the sign says it is, which seems to be common) is that the trail itself offers far better views than does Point Sublime. In fact Point Sublime is kind of a letdown after the magnificent views of the trail that leads to it. It's also fenced in, which is weird because its further back from the ledge than the majority of the trail. Still, Point Sublime does have good views, just maybe not "Sublime" views – though those can be found along the trail.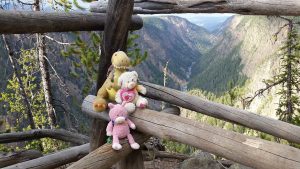 After getting back from the trail (which we pretty much had entirely to ourselves, which was really nice – though SB hadn't brought her bear spray so she was kind of my shadow 😛 ) we took a brief rest at Artist Point.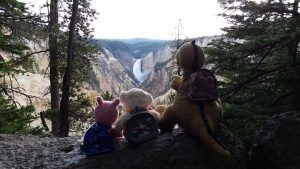 After that we started heading north again, but on a whim I took us down the Brink of the Upper Falls road. In the parking lot we made a friend.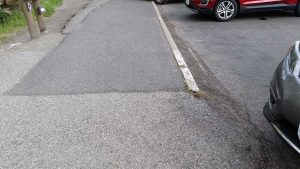 See him? If not try this one: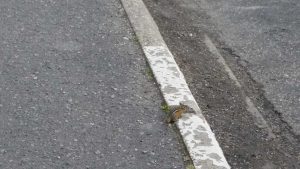 There were quite a few itty-bitty chipmunks in the area, yay friends!
What's nice about the Brink of the Upper Falls is that its not far from the parking lot, which is good after a day of walking and when a member of your party has a bunion 😛 .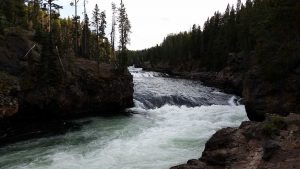 The upper part of the Upper Falls.
The brink is just that, an area that is literally right on the brink of the Upper Falls.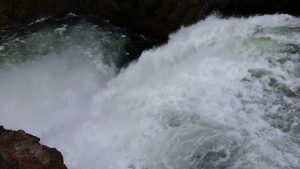 The "lower" (main) part of the Upper Falls.
As is common, photos do it no justice. Its weirdly unsettling to stand right above the roaring waters which are pushing thousands of cubic feet of water per second over the 109′ drop. We didn't go to the Brink of the Lower Falls as we'd already seen them on Uncle Tom's Trail, but the Lower Falls are the larger of the two, clocking in at 309′ (Niagara Falls are only 167′ for reference).
From there we continued heading northward, spotting this Elk buddy having dinner on the way.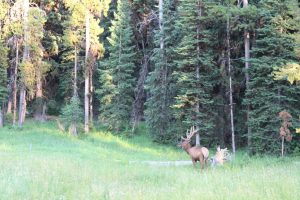 Our destination was Lamar Valley at dusk, as I was seriously hoping to recreate the magical bison experience that Meem, Tristen, and I had had for SB and the other boys.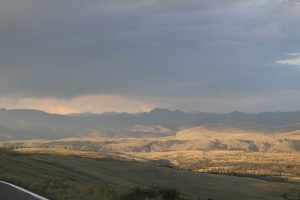 Fortunately things were looking good because right after Tower Junction we met this gatekeeper to the valley.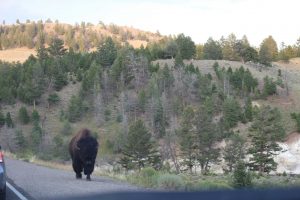 From there we drove a bit further into the valley which was once again complemented by some rainbows.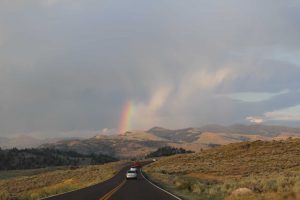 It didn't take long for us to spot a herd of bison, in fact they were near the same spot where Meem and I had first seen them, although there were much more in this spot this time.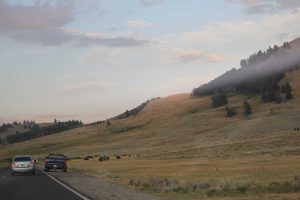 As before, they were on both sides of the road.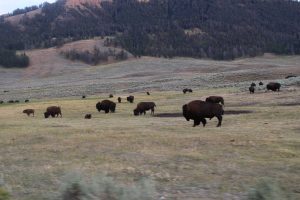 As well as right in the road, lol.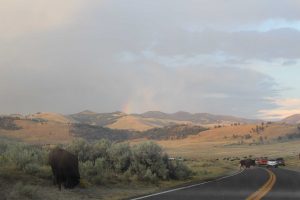 The bison definitely don't seem too bothered by the cars.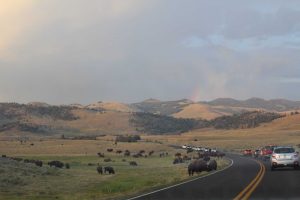 While a lot of the babies had grown into juveniles over the past month there were still some bitties ones scattered around.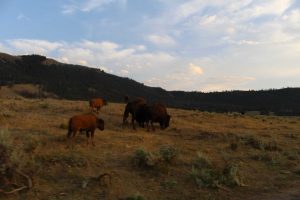 While we didn't see any fighting like Meem and I had, they seemed to be much more vocal this time. In fact some of them were doing this really comical bellow/shout thing where they stuck their tongues out and just really seemed buttfrustrated at each other (I'm pretty sure it was competing males). It was pretty hilarious, and SB and I love imitating it. The boys enjoyed shouting back to them, though I don't think any of them speak bison.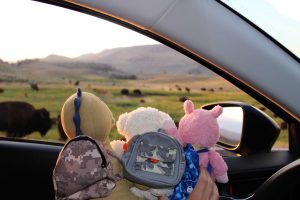 There were a few pretty excited ones that were running all over the place, but luckily they were up in the fields and not on the road.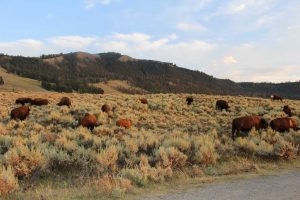 In fact the ones one the road seemed pretty mellow, which is good in that they don't trample over your car, and bad in that they are in no hurry whatsoever to move. 🙂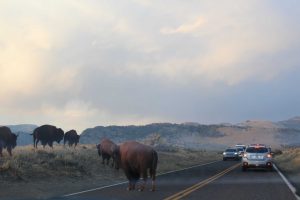 Once through that herd we progressed a ways further into the valley to the spot that Meem and I had had our close encounters of the bison kind, but the bison in that area were much further out from the road this time.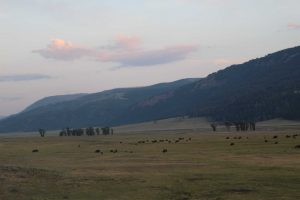 Since there are around 5,000 bison in Yellowstone (which is kind of impressive since we once had killed all but 22 bison – in the entire world) and that population is divided up into several herds my guess is that its not uncommon to have your "magical bison experience" in different parts of the park each time you visit. I'm really glad that SB got to experience it, and that I got to experience it again!
Once past the bulk of the bison we headed a bit deeper into the valley and took in the gorgeous evening views along the way.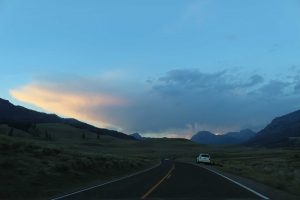 We actually used a spot that Meem and I had found and really liked as our turn-around point.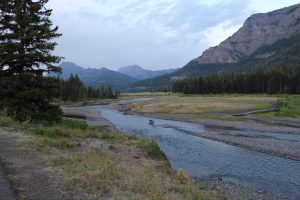 While I liked the Northeast Gate (and the cafe we had found even more-so) I wasn't really feeling driving all the way out there again, nor was I feeling a lot of pitch-black driving this time (though I still love coyote buddy), so we headed back earlier.
Not too long after we turned around we found a lone bison bro just declaring the road his property. Tristen was of mixed opinions about that.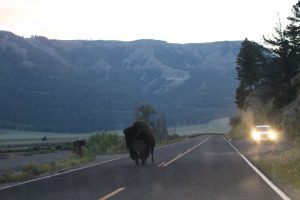 Eventually though Tristen settled down and just enjoyed the scenery.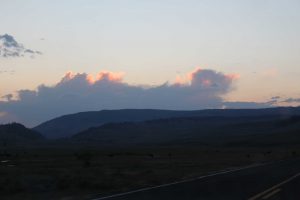 On the way back north we got behind literally the worst driver I had seen in years, this person was just god awful horrendous at driving – to the point that they were dangerous. They weren't drunk, they were just horrible drivers who hit their brakes at least 30 times per minute as well as whenever a car passed them. They were, of course, in a big SUV too. So in order to not be behind them and subsequently not have a truck up my ass (the hypothesis stands) we pulled over for a second in Mammoth. It turned out to be a good thing because some Elk friends were having a bedtime snack out in front of the Post Office.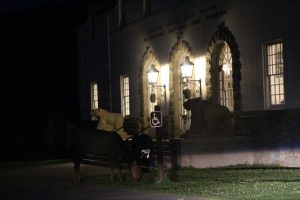 Once back to our hotel in Gardiner we enjoyed some beers!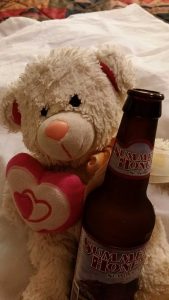 The next day we had some big plans. During my last trip I hadn't been able to make it down to Grand Teton National Park, which is just south of Yellowstone (the two parks actually border one another). So, I was determined this time to make it down there and as I way of forcing myself to make the long drive from Gardiner we'd even bought the dual YNP-GTNP entry pass, which is $50 instead of $30.
So we were off and on our way early that morning, as not only did we have to drive through Grand Teton, in order to get that we had to drive through the entire North-South length of Yellowstone first (inclusive of Sunday in July in YNP moron drivers). SB was a trooper and agreed to a gas station breakfast (Dino Mart, naturally) so we go spend more time on the road. Once in Yellowstone we made a quick stop at Roaring Mountain, which Meem and I had passed but never stopped out. Roaring Mountain is so called because of its numerous fumaroles (steam vents for us dummies) that due to their number make the mountain sound like it is roaring. In the early 1900s Roaring Mountain could be heard as far as 5 miles away on "active" days, but it rarely, if ever, gets that loud anymore due to natural geological changes which have reduced the number of active fumaroles. At present the mountain is more of a "Hissing Mountain" than a "Roaring Mountain" though its quite possible in the future that things will shift underground again and it will return to its previous roaring state. That said, you can still hear it.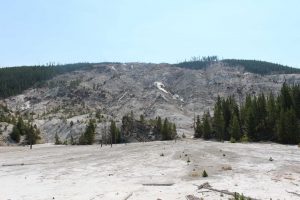 That is if people aren't being stupid, or pricks, or likely stupid pricks. We had one especially prickish asshole who left his motorcycle running in the parking lot while we were there, effectively making it impossible to hear the mountain. I had heard it before he arrived, and Tristen could still hear it even with the motorcycle given his extraordinary hearing.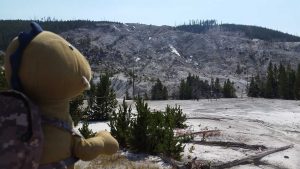 But SB couldn't hear it prior to tiny-peen-so-I-compensate-with-my-motorcycle, so we decided to stop by on the way back if possible, and then were on our way south.
It's about 95 miles from Gardiner to the South Entrance (Grand Teton) of Yellowstone, and since that is in national park (and stupid people) miles, those are some long miles, but fortunately pretty miles. Still, it took us about 3 hours to make it down to the South Gate, and once we had passed into Grand Teton seeing Jackson Lake and the tops of the Teton range on the horizon was a welcome sight for yours truly.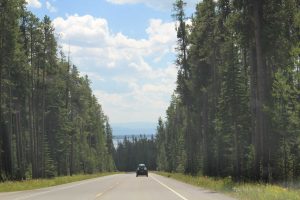 It didn't take long for the views to become incredible.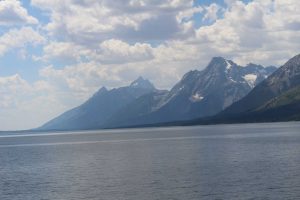 After driving along the John D. Rockefeller Memorial Parkway for a bit we came to the Colter Bay Village turnoff and decided to head down to the marina to get some lunch (since we'd skipped a "real" breakfast we decided to buy a good lunch 🙂 ).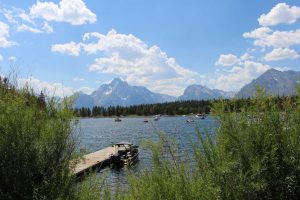 Like most national park towns, there was a "Good" restaurant (e.g. mortgage your house and sell your firstborn) and then a cafe (e.g. only your secondborn needs to be sold). We obviously opted for the cafe, which had average food and was expensive, but had really cool wooden blocks to let the runners know which table to bring the food to.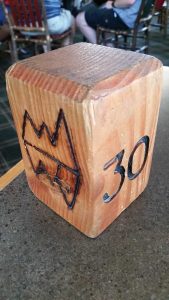 I had a burrito and SB had a quesadilla which I guess is kind of off mountain food, but it was what we were feeling. On the table there was a Grand Teton Lodge Company pen, which I found kind of funny since that is the exact same kind of pen I'd been using at work all summer.
After lunch we headed down to the water to take a quick little walk along the shore out to the nearby point.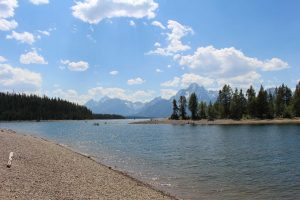 The point had some great views of the lake beyond the inlet as well as the Teton range beyond.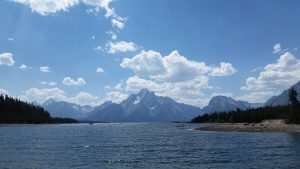 We also found some little cairns, and if you are wondering whether or not Tristen and I added rocks to them then you haven't been reading this blog for long :p .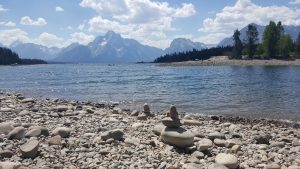 After taking in the view we scrambled up the hill to a nearby trail which led us back to Colter Bay Village (we had just walked along the shore on the way out).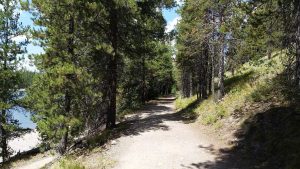 After that we got back out on the road. As we were driving south we passed a really cool looking turn off, but as is extremely common out here, the turn comes out of nowhere and so I didn't see it in time. However, just beyond that I missed the turn I needed to keep heading south so we ended up turning around anyways and coming back to the overlook. I'm really glad I missed my turn.

The boys quite effectively used the brush and tumbleweeds as a seat.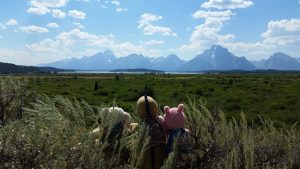 After our picturesque stop we continued on our journey – and I made the correct turn this time. We were heading to the southern portion of the park, Jenny Lake at the least, and Moose if we had time.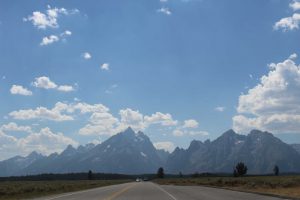 That especially craggy and imposing peak in the distance is none other than Grand Teton (13,775′) itself. A lot of people don't realize this, but the range is not the "Grand Tetons," the range is just the "Tetons," and the highest mountain in the range is Grand Teton – which at 13,775′ is nowhere near the tallest mountain in North America, that's Denali at 20,310′ – a mountain which is known for its technical climbing requirements due to its craggy cliffs and summit. I personally think its one of the most awesome mountains Ive seen precisely because of how rugged it is. It's almost as if a giant claw is bursting from Earth towards the heavens.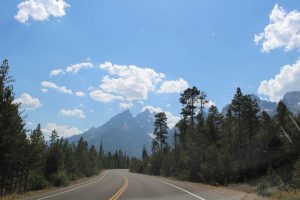 Its height and geography allow it to maintain snow year round, even during record hot summers such as this one, and there is even a sizeable glacier dwelling in Grand Teton's shadow. There are few minor glaciers as well, which you can see on Grand Teton in this photo: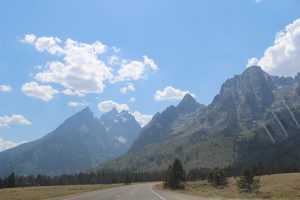 After taking the in glorious views from Moose III for awhile we made our way to the Jenny Lake road, which is actually a one-way road for half the loop. When we first got down in there we found a huge parking lot area (which was overflowing with people half blocking the road, because people in national parks lose their minds when it comes to vehicles) that seemed like it might lead to a beach based on the number of people and the fact that they were in swimming gear. We weren't really seeking out any water activities or people, so we navigated our way back out of the parking lot and then found the one-way portion of the loop which was much less crowded. I spotted what looked like a good turn off spot near the water and I turned out to be correct.

I felt the water and it wasn't as cold as I was expecting, in fact I'm not sure it was any colder in the summer than Pleasure Bay was.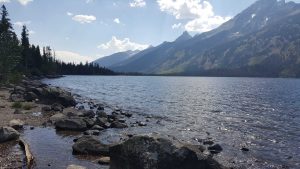 Even Pigsten hopped out of Pig's backpack to take in the view.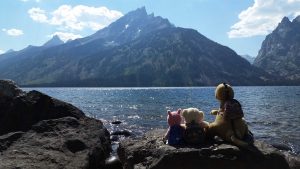 Since we'd done relatively well on time (and also because I'm stubborn) we decided to head the rest of the way down to Moose after we left Jenny Lake. Moose was interesting because you actually leave Grand Teton National Park to get to it, but the whole area is still on the park map and Moose has a Grand Teton National Park visitor center.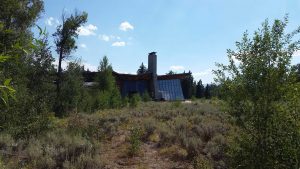 Not pictured: The person in the Smoky the Bear outfit who terrified SB for some reason.
I wasn't really sure what all that was about, but Moose itself is a little unincorporated community that sets in the middle of wooded cluster that is in the valley of a large plains area between mountain ranges. The name comes from, well, moose of course – who are common in the wooded valley that the town sits in. We didn't see any real moose, but we did see a moose statute, which only makes sense.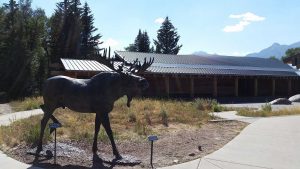 It was a really nice visitor's center, and not only did offer up a good view of the Tetons, we also got our official Moose cancellation! 🙂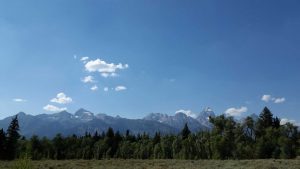 After we had our cancellation, another magnet for our growing collection, and a potty-break I made the executive decision to start heading back north as we were about 141 (national park) miles from our hotel and it was already around 5pm. We took a different route back north to see some more of the area (in fact this return route was actually the route I'd started on when I'd originally made the wrong turn). On the way we noticed that we had some amazing views of the plains and mountains, so SB found us a good stopping spot on the map which not only had plains and mountains, but also an overlook of the Snake River!

We got some great photos, including some of the boys!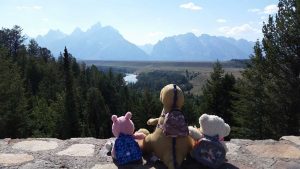 Valentino wanted to smell the flowers, but he didn't want to bend them over (leave no trace!) so I held him up. He loves him some flowers.
We then got back on the road and despite the great views distracting us managed to make pretty good time back up to Yellowstone.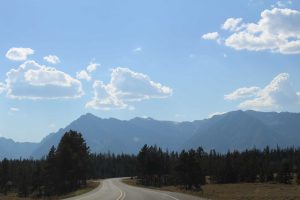 Once back up in Yellowstone we got caught in a late-afternoon rain (and briefly hail) storm, but once that cleared out we were left with some great evening lighting.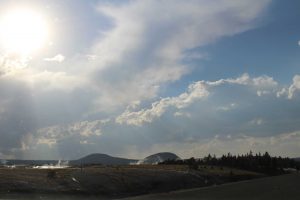 We also had time to revisit the Roaring Mountain, and SB was able to hear it this time! I think that was due to two things. First, I think it was louder when we were there the second time, and second, we were the only people there (thank you rain storm) which makes a huge difference. It makes me wonder how much the noise fluctuates, because not only did it seem louder in the evening, it also seemed to sound a little different.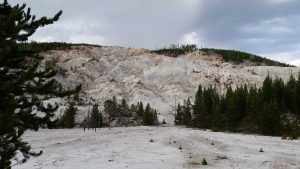 Just a bit south of Mammoth we stopped in Golden Gate Canyon, an area I'd driven through multiple times but as the driver had never really be able to appreciate.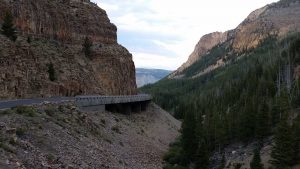 Golden Gate Canyon is interesting because it was apparently one of the most difficult portions of road to establish, build, and maintain in the entire park (including one lone boulder they were ever able to move – you can see it down in the turn in the above photo) and also because if you turn around (from the above spot) there is a waterfall as well.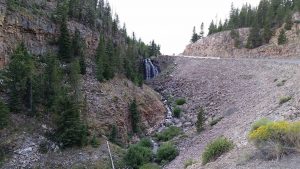 Since we had made extremely good time (the storm helped I'm sure) we decided to go ahead and stop by the Boiling River that evening. We were kind of thinking we might do it the next day, but since we had our swimming gear (including a hotel towel) with us and knew we'd be able to return to the hotel to hang up our swimming suits and shower (something we wouldn't be able to do the next day) we decided to go for it. So we packed back up into Moose III and continued north. We passed through an area that, again, I'd been through before but I think only at night. It reminded me a lot of Garden of the Gods in Colorado.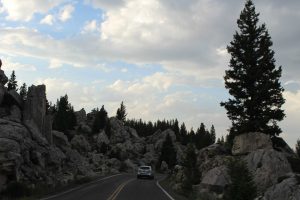 One of the big downsides to always being the driver in a national park is that you unfortunately miss a lot of the detail that your passengers can take it. The good news is that even when you are making sure you aren't plummeting off a cliff, you still get to take in gorgeous sweeping views like this: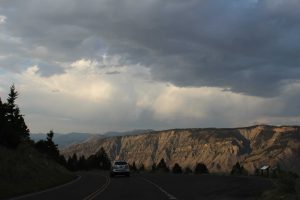 Since Meem, Tristen, and I had been to the Boiling River before I knew where the parking lot was, which was helpful. Another helpful thing was that it wasn't as busy this time, and we might have been able to park at the trailhead if not for a tow truck blocking literally half of the entire gravel parking lot. One thing that was just like last time though was that another storm appeared to be moving in, so we moved at a decent pace along the trail to ensure we would actually have time to swim. It was funny, since I was in my sandals my hiking speed had been reduced to a "decent pace" for SB who was in tennis shoes.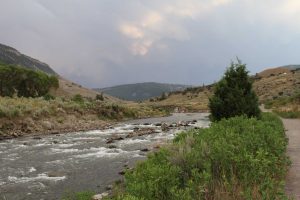 While I would like to visit the Boiling River without a pending storm, the advantage to this both times it has happened is that it causes most people to leave, so you pass far more people heading back to the trailhead than you do going to the swimming area.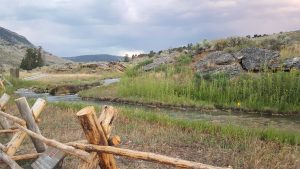 SB and I both took a dip – with me in the lead so that I could be the one to get burnt if we got too close to the incoming hot spring water 😛 . Actually the Boiling River is a bit of a strategy session. You see, the rocks can be uneven and slippery on the bottom of the river, so you have to be very careful not to fall. On the flip side, if you stray to far from a rock the rapid current of the Gallatin River (of which the Boiling River is a section) might catch you and carry you away, or worse, shoot you straight into boiling water. Further, you don't want to get to close to the hot spring water because you will get severely burned – yet at the same time if you move too far away from it the icy river water – fed by mountains – will make you dangerously cold. So you have to simultaneously avoid dangerous rocks, cling to said rocks, not be boiled alive, and not freeze to death. Welcome to the Boiling River.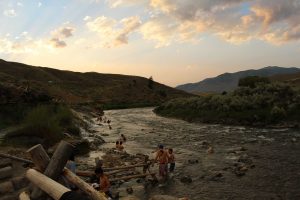 While I'm obviously adding some dramatic effect, the truth is that while those dangers are quite real, so long as you use common sense (of which there is seemingly little in the average Yellowstone tourist) you'll be fine, and it's a lot of fun and is very relaxing once you find a good spot. Both SB and I really enjoyed ourselves, and I explored a different part of the Boiling River than I did last time, so that was nice. We actually timed it really well, because I guess 9pm is the cutoff time as right after we had gotten out and were making our way back two Rangers were coming to make everyone get out. I don't think that time was posted on any of the signs, so it's something to keep in mind should you ever decide you wish to engage in some late-night Boiling River relaxation.
Once we'd made it back through the North Gate there was a Pronghorn having some late noms just up the road from the Roosevelt Arch.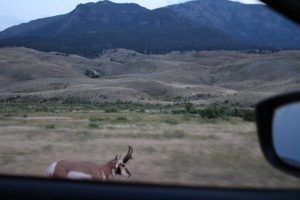 After such a long day we didn't stay up too late that night, but of course had a few beers before bed! The next day, Monday, was our check-out day in the hotel (we'd done the same Friday – Monday timeline as Meem and I had, we just cut out a night in West Yellowstone and stayed in Gardiner the entire time). We slept in and took our time getting out and about, then went and had a yummy breakfast at Tumbleweed Bookstore & Cafe which was good, but a bit too hipsterish for yours truly.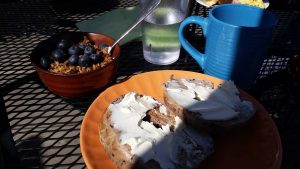 While eating breakfast we decided that we'd just head back towards Bozeman rather than re-enter the park. One, the entry lines at the North Gate were the worst I'd seen, and two, after all that driving I was kind of burnt on the parks for the time being (which was, again, just like last time). In fairness, from the point we'd entered the West Gate on Friday to leaving the hotel in Gardiner I'd drove 562.1 miles, which doesn't count the trip down to the parks in the first place.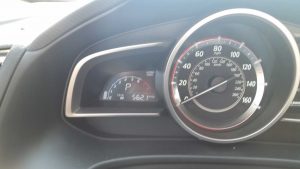 However, before we left Gardiner Pig got himself a selfie in front of Flying Pig Adventure and even got their pink bus in the shot!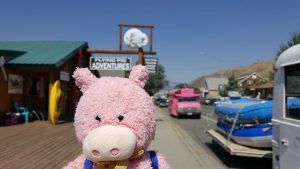 On the way back home I took us the way Meem and I had originally traveled, and since this route just so happened to cross by the Montana Grizzly Encounter we obviously had to stop.
When Meem and I had visited the grizzly bears we'd arrived at a time where we were able to see them change the bears which were out in the viewing area. That meant we got to see Jake, Maggie, Brutus, and Bella. When SB I arrived they were trying to get Jake and Maggie to come out, but Maggie was nervous and didn't want to come out, so Jake wouldn't leave her (brother and sister). They are pretty sure the reason Maggie was so nervous was because she tends to be antsy in general, but there are quite a few wildfires in Montana right now – enough that there has recently been a haze over the nearby mountains – and Maggie could smell the distant smoke (bears have crazy good noses, just ask Valentino) so where was nervous. Anyways, the result was that Jake and Maggie didn't come out as schedule, and Brutus and Bella had just went back inside. So they decided to let Bella come back out (Brutus was probably asleep already, lol) and play for a bit, which she didn't seem to mind at all. Bella looked like she had noticeably grown since I'd less seen her just a month ago! Since she is a rescue from Alaska she is expected to become quite large and is already bigger than Maggie despite being 8 years younger.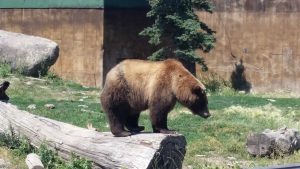 Just like last time she ran around and climbed on things looking for glorious noms. She wasn't quite as expedient this time, probably because she was out by herself and therefore didn't have any competition for the noms.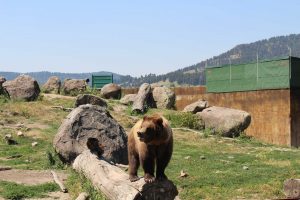 Valentino was ecstatic, he'd even brushed up on his Grizzly Bear (a dialect of Brown Bear) so he could talk to the bears here.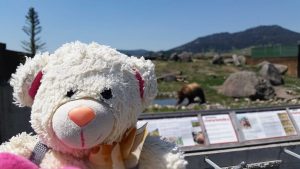 Bella even took a selfie with him!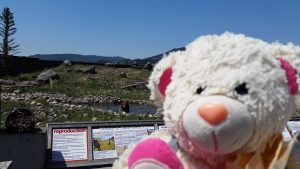 Bella put on quite a show for us, and even tossed around a big red plastic ball (long since crushed) while chilling in one of the enclosure's two pools.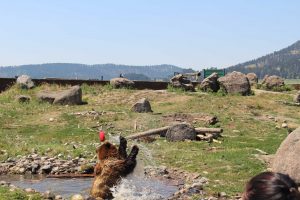 Valentino was having a great time, he didn't even complain about the heat from the sun.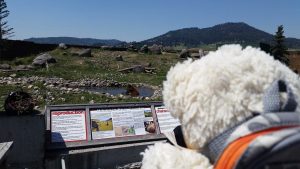 Still, it was getting pretty warm and eventually Bella settled in under a waterfall (and was joined by Valentino).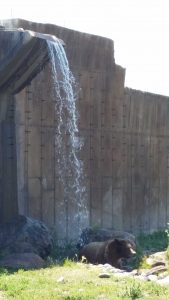 Since Bella was still going to be out for awhile we decided that we'd try to come back tomorrow – your pass is good for two days! Of course even if we would have had to pay again, it's only $7 a person and it goes to a really good cause. For instance, Jake and Maggie were rescued from abusive owners who kept both of them in this little cage – seriously.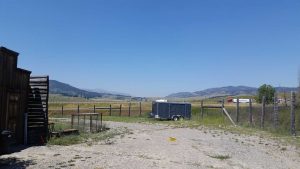 It's the cage to left – I don't remember the dimensions, but the original owner kept both grizzly bears in there – luckily Jake and Maggie were rescued.
On the way out Valentino got a photo with the door bears – and we picked up a Bella magnet to complement my Brutus magnet.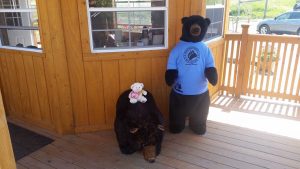 After Bears Visit II we headed back to my apartment for a bit to get unpacked from our YNP-GTNP trip and chill for a bit. However, like Meem and I we didn't stay for too long, though instead of going and watching Finding Dory I took SB up into Hyalite Canyon though we opted not to repeat my nearly 36 mile adventure and instead just stopped at Hyalite Reservoir and didn't go on to the gravel roads.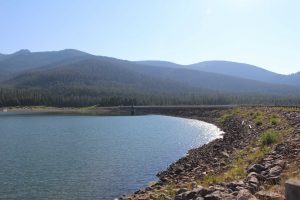 I'd never actually stopped at the reservoir, I'd drove past it both times I'd been up in the canyon, so it was nice to take it in without being in a car.


Tristen's third mountain (Hyalite Peak) can be seen in the distance (left of center).
After a few minutes on the dam SB revealed that she was about to pee herself, but fortunately there were some outhouses at the nearby beach (really more of a rocky shore, but a beach by Montana standards) so we headed over there and walked around for a bit after pee-pees.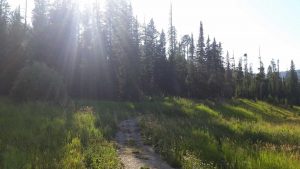 Despite being a reservoir which exists to provide drinking water its actually really scenic.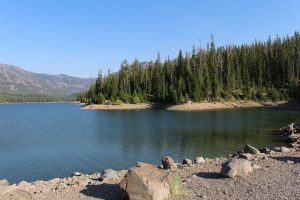 There were some people on the beach, fishing, kayaking, swimming, canoeing, and paddle-boarding but overall it was surprisingly not very crowded, probably because it was later in the evening on a Monday.

After our brief Hyalite Canyon trip we headed back into Bozeman and got some yummy Ice Cream from The Chocolate Moose, which Meem and I had gotten denied on after our yummy dinner.
After that we headed back home as I had work in the morning and it had turned out to be quite a busy day despite not going back into Yellowstone!
The next morning it was back to a 6:25am wake-up time for me and SB had decided to come into town for the day, so we were out the door by 8:30am. SB settled into the coffee shop across the street from my work (Rockford) while I got back into the baby lawyer swing of things. Then around lunch we met up at the Nova Cafe, which also happens to be just across the street from my work, except to the south instead of the east (my work is basically on a corner). The Nova Cafe is a highly recommended spot, both on the interwebs and via word of mouth – but more importantly Meem had liked it enough that she ate there twice. Plus, Meem had been nice enough to buy me a $15 gift card, which effectively reduced the price of lunch from an equivalent of 2 people to 1 person (Nova is kind of pricey for a breakfast place). I had a yummy White Chocolate Latte with Almond Milk (SB passed on the coffee since she'd already had some, haha).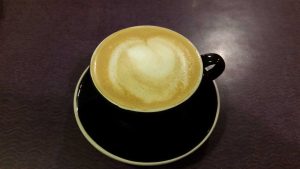 For lunch we both had breakfast, and I got an egg scramble called the The Nova Skosh (wild alaskan slamon, green onions, and cream cheese) which upon examining the receipt that Meem had given me with the gift card on it I realized was the same thing that Meem had gotten (though she had added avocado to hers), great minds think alike!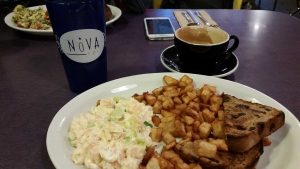 After that I headed back to work and SB went on and did SB things in town. After work we met up and had to make a decision. We were weight two options. First, the Bogert Park Farmer's Market was going on (it runs from 5-8pm every Tuesday during the summer in Bozeman) and I hadn't been yet, which was kind of sad since its only a few blocks from my work. Second, we still had our grizzly bear pass from the day before. Fortunately, since the farmer's market ran until 8pm and the Montana Grizzly Encounter is only open until 7pm on weekdays we were able to do both! 😀
So we headed back out for Bears Visit III (we both agreed that if we lived near by that the Montana Grizzly Bear encounter would be like our new Columbian Park Zoo) and this time Jake and Maggie were out (SB had called in advance to see what the schedule was looking like)! Jake was sowing his wild oats in one of the ponds, kind of like he was last time I saw him.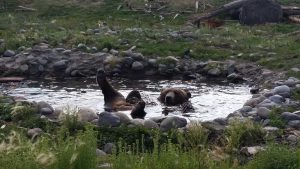 I love watching Jake and Maggie interact with each other.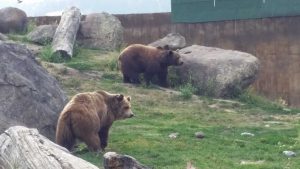 At one point Jake got fed some peanut clusters, I liked watching him hunt for them and consume them in a nanosecond.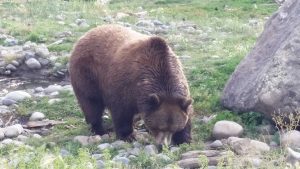 At one point one of the employees threw two frozen watermelons into the enclosure (we later learned that the next day – Wednesday August 3rd – was national Watermelon Day, so maybe that was why!) and Jake and Maggie seemed super excited about their yummy frozen treats.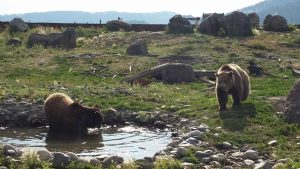 One of the employees explained to us that each bear has a different approach to the frozen watermelons. Maggie likes to let hers thaw a bit, but Jake just noms it frozen.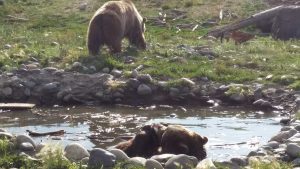 When you are literally a strong as a grizzly.. because you are a grizzly, biting through rock solid frozen watermelons is a non-issue and Jake got through his pretty quickly. Then he was silly and ate Maggies's too!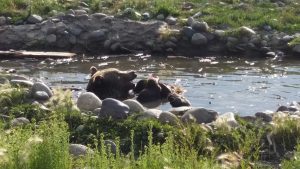 I guess even bears have sibling rivalries, and speaking of them being siblings, I just realized that they are probably named after real-life siblings Jake and Maggie Gyllenhaal.
Before too long it was going on 6:30 and since dinner was at 7pm the bears starting chilling out a bit (probably getting their bellies ready for supper)! Jake got a bit antsy when he smelled the meat truck making a delivery, lol, but other than that you could tell that as it got closer to 7pm they were winding down for the day.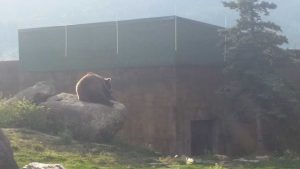 So we parted ways with the bear friends. I was happy to get to see Jake and Maggie again, and it was good to see how much Bella had grown in just a month! I still think Brutus was my overall favorite, but I still haven't seen Sheena – though she's the only bear I haven't had a chance to see. So hopefully I'll get to come back again and see her! This is definitely one of my favorite things near Bozeman and given my experiences this summer that's saying a lot.
We headed back in to town and went to the farmer's market where we walked around for a bit then shared a bison burger, chips, and apple coleslaw on the law. After that we headed back home and Tristen showed the other boys how to ride his might war steed.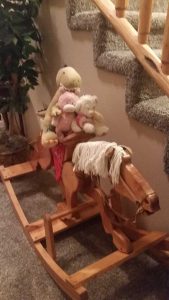 The next day SB decided to stay at my apartment for the day, but I still had work to do, so I was up and running about like normal. My landlord is renovating their deck, so the front of their house is a bit of construction zone lately, but on my way back from exercise I spotted the Doorbunny!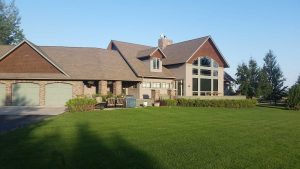 Where's Waldo: Doorbunny Edition
It had been awhile since I had seen him, so I was glad to know he hadn't gone AWOL on his doorbunny duties. While I was at work SB got to experience a bit of the Montana lifestyle, complete with deer coming right up you your door: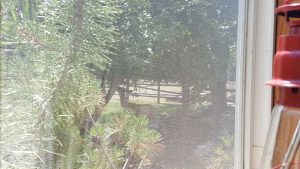 And wonderful weather and scenery for walking, even with a bunion. 😉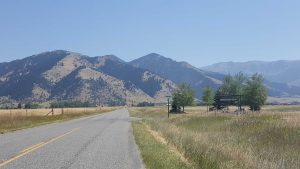 If you compare this shot to some of my earlier ones you can see the haze from the forest fires a little bit.
Once I got home that evening we just had a nice chill night at the apartment. Pig was really wanting some candy and Tristen wanted something to drink, so we did go down the road to the gas station, but other than that we just relaxed. We did all play some chess and checkers though, so that was a lot of fun!
The next day SB decided to come back into town with me as it was her last full day in Montana. She spent the morning at Zocalo Coffee House, then I joined her there from lunch (I saved money by bringing packed lunch but still got an iced coffee 😛 ). During the afternoon she ventured out a bit, and took time to stop by the Museum of the Rockies – of course Tristen left work to join her, he loves that place.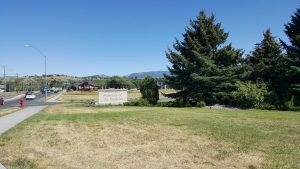 I think Tristen was pretty happy to see Big Mike again.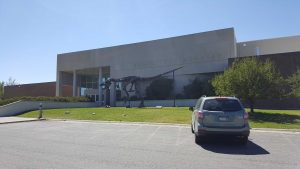 On the inside SB got to check out the room where you can watch them work on the fossils (this is also the room where all of Tristen's friends at the museum live).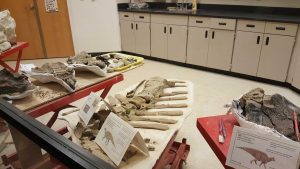 I still think it's so cool that SB and I got to help uncover a fossil ourselves in Morrison, CO.
SB also got to check out the "Hall of Giants."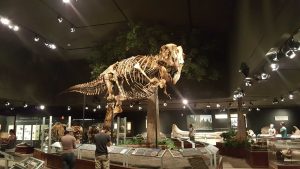 SB agreed with me that the moment when you turn around the corner and see how huge the skeletons are is kind of crazy!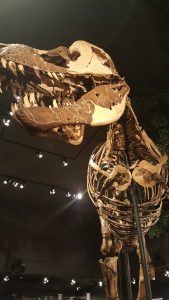 Also crazy was that this T-Rex skull is as long as SB, and it's just the skull.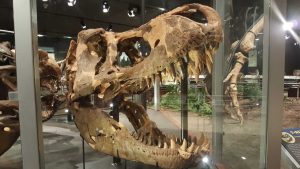 Like Meem, SB also got to see the Pompeii exhibit – which I was jelly of since when I went they were still installing it so I didn't get to see it. It's pretty cool, the exhibit has items from the ancient city of Pompeii (the one buried by the eruption of Mount Vesuvius in AD 79), and it's only making three stops in the entire United States, and Bozeman is one of them.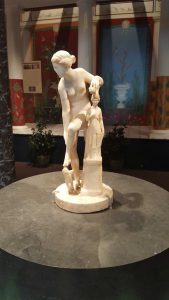 Your ticket to the museum is good for two days, so I could have potentially used SB's the next day after work but I didn't end up having enough time.
After I got off work SB and I met up at Bridger Brewing, which is down near MSU's campus. Bridger Brewing is not only known for their beer, but also their pizza. In fact Zagat gave them the award for "Best Pizza in Montana" in 2015 for their bison pepperoni pizza. We started off we a couple of beers, naturally.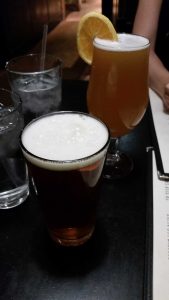 But we already knew which pizza we were going to get, in fact we'd honed in on it very quickly the night before while we were browsing the menu online.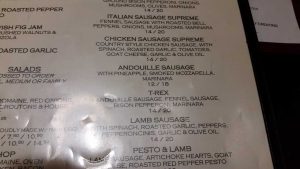 If you guessed anything other than the "T-Rex" pizza then you don't know SB and I very well. 😛 We decided to have the 10″ pizza and then got some bread with fig spread as an appetizer which was yummy. The pizza itself was really good, and if you know me then you'll know that I'm generally not a big pizza person. It was also the best pizza I had in Montana, of course it was also the only pizza I had in Montana 😉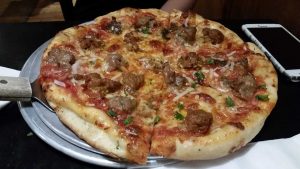 But still, I'd highly recommend it if you are ever in the area, specifically the T-Rex of course!
While eating we'd noticed that the place seemed unusually busy, then when we went back outside it was like half the population of Bozeman had descended on the area. Turns out that there was Keith Urban concert that night going on at MSU's arena (which I had briefly been in before). It wasn't until after I left that I realized I probably could have sold my third-row-back parking spot (that I had gotten before the rush) for like $20, lol.
Since it was Thursday night Keith Urban wasn't the only music in town, Music on Main was also happening. So we stopped by the downtown area for a bit so SB could get some ice cream from "Genuine Ice Cream" an ice cream stand which is in the same trailer as "Victory Taco" which was where my boss took me for lunch one day. After SB had her ice cream fix we headed up to Peet's Hill to just relax for a bit and take in the setting sun before heading home.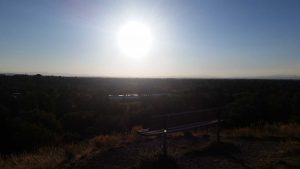 People had told me that Peet's Hill has the best views of sunset within the city limits, and I have to agree with them.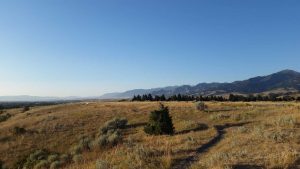 While we were up there we heard I distant "humming" noise, which didn't sound a like a car or motorcycle, it was also coming from the opposite direction of downtown (where you could hear the distant Music on Main stage). So we turned around and the source of the noise was revealed: three people in paramotors.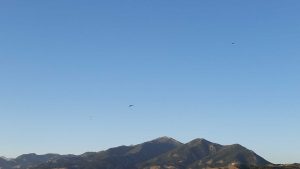 They ended up flying right over Peet's Hill.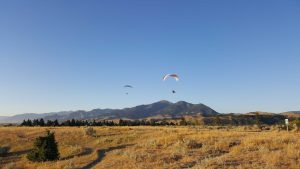 In fact they got a little too close to the residential area, and the lawyer in me was thinking all the laws and FAA regulations they were breaking.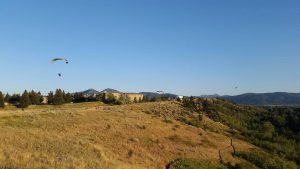 But none of them crashed (though I'm sure Tristen would have liked that, in fact he asked if he could eat them if they did crash) and soon they were way off on the south side of Bozeman – paramotors can move along much faster than a standard paraglider for obvious reasons.
After the airborne excitement died down (I don't think its a common occurrence because even the local were whipping out their phones and taking photos of them) we chatted for a bit longer until the sun got deep in the sky and then we decided we should probably head back home.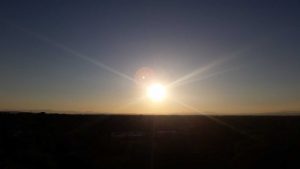 The rest of the evening was primarily about getting SB all organized for the morning. The good news was that her flight wasn't until 12:30pm, so we didn't have to rush in the morning. In fact I decided to just go into work late which allowed us to get SB packed and have some breakfast and coffee without being in a time crunch. We left the apartment around 9:40 and got her to the airport. Once we'd parted ways – which is always a bit sad – I headed into town to pick up my race packet for the 10k I had the next day, and then headed to work.
Despite being my second to last work day things were really busy as I rushed to get a huge memorandum done in time. In order to soften the blow of being a bit bummed over both Meem and SB's visits now being over as well as being slammed with work I finally broke down and headed over to Townshend's Tea Company (less than a block from my work – which is well located if you couldn't tell 😉 ) where I got a Green Tea Bubble Tea with green apple flavoring and tapioca pearls!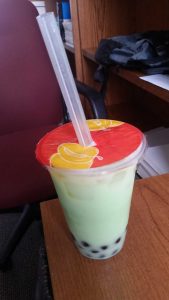 It was super good, and while I wasn't too thrilled about having to wait 15 minutes for them to make a glass of people tea, I did like that bubble tea always reminds me of the first time that SB and I had it, which was in Berlin. Most importantly, it helped get me through the rest of the day on Friday, which is always a good thing!
That evening I headed home and just kinda relaxed. SB originally wasn't supposed to get back to Boston until 11:05pm ET, but during her layover in Chicago she asked about an earlier flight and got bumped up to it for free! Score! So she was back in Boston around 9:20pm I believe (her second flight got briefly delayed, but still way better than if she had waited for the later flight). It was nice knowing she was safely back home, and she also had a big weekend ahead of her because she was starting her course to be a Yoga instructor!
As for me, I had some beers (of course) and speaking of beers, after a summer of struggling not to bend my bottle caps, I found a bottle open that doesn't bend them that had been buried in the drawer below the one with utensils for the entire summer – this after I had already gotten a second bottle opener in the hopes it wouldn't bend caps (but it did), oi.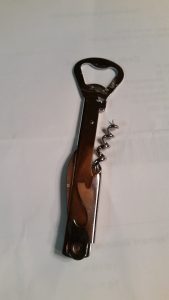 But hey, now the apartment has three bottle openers in case some future person wants to through some crazy parties. My landlord should pay me for increasing the apartment's value.
After beer time I actually got to bed early because I get to up at 5:30am the next day for my big race – literally the longest footrace of my life thus far. But that, dear reader, is a story for the next – final – Bozeman check-in.
Until next time,
-Taco