Did you know that New York's Comic Con has an official beer? Me either. Turns out that it does and it's fittingly made by Brooklyn Brewery.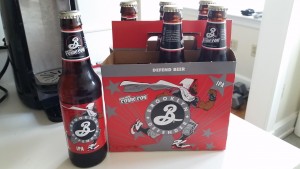 Comic books are awesome. Beer is awesome. So comic book beer is doubly awesome, though I'm sure someone out there will flip shit over marketing beer in association with comic books because it might make little Billy an alcoholic. For what it's worth I've been drinking beer since I was 2 and I'm doing fairly well (which can probably be read in two different ways).
1. Defender IPA – Brooklyn Brewery
So what is this beer? Well, it's an IPA made with pilsner malts – resulting in a crisp, carared, crystal-like body. The hops are of the Pilgrim, Willamette, Cascade, Mosaic, and Amarillo strains. In other words, this is very much a hybrid IPA.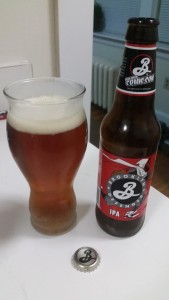 It's good, really good. It's also kind of hard to describe, but SB agreed with my initial impression that it seems like an IPA mixed with a Red Ale. So if you like IPAs and Red Ales, you'll probably like this beer. At 6.7% ABV it's got a bit of a bite, but nothing you taste over all the flavors, it's just a beer you probably wouldn't want to sit down and drink six of at once, lest you believe that you are indeed a super hero and try to jump off a building or stop a train.
Speaking of heroes, who is the "Defender?" Well, our caped Brooklynite is, according to the brewery:
"The Defender is constantly vigilant. Wherever an artist sketches, or a brewer stirs, or a musical voice rises above the clamor, he is there to guide and to guard against the creeping blandness. He is armed only with daring red malts and explosively juicy West Coast hops, yet emerges victorious. Ours is a world of light and fury and song. This is its Defender.
The Defender was forged with our sidekicks at New York Comic Con as the official beer of the convention. Defender IPA is now present all year long, wherever duty calls."
So there you go, this beer is the rival of blandness and it's now available year round. Pretty awesome, and definitely recommended – plus the label is really cool.
2. Tröegs Hopback Amber Ale – Tröegs Brewing Company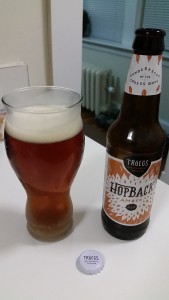 While this Tröegs offering might not be comic book themed, it's still a good beer, which isn't entirely surprising since I've liked pretty much everything I've had from Tröegs. Initially I didn't think that I'd had this beer before, but it turns out that Tröegs had just hugely changed the label since the last time I'd had it, so I didn't recognize it on the shelf. That is one of the benefits of this blog, it can serve to remind me of when I've had something before, especially The Beer List (and now Untappd on the side).
True to it's name, Hopback is an amber ale, and it's definitely not pulling any punches in the hop category (which isn't surprising given its name). Although very hoppy for an amber ale, it's not a bad amber ale by any stretch, it just might not be the best first amber ale for a person to try as it operates a bit on the "fringe" of amber territory. That said, it's full-flavored and has a bold, lingering taste that makes it hard to pass up. Aside from that, I largely maintain the same opinion of the beer as before (mostly good) as while the label has changed, the recipe has not.
And that wraps up this beer blurb!
Until next time,
-Taco