Alright, so this Beer Blurb is actually being written about two days after the fact (I'm writing this on 9/7). What can I say, I'm a law student, I'm busy.
Anyways, for this past Friday night out SB and I went to a nearby pub called "The Thirsty Scholar." It was slightly above our price range, but not terribly so, and it was the end of the first week of classes so we treated ourselves. The food was pretty good, SB had an "Irish" BLT which was pretty much a Ham Lettuce Tomato and I got a Sweet Potato Black Bean burger with ham and split pea soup. We enjoyed both dinners. But this isn't about the food, its about the beer. We had three different beers, two new, one relatively new.
1. Sea Dog Brewery –  Sunfish Ale
2. Allagash Brewing Company – Allagash White
3. Boddington's Brewery – Boddington's Pub Ale
You'll notice the Beer Advocate link for Sunfish Ale doesn't actually link to the standard page, but rather an announcement page. I'm not sure what is up with that, maybe its sort of fallen through the cracks. Either way, you can at least read about it.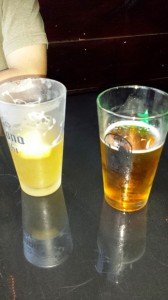 Above you can see Allagash White and Sunfish, I don't think its too hard to figure out which is which. Boddington's is not pictured, obviously.
Our beer selection started off interestingly. I asked about Sunfish Ale and the server pretty much told us it sucks. She gave us a sample (before checking our IDs, which she only did after serving us alcohol, haha) and it did not suck. It tasted a lot like Leinenkugel's Orange Shandy, which is a good thing. SB ended up getting the Sunfish, I went with the Allagash. I had actually had it before, at least I think I have, somewhere since we've moved. I can't recall where though. Anyways, both the Sunfish Ale and the Allagash White were good. The Sunfish was very much on the line between ale and shandy, and not necessarily in a bad way. The Allagash looked like it would be light and refreshing, especially with the lemon, but it was actually a very hearty wheat bear. Overall, we were impressed with both of them.
No so with the Boddington's. I had been wanting to try it for some time, but it was oddly expensive for coming in a can. Now that I've had it, I wholly agree with "The Bros" (founders) from Beer Advocate, its awful. It was a weird pungent, creamy sort of ale, and yeah, I can't say I'd get it again. It was interesting though, for possibly the first time ever SB liked a beer more than I did (the other notable instance of this is Blue Moon). She didn't seem to think it was as bad as I did. Regardless, I finished it, because it was a sin not to. I spent the next couple of hours feeling pretty good since I was very much on an empty stomach when I downed the Allagash, so the Boddington just exacerbated things.
Still, two out of three ain't bad.
Until next time,
-Taco