If you are wondering what the heck "Cambridge Queen's Head" is, then you are in a good company. Until today I had literally no idea this place existed. In fact, I'm not even sure how I stumbled across it, but I did.
To answer the question, its a pub, or some people would say a college bar. Its affiliated with Harvard, and by affiliated with Harvard I mean Harvard owns it (Harvard owns more than one pub, interestingly). Not only that, but you have to be a Harvard affiliate just to get in, or at least be an affiliate of a Harvard affiliate who is going in with you. Confused? Nah didn't think.
Anyways, this place is in the middle of the action, but is pretty much out of sight. That is because its underground, or in a basement rather. Its under the Memorial Hall, which looks like a giant church and is actually a building built in honor of Harvardians who died fighting on both sides of the American Civil War, so its a fairly old building. It does not look like the kind of place that would have a pub under it, but it does.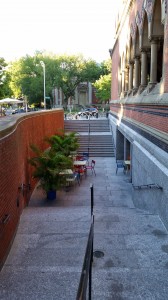 (The rather inconspicuous spot above is the entrance)
SB and I decided to try it and it was a bit of a mixed bag.
First off, when we got there (which was harder than than it should have been since 1/2 of their doors were locked and said they were closed), their menu was pretty much just a few appetizers, nothing else. We were told that this is because they had just opened three days prior after their long summer-season hiatus and also that pretty much their entire staff was brand new. Ok, fair enough, but it would have been nice if you advertised that fact on your website. However, since we were hungry we decided to stay, since the appetizers were advertised as being half price from 5 to 7 on Fridays. Nope. Apparently when appetizers are their entire menu that doesn't apply. Strike two.
Fortunately that was the last of the strikes. The Cambridge Queen's Head redeemed itself enough to warrant another visit (after some time has passed, of course) simply because they had a good selection of beer and the beer was cheap (for the area). Interestingly enough, they only have beer and wine, no liquor. They only serve liquor if you rent the place out for events. I am fine with this, but I found it interesting. They also have a really cool "Don't Tip" policy, I read they pay their servers more to compensate, no idea how that works out on the whole, but for me its a good thing. Anyways, the two drinks we tried with out appetizers/dinner were:
1. Harpoon Brewery – Harvard 1636 Ale
2. Harpoon Brewery – Craft Cider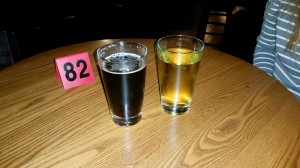 Ok, so two things. First, yes I get that the Cider isn't a beer, SB got that one. Second, because its not a beer I had to link "Rate Beer" rather than "Beer Advocate" which I generally don't like doing since Beer Advocate is vastly superior in my opinion.
Anyways, the Harvard 1636 is actually an exclusive beer for the Queen's Head. Harpoon brews is just for them and just on tap. It's the official unofficial beer of Harvard (since a University having an official beer might not be the best PR). Its called 1636 for a reason, any idea why? [Hint: Its pretty obvious] Its a Dark Wheat Ale and I have to say that it stood up to the "Dark Wheat" motif. It was very stout, in fact one of the more stout wheat ale's that I've had. But it was quite good and the price was definitely right. I also found my pinky raising itself while I was drinking it. SB's Cider was well, cider. Harpoon is a solid brewery, and its not because they are in Boston, I liked them long before I even knew where the heck they were at.
[Ok weird side note, there must be some huge ship coming up the Charles River because I just head an epic foghorn]
Anyways, Harpoon is good, so both drinks were good. My preference is soundly with the 1636 Ale, but the cider wasn't bad by any means, it was just more "middle-of-the-road" in that it tasted a lot like most standard ciders do. I'm not sure what the "Craft" was supposed to reference.
So all in all a good Friday evening from a drink and price perspective. The food was just ok and it was pretty limited, they also didn't honor their half price stuff. Like I said, we'll go back to give it another chance, if only because of price, but we're going to give it several weeks before we do.
We did get cool cow wristbands to show that we were 21 though, that was awesome.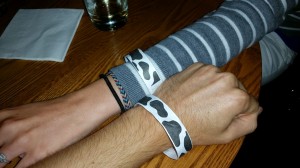 Until next time,
-Taco