For this Beer Blurb I'll be discussing our recent outing to a nearby Irish Pub by the name of The Druid. More specifically, I'll also talk about the three different kinds of beer we had, in addition to some beer I just got tonight.
First up, The Druid.
When SB and I were walking to the nearest Post Office a bit ago (to deliver a package to Meem) we walked by a cool looking pub called The Druid. Being in the 21st century we immediately went home and Googled it. We found out that it was an Irish Pub, with food, rotating taps, trivia, and live music. Obviously we decided we had to go. So last night (as of writing this post) we went down there. We didn't get food as we'd already eaten at home, but we did have a few beers. We were fortunate to actually find seating at the bar as the place was fairly busy. The bartender was actually Irish, full blown. Which is always bonus points for a, you know, Irish Pub.
The beers we had were:
1. Cisco Brewers Inc. – Whale's Tale Pale Ale
2. Cambridge Brewing Company – Cambridge Amber
3. Harpoon Brewery – UFO White
First off, for full disclosure, we aren't entirely sure if the CBC beer was actually the Cambridge Amber. All SB knows is that it was an Amber Ale. Looking at CBC's current roster, it seems most likely that it was the Cambridge Amber, so that is what we'll go with. All three beers were good, but UFO (Unfiltered Offering) from Harpoon was probably my favorite of three, complete with its required orange slice. I've never had any of these beers before, though I had had the Harpoon IPA. (Its definitely good, a solid IPA). Tdhough I never knew it was brewed in Massachusetts, but it turns out that beer is kind of a big deal out here, so I'm not surprised. The Whale's Tale was a fairly standard Pale Ale, though it had nice hints of Caramel flavor. The CBC was good as well, with a nice maltiness. I favored it over the Whale's Tale overall, I think. Lastly came the UFO. This was my second beer, so that probably created a bias. It was a very interesting witbier, especially for a white. Very crisp and clean, and the orange finished it nicely.
So all three were good beers, I'd like to have to Whale's Tale again, since I was going back and forth between it and the CBC which might have messed up my palate.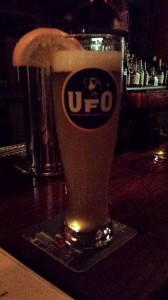 The Druid was also nice, definitely popular though. By the time we left the floor was pretty much packed, no seating left at all. We'd like to try the food sometime as well.
Then, after our outing today I picked up a six pack of beer which was on closeout at a nearby market. It was a Summer Wheat and since beer is like department stores and the season changes about 2 months early, they were trying to move it in favor of the fall stock.
4. Southern Tier Brewing Company – Hop Sun Summer Wheat Beer
It was 7.99$ for a six pack, which might seem high but its actually really good for around here (where alcohol > gold). This was an interesting beer. Its highly rated, but I found it rather odd for a wheat beer. It has strong floral and citrus hints, but is patently more similar to a Summer Ale, rather than  a Pale Wheat Ale. In fact, if I was tasting it blind, the first 90% of the taste is purely Summer Pale, with the last 10% being mildly wheat like. It's odd for what it is, but not necessarily in a bad way!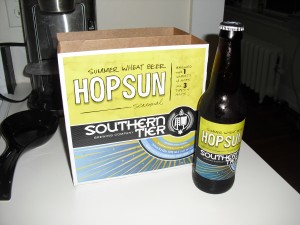 Until next time,
-Taco