If there was a bit too much poo for you last time, then have no fear, this post is a poo-free zone. Though I do still have a cold, but that isn't topic of this post either.
Let's get back to basics.
It's time for a good ole' fashioned beer blurb.
The spotlight this time around is on:
1. Escher – Portico Brewing Company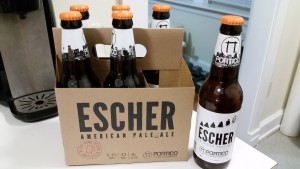 Sadly, Escher does not yet have a Beer Advocate page, so the Untappd page will have to do.
This was my first time drinking Escher, though it wasn't my first time sampling the Portico Brewing Company (that was Fuzzy Logic). Much like Fuzzy Logic, I was drawn to this beer because of the interesting name and, let's be real, because it has an orange cap. Since I had enjoyed Fuzzy Logic I was pretty excited to give Escher a try.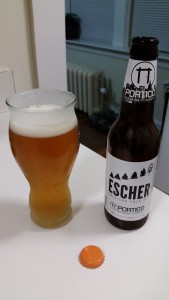 This is technically my second Escher, the first wasn't poured.
I have to admit, I was a little underwhelmed by my first bottle – which to be fair I didn't pour and left in the bottle. I also wasn't feeling super well when I had the first one, so those two things combined left me a little disappointed. However, once I poured the beer into a glass, and drank it while feeling better, it definitely improved in my book – I actually think this is one of those beers where pouring it makes a noticeable difference. This is a light-bodied pale ale, which is made with four different kinds of hops. The flavors get a bit mixed up, so honestly I couldn't tell them all apart, but there is a consistent citrus and floral theme, which would make sense for a pale ale. The bitterness comes out a bit more than one might expect, but its curtailed by the tangerine taste. Overall, like Fuzzy Logic, this is a complicated beer, but I would recommend it on the whole. Probably not the best first Pale Ale for anyone, but it has a lot going on for those willing to stop and think about all the flavors.
In addition to getting beer over the weekend, SB and I also got cupcakes!
As if Whole Foods needed anything else to pry what little cash we have away from us, they recently added a cupcake stand to their repertoire. Yes, a cupcake stand. So, being the hapless victims that we are, we were drawn in pretty quickly and decided to sample two different kinds each. From left to right in the above photo: Cookies & Cream, Mocha, Salted Caramel, Peanut Butter & Chocolate.
They were, unsurprisingly, amazing.
Both SB and I agreed that these cupcakes did a really good job of not being too rich. The one exception to that was the Peanut Butter & Chocolate one, it was just a bit much – and the mocha one was also fairly strong. However, the Cookies & Cream and Salted Caramel were a perfect balance of obesity and deliciousness. I think the Salted Caramel was my favorite of the bunch, which actually surprised me.
The good news is that since there is an entire cupcake stand, there are still many different kinds of cupcakes left for us to try in the future – and try them we shall. 🙂
Until next time,
-Taco