This week's Beer Blurb takes us to a cafe known as Au Bon Pain as well as a sampling some Spanish beer known as Estrella.
This was a long week at school, a long, painful week. Not going into details here, but I was ready for Friday. Its actually 11:15pm now and I spent most of my night finishing up on school stuff. That actually violates my study rule, but I'm just entirely swamped at the moment. Its also cold and grey. This all ads up to SB and I being ready for some Friday night relaxation. Of course, we had to make a Target run first.
Target runs are a bit of a pain in my ass here.
You essentially have two options. Pay to rent a ZipCar or take the bus. The bus is cheaper and easier, so the Zipcar is only really good if you need something (like a wall mirror, for instance). The problem is that the Target is in sort of a sketchy area and there are not good cross-walks up there. The real issue, is that if you rely on the bus, you have to hardcore conform to its schedule, lest you end up waiting on the side of road with grocery bags for 30 minutes (or 2 hours, but I'm not even going to go into that rage). Another issue is that Target runs just don't factor into our schedule. Our weeks are planned pretty solidly, ain't no-one got time to go to Target.
So I came home early and we went and did it, QQ. Then we went home and SB cut my hair since stupid Patriots sports shows hog Friday night television and steal our Jeopardy!
The one cool thing I did find on our Target trip was a memorial marker, literally right on the sidewalk. That is one thing that is awesome about living in Boston, it just exudes history.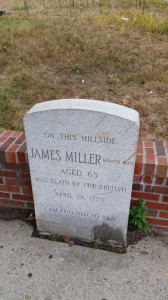 [For a very concise, but still interesting, explanation of the above memorial see HERE and HERE] – [On a similar note, read HERE for a story about our first flag, which is nearby the memorial, I need to go find it]
After that we decided to go to Au Bon Pain for dinner. It was SB's turn to pick but I suggested it. She had been wanting to go there for awhile. We took off and SB took us in like.. the longest route humanly possible without actually going the wrong way (remember I have leg issues). Once we got there it became obvious that Au Bon Pain was basically Panera bread, except with better prices. Not that that is hard, Panera is like the most overpriced POS place in the world. Come pay 10$ for a 1×1″ sandwich, that is the Panera way. In fact, we paid less at Au Bon Pain in Cambridge that we did for Panera back home. I mean, holy God.
Anyways, Au Bon Pain was basically a Panera with more food and cheaper prices. Sounds good, right? Well the food and the prices were. But the service freaking sucked. I mean really sucked, and this is a counter order place, so service has to REALLY suck, for you to actually realize it sucks. The place was also freezing. I was not impressed. Not in the least.
Maybe I was spending too much time thinking about how I don't like Panera to give Au Bon Pain a chance, but either way, I don't like either of them. But Au Pon Pain is by far the better of the two, because its cheaper. Seriously, Panera is ludicrously overpriced, 2000$ for an apple.
The one cool thing Au Bon Pain had going for it was that the one we went to was the same one which appears in Good Will Hunting, so that was cool.
/Panera rant
After my pain at Au Bon Pain we headed up to a marketplace we like. On the way I almost got attacked by a squirrel. He squirrely emo raged and charged at me. No really, he actually charged at me. I asked for it though by getting all up in his business. I may or may not have ran from a squirrel. Its cool, he was still a better value than Panera bread.
For beer, I picked up some:
1. Damm S.A. – Estrella Barcelona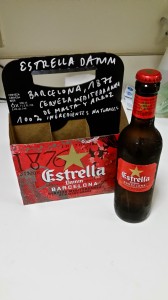 Before you ask, no, I have no idea what Damm means, nor does SB. Speaking of SB, she is actually the reason I tried this beer. Estrella is a Spanish beer, if you couldn't tell. When she was studying in Spain she had regular Estrella. She described it as middle of the road, Budweiser type stuff [Side note, check out how decent Budweiser's rating is compared to most macro brews, f*ck you hipsters]. Well, Estrella Barcelona, also from the Damm S.A. brewery, is a "Premium" version of Estrella. If you know anything about "Premium" beers you also know that it potentially means nothing, other than a higher price tag. Considering that I haven't been able to find regular Estrella (in fact I couldn't find any Damm beers back home), I can't compare Barcelona to standard. Anyways, its a pretty decent beer. I'd rate it as marginally higher than Budwesier-tier. Its definitely a macro brew, but you don't get many  beers from Spain, at least in comparison to most European countries (excluding the French, no one cares about them). It was a very solid and bitterish beer, with hearty herbal or maybe even grassy undertones. The hops sort of take a back seat the to malt in this one. Not bad for a country that normally isn't known for its beer. I look forward to drinking the other four 🙂
Until next time,
-Taco