Hey all,
So as discussed, I'm back in Beantown.
The boys were pretty happy to be reunited all together in their own home.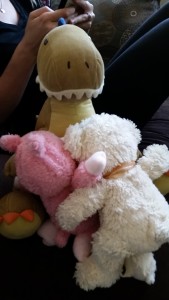 As a way of celebrating our return, we went out to Boston Beer Works, which is part of the "Beer Works" chain (such as the Salem Beer Works we visited while in Salem). Like when we visited at Salem, we had to go for the Watermelon Ale, but this time we also tried out their Bunker Hill Blueberry Ale.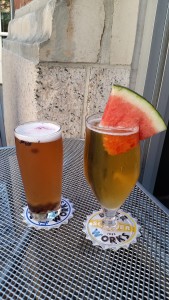 1. Watermelon Ale – Beer Works
2. Bunker Hill Blueberry – Beer Works
The Watermelon Ale was just as good as I remember, and the Blueberry Ale was pretty good as well (bonus points for actually putting watermelon and blueberries in the beer!). The food was also tasty.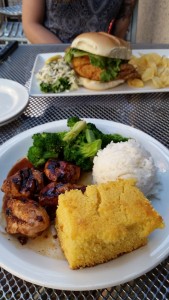 However, the service was lackluster and the place was pricey, so overall we won't be in any rush to return (we liked the Salem location more), but the beers were good. As usual, I've also been trying out some new beers at home:
3. Fresh Slice – Otter Creek Brewing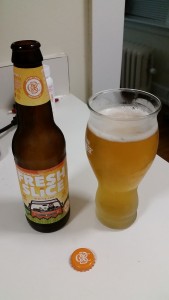 I'm really liking the IPAs from Otter Creek, such as Fresh Slice (a white IPA) and the Backseat Berner I also had recently.)
I also found a squirrel beer. Yes, seriously.
4. Light – Mighty Squirrel Brewing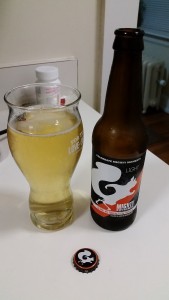 Sadly, it wasn't very good. The "Mighty Squirrel" brewery, found right here in Massachusetts, focuses on making low carb, high protein beers. It's an interesting concept. Because I've been having heartburn pretty bad lately, I opted for their "Light" version, which was a mistake. It was pretty low quality. I'll have to try the regular version before I give a final verdict, because I really would like to like a squirrel beer.
5. Live – Southern Tier Brewing Company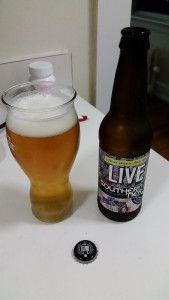 Live, a session pale ale, is yet another strong showing from Southern Tier, I'm enjoying exploring their selection lately.
In addition to the fruit beers from Beer Works, SB saved me some strawberry lager she got while I was gone (yay SB!).
6. Strawberry Harvest Lager – Abita Brewing Co.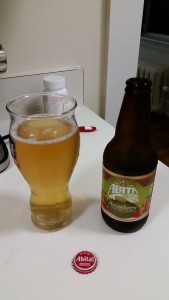 I wasn't as big of a fan of this brew as the Beer Works fruit beers, something about the strawberry flavor tasted "fake." It was hard to put my finger on it, but I'm not sure I'd seek this beer out again, at least not in a six pack, I'd probably give a single another try.
Beyond beer we've also kept busy, such as venturing out to Watertown for the first time ever.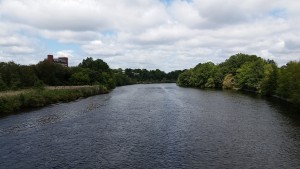 The cool thing about Watertown is that it's entirely submerged in the Charles River.
While in Watertown we went shopping at Target, which was packed and basically a Wal-Mart. We also tried to eat at place called Friendly's (think DQ) that has adorable commercials. But we didn't, because they completely ignored us and were in no hurry to you know, actually serve customers. So Friendly's sucks and is blacklisted, sorry cute baby on the commercials. Overall the trip to Watertown did not please me.
What did please me was my "Welcome Back!" cake I made for myself. Well, it was supposed to be cake, it ended up looking like someone mashed cupcakes onto a plate and then put mayonnaise on them.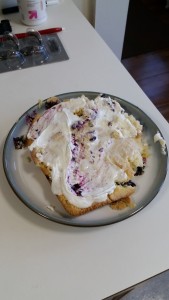 But it tasted good, which is what matters. It was loaded up with fresh blueberries too, much to Valentino's enjoyment.
And as if cake wasn't enough, we celebrated National S'mores Day (August 10th) with a S'mores bar from none other than Hammond's Candies!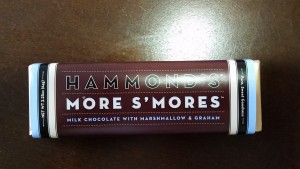 While of course not as a good as a real S'more, it was a nice stand-in. So far I've been fairly impressed by Hammond's chocolate bars (I've had the S'mores and Red Velvet varieties).
This past week saw us eating even more food, as on Thursday we went out with one of SB's friends to the North End to an Italian place called Al Dente.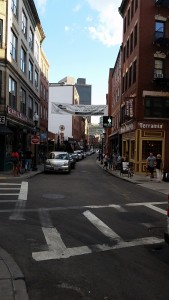 The North End has a cool "old city" feel to it.
Long story short, I was not impressed by Al Dente, it was stupidly expensive, it was way too loud, the service was crappy, I got heartburn from my salad, and yeah, that's really all I'll say about that. Truth be told, I've realized I'm not a huge Italian restaurant fan anymore. It's not that I don't like the food, it's that somewhere along the line someone decided that it was ok to charge 25$ for a plate of fucking noodles. Yeah, no thinks, it's called Ramen and it costs like 50 cents.
The next day, we had a much better dinning experience when we went out with Aunt Train to an Irish Pub in the Back Bay called MJ O'Connors. On the way there we saw a castle, oddly placed in the middle of Boston.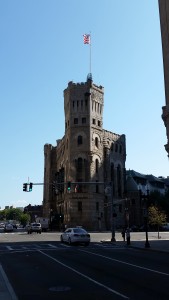 It took all of 3.5 seconds for Tristen to claim it.
Aunt Train had originally given us two options, MJ O'Connors and another Irish Pub (notice a theme?) however, I decided on MJ O'Connors without even looking at their food menu. Know why?
This is why: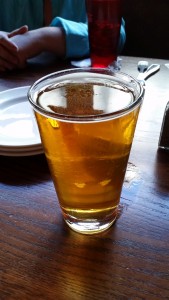 That dear friend, is a genuine on draft Dogfish Head 60 Minute IPA, my first Dogfish on draft, ever. It was glorious. It was all that was good and holy in the bottled version of the 60 Minute, which an extra touch of Baby Jesus magic. It was the best IPA I've had in a good bit and I've had a lot of IPAs lately. In addition to the Dogfish I had a Stella Artois, another Fresh Slice, and Wormtown Be Hoppy IPA, all of which were good, which isn't hard when you've drank four beers. 🙂
Aunt Train was having them mix lemonade and Stella, for a makeshift shandy (or radler if you prefer the Deutch), which was actually pretty good!
The food was good too.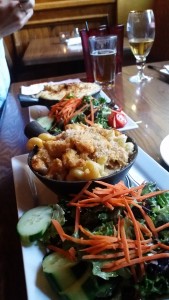 Mmm buffalo mac n' cheese and a shepard's pie.
Of course we don't just eat out, sometimes we make things ourselves! (Ok almost all the time, but what fun is a cup of cereal to blog about).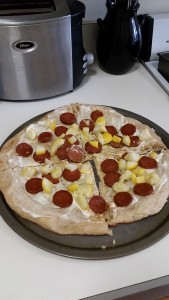 That is a homemade, whole-wheat pizza with uncured pepperoni slices, goat cheese, and fresh squash. All of that is to say, it was yum!
We of course paired on pizza with beer, though the beer came later and wasn't really paired with the pizza at all but pizza is an excuse to buy beer.
7. Take 5 Session IPA – Harpoon Brewery & Beer Hall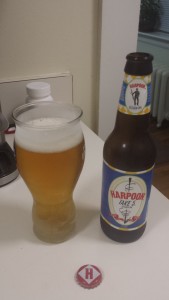 While I was quite sad to leave Odell behind, It was nice to get back into Harpoon territory. As usual, Harpoon didn't fail to impress and this was a solid Session IPA that even SB enjoyed! We actually had some of it and some popcorn while starting a puzzle with the boys last night.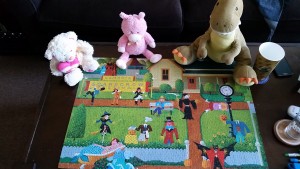 We finished it this afternoon, and it is actually the second time we've done this puzzle (those green grassy areas are a bitch).
And that pretty much closes out my first almost-two weeks back in Boston, it's been a bit of fun, but a lot of work as well. I'm still in my Business School classes (final exam is on August 25th), I'm back in physical therapy, I have law school stuff piling up already (such as an ultimatum I was given to either "Accept a promotion [Increasing my work about three fold] or quit the journal." I was not pleased), an I have a myriad of other appointments, tasks, and duties on top of that.. oh and I have to start applying to job for next summer, yes already. So I haven't had as much video game time as I wanted, but c'est la vie. The cool thing is that we are taking a mini-vacation, partially with Aunt Train, out to Lexington and Concord next weekend, so that is pretty exciting!
Until next time,
-Taco