Its been pretty cold here in Boston, the coldest since we moved out here by a long shot. For a few days the high was something like 6 degrees, which is just not awesome. Since I walk to school, its been a lot of fun getting half frozen on the way there. Its mainly due to Reynaud's that the walk is fairly crappy. My core body does ok, but my fingers and toes really tend to eat it (and that's with two pairs of socks and two pairs of gloves). On the really cold days even my eyes hurt its so cold, but you gotta walk to school one way or another, so I just bundle up and deal with it.
Speaking of school, if you remember from last time, I've started the beloved "Problem Solving Workshop" that 1Ls are forced to take. I have to say, it sort of split itself between being just "OK" and "My Expectations" (which were obviously very bad). On one hand, I got a decent team that is (mostly) easy to work with. There are five of us and only one person seems to be a major slacker. On the the other hand, the projects are even more time consuming than I thought they would be and the class time itself is pretty terrible. Its made worse because we have no breaks. Basically the class is divided into two portions. The actual class runs from 9 to 12, then you work on your project from 12 to 5. Well, from 9 to 12 we have no breaks, no bathroom breaks, nothing. We also take attendance, Jr. High style. There are two professors (well technically, one professor, the other guy is a practicing attorney), and their assistant comes to class and uses a seating chart to make sure we are there. Its all pretty stupid for a professional course. One nice thing is that my group divided up the projects into pairs, so while we have 13 classes, I only actually have to do anything other than come to class on 6 of those days.
But enough about that.
Aside from the group project fest that is PSW, this was a fairly good week. I secured a summer position and SB secured an internship for the second year of her MSW program. Both of which are very awesome things. So, to celebrate we decided to use a gift card that Meem got us to a place called John Harvard's Brewery & Ale House.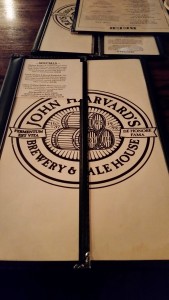 Its a bit of misnomer, since it has absolutely nothing to do with John Harvard or Harvard University, so they are capitalizing on that a bit, but I had heard that they had good food and beer. The thing is, like most places around here, its a bit above our price range. Enter Meem's Christmas pressie. Thanks to our gift card we could actually afford to eat there and get some beer, can't beat that!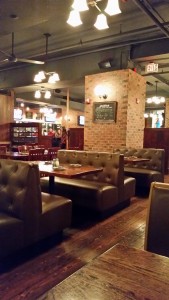 I liked the interior, its actually in the lower level of a building so it has a sort of brewery/basement type feel, which I guess is pretty much spot on. After thinking for a bit, we went with a pitcher of the Brattle Blond Ale, which doesn't appear to have a Beer Advocate page yet, which might mean its fairly new or a limited batch. Either way, it was pretty tasty, even SB liked it. It was a fairly low ABV beer (4.5%) so it was a good one to get a pitcher of when there are only two people (and by two people I mean 2/3 of the pitcher normally goes to me). The food was also good, SB went with the Dunster Burger and I went with the "Old Fashioned" Chicken Pot Pie, which was actually pretty dang awesome for a pot pie.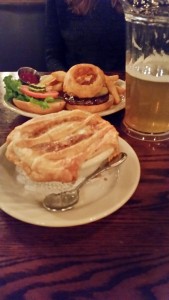 We also decided to take in a bit of culture this weekend.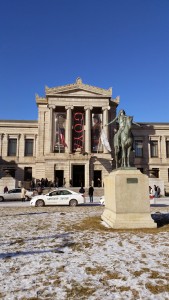 That is the Boston Museum of Fine Arts. Now, I'm not a huge art person, but I do enjoy walking around art museums. I did quite a few of them in Europe and so I figured it was worth visiting one here in Boston as well. The good news is that its free for students. Well, to be fair, its free for some students. This actually confused us a bit at first. Entrance is actually really expensive (like everything else out here). For instance, standard Adult tickets are 25$ a piece. Then, standard 18+ Student tickets are 23$ a piece, which is of course way out of SB and I's price range. However, there are what are called "University Member" student tickets, which are free. Basically these are agreements between the MFA and certain (almost exclusively New England) universities where those students get in free. Fortunately both SB and I's universities were members, so we were free. We'd wanted to visit the MFA since moving out here, but getting busy (and initially being unsure whether or not it was actually free) kept us away until now. So we headed out on Saturday.
And apparently so did the rest of Boston. I have never, ever seen a museum of any kind this crowded. Not even the free day at the Boeing Museum of Flight was this packed. When we first walked in, the line at the ticket counter was huge! I'm pretty sure we spent about 15-20 minutes in line, in an art museum. We actually doubled checked to make sure something wasn't going on that day, and there wasn't anything. It must have just been a good day to go see some art. The Goya exhibit was also still there (until the 19th) and since SB had studied Goya in Spain, that was one of the big things that finally drew us out to the museum. But, I'll get to the Goya exhibit in a minute.
When we first came in we started off in the "Contemporary Art" section. (The museum was divided into five areas, with a special exhibit area [Goya] – Contemporary, Asia-Oceania-Africa, Europe, The Americas, and The Ancient World). There were some odd floating/jumping people in the contemporary area.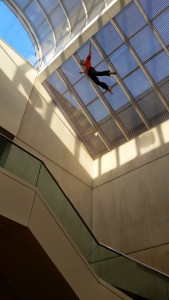 We then progressed into the European area, which was much more typical of what you would expect from an art museum.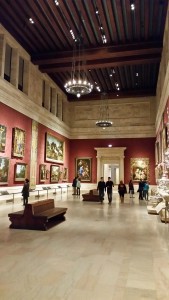 They had a bit of everything, from Picasso, to Van Gogh, to Monet. One temporary gallery in the halls between sections was a collection of World War I posters. Of course the famous Uncle Sam poster was there, but there were also some I had never seen before, such as this rather grim one.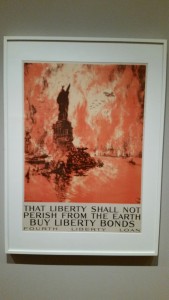 They even had some from Germany, which I'm not sure if I had ever seen before.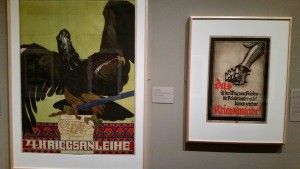 From there we moved onto the Americas area, which had a ton of beautiful old furniture, with lots of paintings to boot.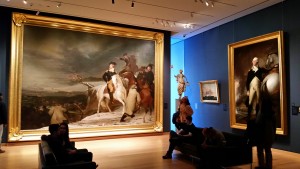 Of course it wasn't just North American displays, they also had Central and South American items, including some cool stuff from the Mayans.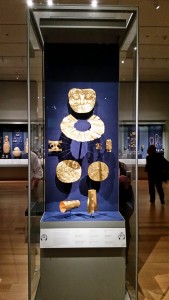 By this time we were starving, since we seem to chronically plan our meals poorly on our days out. Or maybe we do it on purpose as an excuse to eat while out and about. Either way, the MFA has plenty of food, four places to eat in total. One of them was in the big atrium in the near middle of the museum, adjacent to the outdoor courtyard (which was currently closed due to the cold).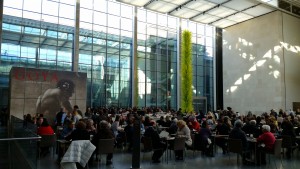 But, these places were all very expensive. So we followed the sound of crying children and the smell of grease down to the poor people cafeteria in the basement (literally) where we got some over-priced hot dogs and chicken fingers. It wasn't bad, but it wasn't great either. It was pretty clear that the two cafes and the actual restaurant (the image above is one of the cafes) are where they put most of the effort in, and they are priced accordingly.
After lunch we were feeling much better and went on to explore the ancient world area. Like most museums, the ancient world area starts with Egypt.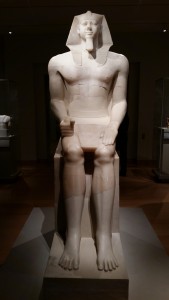 We were actually surprised by how many displays their ancient world area had. For an art museum, they had quite a bit of stuff that you'd expect to see in a natural history museum. But then again, "art" is a very broad term.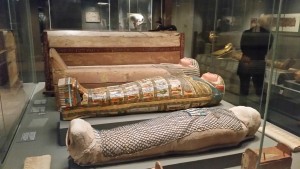 SB got a little nervous in the room with all the mummies and sarcophagi. I enjoyed that. After Egypt we moved onto Greece, which was really cool. They even had some battle gear, including a shield (hoplon) that was still in outstandingly good shape.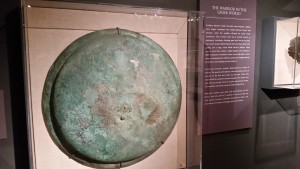 Next to the shield were some Hoplite helmets, which were also in really good condition. Most of the one's I've seen before have been quite oxidized (like the hoplon above).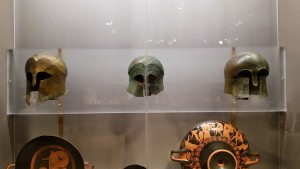 Rome was well represented as well, especially in regards to their pottery (which was blended in with Greek pottery and I'm not smart enough to tell the difference, at least not superficially).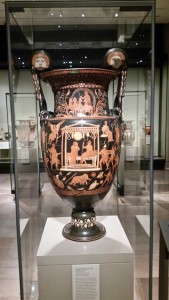 There were also more than a few statutes, ranging from some famous Emperors to this massive statute, which admittedly I can't remember who it was since we were in a bit of a hurry at that point since the museum closed rather early (4:45).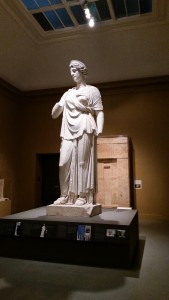 There was also a fun exhibit called "Planes, Trains, and Automobiles," which featured exactly that.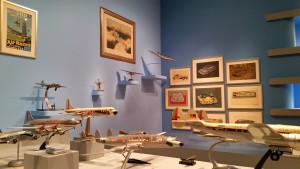 I thought my Dad would probably have liked this room.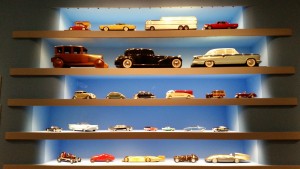 The Train displays weren't quite as big, but they did has one slick looking one.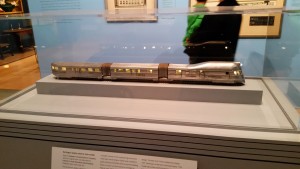 Outside this exhibit were some huge, very detailed modeled boats. I don't think they were actually part of the exhibit, but they blended in well with the theme of the adjacent room.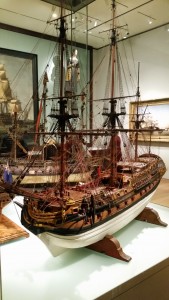 As the museum closing time got closer we circled back through the upper levels of a few places, including the contemporary area. I'm glad we did since we saw the hands down coolest display of that part of the museum, a bunch of bottles. No seriously.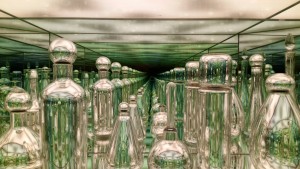 It was a four sided box of glass, mirrors, and glass bottles. Each side was a different arrangement but all four sides appeared to extend into eternity. It was way cool. Then, as we were leaving I noticed a cool painting that I had actually missed the first time around (I was on the great bathroom hunt the first time).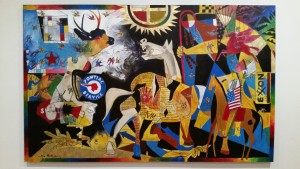 So, about Goya.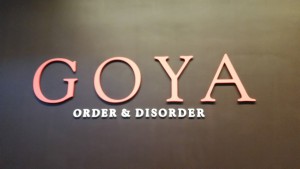 SB and I were quite excited. I like Goya's works, especially his Black Paintings. The museum had also built up the exhibit, talking about the items they had acquired from the Prado, Louvre, the Galleria degli Uffizi, and even some other US museums. The cool title "Order and Disorder" seemed to allude to following a path from Goya's earlier works to his darker later works. Apparently a lot of other people were excited too. The line to the Goya exhibit was HUGE. It was really more of a theme-park kind of line, I didn't know art museums generated lines like that. Anyways, we decided to do it, since SB was excited to show me some of the paintings she had seen in Madrid (and I wanted to see them). So we waited in line (watching the Museum members pass us by in their high speed Grey Poupon line). Once we were done with that line, we went downstairs.. to another line.. yes theme park style. Eventually we got inside the exhibit and it was PACKED. I mean, sardine level packed. It was pretty horrible actually. Then, to make matters worse, the collection was.. ehm.. lackluster. They had loads and loads of pieces, but at least 80% of them were just his sketches for the paintings. Sure, these are important, but I imagine you need to be a real art connoisseur to fully appreciate an exhibit like that. To be fair, they did have a few really cool paintings, such as his self portrait in the workshop, and the final painting of the exhibit which was The Last Communion of St Joseph of Calasanz. However, they were very much lacking in the Black Paintings department, all they really had were a couple of sketches of his black paintings. In the end, SB and I both left a bit disappointed, especially since the line was so long and the exhibit so crowded. I mean, I'm glad we waited in line for the Goya exhibit (though if we would have waited a bit later there would have been much less of a line, but we didn't know that and closing time was getting closer) since I had never seen any Goya stuff before (or maybe I did in Europe but have since forgotten, that is quite possible). However, on the whole, the rest of the museum was actually more enjoyable for us.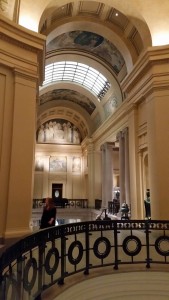 We actually stayed right up until closing time, to the point that the people were coming around prodding everyone out of the museum like cattle. The sun was going down and so it was getting extremely cold. We decided to walk the couple of blocks up the street to Northeastern University to get some Starbucks. Well, we never found the Starbucks and kept getting colder so we just decided to head back. Then the Green Line took forever to get there, so I was pretty much an ice cube by the time it showed up. We then went all the way up to Whole Foods to do some shopping. By the time we got home, I was very, very glad to be there.
So all in all, its been an enjoyable weekend. Good food, good beer, a bit of culture, and even ample amounts of football (as well as some awesome cold-brew coffee from our new French Press). I just wish I didn't have to return to the Problem Solving Workshop tomorrow morning, but such is life! 🙂
I imagine that the next art museum I will be checking out is Harvard's Fogg Museum, which just recently reopened after six years of major renovations and is closer to us, as well as being free (for us).
Until next time,
-Taco