[Like the other moving bucket list posts, this one is probably well after the fact]
As the move draws closer SB and I are increasing our efforts to knock out a few things that are left to do on our list. One such thing involved the little town of Linden. While neither of us had (to our knowledge) stopped in Linden before, we had been through it many, many times. Like a lot of small towns there is not a whole lot to see and before you know it you've passed through. Linden does have two exceptions though. The first of which is their "Depot Museum" which is actually an old railroad station which sits immediately adjacent to where the Monon Railroad and the Nickle Plate Railroad intersected each other.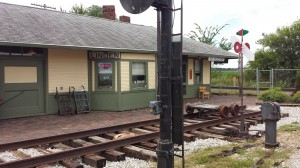 Now, admittedly it doesn't look like much on the exterior, in fact we drove through Linden many times before we even realized it was a museum. However, Valentino really wanted to go and it just to turns out they were open when we were coming through (they are only open 10 hours a week). Well, this was a classic case of don't judge a book by its cover. The museum was really interesting and was made even more so by the two gentlemen working there. The first of which was named Jack. To be honest, neither SB or I actually remember his name, however I really think it was Jack. So, we'll call him Jack. Jack came from a long line of railroad workers, specifically on the Monon. So he naturally had lots to tell us, both about his own story (like how he ended up in the Navy as an engineer when the Monon was bought out and curtailed) to the history of the railroads in the region. The small building held quite a large array of items, many of which were in their original positions, such as the switch board and communications station seen below.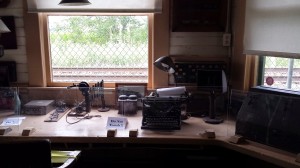 In addition to all the period memorabilia and artifacts they actually had quite a bit of
"fun" stuff, such as model trains. In the picture below you can actually spot the Amtrak Superliner that SB and I took across the country, I'm still amazed we managed to fit inside of a three inch high train.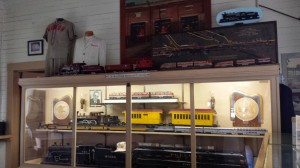 After Jack showed us through the two branches of the old depot, which included a section for both the Nickel Plate and the Monon (complete with writing on the walls from as far back as the early 20s) we headed outside to the main courtyard. Here there was a caboose from the Nickel Plate that you could go inside, as well as a section of the original tracks and the original juncture point.(Notice that the caboose is radio equipped, high cotton).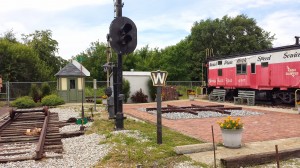 I'd never been inside an actual caboose before, so I jumped at the opportunity. It smelled very old inside, which is probably because its very old. Most interesting was that the bathroom sink and the urinal were the same thing, only a tiny little metal divider differentiated the two, yes I am serious.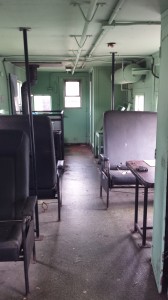 After seeing the caboose we headed down a path which followed a portion of the Monon's old tracks. The new CSX owned tracks were just about 15 feet away. This trail led us to a little house where Gary (that is his name) was working on a humongous model train layout for a circus they were holding in coming week. This made Little Taco squeal inside. After talking to Gary for a good bit and walking all around the 15×15′ layout we decided that our growling stomachs needed to be paid attention too. Which brings me to the second destination in Linden worth seeing.
The "Lindy Freeze," which is an ice cream and drive-in type of place. I personally think they pretty much hit perfection with their name and their food wasn't half bad either.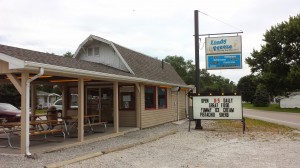 Since we had drove by this place countless times we both agreed that we should stop talking about stopping and actually do it, so we did. I got a chicken sandwich (so daring, I know), SB got a BBQ sandwich, and we both shared some waffle fries. It was pretty standard drive in food. It definitely wasn't bad, but it wasn't legendary either. The fries did come unsalted by default though, which we liked. After lunch we of course had to get ice cream. Since we had seen a sign advertising their homemade peanut butter sauce SB got a peanut butter sundae and I went with a Java shake. Both of which were very good. The peanut butter sauce stole the show though. While eating our ice cream we walked over the adjacent park and played on the swings. I managed to go all the way across the monkey bars, much to the dismay of my food and ice cream filled stomach.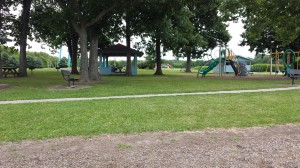 All in all, I think we spent a little over 1.5 hours just visiting these two quaint little road-stops. The museum only cost 4$ a person and the Lindy Freeze didn't break the bank either. Most importantly it was one more little adventure that SB and I were able to share. I think the coolest part of the entire experience actually came right after we were leaving the caboose and Jack was having us fill out a visitor's form while answering some of my lingering questions. After finishing up the form he casually asked us "Do you want a couple of Monon spikes?" Well, I didn't take him literally. I thought he meant did we want to see a couple of Monon spikes. Nope, he meant have. He went over to the original Nickel Plate and Monon junction and picked up a couple of spikes and just handed them over. Talk about a souvenir.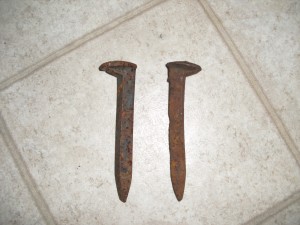 Naturally we've labeled them, dated them and added the museum's card to the bag, since knowing us we'd forget why in the world we had two railroad spikes when we uncover them 40 years from now. All things considered, given my general love of history and growing love for railroad history, in addition to SB's love of ice cream, it was 1.5 hours well spent.
Until next time,
-Taco
[P.S. If you would like to share this blog with others, please feel free to do so. I just ask that you don't openly advertise it to strangers and the like.]