This post is going cover a few different things, all of which centered around SB and I's 5th anniversary celebration.
When we were married five years ago it was on a Friday, and then we had a couple of years of it being on the weekend, but since then its been right in the middle of the week. Not only that, its fell on days that we were exceptionally busy for the past 2-3 years and thus we don't actually get to see much of each of other on the actual day of our anniversary. Thus was the case this year, we probably saw each other for about 1.5 hours for the entirety of our anniversary. So, rather than focusing on that day in particular we sort of expanded it out over several days. Nothing wrong with that.
We actually jumped the gun just a teeny bit and started celebrating the day before our actual anniversary. It wasn't anything too crazy though, just Starbucks.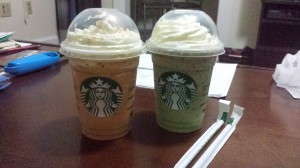 But this wasn't any ordinary Starbucks. Of course you have SB and her Pumpkin Frappuccino, but that green one is mine and it was even more special and limited than the pumpkin. It was the Franken Frappuccino and it was only available for 3 days. Its a green-tea-based drink made with peppermint syrup, white-chocolate sauce, java chips, whipped cream and mocha drizzle and it was AWESOME. Even SB who does not normally like mint-type things (with a few exceptions such as Girl Scout Thin Mint Obesity Cookies) really liked this. The pumpkin was also good, but pumpkin is always good. SB actually went out and got these pretty much right after we found out about them.
That was the day before our anniversary, the day of our anniversary was fairly uneventful. As already mentioned, we barely saw each other and my day was not so good. I actually have this weird curse with our anniversary where not-great things tend to happen to me. I'm somewhat reminded of how when I was younger and it was time to put up the Christmas tree at Meems we would almost always end up in an argument. I think maybe its a psychological thing. Anyways, my day was "meh" and SB's was long. So I can't comment a whole lot about the actual day of.
Things got better the next day though. This was our celebration day, which means that we get to go out to eat someplace fancy and that we can't afford. Technically we really can't afford anything out here, but we just wholly embraced the ideology behind that admission for our anniversary. Interestingly enough, we still didn't spend that much comparatively speaking. Anyways, I digress. We went to a tapas bar not too far from us which had been recommended by a couple people I know.
It was Dali and when we first got there it was closed. Yep. However we needed to go to the store for the bread we were going to make, so we just went and did that first. Not a big deal. Once we got back to Dali it became very apparent that there was some sort of Halloween Costume contest going on among the employees (it wasn't the first costumes of the evening though, tons of people of all ages were out and about in costume, it was awesome). We were led to our table by Violet Beauregarde (who if you have had some sort of cultureless existence and don't know, is the girl from Willy Wonka and the Chocolate Factory who chews the experimental gum and basically turns into a blueberry.) Our actual server was.. well.. we don't know. She had a dress with tons and tons of people's pictures cut out and posted on it. I didn't really get it. But the restaurant was quite nice and definitely had the Spanish/Salvador Dalí theme going on.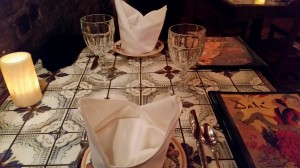 We started off with some alcohol and water (though the water never came, marking really the only bad part of the entire dining experience). SB went with their Cava Sangria, which she had to ask about. I don't remember the exact specifics, but it was a wine white based sangria, rather than red wine and it had a myriad of more summery fruits in it. Essentially Cava Sangria seemed to be a more "refreshing" take on sangria which is itself meant to be refreshing and also intoxicating (literally). I know nothing about sangria though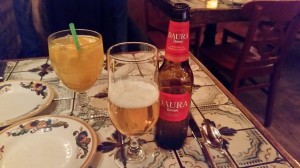 1. Damm S.A. – Estrella Damm Daura
(Isn't it fun getting to talk about all this Damm beer?)
Anyways, I liked this one a bit more than the Estrella Barcelona – I think. The qualifier is that I only had one of the Dauras and it was with a myriad of food and sangria. So my normally good beer palate might have been a bit mixed up. Either way, it wasn't bad. So I'm two for two with the Damm S.A. beers. Neither have been exceptional, but neither really had any noticeably bad qualities either.
Next up was the food itself. In typical tapa bar fashion the tapas came out as they were made rather than all at once. Also typical for tapas bars, I had no idea what 3/4 of the stuff was. SB used to know a lot, but as her Spanish has deteriorated there are a few things that she doesn't know either, but her knowledge-base is still far greater than my own. For cost purposes we cut out the super expensive tapas and then we decided we probably wanted to share four of them, which turned out to be a good number. Three would have not been enough and five would have probably been a little too much (depending on the tapa).
Here are the four tapas we went with. (Don't ask for more descriptions as to what they are, because I can't give them).
1. Patatas Ali-Oli | Potatoes in a Garlic/Caper Alioli
2. Croquetas de Bacalao | Deep-Fried Salt Cod Fritters w/Coriander Alioli
3. Gorditas | Bacon-wrapped Prunes filled w/Goat Cheese & Almonds
4. Empanada Vegetales | This was a special item so I can't steal the menu description, but it was basically what it sounds like an empanada with vegetables, it was way good
Here are some visuals to go with the list (presented in the order they were served to us)
Here are the Patatas Ali-Oli and the Croquetas de Bacalao. The Patatas were our only "cold" tapa and it was sort of like a really cool and yummy Spanish version of an American Potato salad, just a lot better. The croquetas tasted like fish sticks rich people would eat. I don't know what the green stuff was but it was good. Both of these tapas received high marks from SB and I, with the royal fish sticks being SB's favorite of the bunch.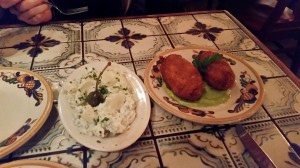 The Gorditas (which is roughly Spanish for "Little Fats" gehd lols). We ordered these to have something sweet but also because when SB, Meem and Daryl 1 , and I were in Chicago awhile back we went to a tapas bar (Cafe Ba-Ba-Reeba!) and had something similar called a "chorizo-wrapped medjool date & cheese." These little fats from Chicago were A-FREAKING-MAZING. So we had to try their spiritual counterparts here at Dali. I have to say, the ones we had in Chicago were still better. HOWEVER, I am willing to qualify that by conceding that it is quite possible nostalgia has completely and irreversibly built the Chicago fats up into something that can never again be compared to, even by yet more Chicago fats. But these were definitely good and highly recommended.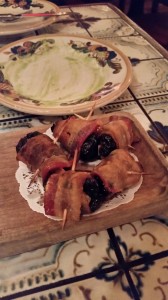 And last but not least, the Empanada Vegetales. This was a bit of a surprise as I wasn't expecting much. It came last, when we really wanted it first, but it was oh so good. It had a wonderful combination of vegetables inside and sort of tasted like a gourmet egg-roll. That is not a good way of describing it, but that is really all I've got.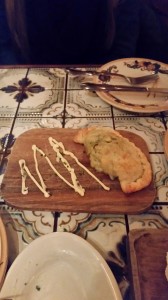 All in all we both really liked all four of our tapas, SB's favorite was the fish sticks and I'd say I probably leaned towards the patatas, but I dunno, I really liked them all.
As we were getting ready to leave a matador came up to us with a tiny toro toy that moved around. He was jockeying the customers to vote for him to win the contest. You actually vote on your way out. We both voted for the matador because of his torito (little bull). There were a lot of really good costumes, but they way they had it set up was a bit unfortunate. For instance several of the costumes you never got a chance to see because you were seated in an area away from them and the guys behind the bar, well, you really wouldn't see them at all if you weren't at the bar. So while it was fun and I liked the costumes we saw, I wish they would have made it easier to see everyone's outfit, especially since they were so good (and it would have been more fair to the participants as well).
Overall Dali received high marks in our book and honestly if you pick your tapas right and don't booze too hardcore its really not that expensive (we spent more on one of our anniversaries back in Indiana, for example).
After leaving Dali it was time for more booze. One because it was our anniversary and two because it was the weekend and weekends = beer. However, our normal spot for procuring the devil's juice was a lot further away than we really wanted to walk (we had gone the complete opposite direction to eat, not to mention already having walked to the store). Luckily I remembered that there was another place to acquire alcohol and it just so happened to be literally right across the street from Dali.
It was a quirky little place. We'd never been because wine and cheese tends to make me think that 1. They have no beer and 2. Its all extraordinarily expensive. Turns out I was wrong on both those points. They DO in fact have beer (a lot of it) and they are no more expensive than our usual haunt.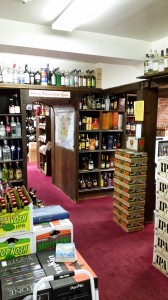 It had an eclectic sort of charm and their wine collection was quite extensive and they may well even have had more beer than where we normally get it. The above photo only shows a small part of the store (all the cheese is to the right, all the wine is back through that archway). The one thing they did that I don't like, but that seems to be common here, is that most of the beer was not priced. In fact for the first five minutes I was left entirely wondering what anything cost. That is until I found a very, very small piece of people taped to the wall that listed most of the prices. I don't know why they don't like price tags out here, but its kind of annoying.
Since it was our anniversary I decided to up my beer quality a bit. I was drawn to the legendary Dogfish Head Brewery offerings. (Dogfish has been refered to by one than a few beer connoisseurs as the best beer produced in America) And I've never had it. Specifically their 90 and 120 Minute IPAs are supposed to be what God created Adam out of. However, this beer is DAMN EXPENSIVE. First off, their higher end offerings only come in 4 packs, yet for that 4 pack you will pay nearly 2x what you might pay for a six pack of your average middle of the road beer. Not to mention that it can be hard to find, plain and simple. But they had it here and it was my anniversary. I was really drawn to the 90 minute IPA but went with their Punkin Ale since its seasonal and the IPAs are always offered. SB found her some wine as well. (You'll also notice that I got a 1 pint bottle of Newcastle, it had been a long time since I had had it)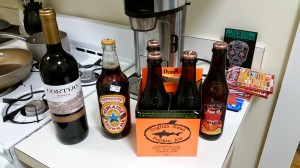 2. Dogfish Head Brewery – Punkin Ale
3. The Caledonian Brewery Company Limited – Newcastle Brown Ale
So, for starters. The Newcastle was a Newcastle. Nothing too special there, its just a standard English Brown Ale. About 7 years ago I used to love this stuff (as well as Killian's Irish Red) but I sort of just grew out of it I guess. Its not a bad beer, but nothing too special (their Werewolf is good though). The real excitement came from the Dogfish Head Punkin Ale. Technically the excitement had to wait until the next day, because I didn't end up drinking anything the night we got back from Dali, but I'll go ahead and talk about it here for subject purposes.
I was not worthy, I guess. I started with a Dogfish Head Punkin Ale, poured into a good, chilled, beer glass. And it was good, but holy crap dude, it was strong. I checked the bottle it was 7% ABV which is decently high for a beer (but nowhere near the 19% ABV of the 120 Minute IPA for instance). However, something was weird with this 7% ABV. I didn't notice it at the time, but I was getting wasted. I don't know if it has something to do with the pumpkin sugars, but yeah, this beer was kicking my ass. SO OF COURSE I DID THE SMART THING AND DRANK MORE. Not only did I drink more, I drank that entire pint of Newcastle, then ANOTHER Punkin Ale. Suddenly I was drunk. Go figure.
The next morning I woke up and I'm pretty sure I had a hangover. I have not had one of those in at least a few years. I tend to be a lot better with my drinking these days. But when you play with the big Dog(fish heads) you better be prepared to run with them. I was not.
So what did I think? I think its too strong for me. The taste is there, the spices are dead on, but being able to drink beers that strong is a ship that has sailed if I don't want to fail law school. What I really can't get over is that 7% is not that high, but something about the formulation of the beer made it stronger. That and drinking 40 ounces of beer. In fact, as I write this post I am slowly working (and I mean slowly) working on one of my two remaining Punkin Ales and I just don't know if I will be able to finish it before I need to go to bed, which is a massive conflict of interest for me. I actually didn't drink yesterday, beer sounds quite cross when you've had too much of it the night before.
So do I think Dogfish Head lives up to the hype? Yes, yes it does. However, I would stipulate that their beers are made for those drinkers who have mighty testicles and drink very slowly. I'm going to try more because they tasted so good, but I'll approach my drinking strategy a little differently next time.
So backtracking away from beer and chronologically back to the same night as Dali, we also made pan de los muertos as both a celebration of Dia de los Muertos and our annivesary. We were originally trying to decide on a cake, but bread of the dead sounds so much more exotic and appealing. Props go to SB for suggesting it.
However, pretty much everything that could go wrong with the process of making the bread did. We halved the recipe lest we make a bread the size of a hippopotamus (and also we didn't have enough flour). We also changed a few ingredients around. The result was that the yeast didn't end up really making the bread rise too much. It tasted fine, it just didn't poof up in the way pan de los muertos normally does. Also, the icing didn't quite pan out either, it was way too runny. We had got our ingredients at whole foods and the food coloring they had absolutely sucked. It was made out of stuff that doesn't cause cancer and so it was terrible. A lot of the icing ended up tasting like crap, in addition to being runny. However we salvaged what we could and decorated our pan with the traditional skull, we even added in some cacao nibs from Taza to make freckers.  Most importantly, regardless of the difficulties, the final product tasted good and we had a lot of fun making it.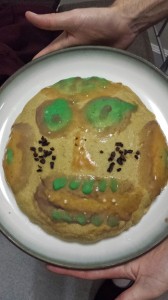 The next day we continued our anniversary fun by making some turkey pumpkin chili. This was especially relevant because 1. Fall 2. Pumpkin 3. Chili 4. It was a nasty day outside 5. Odd numbers. We didn't skimp on the chili either, no canned pumpkin for us, we actually used the real deal. I could be wrong, but I think this was the first time I have ever personally cooked a pumpkin.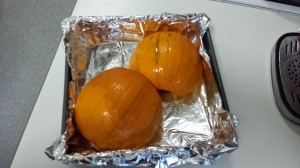 They actually smell and cook similar to sweet potatoes, it was fascinating really. We saved all the seeds and baked those with some spices and olive oil (absolutely awesome, by the way). The meat of the pumpkin we pureed and used as a base for our chili, which was also amazing. Here is the end product with some cheese and Greek yogurt.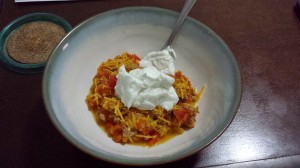 Pretty much right after we were done eating it was time to head out to the last evening of our anniversary fun, a hockey game. I had gotten two tickets completely for free, so we had little reason not to go despite neither of us really knowing much about hockey aside from the basics. It was actually the season opener between Harvard and Dartmouth at the newly renovated and renamed The Bright-Landry Hockey Center. In fact there was a special presentation thanking the rich people for giving their money at the start of the game. There was also a no-plebs-allowed private party going on in the club.
As I mentioned, it was a cold rainy day. So pretty much the entire bus ride down there looked like this.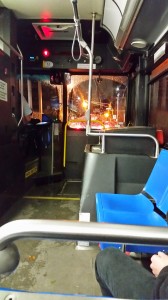 But, it was far better than the alternative which was walking. Right as we we got off the bus the wind was kind enough to invert our umbrellas, thanks wind. Once we figured out where to go (walking by the shadowy and imposing structure of the Harvard football stadium – no seriously, its like straight out of Rome) the walk wasn't too long. Once we handed over our ticket stubs we walked up to the rink where both teams were still warming up.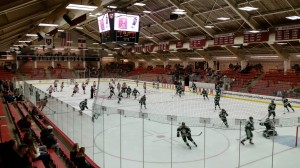 We walked around the exterior of the arena, seeing the various concession stands, finding the bathrooms, entering some contests (we lost), and taking in some history. After we made our rounds we got situated in our seats. For free seats they weren't bad. Of course there really weren't any bad seats. This photo below shows roughly where we were at, it was taken right before the teams started beating each other to death while pretending to chase a black object.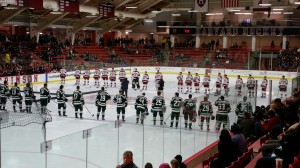 During the first period (there are three, each 20 minutes) Dartmouth was defending on our end. This made it pretty clear that we were siting in the largely Dartmouth area of the arena (so that is why those tickets were free).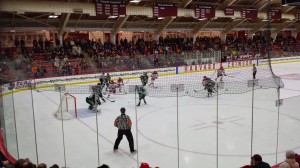 Dartmouth ended up scoring the first goal, much to all the green people in the audience's joy. But Harvard was very quick to reply and we had a very good view of their first goal of the season, they were justifiably pleased.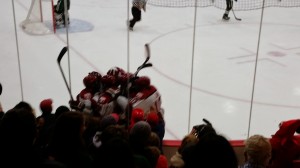 One thing that constantly surprised me was just how crazy violent hockey is, and how quickly it got to that point (all of about 15 seconds). Sure, I've seen plenty of NHL games on TV but I have never seen a hockey game live and this close. These guys beat the ever loving shit out of each other. Suplexes straight into the ice, you name it, it happens. We didn't actually get to see any full-blown fights (not that Tristen would have minded) but there were a couple of times that it was heading that direction when the referees intervened. Speaking of the referees, dang those guys are exceptionally good at staying out of the action (and puck's) way, it mean they were crazy good skaters, even when next to the players.
Eventually the first period was over and some pint-sized hockey players came onto the ice. I can't recall exactly who they were and why they were here, but I remember they were from someplace in New Jersey and that their jerseys looked a lot like the Boston Bruins. That wouldn't make much sense, them being from New Jersey, but who knows.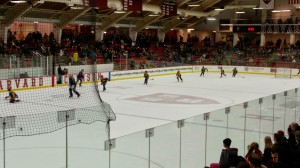 After the wee-ones left the ice, the awesome-sauce ice polisher came to clean up everyone's mess.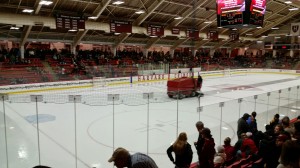 The ice polisher also returned after the second period, but not before they had another little event. This time instead of tiny hockey people they had one guy who was blindfolded in the middle of the rink. Someone then threw a pizza box somewhere out onto the ice and it was up to the audience to help him find it. I don't remember the pizza company, nor do I remember the prize so their advertising failed, but it was fun and funny (and yes he found it).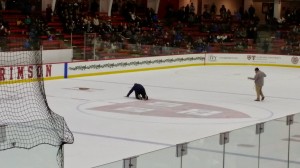 The third period ended up seeing Harvard and Dartmouth tied 3-3, so they went into overtime which was especially intense since it is only five minutes.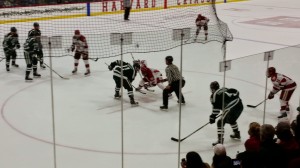 At one point we really thought Harvard was going to make a last second goal, but it didn't happen and the game ended in a tie. Not as bad as losing, but a bit anticlimactic regardless. However, its all about the process and SB and I really enjoyed ourselves (especially for free). If you know anything about me you know that generally speaking sports are not my thing, however this being a live event I was on the edge of my seat for pretty much the entire thing. Its funny how much more engaging something can be when you are seeing it live, the 3 20 minute periods and 2 15 minute breaks just flew by. We also got some pop and a hotdog, which never hurts, except your wallet.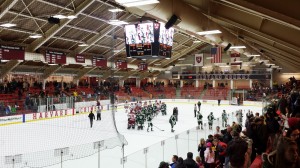 After the game was over we lingered around for a bit to cut down on the time we would have to wait outside on the bus. While the rain had stopped, it had gotten very cold and windy so waiting on the bus wasn't the most fun I'd had all day. But once we got home it made the heat all the more enjoyable (not to mention I made some hot chocolate).
So all in all, it was a fun anniversary celebration. There were few hiccups here and there as always happens in life, but on the whole it was very enjoyable and very cool. SB actually got us a sign, made of wood (since the 5th is the wood-based anniversary) but it hasn't got here yet. Of course the only downside to having all that fun was having to go back to school, but c'est la vie. I just noticed its after midnight, I really need to get headed towards bed, Property doesn't take kindly to me not paying attention.
Here's to the next five years. 🙂
Until next time,
-Taco
P.S. One cool thing at the hockey arena was that they had team photos of both the men and women's Harvard Hockey teams. What made this interesting was that these photos went WAY back, I'm talking WAY back. To get an idea of just how "way back" I mean, check out the photo below. Each of those is a photo of the team for that year. And I should point out that this isn't even taken from the very end, its already about 1/3 the way down the row of photos. Yeah. Way back.