So I'm leaving Boston.
In fact, by the time you are reading this I'll already be gone.
No, no, I'm not leaving forever. And SB will still be here. I'm headed off for a 10 week internship, here: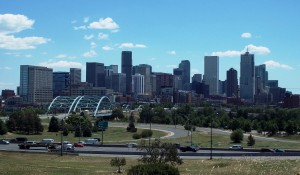 That's Denver, and it's 5820 feet above sea level, the "Mile High" city (To be more accurate, the city ranges from 5,130 to 5,690 feet above sea level, but 5280 feet is one mile and it sounds better). For reference, Boston's highest point is 330 feet above sea level. So I'll be landing one mile higher than where I take off from, kind of weird. Denver is two hours behind Boston, so the time isn't nearly as different as the vertical inclination. And, actually, as you read this post, I'll be working my very first day on the job. So think of me as you enjoy the fruits of my textual labor. 😛
However, before I say my temporary goodbye, let's talk about what I've done to get ready.
The truth is that I've had a lot more "fun" than I've had "work" in preparing for leaving, though to be fair it was also my birthday recently. As a way of "celebrating" we went down to the mall and bought me a few more articles of dress clothes for my job.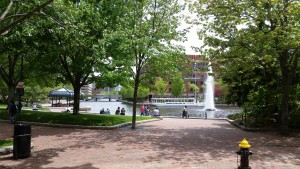 It's a very pretty mail, er.. I mean galleria, because we's fancy in dese' myah' parts. SB and I also went to Crema Cafe for lunch, and used the gift card to there that I won as the result of a scavenger hunt for the Public Interest Auction. Crema has good food and good drinks, but they are really crowded, the menu is in a stupid position that makes it hard to read, and I just really can't say I like going. I think we decided for the future that Crema will be a to-go type of deal (though to be fair SB is much less bothered by the environment than I am – my double vision makes it really hard to read certain menus, especially when there are more hipsters than air inside of the place). However, free is a free, so it was fun. And as mentioned, the food and drinks are good.
After that we went to our standby of Broadway Market and got me a little cappuccino fudge cake and a few beers (beers to be covered in an upcoming post).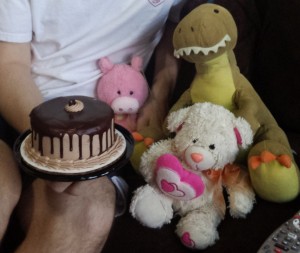 The cake was yummy! It wasn't as rich as it looks, which was nice, but we still made it last through three settings (probably because SB cut the cake, and I am a victim of gluttony when it comes to cutting my own cake slices).
The next day, our Friday night, we had the next step of my birthday(s), we went out to eat of course! This time we went a little bit fancier, since Crema was just a lunch stop after shopping. And by fancy, I mean not really fancy, but more expensive. It was actually a place SB had been before with her co-workers at Bunker Hill Community College, her boss took them out there to eat recently and paid! SB thought I would like it, so we returned.
It was also my first time seeing Bunker Hill CC, at least up close. When we got off the train we walked right past it.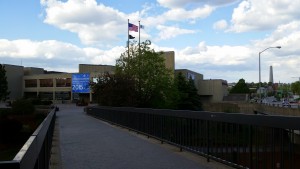 The obelisk in the background is the Battle of Bunker Hill memorial. It has a lot of stairs. UP DUH' BUNKAH' HEEL'
Our destination was just a shortish jaunt away, the Warren Tavern.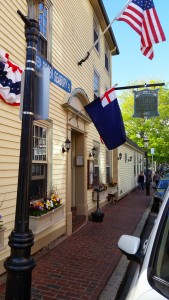 One of the reasons that SB thought I would like Warren Tavern, aside from the good food, was the history of the place. Its namesake, Joseph Warren, was the famous Patriot and doctor who was killed by the British at the Battle of Breeds (Bunker) Hill.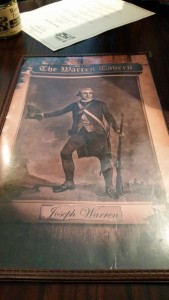 The Warren Tavern is thought to date c. 1780. A 19th Century Charlestown scholar described it as one of the first buildings in the town to be erected after the conflagration during the Revolutionary War. Its large sign, which swung from a high post, bore on either side a likeness of General Joseph Warren in his Masonic insignia as Grand Master. Attached to the house was a large chamber that was afterwards called Warren Hall. King Solomon's Lodge, the first Masonic organization in Charlestown, was founded in the Warren Tavern in March 1786 when Dr. Bartlett delivered the opening address, which be the first work ever printed in Charlestown. Paul Revere, who had been a close friend of General Warren, stated more than once that the Warren Tavern was one of his favorite watering places, and as a Grand Master he presided over meetings of the Masonic Lodge there.
In the autumn of 1789, when President George Washington was visiting Boston, he came over to Charlestown to see his old friend Major Benjamin Frothingham and while there the two of them stopped at the Warren Tavern for "refreshments" (e.g. to get wasted). After Washington's death on the 14th of December, 1799, a procession of mourners came to the Warren Tavern to hear a funeral oration given by the Reverend Jedidiah Morse, minister of the First Church of Charlestown. Reverend Morse, if the name sounds familiar, was the father of Samuel F. B. Morse, the painter and inventor of wireless telegraphy.
All that is to say, that it's just another one of those historical little "hole-in-the-wall" gems that dot the Bostonian landscape. Plus, they even have an old wooden water-pipe hanging from the ceiling.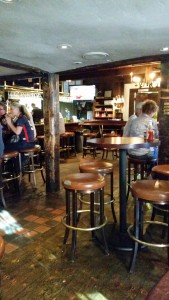 As a tavern, we of course got beer. Sadly, on the way over my heartburn really started acting up, so I didn't get my own beer (I KNOW, THE WORLD HATH ENDED) and instead opted to share with SB so that I wasn't in agony.
1 – Long Trail Summer Ale – Long Trail Brewing Company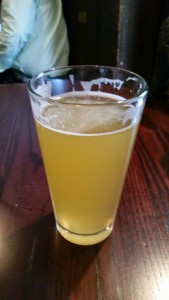 This was our first taste of a Long Trail offering, which is kind of surprising considering that it's a Vermont brewery and New England brewers tend to be well-represented in Boston. This beer sort of  continues our summer beer trend, with SB picking it out, then me stealing sharing with her. The Long Trail Summer Ale had an interesting color that the photo above didn't quite capture. It was definitely an unfiltered ale, maybe even of the "golden ale" variety that I am still not entirely educated on. It had some pilsner characteristics to it as well, and as with most summer ales was light on the palate and had a citrus finish. There was a very mild honey smell to it, but that probably came about from the floral elements, rather than actual honey. Overall, it was a solid summer beer, I'll have to try it again at some point because my heartburn diminished by ability to drink it somewhat.
As for food, I went with the Monument Chicken Salad (grilled chicken, mixed greens, basil, artichokes, roasted red peppers, green beans, new potatoes, feta, tomatoes, balsamic vinegar & olive oil) and SB went with their Reuben sandwich (house corned beef, ale-braised sauerkraut, swiss cheese, Russian dressing, marble rye). The last time she was here she had the fish and chips, which I had as cold leftovers and were still good.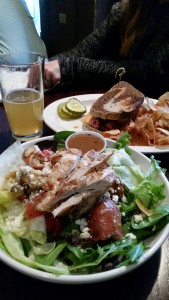 Also worth nothing, they had this really tasty fire roasted garlic mustard. I'm not sure if it was made in house, or just labeled for the tavern. Either way, it was stone-ground and very good.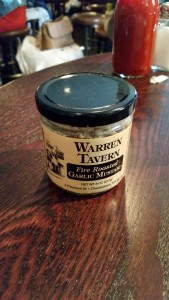 You know when I take pictures of the freaking condiments that they are good – see b Good
Of course, the downside of that balsamic vinegar based dressing, and that garlic mustard was that my heartburn got real bad, real fast. I tried to go with a salad, forgo a beer (on my birthday!), and be smart, but nope, I just couldn't help myself in the end. Luckily SB had some tums and I drank copious amounts of water, which eventually helped the heartburn die down. Its frustrating because I just did a Nexium regimen last month.
On our way home we took a slightly different path, that took us up on a pedestrian bridge that leads to Bunker Hill Community College. I stopped and got a photo of Boston in the distance. It was just thinking "This chain-link fence makes this feel like a jail" and then suddenly a cop drove into my picture. It was kind of funny.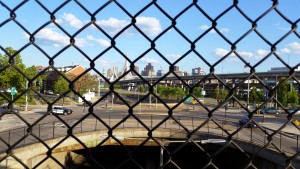 After that it was back home for the remnants of my cake, some breaking bad, and some beer. Typical Friday night for Taco.
Then today (Saturday) was spent almost entirely on getting stuff done, getting me packed, forgetting things, all the usual right-before-you-leave kind of stuff.
We also made a late night (10:30pm) run to Ben & Jerry's to try a BRRR-ito! Which was awesome, if not spontaneous. You get to pick two scoops of ice cream, we went with the Peanut Butter Banana Greek Fro-Yo (me – of my favorite flavors) and Spectacular Speculoos (SB). You also get to pick a sauce, we went with marshmallow, as well as a topping, we went with almonds. Then it's all wrapped up in a soft waffle shell, just like a burrito! I was worried the Ben & Jerry's people were going to be grumpy with us showing up less than 30 minutes before closing time on a Saturday night, but there was some huge graduation dance thing going on with the Harvard undergrads in the Science Center Plaza (you could smell the booze in the air, haha), so there were still a lot of people out and about.
The one different thing about this upcoming trip, compared to my other recent trips, is that I'll be gone for ten weeks and will be on my own, which is a little intimidating. I'll miss SB and the familiarity of my home, but this is an important thing for me to do. And even though Valentino will be staying behind with SB and Rig and all of our other buddies, Tristen is heading to Mile High with me.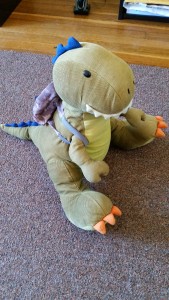 So me, Tristen, and my new roommate (who we will just call 1L Roomie from here on out) will be just fine.
In closing, I'd like to say that I'm not sure how often I'll be able to get to the blog over the next couple of months. Not only will I be working a 40+ hour a week job, I'm also taking three concurrent classes (Business Analytics, Economics for Managers, and Financial Accounting) through the Harvard Business School to get a certificate and because these are good skills to have  (and also because I figure having both the Harvard law school and business school on your resume can't hurt too much). So, full time work, full time summer classes, and a new city to explore. Yeah, I'll be busy. And while I do want to keep up with the blog, I just don't know how much time I'll have in my schedule for it. But, that is just a good reason to subscribe so you don't miss posts when and if they come! However, I do have one more planned (but not yet written) post after this one (hint: its about beer) so at the very least the blog won't be totally silent.
Though again, I do intend to keep blogging, just wanted to make you aware that extended downtime might happen. So, without further ado, I'm off to be a big people lawyer!
Wish me luck!
Until next time,
-Taco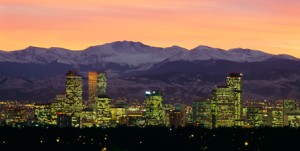 Also Denver