Well I now have the first week of 2L behind me, and, as with most things, it wasn't quite as bad as I was fearing it would be. I'm still not feeling the best, but I have a decent grasp on most things that are going on school-wise. I say decent because my journal is about to reactivate and I still haven't had my Monday night class yet, but I'll reevaluate once those obstacles show up (e.g. this week, Monday and Tuesday respectively).
I will say that my clinic is going to be an incredibly large amount of work. Easily the equivalent of a heavy part-time job. What I didn't quite realize is that when you do the clinic you are an actual practicing attorney, you just operate under your supervisor's license. So, you can go to court, you can represent clients, draft motions, etc. Essentially you can do everything, it's just your supervisor's head on the line. So yeah, I have a client and I already have due dates. Oh and on Tuesday I have to give a presentation of my project to the donor of the clinic. Like, literally the person (e.g. the millionaire) who the clinic is named after and who spends a lot of money on the clinic. So I'm a bit nervous about that since I have been told in very clear terms to "Not mess up."
I actually find it kind of funny. I tend to get passed up for awards, am told my writing isn't very good, get offered consolation positions, etc. But when it comes time to actually present something to a live audience, ole' Taco has a habit of getting selected to do it. It's actually kind of infuriating when I think about it too much.
Anyways, one bonus to school starting up again is that once again free food and drinks fall from the heavens!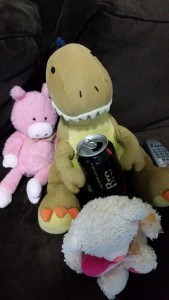 Tristen drinking some of his free rop' – Bro.
Of course it will taper off a bit once the "newness" of the year fades (at least the free alcohol will taper off, food remains fairly constant, thankfully). But for now I'm enjoying it as much as possible with my busy schedule.
SB and I have a history of "celebrating" the end of the first week back. To be honest we "celebrate" the beginning of things, the middle of things, and the end of things. We like excuses to celebrate things. So for our Friday night out, SB took us to a place called Bukowski Tavern which is up in Somerville. To be entirely honest I don't even remember how SB found out about it, but they are known for a large beer selection so it seemed like a good place for us.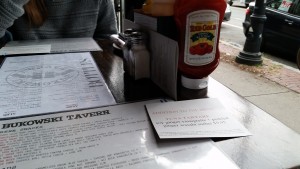 We got a nice table right next to the big open window.
It turns out they actually do have a pretty big selection of beers. Unfortunately well over half of it is bottles. In fact SB and I actually ordered bottles at first, not realizing that we were ordering bottles. Sure there was a big huge sideways "BOTTLES" label on the page, but we aren't the most observant. Luckily SB was able to catch the server in time and we instead changed over to the draft menu, which was smaller but still pretty impressive.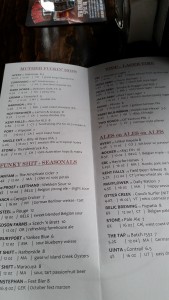 We ended up going with:
1. Smoke & Dagger – Jacks Abby Brewing
2. Billy 18 Watt IPA – Single Cut Beersmiths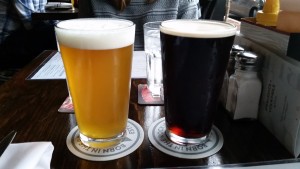 First up, it's pretty obvious which of these two beers goes by the name "Smoke & Dagger" (hint it's not the one on the left). Smoke & Dagger represented two new things for me. First, it was a nitro beer. Second, it was a "black lager," though to be more specific it was a Rauchbier, which is German for "smoked beer." It should all be coming together now in regards to the name. If you were curious about the nitro, it changes a lot, but basically it results in a creamier beer than does CO2. Overall, Smoke & Dagger was a good introduction to both of these kinds of beer, with smoked malts and roasted hops it definitely reminded me of Guinness, but had a whole lot more going on, and with a 5.80% ABV it was pretty drinkable.
On the other side was SB's beer, the Billy 18 Watt IPA, which hails from a brewery I had never heard of before, Single Cut – of course that is rarely a bad thing (and calling yourself a "Beersmith" is pretty cool). The Billy 18 Watt IPA  has a taste with a big citrus punch of lemon, grapefruit, and then some clean malt on the end. The beer has notes of a West Coast style IPA (e.g. it's fairly crisp and light) which is probably highlighted even more-so by the fact that it's sessionable (5% ABV). It was good, and the tropical notes blended well. However, given the "weirdness" of the Smoke & Dagger, this IPA was a bit less memorable for me, but I'd definitely buy a six-pack of it.
In addition to beer, Bukowski Tavern has some pretty good burgers and tater tots. In fact they have one of the most eclectic burger selections I have ever seen.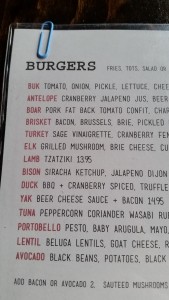 Venison, Antelope, Boar, Brisket, Turkey, Elk, Lamb, Bison, Duck, Yak, Tuna, Portobello, Lentil, Avocado – if they don't have something you like you are probably a zombie.
SB and I went with the Turkey and Yak burgers, because how often does on get Yak.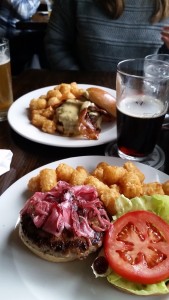 The next day we decided to jointly capitalize on the Harvard free food by attending a welcome back BBQ hosted by the Graduate School of Arts and Sciences GSAS. If you were curious about what GSAS constitutes, it seems to be a "catch all" school that has everything from Engineering, to Music, to Biology. Of course what it doesn't have is law. So SB and I were kind of.. ehm.. "spiritual" GSAS students for the BBQ. Hey, we have undergraduate degrees that would fall within the program. And besides, they weren't  checking and we were hungry.
But we weren't the only ones drawn in by the nice weather and free food. Not in the least.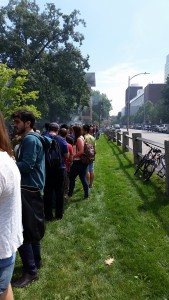 This was the line to the grills, it took us about 18 minutes to get up to the serving area.
However, the food being free, the wait was well worth it. In fact the food was really good in and of itself.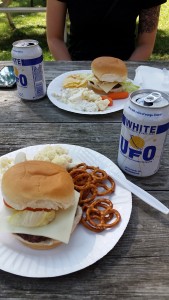 You'll also notice that they were providing beer with their cookout. Sadly it was a bit on the warm side, and the Harpoon UFO White was forsaken by not being served with an orange slice (it even says so on the can itself!) but free beer is free beer and while UFO wasn't quite as good warm and in a can as when it was cold and on draft, it held up surprisingly well and so I'd safely recommend it as a cook-out approved beer. After getting our food and beer SB and I retreated away from the crowds and went to the dominion of the law school to find a picnic table. It was a nice little lunch.
Later that night I continued with the "approaching-Fall" beer theme and had yet another (of soon to be many) Oktoberfests, this time it was:
3. Brooklyn Oktoberfest – Brooklyn Brewery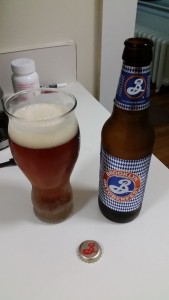 While I do indeed have a history of being a Brooklyn Brewery fanboy, I was sure to approach this Oktoberfest from as neutral a perspective as possible. And, to no one's surprise, this turned out to be a really good Oktoberfest. Now, I have to say it's not a bold or a strong Oktoberfest, but it does maintain that unique "Munich" flavor. In fact, it seems to balance itself between the usual bite of an Oktoberfest and a Märzen on the lighter end of the scale (remembering that Oktoberfest is a kind of Märzen). There is a slightly above average carbonation to this beer (for an Oktoberfest) but it's countered by the balance of the caramel lacing and body. Although it's 5.5% ABV, this might be the most "sessionable" Oktoberfest I've encountered.
Tonight I switched out beer for pie. Well, I'll still have beer, but the pie was the major theme. SB and I had bought a half apple pie from Whole Foods on Friday since it was on sale. After making it last two nights our (my) pie tooth wasn't satisfied I guess. So I used the craving as a convenient excuse to break away from studying and to whip up a pie for us. Unfortunately, we lacked most of the traditional ingredients for a pie. Additionally, I didn't really have a recipe. So, I gathered what we did have and pretty much just randomly started throwing stuff together. It was made entirely from scratch, from the crust to the filling, and I didn't use a recipe for any of it. Given that we were missing some ingredients and that I have no actual idea how to make pie (aside from a mental image of what a pie is) I think it turned out pretty good.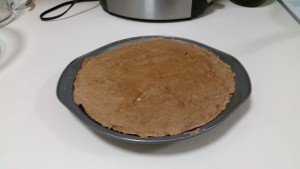 No it's not burnt, I used whole wheat flour, we hardly ever use flour anymore and when we do it's usually whole wheat.
As for the filling, it contained strawberries, an apple, a pear, orange juice (for the reduction), stevia, and honey.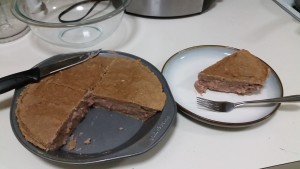 In the words of SB, it tasted "Like strawberry pear applesauce." I don't know if that means that the pie would be of the variety found in a convalescent home or if it was good. Perhaps they aren't mutually exclusive. Either way, for a literal "throw things together" pie (and I do mean literally, I measured nothing) it was good.
All the ingredients:
Random amounts of whole wheat flour that expired three years ago (lol)
Random amounts of olive oil
Random amounts of baking powder (not soda, powder)
Random amounts of unsweetened vanilla almond milk
Random amounts of egg whites
Random amounts of Raw Massachusetts Wildflower Honey
Random amounts of orange juice
Random amounts of stevia
Random numbers of fresh strawberries
A red apple
A pear
A lackadaisical attitude
To make:
Cut up the fruits, process them, make a reduction of fruits and orange juice, throw things in bowl to make flour, smear what would normally be pancake batter into a pie pan, smear fruit paste inside, cook at a temperature of your choosing for however long you like, listen to the polar bear's advice, cool pie in the window making sure that the cat in the other building knows that it can't have any, serve and enjoy.
Voila, you've made Convalescent Home Pie. Don't knock it until you try it.
Until next time,
-Taco
P.S. Here is a frog-buddy from the OPIA office, he was having dinner with us as we discussed OPIAy stuff (further proof that PI people are best people).