It's time for a (belated) St. Patrick's Day Beer Blurb!
SB and I generally don't go too crazy for St. Patrick's Day. Over the years we've mostly just made some green beer (and sometimes green food, such as green oatmeal) and stayed in. That actually doesn't bother me too much as I've never been much a of party person anyways.
This year we technically only bought a single can for St. Patrick's Day, but that was because we still had several beers from the prior weekend because I hadn't been feeling well and (*gasp*) wasn't drinking any beer. So, while this beer blurb is a St. Patrick's Day Edition, it actually covers beer that I got before, on, and after St. Patrick's Day.
For starters, let's visit a 12 pack I bought back at the start of Spring Break.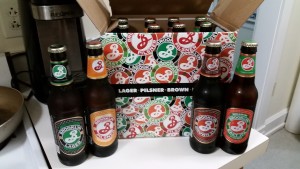 I've had pretty much this exact same sampler before (see link above), but this time there are only 4 beers rather than 5, which is kind of a bummer since I prefer sampler packs with more variety. The missing beer is Brooklyn's Pennant Ale '55, which was amazing, so I'm sad to see it excluded. Outside of that, the other 4 beers are the same, though I think the recipes might have been tweaked in the past 1.5 years.
1. Brooklyn Brown Ale – Brooklyn Brewery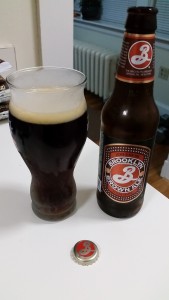 This is a classic English style brown ale with American accents and a firm hop character with a roasty palate. Of all the beers, this is the one where I feel like they changed the recipe the most, it now feels much stronger than it used to be, in fact I feel like this is more of a stout than a brown anymore, it's still a good "one and done" kind of beer though.
2. East India Pale Ale – Brooklyn Brewery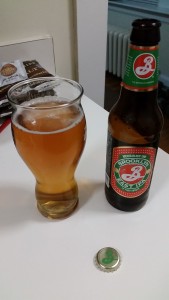 Brooklyn claims that this is the "world's most balanced IPA," and while I do love Brooklyn Brewery, that is a genuinely "puff" statement. It's still a good beer though, and since it uses barley and hops only sourced from Britain, it is a genuine IPA, or at least a genuinely historically-accurate IPA. Definitely a good one.
3. Brooklyn Pilsner – Brooklyn Brewery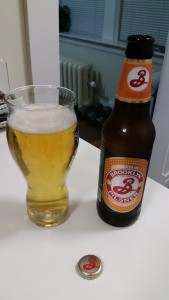 This a refreshing full-malt pilsner which is brewed with German 2-row barley malt and it has a crisp hop finish. I was really impressed by this pilsner, it has a lot of flavor and a surprisingly complex profile. This one seems to have changed a bit as well (though not as much as the brown ale), and even if the recipe didn't change, the colors have changed some as it used to have some blue in the label.
4. Brooklyn Lager – Brooklyn Brewery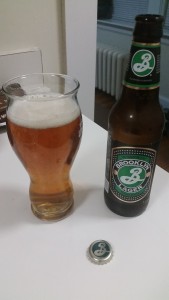 This was Brooklyn Brewery's first ever beer, and while it is sort of "run of the mill," this dry-hopped amber lager does everything you'd want a lager to do. While it's not quite as memorable as their pilsner, the lager may well be the most sessionable beer of the box.
5. Green East India Pale Ale!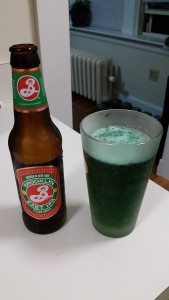 This was one of our two beers we had on St. Patrick's Day itself. SB mainly worked on this one while we were playing Little Big Planet. Other than being green, there wasn't much difference, though the green food coloring did ever so slightly change the flavor for the worse, but not enough to ruin the beer by any means.
6. Guinness Drought – Guinness Ltd.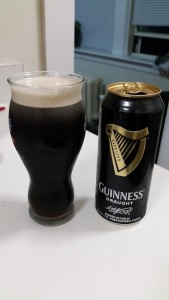 What would St. Patrick's Day be without a Guinness? Probably one of the world's more famous beers, if you really want a beer with varied opinions, then you should try a Guinness. Some people live and breathe this beer, while others wouldn't touch it with a ten foot pole. Some think it tastes like bad coffee, others think it tastes like nectar from the Gods. Regardless of your position, you can't be a "beer drinker" without at least trying Guinness. I for one like Guinness, especially their Draught, but it's not a beer I'd drink constantly. I prefer to have it while out (sometimes mixed with orange juice – yes seriously) and at home in single bottles or cans. Such was the case this St. Patrick's Day, where I enjoyed it's creamy smoothness and also unlocked like 4 badges on Untappd for checking into a Guinness on Saint Patty's Day. Sadly you can't easily dye it green, at least not without using like a gallon of food dye, thus ruining the beer.
7. Cranberry Ginger Shandy – Jacob Leinenkugel Brewing Company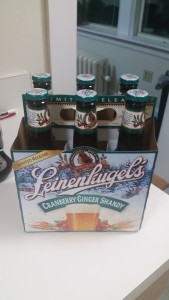 SB and I picked this up last weekend. This beer is kind of interesting because we first had it on a plane, for free. Since that flight we'd been meaning to try it again, preferably in a bottle, so when I saw it for 10.49$ for a six pack (which sadly is actually a really good price out here) I had to give it a try.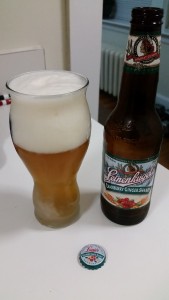 This was probably my worst pour in recent memory, which is weird because I didn't change anything, maybe the glass was too cold.
I still agree with my prior review, it's a good beer and it's definitely a winter shandy. Which ironically means that you could probably enjoy it in the summer as well, since it is a shandy after all. There are a lot of flavors in this brew, and if I had any critique it would probably be that the ginger tends to be a bit strong, and the cranberry is a bit weak. That said, cranberry and ginger are a great combo rarely seen in (widely available) beers, so it's hard to knock a big brewery for trying something cool. I imagine this recipe will improve over time and even as a it currently exists, I'd solidly recommend it.
And as a final note, I now have 21 badges on Untappd! Woo gamification of alcoholism! 😀
Until next time,
-Taco