Greetings and welcome to Dinosaur Bear!
This marks the 4th entry into my 2019 Spring Blurbs series (Parts: 1, 2, 3). Originally I had planned on only doing three blurbs, but as mentioned in part one there was never anything definitive. I was going to add some more content to part one but I decided that I had just enough for a separate post, so here we are with some more Dinosaur Bear-y goodness.
This post is mostly going to be focused on two things: spring cleaning and Easter.
Yes, like most households, ours was overdue for a deep clean. We all were sort of still in our "recovery from winter" mode – despite it being in the 90s here recently, but we all knew it was time to take care of some cleaning duties. Lawrence, for his part, also took the time to clean up his acorn collection.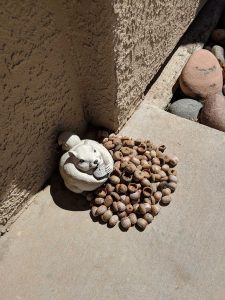 Lawrence's acorn horde has grown large enough that even the delivery people have begun to comment on it! 🙂
As mentioned, it's been pretty hot here lately (at least based on my personal metric for what temperatures to expect in April) and the brief cloudy period we had has returned to sunshine. So, between the warmer weather, a long Easter weekend, and sunshine we had few excuses to push off the spring cleaning any longer. Of course the nice weather didn't seem to do much for our cursed road which claimed yet another breakdown victim: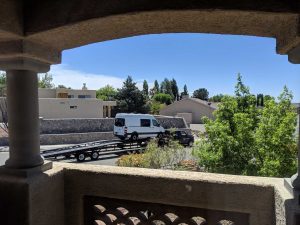 For those of us not dealing with vehicular misfortune, we instead turned our sights to the cleaning list.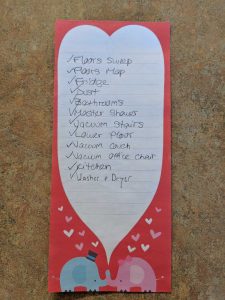 Like most cleaning lists, that list ended up not covering a quite few things. It's always amazing how much more you realize needs cleaned, but only once you've already started cleaning something else. It's like a massive cleaning snowball effect. To our credit, we were not only cleaning the apartment, but Felicia as well, and also ran some errands. It was a very productive day with pretty much nonstop chores for about 7 hours. Much like chores revealing yet-unseen additional chores, it is also kind of crazy just how long a proper deep-cleaning can take. In fairness to us this is the largest apartment we've had and for about half the time we were split between in-house cleaning and car-cleaning/errands, but still, it was a lot of time.
Part of the cleaning process extended to some plant-buddy maintenance. Bonsai Buddy Jr. had need trimmed for a good while and the Barley Bros desperately needed bigger pots.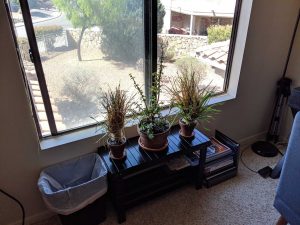 So, as we shed dust and grime from our apartment, so too did the plant buddies shed some pieces of themselves to grow anew. The end result of that was that Bonsai Buddy Jr. ended up a much slimmer version of his previous self, and the Barley Bros left their tiny pots behind and joined together in a much larger pot with a lot more space for their roots to grow.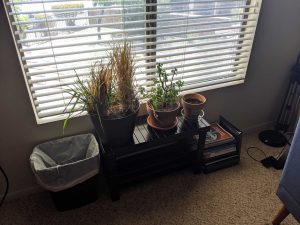 You might be wondering about that empty pot to the right of Bonsai Buddy Jr. – well, it's not actually empty! It's a freshly potted lavender plant! Yes, if you for some reason remember from my holiday post, Meem got us some lollipops that had seeds embedded in the sticks. The lollipops contained lavender, thyme, and sage. The way it works is that you, well, plant the sticks! Even though we'd long since eaten the lollipops, I'd marked each stick with the type of herb it was and we'd kept them for spring. So, with spring now well upon us we took advantage of our productive weekend to go ahead and pot the herbs, and that the Barley Bros just so happened to be vacating their pots worked quite well. We ended up getting one new pot (lavender, as shown above) and then just reused the two pots from the Barley Bros for sage and thyme – who are now hanging out with Little Friend (who continues recovering quite well himself).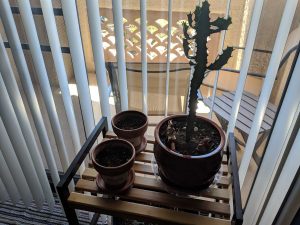 Once the bulk (but not all – more on that in a moment) of the cleaning was behind us we welcomed in Easter. This of course meant that the Boys immediately started asking about their Easter basket as soon as they woke up (which was later than normal because someone may have stayed up until 3:30am the night before, no idea who that was). Fortunately we were prepared for such an inquiry.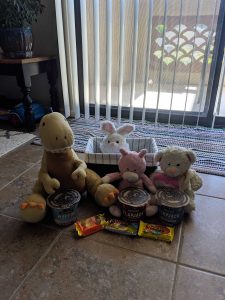 Three different types of Kodiak Cake mix and three different types of candy eggs – a good haul by most standards. As it was Easter, Flopsy (descendant of the Easter Bunny) also ventured out of his usual spot in the bedroom to hang out with us for the today.
But, I did say we had finished most of the cleaning, so after we'd partook of the Kodiak Cake goodness it was time for the Boys themselves to get cleaned – much to Tristen's protestation. Valentino and Pig, however, were quite ok with it.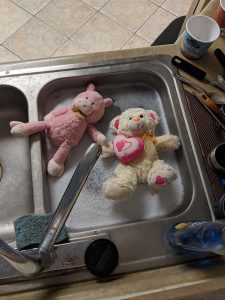 Tristen, on the flip side, went from aggressively resisting the bath and kicking water all over the floor to despondence.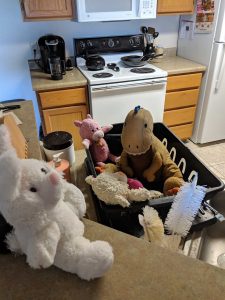 Flopsy overseeing the bath operation while Tristen looks quite displeased.
That said, he is "recovering" nicely as we moved them outside to help them dry and since it's 86 degrees as I type this, Tristen is ok with that much at least (though Valentino is apt to get aggressive once he dries off, so we'll have to make sure we don't leave him out too long).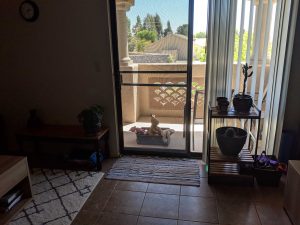 That brings us up to the present. I think I'm now going to go make SB and I some burritos and chill for the rest of Easter Sunday. Not too substantial of a post this time around (at least by my pleonastic standards) but still enough that I want to share! Even though this won't get posted until May 13th I hope you had a wonderful Easter! 🙂 Here's an Easter weekend sunset from our balcony as a parting photo.